Newly Inducted Rock And Roll Hall Of Famers Hit The Taj Mahal In Support Of New Album 'Clockwork Angels'
By Ed Condran, Atlantic City Weekly, May 9-15, 2013
---
Transcribers note, this story was previously published as "Rush Digging Deep For Tampa Concert Set List" and appeared in the Tampa Bay Tribune, November 1, 2012
---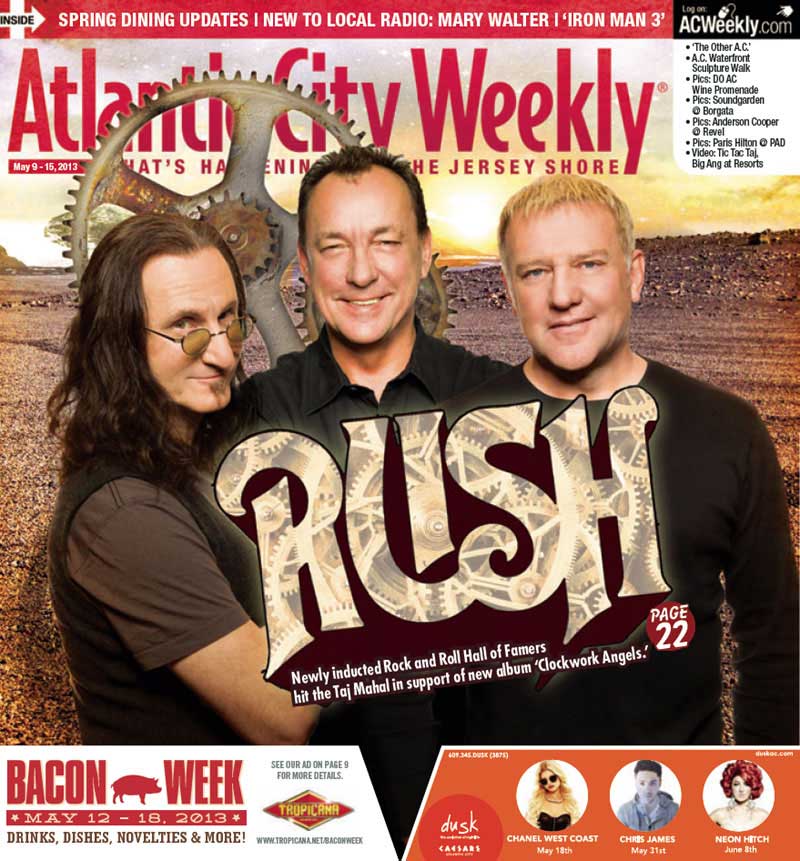 Rush is on the road behind another new album, Clockwork Angels. But it's just not about the fresh tunes for the veteran power trio, which stops Saturday, May 11, at the Mark Etess Arena at the Trump Taj Mahal in Atlantic City.
The venerable Canadian band delivered a balanced show in Philadelphia in October. The concert featured fresh material that was complemented by a number of deep album cuts, as well as familiar favorites.
Guitarist Alex Lifeson spoke to AC Weekly about why Rush, which formed 44 years ago, is compelled to release new tunes; what intense, very private drummer/lyricist Neil Peart is really like, and the voice of Geddy Lee.
Your show last autumn featured quite a few unexpected tunes, many of which were from the '80s. Why did you go back to the Reagan era for a good bit of your set?
Much of the '80s Rush era was overlooked. There's some good songs there. The '80s material was tough for me since it was so keyboard-laden. But we're doing those songs now with more of a guitar presence.
Bringing back "The Analog Kid," which is getting quite a bit of play on satellite radio, was a big crowd-pleaser.
It's true. Rush fans love that song. We last played "Analog Kid" on the Test for Echo tour [sic, it was actually last played on the Counterparts tour]. It was time to bring that song back and others like it. We don't want to do the same tour over and over again.
If you did, you wouldn't release new albums. You would just be a nostalgia act.
I would never want to be a nostalgia act. There is a time to celebrate your past, and we've done that in the past, but we continue to validate our existence by making new material.
You changed it up with Clockwork Angels. It's one of the most straightforward Rush albums.
We really stripped it down a lot with this album. It has a more open sound. I think we were more energized. The great thing with our fans is that they do want to hear us come up with new songs.
Neil Peart writes about many heavy things, but there's been a dearth of love songs. A pundit once asked whether Rush had any girlfriends. Why hasn't Neil written about girls?
We probably have written about two love songs. One might have been "The Manhattan Project." (laughs)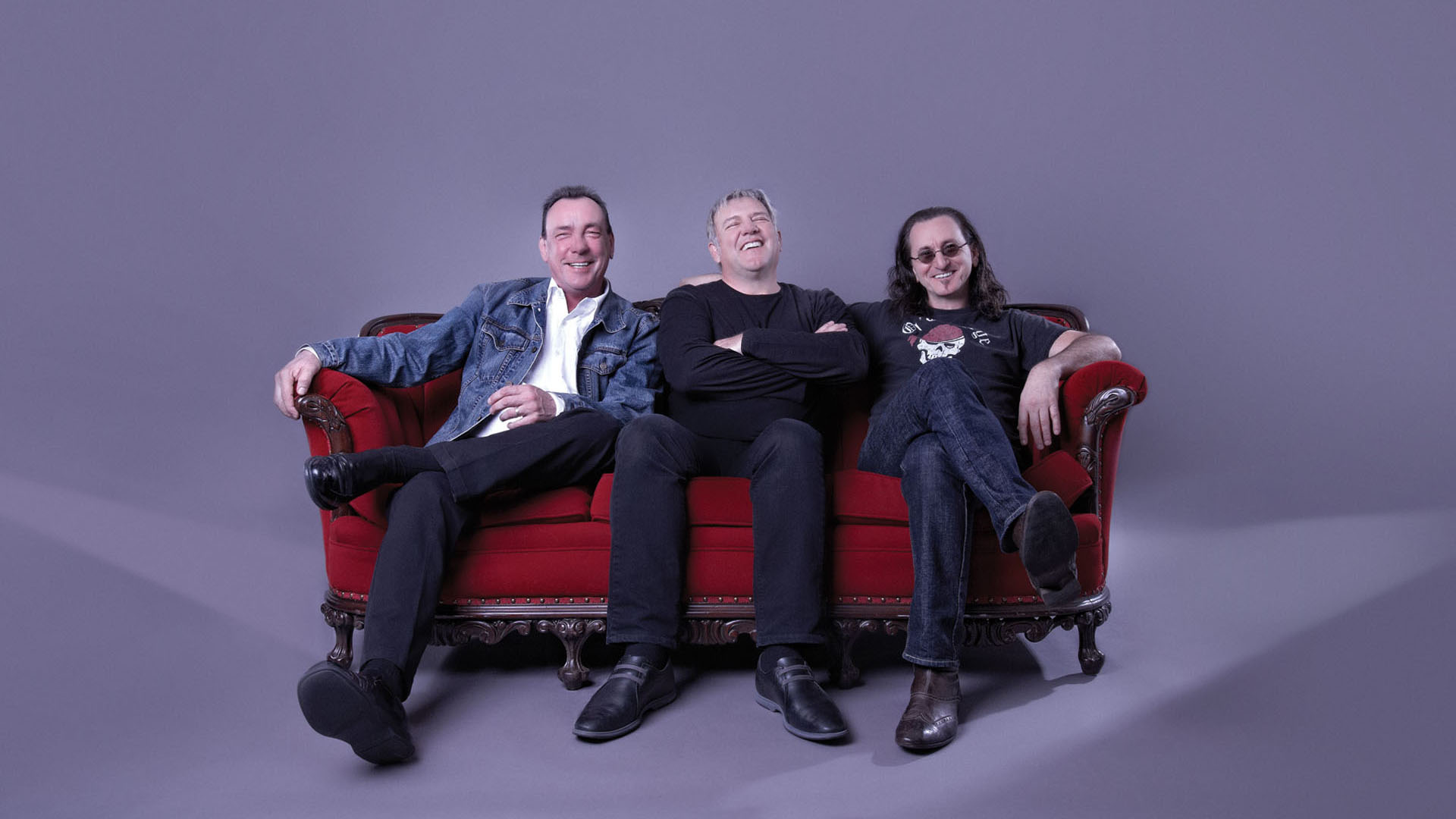 You obviously knew about girls. You were a father at 17.
Yes and a grandfather at 50. It runs in the family. In high school, my wife and I both missed the same health class.
How could you have married with all of that groupie temptation?
There wasn't a lot of temptation on the Rush tour bus for us. Fortunately our audience is 99 percent male, which made things a lot easier than it could have been if we were another band.
There's some mystery around Neil Peart. What is he really like?
Neil doesn't suffer fools easily. He's very intelligent, very well read. Believe it or not, he laughs and jokes a lot. But when it comes to work, he's very serious.
You've scored considerable respect from your peers. Members of Metallica, Tool and Smashing Pumpkins, among others, have given props to Rush.
That's a nice bonus. What means the most is what our fans think of us, but it's great to hear that those from great bands like what we do.
"What About The Voice of Geddy Lee/How Did It Get So High/I Wonder If He Speaks Like An Ordinary Guy/I Know Him And He Does" is some wordplay from Pavement's amusing cut "Stereo." What did you guys think of those lyrics, which name-check your singer and then some?
We just shake our head and laugh at stuff like that. It's funny. Geddy certainly has a unique voice.
How does it feel to be inducted into the Rock And Roll Hall Of Fame?
Anytime you're recognized, it's an honor. It really is an amazing thing.
The current configuration of Rush has been around for nearly 40 years. How much longer can the band last?
Hopefully for a long time. We got into this at a young age, and fortunately it worked out well for us. This band means so much to us and apparently to a lot of our fans as well. I hope we can keep going for years. We still have a lot left in us. We just enjoy what we do so much. We appreciate the response we get from our fans at our shows. We also appreciate that they are into our new albums. It's not as if they all run to concessions when we play the new material. We'll keep doing this as long as we're having fun with it and right now we're having a great time.