Rush's Clockwork Angels Completes The Steampunk Journey
By Michael A. Beck, Mobile Production Monthly, Volume 6, Issue 13, June 2013, transcribed by John Patuto
---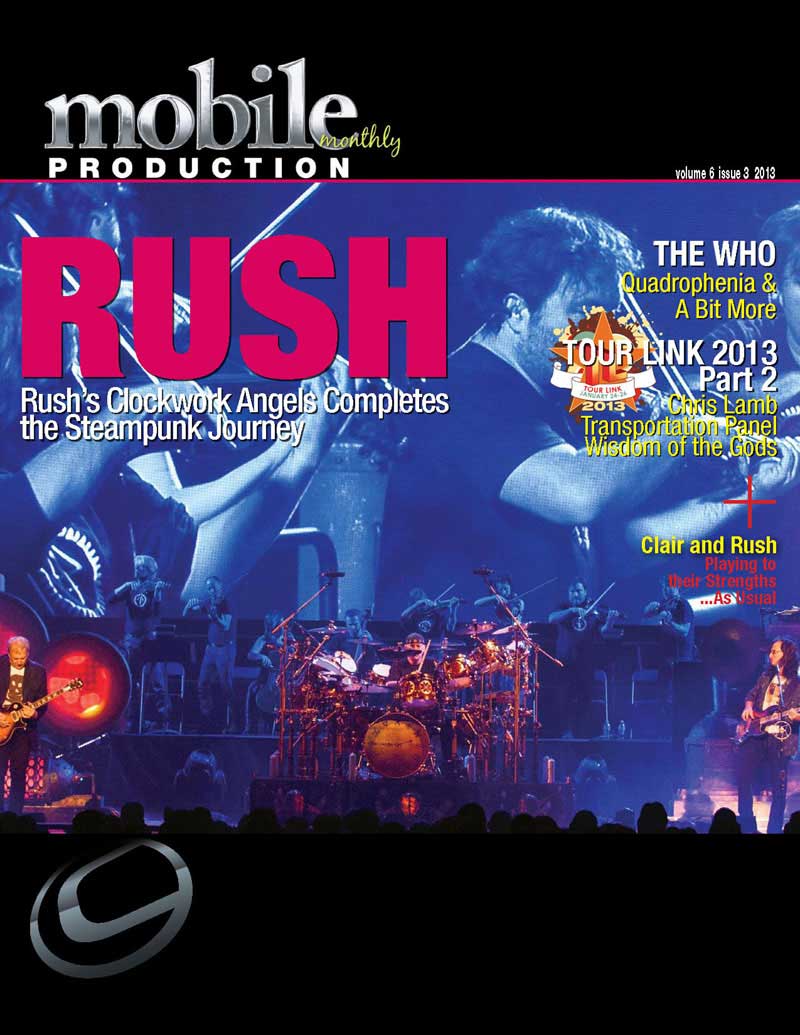 When the current 2012/2013 Rush Clockwork Angels tour went out last year it was it was not just an extension of the Steampunk theme started in the 2011 Time Machine tour, but rather the culmination thereof. The second half of the show is a full blown rock opera based upon the novel of the same title written by Rush drummer and lyricist Neil Peart and bestselling science fiction author Kevin J. Anderson.
"Neil [Peart] was very interested in this sort of concept going back to the days of Jules Verne," explained Production Designer Howard Ungerleider. "He enjoyed that kind of genre, so when he decided that this might be the way he wanted to go, he thought it might be a good idea to educate the audience as to what they were about to do."
While there was some initial confusion on the part of the audience when the Steampunk theme came out of nowhere, it was shortlived because word of the upcoming Clockwork Angels project was already in the wind.
Although the amount of laundry equipment onstage was diminished slightly from previous tours, the stage is still festooned with the iconology of Steampunk with widgets, whatsits and franices straight out of the 1999 production of "The Wild Wild West" including a huge popcorn popper. All of the 19th century gadgetry is portioned into three groups dedicated to each member of the band, be it the décor of drum kit, the bizarre circular contraptions upstage of Alex Lifeson or the "laundry" machines behind Geddy Lee.
With the exception of the popcorn machine, all of these set pieces were loaded up with SDI video feeds that were fed from a separate source than the HDI feed servicing the giant 41 x 17 - 9.75 mil LED screen that played upstage. In addition to the main screen, there were also 10 smaller 10 x 4 12 mil screens flown off to winch points. This allows them to achieve several various heights and orientations around the proscenium area. The fact that they are on winches helps them to move rapidly through the space in order to achieve various looks. The speed with which they travel adds to the sometimes frenetic pace of the show.
The video content of the production was primarily animation. The tone of the content blended into the Steampunk theme of the show with a whimsical feel sometimes reminiscent of the animation of Monty Python's Flying Circus. However, it was produced at 24 frames per second, which was a problem as an HD system processes video at 59.9 fps. The solution was found in the Aja Video Systems Ki Pro file-based HD/SD recorder and player, which had been a backup system on the tour. It was decided that the footage could be saved to the Ki Pro wherein it could be edited and polished by the content producers and rolled straight out to the switcher. The problem with that was a 30 frame delay for the video to load and cue with the Ki Pro for playback.
Latency was plaguing the Screenworks team as the new processing system for the screen on this tour and the result was a three frame latency. Added to the four frame delay of using the Hippotizer media server to create and store effects that would be added to the finished product, they were looking at a 37 frame delay to get it done. So when the video content was deemed to be finished for production, the Ki Pro Hippo was taken out of the stream and the content was then loaded into the BlackStorm Playout Server. Whereas with media servers such as the Spider, Hippo or Catalyst that require large amounts of programing and put forth four streams of video to have to time align, pulling the video from the BlackStorm dropped that down to a much more manageable one stream.
Video Engineer Bob Larkin beamed about the experience of working with Ross Video Production Technology, "We're over the top with the Ross guys. The tech support there has been unbelievable. On two different occasions we've called them on a Sunday and I've talked directly with the product development guys and they've mounted our servers remotely and to help us with the issues that we've had with them. How many companies are out there that would provide that kind of tech support at this level? We don't get that kind of support from any of the other vendors that we deal with."
So now the video is ready to be sent to the switcher with nothing more than a two to three frame delay. But there is still the need to add in the effects that frame the look out in the Steampunk style that defined the show. Rather than doing this at the server level, it was done in the Ross Synergy 3 switcher. While there are times when the entire screen was filled with IMAG video coming off of the nine cameras (three manned and six robotic) or the preproduced video content, much of the IMAG was framed in ornate mattes especially at times when all three band members were isolated and shown in a collection of three separate frames in the same look. All of this was done in the switcher and stored as macros (complex looks that can be stored as one piece and pulled up with on key stroke).
"To be able to put a switcher to its absolute max capacity with one button is one of the beautiful things about this Ross switcher. I can take one button and basically arm and execute every function the switcher has," explained Video Director David Davidian. "I can't say enough about the Ross product and their support. They've been life savers and Godsends from day one."
Whereas lighting has, in many cases, become ancillary to the video aspect of the show, studio lighting for the TV show - as it were - such is not the case with Rush. The first half of the show is the three band members on the stage as has always been the case. During this part of the show the lighting is what one would expect to see out of Ungerleider; big deeply saturated rock n' roll looks.
Ungerleider put a lot of effort into arriving at the eclectic array of lighting fixtures to the extent of going to the Czech Republic and meeting with the owners of Robe and touring the manufacturing process, which swayed him in the direction of the Robe 600. However, Robe isn't the only manufacturer on a rig (provided by Nashville based Premiere Global Productions) that also boasts 48 Robin 600 LED Wash, 55 Clay Paky Sharpys, 24 Highend Systems Intellspots, 44 Color Force, 48 LED Strips, 24 Mac 3k Strobes, 10 VL3500 Spots, 20 Coemar ACL Fixtures, 28 Coemar Infinity Wash, 20 PixelLine Maxi Wash, six Lycian M2 2.5k Spot Lights and six floor mounted Highend Showguns.
As was said earlier, the first half of the show was a bold, vivid and deeply saturated look of a great rock concert. However, in the second half of the show it all changed. This is where the production shifted to being a rock opera complete with an eight piece orchestra that played on a riser upstage of the band. This called for an altogether different approach to lighting. This was far more dramatic. The best example of this was in the song "The Wreckers". During this part of the opera, the hero of the story was traveling by sea in a torturous rain storm. In the animated video on the main wall, the rain was coming in at roughly 45 degree angle.
In what was the most original and creative use of the Clay Paky Sharpy we've seen to date, Ungerleider narrowed the beams down as tightly as they would go and focused them at the same angle as the rain. Then at the point in the show when the storm was taking place on the screen he brought up the Sharpy's in completely random chase adding strobe hits when lighting occurred in the video. It brought the storm off the screen in a way that could only be described as outrageous.
The visual aspect of the show was completed with pyro effects highlighting various parts of the hero's journey in the opera. This was, of course, provided by Toronto based Pyrotek.
Although the audio portion of the show draws as much importance as any other, there wasn't much to chat about with FOH Engineer Brad Madix who joked that nothing has changed since the last time we talked and suggested that we simply run the audio segment of the story done on the Time Machine tour. Joking aside, something had changed with this tour in the name of the aforementioned orchestra.
"This is a complicated album to reproduce," Madix revealed. "Some records are easier to reproduce live than others and there's a lot going on in this one including the new addition; the eight piece string section. It's working out well but it's more than just an extra eight inputs. All of that has to be fit in with the band that I've been working with for 10 years."
When Rush first hit the scene, it was a glorious time in rock n' roll when every band was different unto itself. There were no genres and the formulas that have turned the musical scene into a wasteland had not yet been devised. In the midst of this incredibly deep plethora of originality, Rush stood out as oddly more innovative than any other. As the years have passed, they have insisted that whatever they do, they will do as only they can. The incredible attention to every creative detail of this show, from the innovative delivery of video, to the rainstorm of light, to the delicately subtle mixing of a string section, shows that [indescribable] "thing" that has led Rush to be one of the most creatively original groups of its class.
---
RUSH EQUIPMENT

Fixtures:
48 - Robin 600 LED Wash
55 - Sharpy Fixtures
24 - Intellspot Fixtures
44 - Color Force 48 LED Strip Fixtures
24 - Mac 3k Strobe Fixtures
24 - Martin 3k Scrollers
10 - VL3500 Profile Fixtures
20 - Coemar ACL Fixtures
28 - Coemar Infinity Wash Fixtures
20 - PixelLine Maxi Wash Fixtures
6 - Lycian M2 / 2.5k Spot Lights
6 - Highend Showguns

Control and Distro:
5 - 48 Way Moving Light Distro / 208volt Rack
1 - 16 Station ICOM system
4 - 17" Monitors
3 - Full Boar Consoles
3 - Full Boar Extension Wings
2 - Creative License Artnet Boxes 4
1 - 300' Ethernet Control Snake
All DMX and Control Rack

Rigging and Hardware:
5 - Silver Aluminum Curved Pods
4 - Silver Aluminum Triangles
4 - 10' x 20" x 20" Black Utility Truss (sl/sr spots and triangles)
6 - 10' x 20" Black Utility Truss (grid for Eyebrow Pods)
1 - 15' x 20" Black Circle Truss
2 - 10' x 20" Black Utility Truss (spot lights - upstage sr/sl)
6 - Black Underhung Spot Chairs
8 - 10' x 12" x 12" Black Utility Truss
10 - 8' x 30" x 31" MLT
5 - Articulating Hinges
12 - Lightlocks
8 - 8' x 20" x 20" Black Utility Truss (cable bridge)

Motor Package:
32 - 1 ton Vario Hoists
12 - Pulleys and Hardware
32 - 1 ton Chain Hoists

Rush Crew

Band
Geddy Lee - Bass, Keyboards and Vocals
Alex Lifeson - Guitar and Vocals
Neil Peart - Drums

Strings
Composer - David Campbell
Violins - Joel Derouin, Gerry Hilera, Jonathan Dinlage, Entcho Tudorov, Mario De Leon, Audrey Solomon
Cellos - Jacob Szekely, Adele Stein

Staff
Tour Manager & Accountant - Liam Birt
Road Manager - Donovan Lundstrom
Production Manager - Craig Blazier
Production Assistant - Karin Blazier
FOH Sound Engineer - Brad Madix
Lighting Designer/ Director - Howard Ungerleider
Keyboard Technician - Tony Geranios
Drum Technician - Lorne Wheaton
Bass Technician - John McIntosh
Guitar Technician - Scott Appleton
Stage Manager - George Steinert
Nutritionist - Bruce French
Venue Security - Anthony Fedewa
NP Road Manager, Security - Michael Mosbach
Artist Liaison - Kevin Ripa
Carpenter - Cliff Sharpling
Audio System Engineer - Anson Moore
Monitor Engineer - Brent Carpenter
Monitor System Engineer - Corey Harris
Lighting Crew Chief - Martin Joos
Electrician - Curtis Anthony
Lighting Electricians - Matthew Tucker,
Joshua Rahalski, Matt Leroux
Head Rigger - Albert Pozzetti
Rigger - Charles Anderson
Motion control - Sebastien Richard
Video Director - David Davidian
Video Engineer - Bob Larkin
LED Engineer - Gregory "Grit" Frederick
Camera Operators - Brian Littleton, Jay Cooper
Merchandise - Patrick McLoughlin
Live Nation Global Tour Rep - Keith Keller
VIP Nation Rep - Colin Womack

Bus Drivers
Dave Burnette, Lashawn Lundstrum, Mary Beerer, Joe C. Bush, John Morgan, Tony Hammonds
Truck Drivers - Arthur "Mac" McLear (Lead), Jon Cordes, Tom Hartman, Henry McBride, Juli Mennitti, Steve Mennitti, Bob Wright, Bruno Pelle, Don Johnson

Flight Crew
Pilots - Dan Droppo, Bill Bryant, Murray Clapp
Flight Attendant - Anastassia Tchernykh

Vendors
Management
Anthem Entertainment Group

Tour Promoter
Live Nation Global Touring

Booking Agent
Artist Group International

Travel Agent
Frosch Travel

Aircraft Charter
Image Air Charter

Lighting Company
Premier Global Production

Audio Company
Clair Global

Buses
Hemphill Brothers

Trucking
Ego Trips

Video
Screenworks

Pyrotechnics
Pyrotek

Customs
BZee Brokerage LTD.

Merchandising
Showtech

Passes
Otto Passes

Radios
Point to Point Communications

Itineraries
Smart Art
---
Rush Finally Gets Some Respect
An Interview with Rush FOH Engineer Brad Madix
By Rev. Bill
It's one of those great stories of the guy mixing the opener on a big tour finding himself a decade later mixing the headliner. But this time, he's still with them another decade on.
"In 1990, I was on the Presto tour working on Electrotec's sound crew," recalled Rush FOH engineer Brad Madix. "One of my duties was to mix the opening act, Mr. Big. I got a couple of good gigs out of that, including Queensryche. Later, I took over for Robert Scovill on Rush's Roll the Bones tour when he had a conflict with Def Leppard. He did a tour after that, but wasn't available for the Vapor Trails tour in 2002. The guys invited me back and I have been mixing them ever since."
"The guys" would be Rush, one of the most enduring - and polarizing - bands in rock history. Beloved by a legion of fans (which includes a huge number of other musicians) and reviled by critics, they have had the same lineup since 1974. That puts them just a year away from 40 years as "real" band. They have put out more than 20 records, 14 of which went platinum. They've sold 40 million-plus units worldwide. Still they had to wait almost 15 years after their initial qualification to get into the Hall of Fame. And they are a regular on end of the yearly top tour lists.
"They've been making great music for decades with the same lineup for virtually the entire run. I'd say it was well-deserved," said Madix about the recent induction. "As for me, I'm honored (and lucky) to be associated with such a class act at a time when they are finally gaining some respect amongst the critics. Personally, I think they're doing some of their best work now!"
Mobile Production Monthly: OK, let's start with a geeky audio question. Rush is [a] three-piece band... How many inputs and how many of those are drums?
Brad Madix: We are 80 inputs total and about 36 of those are drums. That hasn't changed much in 10 years, though the electronic element of the drum kit does shrink or grow from tour to tour. We've probably been as high as 40 drum inputs and as low as 32 in that time. Depends on the set list, mostly.
MPM: Console of choice and why?
BM: After having done one tour with an analog board, I was an early adopter of digital for this act. Mainly, because I could actually reach all of the inputs and inserts! It's been the Avid VENUE system for the last three tours. The facility to run TDM plug-ins on the desk elevates the Avid platform above all the others, in my opinion. I like the small footprint also. The ability to reach everything and keep my head up and in the mix is invaluable. Things are always evolving in the audio realm of course and it will be interesting to see what the next few years will bring.
MPM: PA of choice and why?
BM: Clair Brothers i5. Clair is top-notch when it comes to global service and they've been an immense help and support over the past 10 years.
MPM: What's with the Copperphone mics that were mounted on Geddy and Alex's mic stands? Audience mics for in-ears? A "look" thing? Or just something to make people ask questions like the chickens and the dryers on stage?
BM: Those are the most interesting mics, but in our case they are props. However, they're a functional mic with a cool, old-timey sound. I'd love to put them to use some day in the right setting. For us, they just look like something Jules Verne would have used if he had a band.
MPM: I get the feeling that Rush is a pretty complex show in terms of audio "events." I am 90 percent sure there are no tracks but I am just as sure there is a significant amount of triggered stuff and pedal and keyboard parts in addition to the bass, guitar and drums. Are you heavy on scenes and snapshots?
BM: Now you can be 100 percent sure. There are no tracks, but there are hundreds of triggered samples and other events. And yes, there are hundreds of snapshots fired during the show. All three of the guys are firing samples and keyboard parts during the show, and the snapshots are really the only prayer of keeping all of that in the pocket. Most of the level changes happen on the back layers of the desk though, so it's not like there's faders flying all over the place. I still ride the top layer VCAs and Groups in an old-school way.
By the way, you forgot about the string section! They're an interesting new addition to the mix.
MPM: What's the biggest challenge of the gig?
BM: First, it's a long show, and there's a great deal going on. It's 2:45 of pretty intense focus, and that can be hard to maintain. It's important for me to try to have a routine so I can keep my head in the mix.
It's a technically challenging show as well. There's a lot going on, and technology does not always cooperate. It's not so much that any one piece of gear fails, as that happens pretty rarely, as a matter of fact. However, there's a huge amount of inter-connectedness, and occasionally something just fails. We had a short in a MIDI cable at a show, for example. No hums, no buzzes, but some interesting mis-triggers and non-triggers.
It's funny what people notice, though. At that show, the first several songs were major disasters. Imagine "Subdivisions" with no keys! Yikes! There were seven or eight songs like that before we got it tracked down. At the break some guy came up to me and said he was an engineer and he couldn't hear the bass. Here I was obsessing about the fact that about 1/4 of the audio elements of the show were missing entirely! What do I know?
MPM: What's the thing you look forward to the most each show?
BM: On a daily basis, I love the buildup to the first song. Getting ready for that downbeat is very important. I actually make a point of mixing through the first song in my head before the show starts. I think it helps me to be prepared to handle whatever the first song throws at me.
I have to say that I really enjoy the preparation that these guys do for each tour. They are meticulous in all aspects. We never go out under-rehearsed and unready.
MPM: How does the fact that pretty much every Rush tour ends up as a live DVD play into how you do the audio thing with them?
BM: Well, I can't say we tailor what we do live much to account for a DVD. We do multi-track every show and some of that gets used, and we are putting up audience mics we might otherwise not use. But in the end, the DVD is a representation of the band's live show, and not the other way around.
MPM: Away from Rush? I first met you when you took over Shakira from Rob "Cubby" Colby when he left to take Juanes. It seems like you are one of a couple of "go-to" guys when an A-list mixer needs a sub on a major gig. That's a good thing and speaks volumes about both your skill and basic human decency. (i.e., People know you can do the gig AND that you are not gonna try to take it from them.) A little about the skill set and the personality traits it takes to be able to step seamlessly into another gig would be awesome.
BM: I have been asked to take over a few gigs. Sometimes the engineer has a conflict and just needs someone to keep his hand on the tiller, so to speak. I would never actively work to take that guy's gig from him! It's nice just to get the call. Other times, the guy may be moving on, and in that case I'll move quickly to make the gig mine. I think Cubby is a great engineer, and in fact we did call him back a couple of times when there were shows I couldn't do. It's good to be gracious, don't you think?
MPM: Anything else I'm failing to ask about that you think is important?
BM: I think a live engineer just has to have a strong work ethic and get in early and work with other people on the tour to make the sound of the show - not to mention the show overall - as good as it can be. The truth is there are always compromises, starting with the venue on most days, and it's important to work with the other departments and get the best possible results.
---
Clair and Rush - Playing to Their Strengths ... As Usual
By Mike Wharton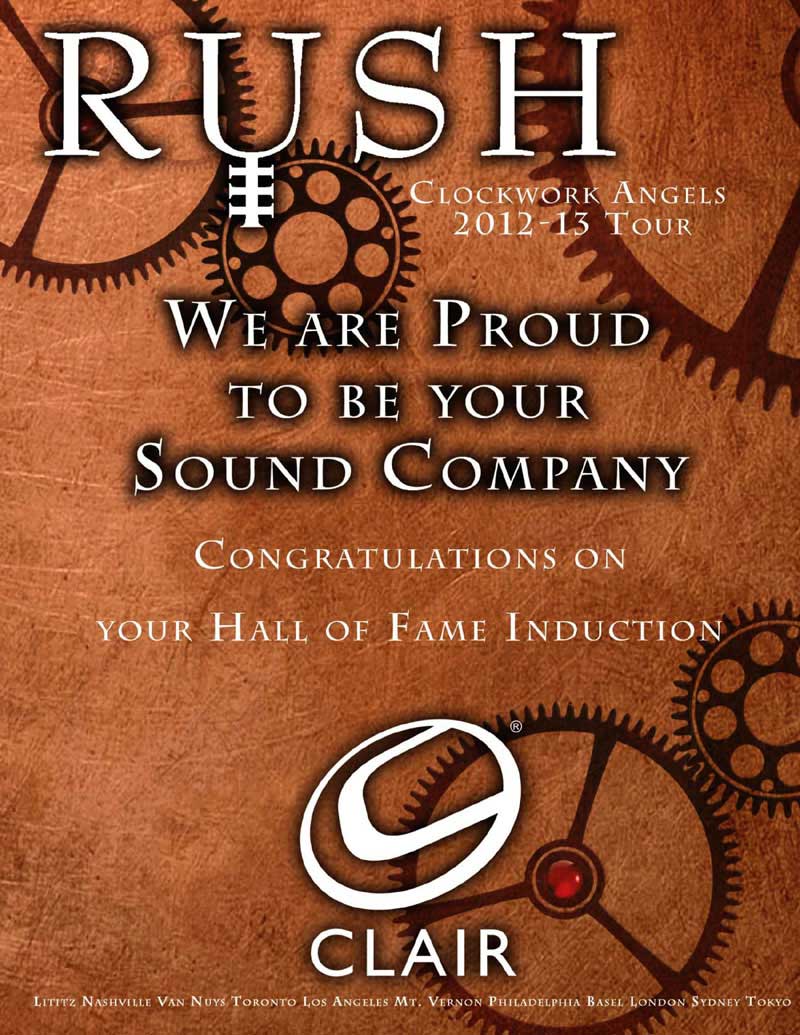 Clair. The name is synonymous with touring live sound reinforcement systems and has been setting industry standards since their inception in the 1960's, garnering numerous awards along the way. The Tour Link Conference alone has awarded them the annual Top Dog Award as Sound Company of the Year 2008-2011, as well as recognizing Clair's Employees of the Year 2005-2007.
With this rich history behind the company, Clair is proud to be supporting Rush on their current Clockwork Angels world tour. "We've been involved with Rush for around six years now, and we are especially happy for them for their induction into the Rock and Roll Hall of Fame this year," says Scooter Hernsbeck of Clair Nashville.
Liam Birt, Rush's tour manager, notes Hernsbeck has been Clair's consistent contact in dealing with producing the sound system for the tour. The sound crew, numbering four, is small for the amount of gear comprising the system, but tightly efficient.
Besides Rush's Front of House engineer Brad Madix and monitor engineer Brent Carpenter who both work for the band, Clair employs two crew, System Engineer Anson Moore and Stage Tech Corey Harris. The great thing about all this, Hernsbeck points out, is that Madix and Carpenter are very much hands on. They are instrumental in the daily set up of the system Hernsbeck says. The two fly stage right PA, and then move on to setting up their respective worlds. "Brad and I are of the same mindset," says Carpenter. "While we may not be there when the "x's" go on the floor, we're there from the time the gear hits the floor 'til it's set and flown to trim."
Carpenter points out that in the early days of his career he worked in Clair's warehouse doing board and system maintenance. He realized at that time in the mid 90s and has found to still be true today, that the office in Nashville's greatest strength is their board group and system packages. He believes this has come about through the vast amount of work Clair has done with country acts. "Many of these acts predominantly carry board and stage packages but not necessarily PA's. The Nashville office has literally become experts at putting these packages together. I can send them my patching, cable loom lengths and stage specifics and it always comes out of their shop exactly as I specced. The post mortem performed when the gear returns to the shop at the end of the tour for future reference should the system go back out, is another key element to maintenance and proper pre-prep. "They document everything, taking copious notes," says Carpenter.
Carpenter notes too that, while the situation is rare, whenever he has need of support from Clair's home offices, "I always get a human being on the other end of the line, no matter what time it is day or night."
The way Clair deploys their equipment is the first step to this quality assurance. While the company truly maintains a global presence with sales offices all over the world, Nashville remains the sole office that equipment is pulled from. "Everything comes out of that office," states Hernsbeck. The original facility in Lititz, PA stands as the company's Corporate Headquarters. "We still build all our PA systems here. We do not 'job out' anything, which further insures our quality assurance," adds Hernsbeck.
Never a company to sit on their laurels, Clair has built on their tradition of excellence with continuing innovations. Rush is utilizing Clair's i-series Line Array, hanging fourteen cabinets a side.
Set up is expedited and enhanced through the use of two propriety components developed by Clair in tandem with the i-series PA. These are the Clair Line Array Software and its associated Line Array Venue Measurement Tool.
The software calculates array angles, weight and rigging details. The Venue Measurement Tool does exactly what it says. Together they provide accurate information to assemble, fly and position the PA faster, more safely and with greater accuracy. When all is said and done, the engineers have designed a system with equal coverage throughout the venue from the front row to the last seat in the top balcony.
Certainly sounds easy. In the right hands, it is. But make no mistake; the hands achieving this ideal end result are drawing from years of experience, in venues around the world, with less than ideal conditions, backed by a company that has been doing this everyday for 40 years.
Enjoy the show.
For more information visit: clairglobal.com