Rush: Fame At Last
By Mick Burgess, Fireworks, July/August 2013, transcribed by pwrwindows
---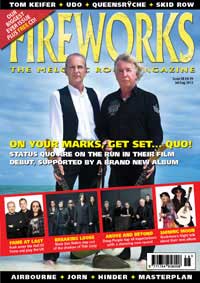 Last month they were inducted into the Rock and Roll Hall of Fame and have over forty million album sales to match a career spanning almost forty years. Canadian rockers Rush show no signs of slowing down. Mick Burgess had the chance to chat with lead guitarist Alex Lifeson on the eve of their latest UK tour.
Congratulations on your recent Hall of Fame induction. Did you think that it would never happen?
We didn't really care one way or the other. It seemed like a nice idea but if it didn't happen then it wouldn't change anything for us. For our fans it was much bigger deal. They felt slighted by the fact that we'd been eligible for a decade and a half before we were inducted. I was indifferent at first but on the night when we felt all of the love in the room from all of these musicians who we admired but who looked upon us as an inspiration to their careers; that was really a terrific feeling.
Prior to your 'R30' tour in 2004 you hadn't played in the UK for 12 years but since then you've been back four times. What has changed for you to want to come back on a more regular basis?
We just planned better I think. We play fewer dates in North America and at the beginning of planning a tour we always accommodate the UK. I think it's because we didn't get back here as often as we should. With social media it's obvious that there was a lot of support for us here. People were disappointed that we didn't come over as much as we should, so we're trying to make up for that now.
You play for almost three hours each night. How do you pace yourself during the show?
We're much more conservative on our days off than we used to be. Not that we are crazy wild party guys. We now work one day on and one day off, we don't work consecutive gigs anymore. Those off days are truly recovery days especially for Geddy and Neil. Geddy tends to get up at one o'clock and doesn't talk so he can rest his voice. We'll go for dinner together. It's pretty subdued with a nice meal and a glass of wine. We have a chef who cooks organically and both Geddy and I hit the gym. We're very conscious of keeping our energy levels up so we can play a three hour set. We're going to be sixty this year so we have to look after ourselves.
There's a real camaraderie between you. Has this helped to keep the band together for nearly forty years?
That's been a big part of it. The fact that we enjoy making music together is another aspect of it. We laugh a lot together. Ged is my lifelong best friend. We've been friends since we were thirteen and we share a bond that goes beyond the music, beyond everything. It's growing up together with your best mate. To be lucky enough to play in a Rock band for your whole life with your best friend is pretty special.
The great thing about going to see Rush from one tour to the next is that your set lists change so much. Do you have a formula to pick so many from the new album, so many classics and the odd rare album cut?
We always start with the most current material and we want to play as much of the new album 'Clockwork Angels' as we could so that takes about an hour. Then we fit in the classic Rush songs that we need to do every tour then we fill the set up with whatever obscure songs we want to include. This tour we'll be revisiting some of those '80s records, 'Power Windows' and 'Hold Your Fire', as I think those tend to get over looked. Despite what people think my attitude is about those albums, I do love those songs and we give a new fresh breath of air into them.
What rarities have you considered for this tour?
'Middletown Dreams' is great to play live and playing 'The Pass' is really an emotive song. It's not an easy song to play cohesively but we've nailed it. 'Bravado' is in there too. They are great pace changers. There's a lot of thought that goes into choosing the set but I know we can't please everybody. There's zillions that would like to hear 'Jacob's Ladder' again but the set is what it is and we feel it's well balanced and is full of songs that we need to play.
You always have an elaborate production. Are you taking the steam punk/time machine concept a little further this time?
I think the Time Machine set was the preliminary step to what the 'Clockwork Angels' set would be. This time it's a more complete stage set up. It's the first time we don't have any amps on stage, it's all set pieces. The rear screen stuff is very crisp and bright. We have some great video stuff in that steam punk vein, almost Monty Python-esque. We have a seven piece string section who are awesome players. It's a great production.
Your latest album 'Clockwork Angels' has vintage Rush in there with complex arrangements and mood changes while keeping that contemporary feel of your later albums. Was this the plan?
I don't know really. I'm never sure what the plan is! We sort of start on the day and it takes shape. I think probably with this record, we really wanted to play and wanted to stretch out a little bit. We wanted to have fun playing and also to strip things down a little. I think 'Snakes and Arrows' was a little bit dense because it was written on acoustic guitar which played a major role in the production. We layered a lot of acoustics and electrics and I think we got just a little cloudy at times. I really like the record but with hindsight of living with it for a while we realised that we kind of overcooked it a bit.
Do you bring complete musical ideas to Neil complete with your click tracks and then does he go away and develop the drum patterns?
Yes, very much so like that. When we write we tend to do it with a very basic drum pattern using samples or some sort of drum software. In fact, when we're jamming it's usually to a click track just to give us a bit of a tempo, but it's hard to be too imaginative with a click track. We tend to jam a bunch of different things then piece it together with a utilitarian drum pattern while we develop the music and then we put the vocals on. I'll then go back and redo the drum pattern with a more up to date version and that's what we present to Neil and sometimes he takes some of those ideas and applies them to his arrangement.
'BU2B' and 'Caravan' were released a singles last year and played on your Time Machine tour. They feature on your new album in a slightly different form. Have you re-recorded these?
We just re-mixed them. We wanted them to have the same character, mix wise, as the rest of the record. Now they are much more attached to the whole album rather than being standalone tracks.
You had some trouble with 'Wish Them Well'. It sounds such an uptempo, positive, relatively simple song compared to others on the album. Why was it so difficult?
We got a set of lyrics from Neil that we really liked and we tried to develop some musical ideas but it didn't seem to be working. With the first version we had parts of it that we really liked but the longer we spent on it the less we liked it. We went ahead with a couple of the other songs and did the tour and then when we returned to it we decided to scrap the music. We felt the lyrics were strong and were important for the story. The music just was not happening so we developed a completely different thing and lived with that for a little while and that was still not getting us off. Finally we went with the approach that you can hear now which was much more strident.
'The Garden' has a wonderful string arrangement. Who decided to bring the string section in?
We put down keyboard-sample strings and we really liked it but we thought rather than use sampled strings we'd bring in a real orchestra - Geddy and I were the catalysts for that. He's a real sucker for those sort of things. We decided to bring the strings in and David Campbell did a great job on the arrangement. That really tugs at your heart. I think there's something that's really classic about that arrangement and really heartfelt. The song works really well as a closer, the final chapter of the story. That single cello note at the very end is very poignant.
There's a theme running through the lyrics relating to a world driven by steam, clockwork and alchemy. Was this inspired by the wonderful Time Machine stage show?
I think it's probably the other way around. I think we knew where we were going with the steam punk aesthetic so having had 'BU2B' and 'Caravan' and having had the idea of developing the concept before the last tour it just made sense to take a preliminary step with that theme. Now we can more fully develop it for the next tour.
You put the album out in the UK as a Classic Rock Fanpack which included a magazine, keyring and poster. Do you see this as a way of attracting people back to physical products and away from downloading?
Yeah, and the great thing about it is that it gives you something to look at when you're listening to the record. It's like back in those days where you'd have a beautiful album jacket in your hands. That whole tactile experience has gone from music and at least with the Fanpack it gives you a little bit of an opportunity to have that again.
As a band you've evolved so much from the original power trio to the progressive rock of 'Hemispheres', the New Wave and Ska influences on 'Signals' and the hi-tech rock of 'Power Windows'. Has that kept the music fresh for you?
It was a natural progression for us. It's how we've always evolved. We've always had one foot in the mainstream so we've been aware of what's happening with musical styles and how they develop but we always try to keep our own style. I think as we get older we have greater confidence in our playing and that makes us feel that we are where we should be.
'Signals' was very keyboard orientated. Did you feel a little alienated by that?
I think at the time I felt that the keyboards were starting to encroach but there was still plenty of open space. That was a very pivotal album with Terry Brown, it was the last one we did with him and we were looking for change and wanted to learn more. It was a period of growth for us.
Looking back with the benefit of hindsight, which albums were most enjoyable for you to make and which were the least?
'Hemispheres' was certainly the most difficult followed by 'Grace Under Pressure'. The most pleasurable to make were 'Clockwork Angels' and 'Moving Pictures'.
You're playing the Sweden Rock Festival. You always said that you wouldn't play a festival for safety reasons. Why have you decided to play this one?
In the past we wanted to have control over the show and in the past it wasn't possible, now it's a little easier. We cut the show back from three to two hours. It's a great way to get to a broader audience. We wanted to test it out for this festival and see how we feel about it and if it all works out we'll consider it again for the future.
You celebrated your 30th anniversary with the covers album, 'Feedback'. Have you thought how you'll celebrate your 40th next year?
We'll do a special tour and we'll look closely at some of the songs we haven't played for a long, long time. As for a new record we haven't really thought that far ahead yet.
Would 'The Fountain of Lamneth' be in contention for that tour?
That might be stretching it a bit. That's no comment about the 'Caress of Steel' record. I hear things that we are embarrassed about that record but I'm very proud of it. It was a major stepping stone for us. It's a very youthful record but we were barely twenty years old at the time. There's some good playing on it and some good arrangements, but it doesn't mean we want to play much stuff off it.
Your record label were looking for something a touch more commercial after 'Caress of Steel' and you came back with a concept album with a twenty minute title track in '2112'.
I'm sure they weren't too pleased when they first got it but a month or two later they were smiling!