Geddy Lee Dives Into Rush's Video Timeline
Hear Geddy's Thoughts On '2112,' The Hall Of Fame Jam And Bad Haircuts
By Andy Greene, RollingStone.com, October 7, 2013
---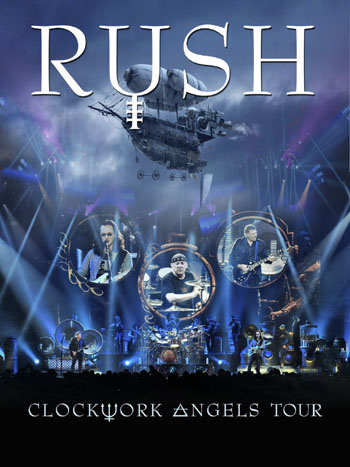 Geddy Lee is the first to admit that Rush do not have a great track record when it comes to making music videos, and their track record of picking stylish haircuts and outfits also leaves a bit to be desired. A few weeks ago, he sat down with Rolling Stone to discuss Rush''s new live DVD and their future plans. Towards the end, we took out an iPad and showed him 10 Rush videos on YouTube. Sometimes, he looked a little horrified at his videos and haircuts, but he had a lot to say about all of them. Click through to see the videos and hear Geddy's memories. At the end, we also showed him a couple of Rush tribute videos by some super-fans.
"Wow," said Lee. "It's hard to watch yourself as a kid. It's like watching bad home movies. The things you notice are, 'God, I was so skinny back then.' So was Alex, nevermind me. The things we're wearing are funny. We were just coming out of our bar-band phase. In the bars, we used to wear kind of glittery clothes because everybody needed to stand apart in some way. That was post-glitter rock, but we were never the most fashionable people on earth.
"[Original drummer] John [Rutsey] was always very fashion-conscious. He was totally into that whole glitter scene. You can see his hair. He was a big admirer of a lot of the mods and British bands. Alex and I didn't pay much attention to that. We just looked for something that was flashy enough and seemed like stage clothes.
"I haven't seen this, ever. It's not a bad recording, either. John was very much a mod, very much in the Paul Weller school of dressing. Alex and I were just long-hairs pretending that we were groovy."
"This song has one particular memory for me that supersedes all: the first time we ever jammed with Neil [Peart], first time he auditioned for us. Alex and I had written this riff and we had written it back in the day when Rutsey was in the band, and Rutsey wasn't into playing it. It was too complicated and it wasn't his thing. He was more into straight-ahead rock & roll.
"Among the other things, we jammed with Neil the first day we met him on this opening riff. When he started playing, we looked at each other and were like, "Yeah, this is the guy. He can play. He'll do." I can't even ponder what would have happened had we not met him. Life is bizarre. Twists and turns. Fate brought him to our doorstep that day and, quite happily, we are still hanging out together."
"Oh, wow. I remember that gig. Capitol Theater. Obviously, this was a really good time for us. We have staved off our demise. In late 1975/ early 1976, we definitely thought we were going down the drain. We honestly thought this was going to be our last album. When it came out, it was mostly word-of-mouth. It wasn't getting much airplay, obviously. But you could tell there was a buzz amongst fans when we played it. We were feeling very optimistic.
"I do remember this show. I used to love the theater gigs. I remember they had a very good caterer at that particular venue. You remember gigs sometimes by what you ate before you went on. This is just two years after the first video, but it was a big two years. A lot of growing up. We were on tour all the time. We were doing over 200 shows a year, probably in excess of that. We didn't take much time off. We did back-to-back-to-back-to-back shows. At one point, I remember someone counted that we did 17 one-nighters in a row, 17 different cities.
"We were headlining at this point, but very small venues. This was just as we were becoming a headliner. We couldn't headline big venues, but we could play places like this theater, and they were often multi-act shows to get people to come out. We weren't selling a ton of tickets, so we needed help to get people out. There was change in the air. You could feel there were things happening to us...Where do they get videos like this?"
"Look at Alex's finger here. He totally wrecked his finger the night before. He's never told us exactly what happened. I don't know how he played. We had to cancel a show the night before. He whacked his finger somehow and it was so infected that he couldn't play guitar...
"This was a great show. It was one of our first big pop festivals, and I love Holland. The Dutch are great fans of ours. There were such interesting other bands on the bill, like the Police. I remember watching them backstage; they were just coming out. 'Roxanne' was a big hit. Peter Tosh was on that show. It was kind of interesting for us to be in the context of these other artists.
"And my keyboard tech, Jack Secret, broke both his feet at this gig. It was just one of the stupidest things ever. On this side of the stage, there's a little wall. I don't know why, but Jack thought he could hop that wall and there was the rest of the stage on the other side of the wall. But there was a stairwell. He hopped over the wall and fell 25 feet down a flight of stairs and broke both his feet.
"Right before we went on, the promoter of the show – it's become a legendary story in our backstage tales – the promoter was this super-nice Dutch fellow named Jann Smeets. He came running back and said, "Sam broke his feets." We were going, "No, it wasn't Sam. Sam's right here." Turns out it was Jack. He did the show. They took him to the hospital and he came back with his feet all wrapped up. You can see him somewhere sitting in the background, still taking care of the keyboards. He could have absolutely died that day. Crazy story.
"What did we do before YouTube? It's unbelievable what exists on there."
"This is the world's weirdest band. Bryan Adams called me about this. All around the world, all these musicians were doing these things. Bryan wrote the song and he basically got everyone together. I had never met Neil Young before. He was totally the coolest guy of the whole day. Joni Mitchell was there. I was thrilled to be in the same room as her. I was always a big fan. Burton [Cummings, singer of the Guess Who] was a good guy. They were all kind of hanging out for the day, recording this song. It was a very unusual experience for me.
"It's a crazy, crazy little tune. You can see the time period in everyone's haircuts...Véronique Béliveau, the French singer, was awesome... This was bad, but it wasn't my worst hairdo. My worst one was the coonskin hat period. That's when I had my hair in a ponytail and this big poufy thing on the top. That was late 1980s/ early 1990s.
"I haven't seen this video in years. Being with some of those guys was surreal. And Anne Murray, she's an awesome person, too. Most of these people are long since faded from any public memory. I don't even recognize some of these dudes. That was produced by David Foster. He was a real schmaltzy producer."
"My daughter saw this video for the first time because they featured some of it in [Beyond the Lighted Stage]. She just thought it was hilarious that we were flying through the air. It's such a strange video. This guy was the hot new director at the time, Zbigniew Rybczynski. He layers these things live. We basically hung around this studio for 24 hours, shot after shot. He builds it in-camera. You shoot all these things separately and then he glues them all together. It was just a bizarre day. Aimee Mann was hanging out with us all day and all night. She was such a good sport about the whole thing.
"This is my hair at its worst. It's a bad 'do. I don't even think we ever really nailed music videos. The funny thing is just watching this giant drum kit flying through the air. It's one thing to see humans. They have a form. But here's this whole drum kit floating through space. Who says we don't have a sense of humor?
"I love Aimee's voice in this song. It's just perfect. It was a very sweet of her to lend herself to it. You can tell these parts towards the end were shot later at night because my beard has grown out. We were there so long!"
"I love this video. It was directed by Dale Heslip, who is our art director now. He designs all our current tours. This is really his forte. You can see a lot of the stuff that was in the Clockwork Angels tour, you can see a lot of the same influences. A lot of the steampunk. Dale had this idea to do this concept piece. This is recorded in an abandoned hydroelectric plant in Toronto. It was a lot of fun to do. Dale is a kind of quirky and brilliant art director. You can see that at work here. It's funny how much this would suit our current stage set."
"This was awesome. This was my favorite part of the whole night, I have to tell you. I was so chilled out by then, and it was so fun to play with all these guys. I could have played that song for 25 minutes. It was great. I can't say enough good things about it. I love that I was just a bass player for most of it. Pratt and I were just holding down the backbeat. Taylor [Hawkins] is on the side. And to meet all these guys and hang with them a little was great. Tom Morello is awesome. The Heart girls are so nice. Dave [Grohl], of course, and Taylor are amazing musicians.
"John Fogerty didn't show up for any of the rehearsals, but he just showed up that night and it was like, 'Oh, hey man.' Chucky D was awesome. You don't expect these guys to be good guys. You don't really know them, but there were no ego trips. Everyone was totally chill. I was talking about it with Alice Cooper last night. He was talking about when he was inducted. We were talking about it on the air and he said it feels like you're in this little club now. Being inducted breaks down all sorts of preconceived notions about each other and you just kind of relax into it. I just kind of felt totally relaxed with this group of people.
"There were all kinds of songs suggested for the song at the end. For a while, it was going to be a Zeppelin song. And then they asked me my opinion and I said, 'We should do 'Crossroads' since all these blues artists are being inducted.' 'Crossroads' is kind of the transition point from blues into rock and it was instrumental in my career. That's why we put it on our Feedback album, too. I think it was Robbie Robertson who made the call. At the meeting, he stood up and said, 'That's the way to go. 'Crossroads' is a cool song.' It's a great jam song, let's face it."
"Oh, I've seen this chick! She's amazing! Somebody sent me a new one of this eight-year-old boy playing drums to 'Fly by Night.' You should check it out... But this is unbelievable, just unbelievable. It seems insane and inconceivable, yet how sweet. She's got the feet going. Look at her feet go. This is just unbelievable. Crazy, man. I'd love to pat her on the back. Again, this is awesome."
"I've never seen this. I guess we should send this to Neil so that he sees there is a reason for us to go back to Japan. He's not in favor of us going there. Wow. They are really getting into it, or are they? It's a good version of it. It's crazy. I don't know what to say about it. Nice job, boys. I'm surprised this group even exists. These guys sure are pretty good. Maybe they would like to tour in our place. Guys, how do you feel about a 40th anniversary tour? They could go out as us. That's funny."