The Rush Tour: Coming To A Theater Near You Nov. 18
'Rush: Clockwork Angels Tour' Captures The Band On The Road And Backstage
By Edna Gundersen, USA Today.com, October 31, 2013
---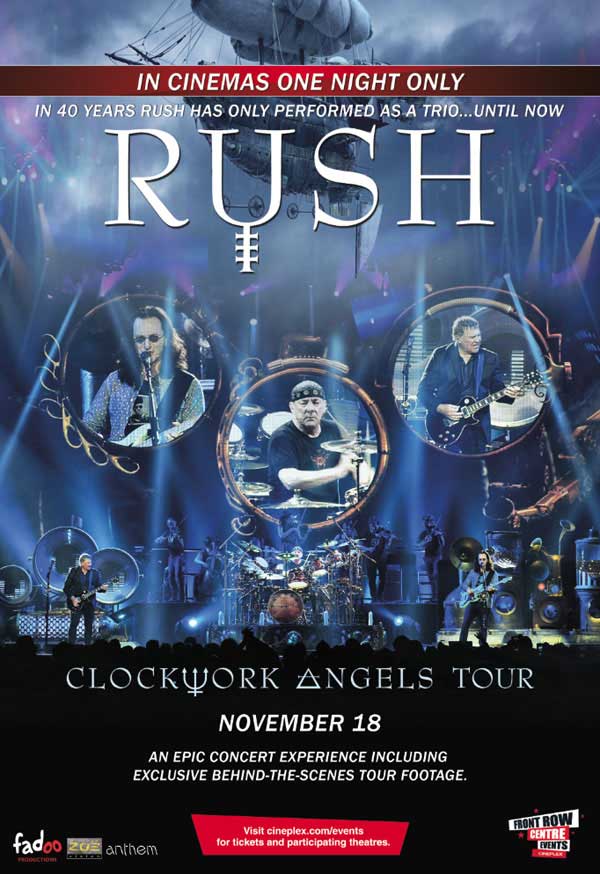 Rush is bringing a film version of its extensive Clockwork Angels Tour to more than 350 movie theaters on Nov. 18.
NCM Fathom Events and Rounder Records are presenting RUSH: Clockwork Angels Tour, a one-night concert event and preview of the band's upcoming tour DVD and CD, starting at 7 p.m. Nov. 18 local time.
Recorded at shows in Dallas and Phoenix, the film includes performances of Tom Sawyer, The Spirit of Radio and 2112, plus material featuring the Clockwork Angels String Ensemble, the first outside musicians incorporated into a Rush tour.
Among the behind-the-scenes extras are interviews with the Canadian prog-rock trio's singer/bassist Geddy Lee, guitarist Alex Lifeson and drummer/lyricist Neil Peart.
Tickets go on sale online at 21:12 (9:12 p.m. ET) Thursday at www.FathomEvents.com and at participating theater box offices. Find a list of theater locations and prices here.
The Clockwork Angels Tour DVD and CD arrive Nov. 19.