Rush Guitarist Alex Lifeson Discusses The Band's Road Less Traveled
By Robert Wilonsky, Dallas Morning News, November 22, 2013
---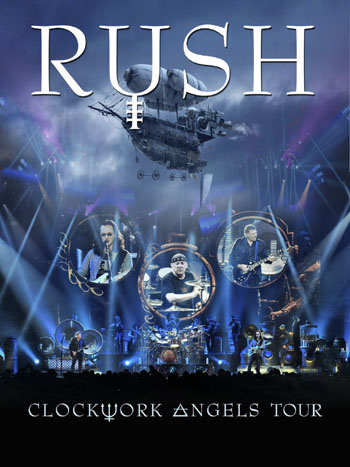 Alex Lifeson, the guitarist who founded Rush 45 years ago, remembers very clearly the first time the band played Dallas. It was Oct. 17, 1974, at the Travis Street Electric Company, a club on Knox and Travis streets.
The band was touring behind its self-titled debut, which had been released in March with John Rutsey on drums. Rutsey didn't last long, and by the time of that fall tour, Neil Peart was sitting behind the kit. Thirty-nine years later, Lifeson, Peart and Geddy Lee, the skinny bass player with the glass-shattering voice, would become the subjects of a well-received documentary - 2010's endearing Beyond the Lighted Stage - and Rock and Roll Hall of Famers inducted by the Foo Fighters.
Back then, they were gawky Canadians in a strange land.
"And I remember having such a great show in Dallas that night," says Lifeson. "We were playing a lot of our bar set - stuff we put together very quickly with Neil off the first show. We played 'Bad Boy,' the Beatles song. We were out with Uriah Heep, Rory Gallagher, Nazareth, relegated to a 20-minute, half-hour sets. So we would pick up these club dates where we would play for a couple of hours, and that was a really exciting night, because nobody knew who we were, and we won the crowd over that night. The place was just roaring by the end of it, and we all just thought, 'Texas is awesome!'"
The band has been through town dozens of times since, most recently one year ago at American Airlines Center during the elaborately staged Clockwork Angels Tour. That date, unlike the '74 gig, will never be lost to the ashes of time: Performances from the AAC show make up a bulk of the Clockwork Angels Tour DVD, in stores now. It's as extravagant as the '74 tour was rinky-dink, filled with short films and string sections and lesser-known songs from albums buried in the discography.
As Lifeson put it when we spoke last week, that's the benefit of being in the same band for 45 years: You can kinda do what you want.
The last tour was a Rush show times 100. But that seems to be the band's policy: We'll do what we want - make some records with keyboards, use short films in our shows, play the brand-new and lesser-known songs when most acts offer nothing but best-of sets - and hope people stick around.
That is the case with us, and knock on wood, we've been very fortunate that we've been able to maintain that policy all these years and still not go down the tubes. It's a death sentence for most older bands to play your new record when everybody wants to hear the old hits. But big chances don't seem like big chances to us. If they don't work, we're the only ones to blame.
But isn't yours a different breed of fan? If I learned nothing else from Freaks and Geeks and I Love You, Man, the Rush fan is passionate to the point of fetishistic, knowledgeable to the point of scary and, well, also kinda sweet and awkward.
There's definitely a strong relationship between us and our audience. And I think it's partly because we've never been the cool thing. We've never been the trendy thing. We've just been hardworking and done what we believed in. We wrote the music we wanted to write. We didn't try to write pop hits. ... Maybe there's a cultish quality about who we are. We're kind of unknown to the majority of people, so you feel a little more connected to that as a fan. They feel like, "They're my little discovery." And that has changed a bit in the last four, five years - since I Love You, Man and the documentary. We have a new audience. We're getting more press than we used to. The Hall of Fame thing. It's one thing after another.
Is that it? When Paul Rudd and Dave Grohl show up as Rush fans, people go, "What did I miss?"
Not to the hard-core Rush fans. They're going, "Great, so they're there now. Great." And we've been around for so long, people who grew up listening to us are adults with jobs and families, and they've always been along for the ride - like the Grateful Dead, I suppose. They were connected to their fans without airplay.
Yeah, but you had radio hits.
There is something about us that's just not the norm in rock music. I don't know what it is. We've been a little outside, maybe. We've been grounded. We don't live the big rock lifestyle. I've got a 43-year-old son. I was a father when I was 17. I had that responsibility when I was young. You took the kids to school and got groceries. It's what everyone else does - except, maybe, Axl Rose. That lifestyle wasn't for us. And maybe that's what connects us to the fans. They feel like they can sit down with the guys in Rush and have a beer and it'd be no big thing.