'Clockwork Angels' A Heavenly Comics Debut For Rush
Rock band's concept album comes alive in Boom! Studios miniseries launching in March
By Marco R. della Cava, USA Today, December 11, 2013
---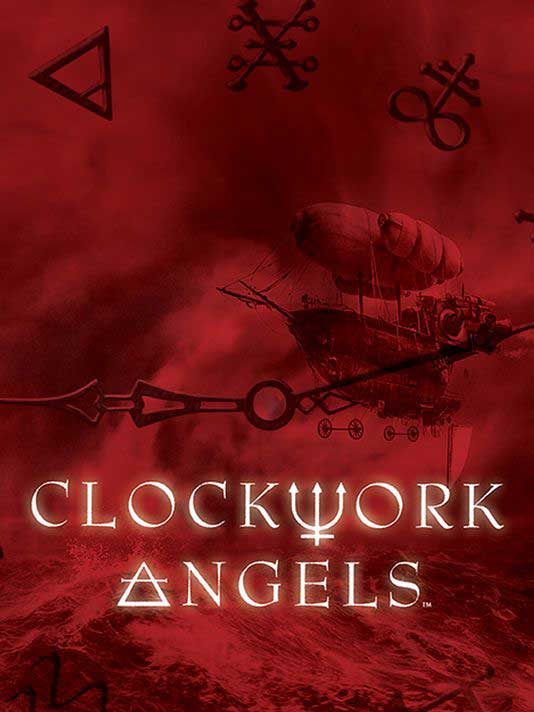 For fans who adore comic books and also live for the rock band Rush, their steampunk dream begins to turn its gears next year.
The music of the Canadian progressive-rock trio makes its way to the comic-book page beginning in March with the six-issue Boom! Studios miniseries Clockwork Angels, based on the group's 2012 concept album of the same name.
Rush lyricist/drummer Neil Peart hatched the coming-of-age story of a naïve youngster in a turn-of-the-century world of airborne steam liners, pirates, carnivals, working alchemy and wind-up contraptions with novelist Kevin J. Anderson, who wrote the Clockwork Angels novel and is also penning the comic-book adaptation.
"It's just a beautifully painted world in the music that I tried to capture in the novel and now tried to turn into a different direction," says Anderson, who's working with artist newcomer Nick Robles.
"Who knows, we might have ice follies someday or a Broadway musical."
Even if songs such as "Carnies", "BU2B" and "Seven Cities of Gold" never make it to official show tune status, Clockwork Angels has grown far bigger than Peart ever imagined.
"Kevin and I had talked for years about combining a novel and an album in some fashion, but I guess the idea had to grow up as Kevin and I did - gaining maturity and confidence in our own separate crafts, while gaining the life experience necessary to give the story its scale and depth," Peart says.
"So, rather than a longtime dream realized, this project is more like a fantastic new dream unfolding before us."
With a feel and tone of Norman Rockwell crossed with The Hobbit, Clockwork Angels introduces teenage Owen Hardy, an assistant apple-orchard manager in a small, out-of-the-way British country village who's in line to get a major promotion when he turns 18.
However, he wants to leave the Tick Tock Tavern and other familiar spots behind to find his fate in the metropolis of Crown City.
"He's a lot like Voltaire's Candide," Anderson says. "We're intentionally following that a little bit, this guy who leaves home and goes on this wild journey. Basically, the rest of the world is weirder than he is."
Crown City is the home of the Watchmaker, a big-brother figure whose pronouncements are issued by the Clockwork Angels, which come out like a gigantic glockenspiel in the middle of the city every day.
Owen runs off and joins a strange steampunk circus - among the carnies a gypsy fortune teller whose entire body is mechanized except for her head. He also learns of the Wreckers, pirates who scavenge booty from cargo steamers, as well as the Anarchist, a man who hides in plain sight wanting to destroy everything.
He's as bent on chaos as much as the Watchmaker is obsessed with order, the apparent "villains" of the tale who aren't so black and white, according to Peart.
"Neither is your typical comic-book evil sociopath, but rather 'extremists' for order and for freedom. Good things taken too far - like good intentions, that excess paves many roads to damnation," the musician says. "As characters, they personify mystery, power and dark fascination, but they also have human weaknesses, like fear, pride and envy."
Peart and Anderson have been friends for more than 25 years, since Anderson sent the drummer a signed copy of his debut novel inspired by the Rush album Grace Under Pressure, "assuming it was going off to the warehouse where the Ark of the Covenant is stored," the author jokes.
Since then, he adds, "we've always wanted to do something that really tied my fiction with his music because we're mutually inspired by each other."
Three years ago while hiking along 14,000-foot-high peaks in the Rocky Mountains during a free day for Peart between gigs, he and Anderson took the first two songs of the fledgling Clockwork Angels album, "Caravan" and "BU2B", and began to build a fantasy narrative.
Anderson crafted a novel but found publishers didn't quite understand the idea of a concept album and book sharing the same story - and it's why, when Boom! head man Ross Richie wanted to add Clockwork Angels to his musical stable of Say Anything singer Max Bemis' Polarity and Coheed and Cambria frontman Claudio Sanchez's Kill Audio, Anderson jumped at the opportunity.
"It's like writing the novel to Pink Floyd's The Wall or Sgt. Pepper's Lonely Hearts Club Band. It's obvious," he says. "But I guess if you don't listen to prog-rock music, you don't understand that there are these big epic stories in all of the songs."
Anderson writes Dune books with Frank Herbert's son Brian and has also penned spinoff novels and comics for Star Wars, The X-Files, StarCraft and others, yet he was attracted to the Victorian/Industrial Revolution aesthetic of steampunk used for Clockwork Angels.
The genre ties into Anderson's favorite movies growing up such as 20,000 Leagues Under the Sea and Mysterious Island, and he loves exploring an alternate-history time and place "where kooky inventors make something in their garage that's a spaceship that levitates them off to the moon," says the writer.
"It has a charm and an innocence and a sense of wonder to it that is the complete opposite of, say, the grim gritty future of The Matrix."
Anderson inserted Rush lyrics into the prose of the Clockwork Angels novel, and similarly he's sprinkling easter eggs in the comic, taking references from various Rush albums and sneaking them into back corners of panels and clouds in the sky.
"We think Rush fans are attentive and intelligent," he says. "It just gives them the extra thrill of seeing that this isn't just a straightforward story. There's a lot of interconnected things, too.
"We won't need to sell those people very hard," Anderson adds. "But there are other people in the world, and we'll maybe trick them into liking Rush."