Guest List: Geddy Lee
Rush just released a deluxe DVD-CD from their Clockwork Angels tour
Rolling Stone, December 19, 2013, transcribed by Ed Stenger
---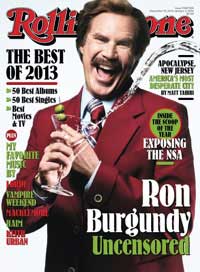 The Who
My Generation
So much of what I wanted to do when I was growing up was fashioned after listening to The Who. The bass is almost the lead instrument here, and that speaks to me, obviously.
Fleet Foxes
Your Protector
I've spent so much time listening to this. I'm moved by the unusual melody and harmony structures, the production and the great singing.
Björk
Isobel
This is a beautiful song. Björk's voice just slays me. I love how much emotion she brings to her songs, even when I don't understand what she's singing about - which is quite often.
Led Zeppelin
Communication Breakdown
I'll never forget us sitting around my room in 1969, listening to this song. We were blown away. Zep started a heaviness that didn't really exist before that.
Jethro Tull
Thick as a Brick
I know this betrays me as the progger I am, buy it was such a favorite piece of music for so many, many years. It was just pure prog magic. To me, it was the ultimate thing to aspire to.