Thinking Big: Rush's "Clockwork Angels" Concept Album To Be Graphic Novel
By Phil Simon, Huffington Post, January 6, 2014
---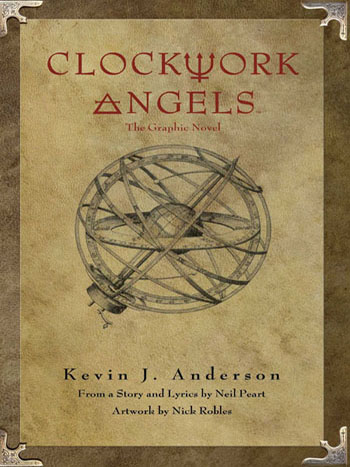 "I can't stop thinking big" is from the opening track of Clockwork Angels, the most recent studio album from Canadian rock legends Rush--Neil Peart (drums), Geddy Lee (vocals and bass), and Alex Lifeson (guitars). Indeed, in their forty years together, "thinking big" has been a hallmark of their music. Immediately upon its release, Clockwork Angels became the #1 best-selling album in North America. In 2013, Rush ended a year-long international tour to support the album, more than 70 shows, which was rated as one of the top tours of the year. And, long overdue, the band was inducted into the Rock & Roll Hall of Fame. (I was there in person. It. Was. Awesome.)
But Clockwork Angels is also unique in another way: the album is accompanied by a bestselling and award-winning fantasy novel conceived by drummer and lyricist Peart and written by #1 international bestselling author Kevin J. Anderson. Now--as if a chart-topping concept album and a hardcover novel isn't thinking big enough--Clockwork Angels is exploring another part of the creative spectrum, with Anderson and Peart adapting the story into a six-issue comic series to be published by Boom! Studios.
Clockwork Angels is an exotic steampunk fantasy tale of a young dreamer, Owen Hardy, from a small village in the land of Albion, which is ruled with clean and careful precision by the Watchmaker. Owen jumps aboard a steamliner late one night, and he is on his way to the fantastical, alchemy-driven Crown City which is filled with marvels, including the legendary Clockwork Angels. Not everyone is content with the Watchmaker's peaceful, rigid Stability, however. The "freedom extremist" known as the Anarchist intends to disrupt and destroy whatever he can. Caught between these two titanic forces, Owen is swept up in adventures with airship captains, steampunk carnivals, alchemy mines, ruthless pirates . . . and of course the ethereal, mysterious Clockwork Angels.
After corresponding and tossing ideas back and forth for months, Peart and Anderson plotted the novel when they climbed a 14,000-ft mountain peak in Anderson's home state of Colorado during Rush's Time Machine tour. The two have been friends for twenty-five years, ever since the publication of Anderson's first novel Resurrection, Inc., a book inspired by the Rush album Grace Under Pressure. The two worked together on a dark fantasy story, Drumbeats, but hoped for a bigger creative challenge.
"Clockwork Angels was a dream project for me," Anderson says. "Rush music and Neil's lyrics have always been a source of inspiration for my own work, and we've often looked for a full-length project to do together. This was it."
The hardcover novel contains full-color illustrations by renowned Rush album artist Hugh Syme. Released in September 2012 by Canadian publisher ECW Press, it coincided with the launch of the Clockwork Angels tour. The novel hit the New York Times bestseller list in its first week of release, on Peart's 60th birthday. What's more, it was ECW's first-ever NYT bestseller. Clockwork Angels went on to be nominated for the Colorado Book Award (a prestigious literary prize) and to win the Scribe Award, presented at San Diego Comic Con.
"The Clockwork Angels world is so vivid and fantastical it seemed obvious to me from the outset that it would translate well to the comics medium," says Anderson. He is best known for his epic science fiction novels in the Dune and Star Wars universes, as well as his Saga of Seven Suns series and, in a lighter vein, his Dan Shamble, Zombie P.I. novels. Anderson and his wife Rebecca Moesta are the publishers of WordFire Press, the company handles the eBook version of Clockwork Angels. He has scripted numerous comics, including Star Wars, Justice Society, Predator, X-Files, Star Trek, and original works.
At San Diego Comic Con, Anderson showed several comic publishers the Hugh Syme artwork from the novel. He pitched them the idea of expanding the multi-media platform from music to prose to comics. "All of the companies were interested, but said they would have to consider it, have meetings, run numbers," Anderson says. But when he talked with Ross Richie, founder and CEO of Boom! Studios, he received an entirely different response. In an e-mail, Richie wrote, "HOLY CRAP!!! Rush!!!! WHOA!!!! This is so cool!!!!!" Anderson smiles. "That was more in keeping with the enthusiasm we were looking for."
Boom! signed up for a six-issue series that Anderson would script himself with input and art development from Peart, to be collected as a trade paperback graphic novel when the comic run was complete.
Then began the hunt for an artist who could create the images evoked by the concept album and the novel. After Boom! submitted several possibilities, both Anderson and Peart loved the work of newcomer Nick Robles, a Louisiana-based artist, whose style perfectly captured the world of the Watchmaker, the Anarchist, and Owen Hardy.
Peart says, "I am excited by this opportunity to realize the visions that Kevin and I have shared for a few years-and I am excited by Nick's excellent art. So far we have made great strides in creating characters with true personality, and scenes of imaginative and original 'artificial reality.' (Now there's a concept...)"
"I've never felt so gratefully overwhelmed with a project, and the faith put in me," says Robles. "I hope this is the start to a wonderful career, and I can't wait until the first book is finished and in print."
The first monthly issue debuts in March.
Boom! is working closely with the novel's publisher ECW, who will be releasing the trade paperback of Clockwork Angels: The Novel at about the same time. ECW just officially revealed the new cover design. ECW will also simultaneously rerelease Anderson's Rush-inspired first novel Resurrection, Inc.--the book that launched of the long relationship between the two. Both books have original covers done by Hugh Syme. The DVD of the Clockwork Angels concert tour was also just released
What's next? A film? A sequel? A Broadway musical? "Neil and I couldn't be more pleased with the novel and now the comics." Anderson shrugs. "But we can't stop thinking big."