Clockwork Angels Tour Video Review
Live movie offers plenty of bang for your buck along with SFX, gnomes and rock music to boot.
By Johnny Sharp, Classic Rock, February 2014, transcribed by pwrwindows
---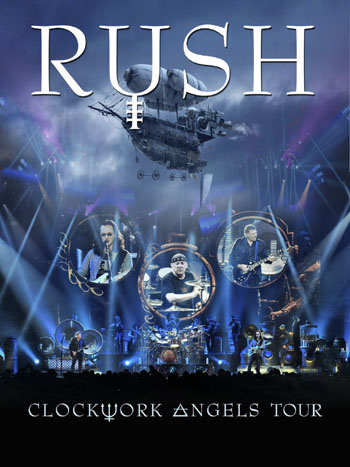 CLOCKWORK ANGELS TOUR ANTHEM/ZOEVISION, DVD/BLU-RAY
The phrase 'return to form' is overused these days, but most fans agreed that Rush's 19th album was a marked improvement on the previous two and arguably their best since the 1980s.
Then again, the band's fan base is rarely disappointed by any of their output, which includes no fewer than four live albums since 2008.
Issued to accompany their latest live CD, this two-disc DVD captures a new live set on film, but no one could accuse Rush of short-changing their public.
The three-hour shows - with orchestra, pyros and a steampunk-themed stage - are bookended by a short film skit featuring our heroes as mischievous gnomes (with munchkin voices) inhabiting 'the watchmaker's office' and playing tricks on visitors. It won't win any awards for comedy, but it epitomises their willingness to go the extra mile in the name of entertainment. And if they're chiefly amusing themselves, then we're not complaining, as these 60-something men are still having a blast playing together, and it shows in their performance.
Unlike followers of other veteran bands, Rush fans aren't just there to hear the old favourites, and the newer songs are the highlights from where we're sitting.
Passionate renditions of "The Anarchist" and "Carnies" sound bigger than ever with the beefed-up arrangement, ending in pyros exploding around the standing orchestra (who had the singed hair to show for it in the accompanying documentary).
"Seven Cities Of Gold" is also an exhilarating romp, with masterful chops from Lee on slap-bass and Lifeson on fret-shredding.
The harder edge of the Clockwork Angels album lends itself well to this stage show, compared with its studio predecessors. Lifeson's guitar playing is lithe and elastic, even if the same can't be said about its owner.
Peart is, as ever, master of his domain, as demonstrated by three separate drum solos that just about manage not to repeat a single trick. He's helped by the fact that his kit is roughly the size of most band's entire stage sets. But then, this whole show is a public relations exercise promoting the benefits of thinking big.
9 out of 10 stars