Rush And BOOM! Studios Think Big With Clockwork Angels' Comic
Boom! Press Release, February 21, 2014
---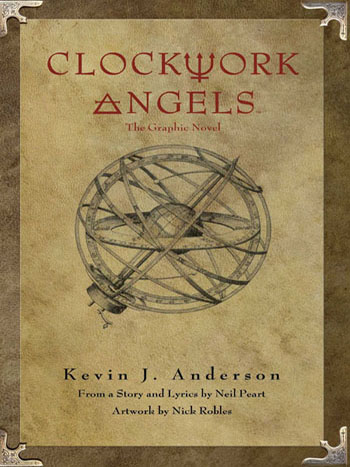 Award-winning publisher BOOM! Studios is pleased to announce the March debut of CLOCKWORK ANGELS, a new limited series based on author Kevin J. Anderson's New York Times bestselling novel and legendary rock band Rush's concept album of the same name. Rush lyricist and drummer Neil Peart and Anderson, along with interior artist Nick Robles and cover artist Hugh Syme, create the steampunk world of Albion in comic book form for the first time.
"Rush is one of our all-time favorite rock bands here in the office, so we immediately jumped at the chance to work on CLOCKWORK ANGELS," said BOOM! Studios Editor-in-Chief Matt Gagnon. "The icing on the cake is that author Kevin J. Anderson is somebody we've always wanted to work with, so this is an all-around thrill. Mr. Anderson and Mr. Peart have brought us a breathtaking story that illustrator Nick Robles has beautifully visualized."
WHY WE LOVE IT: Rush's CLOCKWORK ANGELS is a testament to the band's creative versatility-it has been successful as a concept album, novel, and international tour. Now, Rush drummer and lyricist Neil Peart and New York Times bestselling author Kevin J. Anderson are bringing the story of CLOCKWORK ANGELS to comics, where newcomer artist Nick Robles will bring the journey of Owen Hardy to visual life!
WHY YOU'LL LOVE IT: Die-hard Rush fans have longed for Peart's narrative songwriting to be adapted into comic book form for decades, but fans of steampunk fantasy will enjoy journeying into the world of Albion thanks to Anderson's skilled storytelling.
WHAT IT'S ABOUT: Owen Hardy, like all the people of Albion, has lived his whole life under the rule of The Watchmaker. His entire life has been planned down to the exact second. But what happens when a young boy decides that things should not always goes as planned?
CLOCKWORK ANGELS #1 arrives in comic shops on March 19th, the four-year anniversary of the album's initial announcement by the band members, with a cover price of $3.99 under Diamond order code JAN140981. The first issue will ship with two variant covers including a subscription cover and a retailer incentive. Not sure where to find your nearest comic retailer? Use comicshoplocator.com or findacomicshop.com to find one! It's also available for order directly from boom-studios.com.
ECW Press will release the paperback version of Kevin J. Anderson's bestselling CLOCKWORK ANGELS novel (ISBN: 978-1-77041-156-2, $14.95) in May.
ABOUT BOOM! STUDIOS
Founded by Ross Richie in 2005, Diamond Gem Award-winning "Best Publisher" BOOM! Studios (boom-studios.com) generates a constellation of best-selling Eisner and Harvey Award-winning original and licensed comic books and graphic novels with the industry's top talent. BOOM! Studios is the home of Mike Carey's SUICIDE RISK, Clive Barker's NEXT TESTAMENT and HELLRAISER, Paul Jenkins and Humberto Ramos' FAIRY QUEST, PLANET OF THE APES, Max Bemis' POLARITY and Mark Waid's IRREDEEMABLE. Steven Grant's graphic novel 2 GUNS was recently released as a feature film from Universal Pictures, starring Denzel Washington and Mark Wahlberg. BOOM!'s all-ages imprint KaBOOM! publishes Charles Schulz' PEANUTS, Jim Davis' GARFIELD, Cartoon Network's ADVENTURE TIME and REGULAR SHOW, Mike Kunkel's HEROBEAR AND THE KID, and Roger Langridge's Eisner Award-winning SNARKED. In June 2013, BOOM! acquired Archaia Entertainment (archaia.com). Archaia is the Eisner and Harvey Award-winning graphic novel publisher of MOUSE GUARD, COW BOY, GUNNERKRIGG COURT, RUST, SPERA, JIM HENSON'S TALE OF SAND, and many other great titles. In October 2013, BOOM! Studios entered into a unique first-look relationship with 20th Century Fox, giving the studio access to its library of titles and giving the publisher access to Fox's vast catalog of films.