Backroads & Backbeats:
Neil Peart Takes The Scenic Way To Work By Don Argento, BMW Owners News, March 2014, transcribed by John Patuto

---
Almost everyone commutes to work, but what if each day's "office" was in a different city? What if you had two days to ride a BMW R1200GS on the back roads of the United States, Canada, Europe, or even South America to your next "office"? Well, you would, wouldn't you? That is the way Neil Peart, world-renowned drummer and lyricist of the rock band Rush, rolls.
Known for his complex, intricate and extraordinary command of his drums, Peart has been honored countless times by DRUM! and Modern Drummer magazines. He hits hard. Very hard! Every strike of the drumstick is precise and powerful. If you've ever had the good fortune to see him play live, you've witnessed the equivalent of an Olympic athlete performing percussive acrobatics that are rhythmically hypnotic, metered like a Swiss clock, and musically compelling. Naturally, his bandmates, Geddy Lee and Alex Lifeson, are equally celebrated on their respective instruments. After nearly 40 years together, thousands of shows, and 40 million albums sold, Rush was inducted into the Rock & Roll Hall of Fame in 2013.
Granted, Peart doesn't work every day like most of us; the band schedules their tours with shows spread out every other night, allowing him two days between venues. It works out for everyone, he says. "When I first started riding to shows, my bandmates were happy to fly because they didn't like traveling by bus, and I didn't like flying. So it made a perfect way for us to settle our desires. I have a bus with a trailer and motorcycles in it, and they have a jet. Everybody's happy with that arrangement." Peart logged an impressive 28,000 miles between 72 shows on Rush's most recent Clockwork Angels Tour, in 2012-13. The band has indeed reached a groove; Neil continues, "We're kind of ruling our destiny. This past tour was a perfect example of everyone being so happy with the way we were performing - and the way we were traveling."
Peart's routes are carefully planned and always avoid the major highways, "Freeways and motorways are less than one percent of our riding, we figure." Unlike most tourists who visit the towns and cities on their expedition, it's what lies between them that piques this world traveler's curiosity. As Neil puts it, "Every day I pick the tiniest roads on the map. Then we try to put them on the computer map, and then onto our GPSes." Sometimes the GPS can't even locate such remote roads - what his riding partner, Michael, calls the "mystery roads" - but that doesn't stop him from going off the grid. It takes a little strategy to ensure his timely arrival to the gigs while "straining the limits of machine and man" ("Red Barchetta," 1980). To that end, Peart has a little saying, "Magic happens, but it often requires some planning."
Though Neil takes pride in a small collection of vintage sports cars, he doesn't pine for a garage full of motorcycles. In fact, there's only been one brand that ever summoned his affection and attention - BMW. Peart clarifies, "I didn't start riding until my forties, quite late in life. Growing up, in the back of my mind was always - someday I will ride a motorcycle, and it will be a BMW." It should come as no surprise that a man so driven and focused would know exactly what he wants. "It goes back to the old black ones with the white pin-striping. That always looked to me just how a motorcycle should look."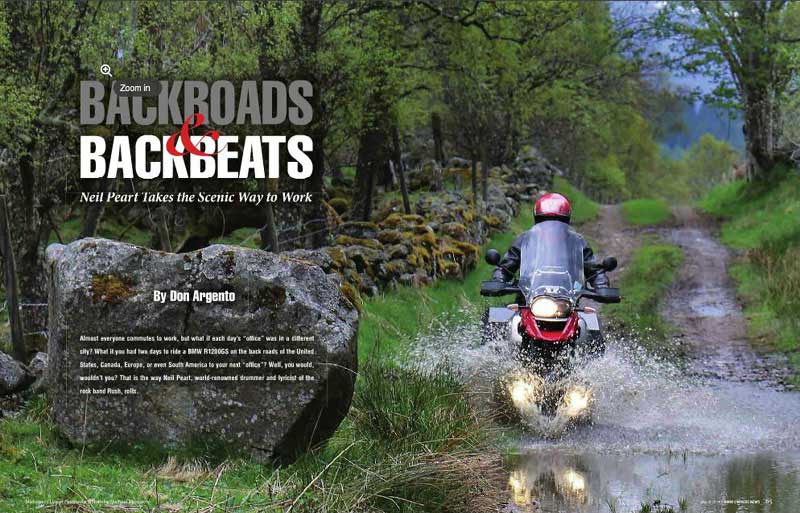 In fact, Peart doesn't really love motorcycles as objects, but more like what Melissa Holbrook Pierson called "The Perfect Vehicle." He considers one motorcycle, his GS, to be all he needs. He turns them over every 50,000 miles, selling them to friends, and all are accounted for. He calls them the "GS Geezers," and is now riding "Geezer 7." What's so significant about 50,000 miles? He explains, "For me it's kind of the benchmark. Like cars, motorcycles have an arc. For a two-cylinder motorcycle to have a trouble-free 50,000 miles is pretty admirable to me."
When he started touring with Rush in 1974, opening for other bands and often with a meager 20-minute set, there was plenty of downtime. Peart quickly decided, "That was no kind of life." Breaking his touring life into decades, he spent his twenties reading, "Getting an education a young musician usually doesn't in all the other arts of the world." With an endless thirst for literature and non-fiction, he loves sciences especially, "Nature, history, geography, geology, all of those are of interest to me." In his thirties, he turned to bicycling for exploration, noting, "I carried a bicycle on the tour bus, and on show days I would go out and ride around the city or, on days off, out into the countryside." Ever hungry for a challenge, he raised the stakes by riding 100 miles between shows, stating, "I'd have to make it on my own, and it was long before cell phones. So it was a tremendous feeling of self-reliance and independence that really appealed to me." He claims he never had a bad experience on a bicycle, even when traveling from Manhattan to New Jersey's Meadowlands. People, even New York natives, would tell him he was crazy, but the reality was different: "If anything, people will talk to you on a bicycle. You're an innocent freak."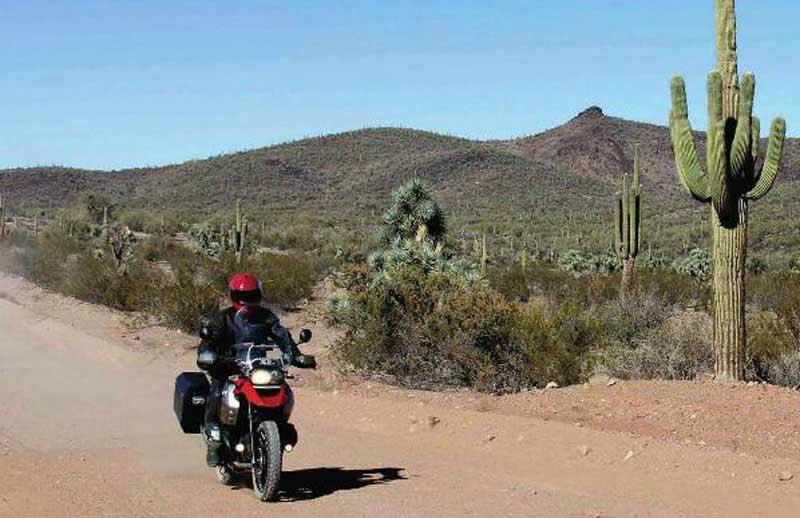 Peart finally decided to cover more ground by moving from bicycling to motorcycling. "When I was in my forties, I decided I had grown up as far as I was going to." In the mid-1990s, he and his pal Brutus started their BMW motorcycling experiences with an R1100RS and a K1100RS that they rode up to the Arctic and around Mexico. He reports, "Those were very unsuitable bikes for adventure touring." So when the first Oilhead GS came out, they both bought those and traveled through Germany, Austria, Italy and Sicily, ferried over to Tunisia and went around the Sahara. He recalls excitedly, "We had all the adventures that adventure travel should contain. We said, 'Okay, this is for us!'" So the GS became his "preferred mode of travel."
In the late 1990s, Peart rode that first Oilhead GS on a different kind of journey, a desperate flight of more than 55,000 miles. He was trying to survive the loss of his first daughter, Selena, who died at age 19 in a car accident in 1997, and her mother Jacqueline, who died merely 10 months later from grief. He kept a detailed journal of an odyssey that eventually became the book Ghost Rider, and he gave that name to the old GS. It was retired after 100,000 miles, but kept for sentimental reasons. Neil eventually made his way back to some new kind of "home," and the band, and began a new life in Southern California with his wife Carrie and four-year-old Olivia.
When Neil started doing concert tours by motorcycle, he faced the absolute necessity of "showing up on time." He began to ride with a partner in case his bike failed him, but in all those 15 years, all those tens of thousands of miles, it has only happened once, on this most recent tour. He recounts the story: "We got up at 5:30 in the morning and rode through Yellowstone heading down to the next show in Salt Lake City. My rear tire pressure indicator was flashing, and I found a nail." Peart decided to try to carry on, and managed to cover 300 miles, but as he came down from the mountains the temperature rose into the 90s. "The tire started not holding air anymore, and by now we're in the sagebrush desert and it's getting to around 100 degrees. An attempt to plug it failed, so I had to say 'Sorry' to the friend riding with me on my spare bike. But, at least we were in a shady place where I could leave him and carry on to the show."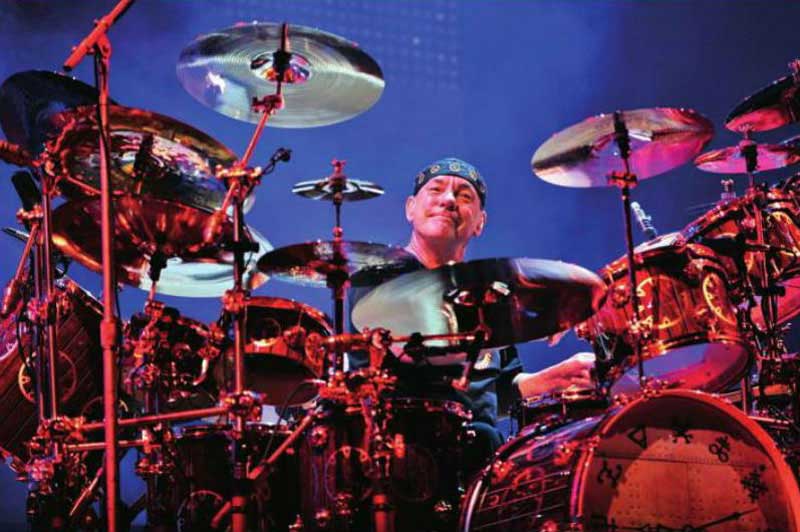 Flat tires and other unforeseen setbacks are good reasons Peart travels with a partner and spare bike. The spare also helps when scheduling service on the road, not to miss a day of riding, and that has to be choreographed almost to the level of his mindblowing rhythms in Rush's elaborate songs. "There's a lot of preparation and daily maintenance involved in making it work on that level. I do my own oil changes, but every 6,000 miles is a major service and the bike needs to go to a dealer. So I'll send one bike with my bus driver on the trailer."
Peart uses a number of aftermarket products, including Motolights on the front. "Anyone coming at me is going to see that triangle of lights and they know right away it's a motorcycle." He prefers Jesse luggage cases because he had bad luck with a BMW factory one years ago that fell off, losing some precious cargo, so he "never trusted them again." On previous bikes he's preferred block-profile Heidenau rubber, saying, "I got a little bit spoiled by those tires - they were so capable even on snow. We were warned not to use the Heidenaus on the new bike. But eventually the aftermarket catches up."
Speaking of the new Wethead he acquired in April of 2013, "I'm always a little skeptical - I don't get the new model as soon as it comes out, and even then I'm not sure I'm going to like it better than the old one. But the new water-cooled engine is such a great evolution - strong and very satisfying. 'Dyna' mode is our everyday default, but in wet weather the 'Rain' mode of traction control and ABS is excellent; it's just so reassuring. The bike is truly an evolution in every way."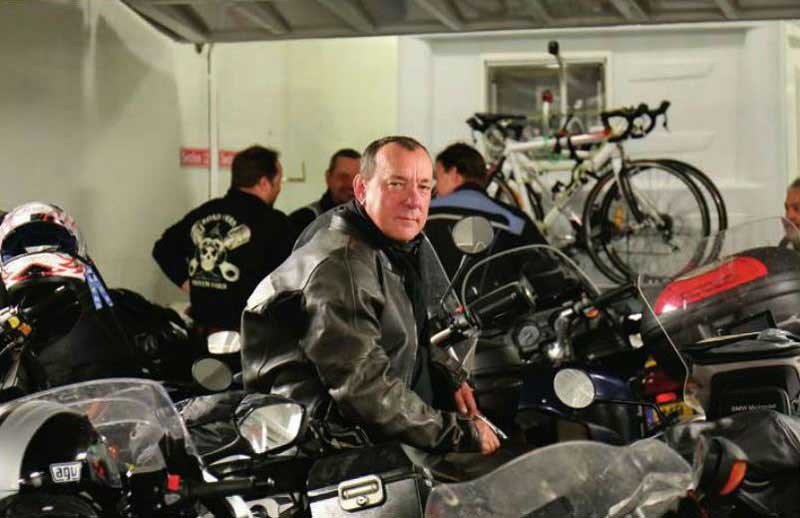 You would think with the sheer number of miles of back roads and remote riding, Peart would opt for a GS Adventure, but he claims, "The size and weight is the thing. When you get into 'challenging' terrain, you don't want even an extra 15 pounds. I like the fuel capacity, of course; but I have a rule that between the Mississippi and the Coastal Ranges. I always carry a gallon can of gas on the back, and it's saved me a lot of times." As someone who achieved a personal milestone riding from LA to Denver for his Iron Butt license-plate frame, he knows when he's found the right fit. "I love the feel and balance of the GS as it is," he says.
Peart never puts his feet on the pegs without donning head-to-toe gear. Lately he favors an Aerostich Transit suit, as "the first truly waterproof, anti-UV leather suit. I don't have to put my rain jacket on if it starts raining - that's hugely liberating to me. It breathes very well and is super comfortable. I must have 50,000 miles or more on mine now without any problem." He's been a steady fan of BMW Santiago boots, and says, "I love BMW gloves! I have their rain gloves, cold weather gloves, and summer gloves." Peart isn't the only one who realizes the quality and styling of great gear, he mentions. "My friend Brian Catterson, former editor-in-chief at Motorcyclist and before that at Cycle World, said, 'BMW's unknown secret is how good their gear is.'"
The drummer protects his head, and anonymity, with Schuberth helmets, and says of modular helmets, "If I do stop and ask someone for directions, it's great to lift that shield and let them see your face. It changes the nature of social encounters hugely, I think, for motorcyclists. Even with the GPS, we get lost often enough, and I really treasure human encounters like that as part of the way I travel." Though he rides typically with one partner, not with groups, he feels the deeper connection to others touring by motorcycle, especially on the many European ferries he's traversed.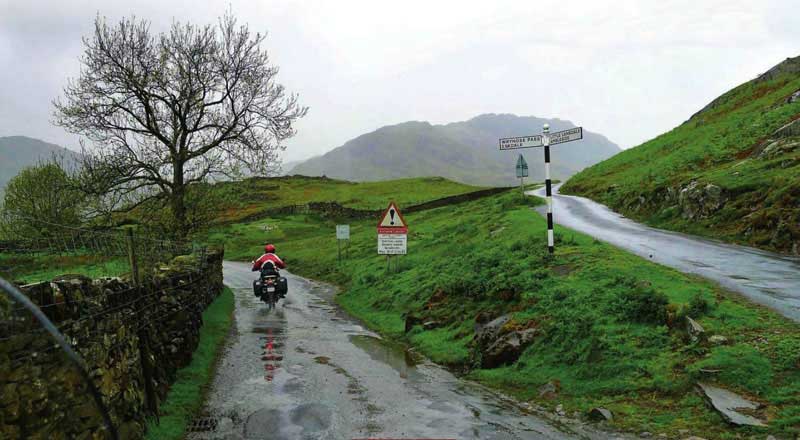 Considering the vast number of miles and shows, it takes an immense amount of endurance to maintain a schedule like this Rock Star. On days between shows, Neil wakes up with an alarm clock, eats a hearty breakfast, then spends seven or more hours burning up the twisties. He'll repeat that routine on show days, cutting the fun a bit short to arrive at the venue by 3 p.m. He'll perform any necessary maintenance on the bike, then it's off to sound check. After the band is satisfied, Neil will visit with his family on Skype, then it's dinnertime with his bandmates. Prior to the show, he warms up for about 20 minutes, then Rush takes the stage for two long sets. Well before the house lights come up, Neil is aboard his tour bus barreling down the road. He concludes the arduous day with a relaxing hit of his favorite scotch, The Macallan.
To meet the demands of his rigorous job, Peart trains hard with cross-country skiing, gym workouts, swimming, yoga and practice, practice, practice. That's how he builds his incredible endurance for three hours of astounding drumming at each show. Add eight hours a day on a motorcycle and you have an incredibly demanding routine. So why not just chill on the bus? He emphasizes, "For me, the riding time is stimulation. It's a different kind of concentration and certainly a different kind of responsibility. On stage I feel responsible to a similar degree, but a mistake isn't going to kill me. There's a big difference there. I find they complement each other. I notice that when I do take a day off the bike, I feel the pain much worse." Peart elaborates, "I feel like maybe the vibration is therapy in itself - just being on the bike. Cause I'll hurt. At the end of a day of riding, oh yeah, I'm sore all over. I always say that about drumming, too, if I'm sore all over that's okay." Meaning he can live with pain, as long as it's not isolated, noting, "If my back hurts, or my neck, or hip, or knee, or ankle, or whatever, I hate that. That's why I train so much for drumming, to prevent that kind of injury. It's the same on the bike. That's what I love about the GS, too; it's comfortable enough you can be on it 10 hours a day. At the end of the day, yes, you're going to be tired and sore, but all over." With the considerable amount of fatigue he endures from his rigorous schedule, it's fair to ask if he ever feels the need to pull over and rest. "I don't mean this in any superhero way, but the focus of concentration on a motorcycle is such that I could never feel drowsy." Considering his level of stamina, he's just a cape shy of Superman status.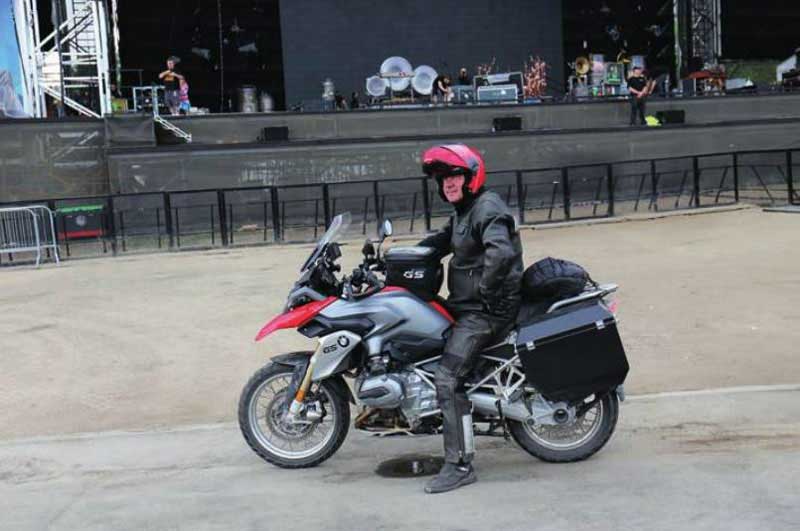 Peart's a Zen master for sure, balancing the mental focus and taxing physical demands necessary for his extreme drumming and lengthy rides. He says, "They do complement each other. Being on the bike is more responsible in terms of a more mortal existence, and yet I feel freer. On stage I feel responsible to an ideal of accuracy and excellence that is painfully intense." Peart, of course, wants to please the fans, but he holds himself to an even higher standard - his own. He knows when he's had a great night and when he's a bit off. "It's often said about show business, and it's true, that you're only as good as your last performance. Fortunately, my consistency has gone up over the years so that now I can honestly say that rarely do I have that kind of show. But that's one reward of touring - if you do have a bad show, you get another chance."
On a motorcycle, though, you might not get a second chance. Peart realizes this and remarks, "As soon as I swing my leg over that saddle, I'm riding that bike. There's nothing else. I never listen to music in a headset, but songs will play in the mental jukebox. As soon as things get dicey, whether in traffic or you've got a curvy bit of road, some gravel, or something like that - the music stops. It goes into pause, you deal with the moment, and then the music will restart again. It's phenomenal how that works."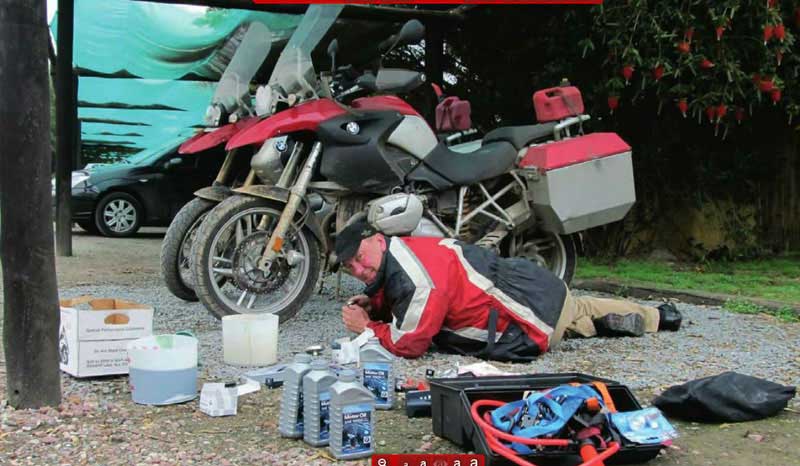 Neil has been playing drums for almost 50 years and with Rush for nearly 40. Does he feel he's gotten better? "It's been a progressive pursuit as a drummer and a band - we have gotten better." Every Rush fan would love to know his favorite recorded performance, but without hesitation he responds, "If it wasn't the latest one, I would have to quit. There's no question in my mind that Clockwork Angels is by far my best performance on every level, musically, technically, sonically, in every way. Not a shadow of a doubt." When asked if he's become a better motorcycle rider, he's just as confident. "I've certainly become a better motorcycle rider over the years. It's like asking, 'Do you think you were a better motorcycle rider 10 years ago?' I hope not or you should quit!"
Impossible is not a word in Peart's vocabulary. It is, however, a word that's been used to describe what he does on a drum kit. Having known him for a number of years, the thing that strikes me the most about Neil is the amount of time, effort, passion, thought, care and heart he puts into everything he does, not just drumming, writing or motorcycling. Everything! It's no surprise that when faced with a challenge, he rises to it. In 2010, as he looked over the band's itinerary for the upcoming South American leg of the Time Machine tour, he noticed four days off between Brazil and Argentina. Most of us would think, oh great, some beach time sounds relaxing. Not Neil, oh no. Straight away he contacted Brutus, his overseas "travel supervisor," and asked him, "Could we make it from Rio de Janeiro to Buenos Aires in four days?" Brutus reported, "It looks like it could be done." Neil declares, "That meant it had to be done! Because another one of my guidelines in life is: What's the most excellent thing I can do today? Sometimes the most excellent thing I can do is go to work. That's a reality we all have, on whatever level. Accepting that, there are some realities that go along with my particular style of going to work, but I can make the best of that journey and get the most interest and satisfaction out of it." He chooses to live by a motto his father instilled in him: "If a thing is worth doing, it's worth doing well." As any fan of his will tell you, he does what he does very well.