Clockwork Angels Tour - Review
By Asif Khan, Modern Drummer, April 2014, transcribed by pwrwindows
---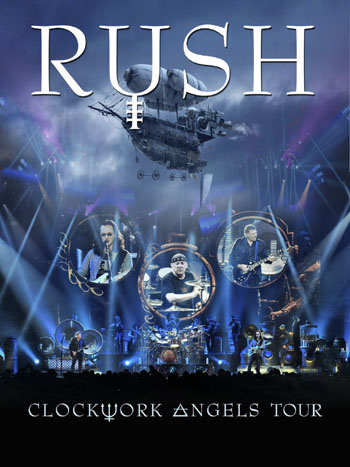 4 out of 5 stars
RUSH CLOCKWORK ANGELS TOUR
DVD (2) OR BLU-RAY
LEVEL: ALL $24.98
This year marks Rush's fortieth anniversary. Judging by the energy the band puts forth on its latest live release, another forty doesn't seem out of the question. Okay, maybe another ten-the point is, the power and glory that is Rush remains, even this late in the game.
Rush mixed it up on the Clockwork Angels tour by working from different set lists each night, and this thirty-one-song, nearly-three-hour-long marathon includes every title the trio played during the trek. The band was also accompanied by a string ensemble on stage, a first in its history. The majority of the first "set" of the video is made up of a healthy dose of songs from the mid-'80s, including "Subdivisions," "The Body Electric," "The Analog Kid," "The Big Money," "Grand Designs," and "Territories." The bulk of the second set is a daring ten-song representation of the Clockwork Angels studio album.
The stunning live footage was shot in HD video, and the audio is available in 5.1 HD and 2.0 formats. The disc also contains a documentary showing a glimpse of daily life on a world tour, a nice treat for hardcore fans. Having just celebrated his sixty-first birthday, a focused Neil Peart displays an incredible amount of stamina behind his beautifully crafted DW Time Machine Tour drumkit. Peart is known for his solos, and this marks the first time since 1974 that his traditional spot is split up, in this case into three short but powerful parts, thoughtfully placed as segues throughout the set. Clearly Neil and his mates aren't worried about changing the formula-but longtime fans have nothing to worry about, as Clockwork Angels Tour proves that, four decades in, Rush is still performing at the top of its game.
(Anthem/Zoe Vision/Rounder)