Time Traveling with Alex Lifeson
By Richard Adam Kern, Red Hot Rock, U.S. Issue #1, May 2014, transcribed by John Patuto
---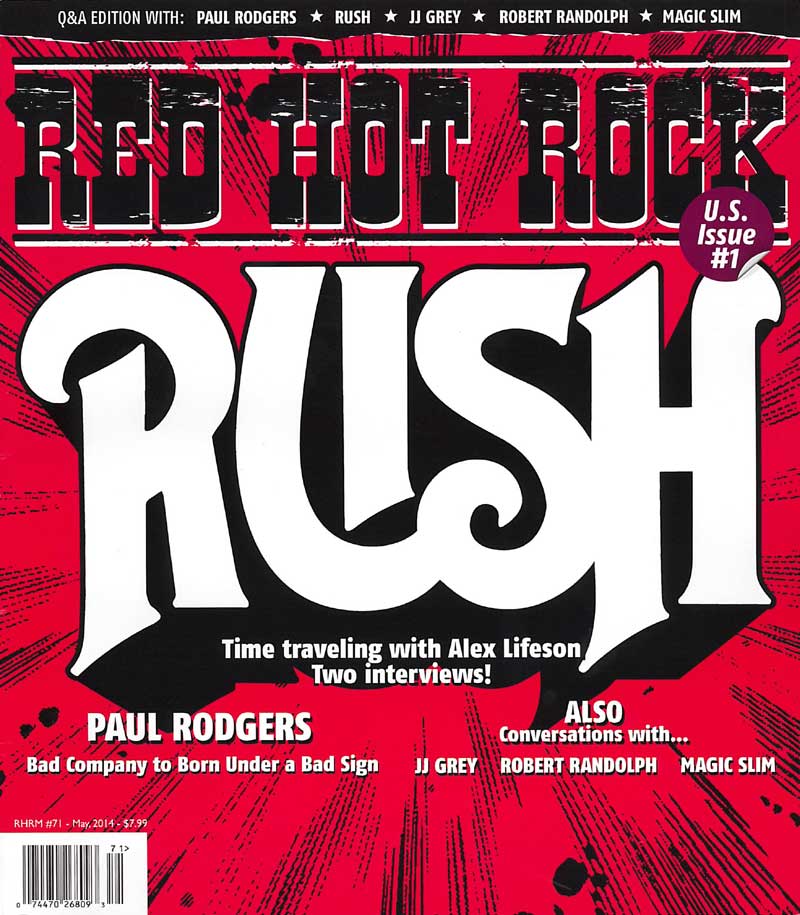 Rush is a decades-long cultural phenomenon; a curiosity to the mainstream, a god-like presence to their millions of fans. The group has somehow found a way to sell out arenas the world over and release countless gold, platinum and multi-platinum albums while still remaining a cult band. The evolution of Rush's music over the years is astounding, as is the devotion and loyalty of the band's fans, waiting for each and every creation with bated breath to experience the music's new manifestation. The Canadian group, each member a prodigy in his own right, is a sublime representation of musical perfection.
Possibly because of the complexity of Rush's music, the band members are often painted as uberself-serious purveyors of their craft. While the composition and performance of their classic, but eternally contemporary, music is never taken lightly, Geddy Lee, Alex Lifeson and Neil Peart are nothing if not full of good humor and looking for the next subject for their laughter. Alex is, more often than not, the one to provide the source material for his longtime friends' and partners' amusement. During the many conversations I have enjoyed with Alex through the years, he has provided me with more than a chuckle or two. In both of the following interviews, one from yesterday and one from some years back, the two of us discussed the release of audio and video recordings capturing the concert tours that followed Rush's most recent groundbreaking studio albums, Snakes & Arrows and Clockwork Angels, as well as a wide-ranging array of Rush-related topics.
---
Conversation conducted March 5th, 2014
Hello, Mr. Lifeson! How is everything?
Good! How are you, Ritchie?
It's fantastic to be speaking to you once again.
Ha ha. Thank you.
I am not going to keep you for too long because I know that you are on vacation now and you do not really want to be talking to me. But I will give myself a little pat on the back and take a guess that you are speaking to me because it is me. Ha ha.
Ha ha. There you go.
The first subject that I would like to speak to you about, because I know that this is the most important thing to you and the other members of Rush, is the future. At this point in time, I know that you are on a break. But are there any plans as to album activity or touring or anything?
Yeah. You know, you're right. We're on holiday and we sort of decided when the tour ended that we weren't really gonna think about what we were going to do for at least a year. We really needed to take a break. We were working pretty steadily for a lot of years, but particularly the last four or five years. And we really needed an opportunity to clear our heads and catch our breaths. We haven't discussed it too much, but that's just us. All around us, everybody's making plans for us. And it looks like we'll probably be going out next spring. Spring, 2015. So, we haven't discussed anything about the show or about the material or any of that stuff. But we're sort of aiming towards that as the start date for the next tour. But that'll be, I guess, our 41st anniversary tour or 40th plus, whatever. And we'll see how it goes. We need to stay healthy until then, though. Ha ha.
I had been reading, I don't know if it was with you or with Geddy, that it's more important to take a rest. A 41st or 42' anniversary tour is just as good as a 40th anniversary tour. It's even better because it means you have made it two more years. Ha ha ha.
Yeah, that's right. Ha ha.
It will actually be 41 years since the first album or since Neil joined. Because you and Geddy have been together since the late '60s, haven't you?
Yeah. We started in September of '68. So, it's a few more years for the two of us. But we kind of have gotten, you know, fixed on that date since Neil joined, now that we are here 40 years later, as being sort of the start of everything. That's when we started touring America and releasing all of our records and... But yeah, Ged and I have six years on top of that.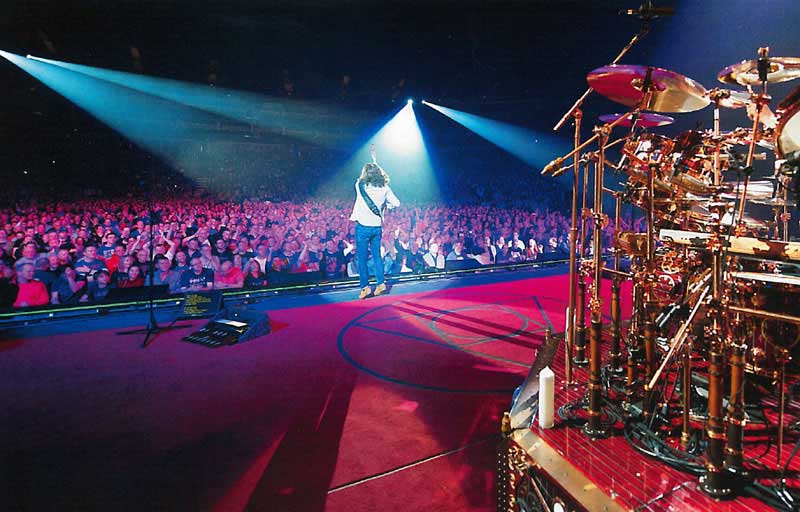 So what you are planning loosely is maybe a tour. You are not thinking of going back into the studio for another album?
Well, we haven't discussed it at this point. So, anything's possible. I'm just saying that if there is a tour, it's most likely to start next spring. Whether we record any material from now until then, I really have no idea. Geddy's off in Australia and Neil's doing his thing. I'm gonna be traveling for the next six weeks or so. So, we really want to break ourselves away from it for now. But I'm sure sometime mid-summer, I would guess, we'll probably get a little more serious about what we are going to do direction-wise.
Now let me ask about this studio albums box that came out. It's actually the fourth studio albums box. This one covers the later years. In this box was a reissued remix of the Vapor Trails album. And it came out on its own, as well. Why, at this point in time, did you guys decide to go back in and kind of revamp that album?
Well, it always bothered us, particularly Geddy, 'cause we'd spent fifteen months working on that record. It was such a fragile experience. We were all walking on eggshells, you know. Neil didn't know if he was ready to come back. And there was a lot of stuff that we had to go through. After spending that length of time, we were just burned out on it. And unfortunately, the mastering was not done within the kind of limits that we would expect. So, it always bothered us. Geddy felt responsible because he had gone in during the mastering. So, he felt like it was on his watch, that he let us down. And then it really bothered him for a long, long time. So, we were very open to the idea of eventually revisiting that album and seeing if we could just get what we always heard out of that record. And David Bottrill really did a great job. He made it all sound like it sounded when we were writing and recording the record. And that's all we really wanted to get back to. So, it was worth that exercise for us to give us a little piece of mind for that album. That's really an important record for us, you know, coming back after a very, very difficult period. And I think it stands out as one of our most important pieces of work because of that. You know, the band, we were very fragile. We went through a great deal of emotional ups and downs making that record. So, we just really had to give it the proper send-off, you know. So, that's why we did that.
The DVD and CD live album bonanza for the Clockwork Angels tour was released recently. The string section that joined you on this tour was a fantastic addition to the sound of the band and a lot of the material that you played. Geddy must have been in ecstasy because he finally had his wish granted for an enhanced band, something that he has wanted for a number of years. Ha ha.
I think that we were all waiting for the right opportunity for that to happen. And using strings on the record just made it that much easier to go through the logistics of having somebody travel with us and having a string section with us, you know, nightly. All of us were totally into it.
You have been telling me for many years that Geddy has been kind of pushing every once in a while to add a fourth member to make it a little easier for him onstage. I guess adding all of those other textures makes it easier, especially for you and Geddy.
Yeah. A little bit. Ha ha. Not a lot, but a little bit. Ha ha.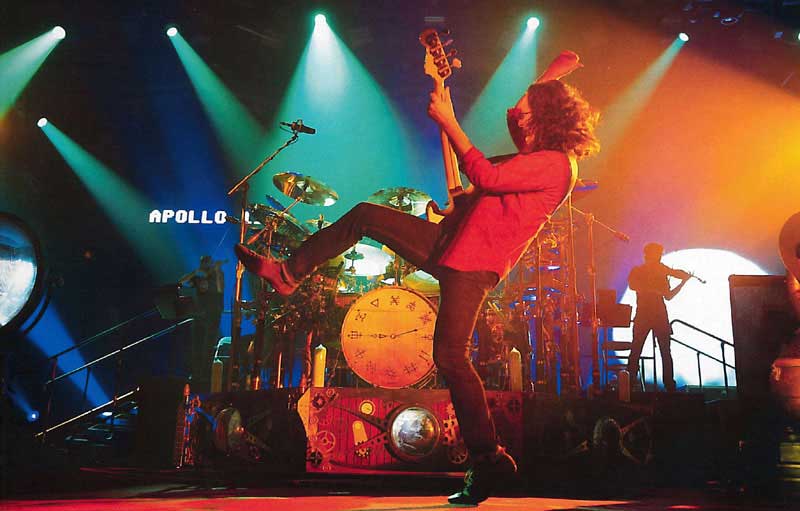 I had no idea what to expect, as to the setlist, when I went to see you on this tour. I don't like getting online beforehand to check that out because not knowing is part of the whole experience. I was so surprised that you played so much '80s music. Besides playing most of the new album, how did you decide to focus so much on your '80s output?
It just kind of happened that way. It was kind of a controversial period for us and it was an opportunity to, you know, come back with some rearrangements and have a little more power in the guitar. And a little more power, in general, in the presentation of those songs from that era. And it just kind of shifted that way. In rehearsals, we tried some other stuff but it didn't really inspire us. But it was kind of fun to revisit those...that period. Right from "The Body Electric" right through Power Windows and Hold Your Fire.
Instead of having to rely so much on keyboards, having the string section fill in those textures was interesting.
Yeah, that was great.
And Neil performed three drum solos each evening. Doesn't that guy get exhausted during the shows? I am a drummer. If I played one-tenth of one of the solos that he played, I would be ready for the hospital.
He's a very driven guy, so he musters up the energy and willpower to get through it. But I think, for him, doing three shorter songs was actually a little easier on him than doing one massive one. But, ha ha, I'm pretty sure he's pretty tired at the end of a show.
As part of the 40th anniversary celebration, there is a reissue coming out of your first album, the self-titled one, from when John Rutsey was your drummer. Anything you would like to say about that reissue? What's going to be on there? Have you guys gone back and added anything or done any type of remixes or anything?
It was just remastered. It was remastered at Abbey Road. It's going to be available on vinyl, on 200-gram vinyl. I think it's from the original tapes, actually, the original master tapes. I think there's a poster, there's the original artwork, there's a digital download. So, it's a whole thing to celebrate the 40th anniversary of that first record. And in the mastering, I think, from what I understand, it's a little warmer, it's a little more present in the mid and the bottom end. I'm sure it will sound really quite good. Ahh, that was such a long time ago.
Are there going to be any unreleased tracks on there or is it going to be just the original album?
It's the original album. There are no bonus tracks on that. I mean, there are no bonus tracks from that era. There is nothing, really, from then that we recorded that didn't make it on there. Ahhh, that's not really true. We did record a couple of other things on the original version of that first album. And when we went in with Terry Brown, we dropped a couple of songs, like "Not Fade Away" and "You Can't Fight It", which was the b-side of the original single "Not Fade Away", and replaced it with newer material. I think "Need Some Love" and maybe "Finding My Way". I can't quite remember, but we had some problems technically with the original engineer/producer that we worked with. And we went to Terry to kind of save it. And he did do that. And at the same time, we dropped a few songs and recorded some newer songs. So, I suppose, somewhere, those original few songs are floating around somewhere. But I'd kind of forgotten about that, actually.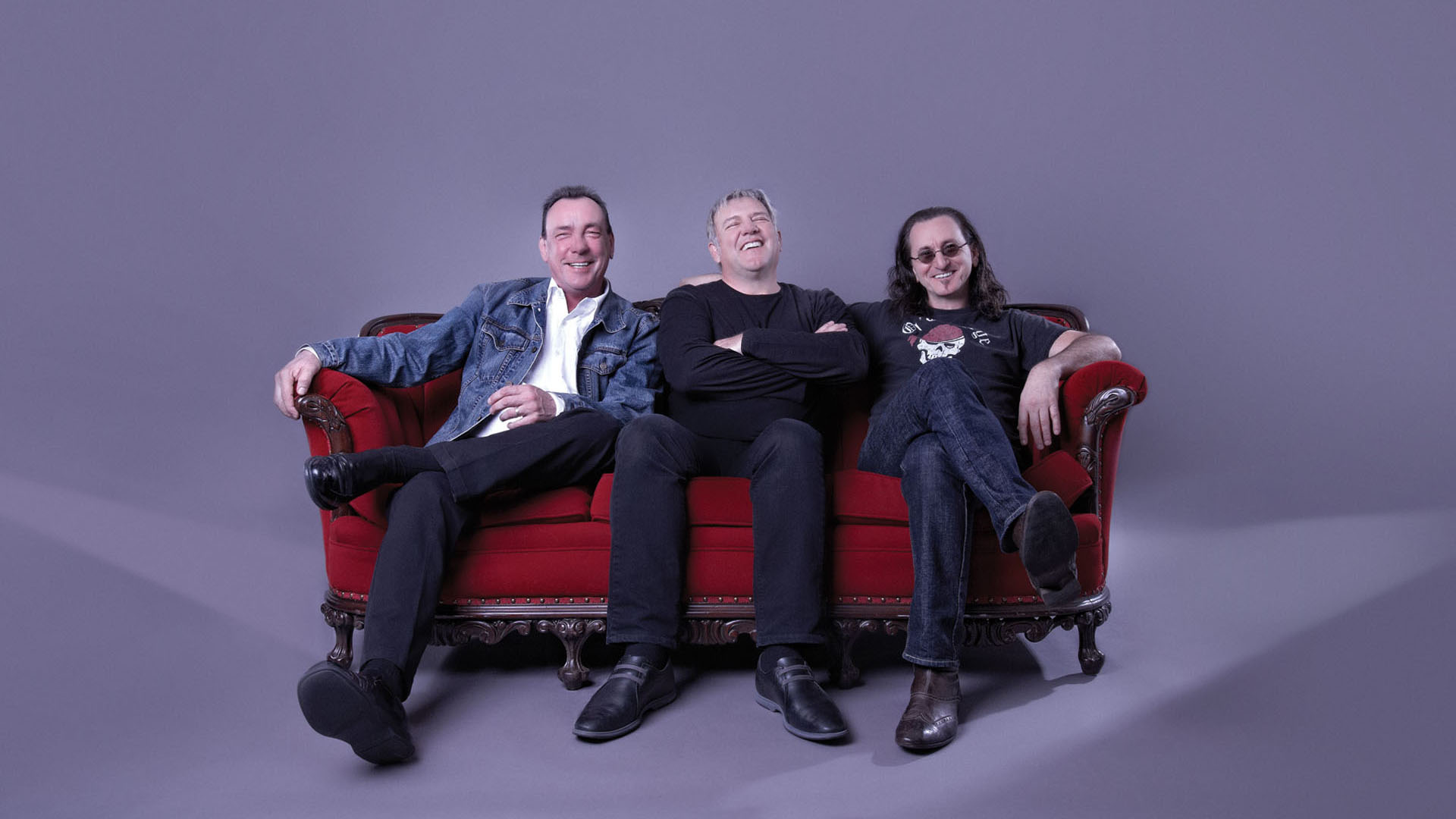 I think I know what your answer is going to be, but... Any chance of a first album run-through on Rush's next tour, with Neil?
No. No.
I kind of figured that. But I will push you as I do every time I speak to you that you should consider going back and playing A Farewell To Kings from the beginning to the end. Ha ha. You also have a signature Alex Lifeson acoustic guitar coming out. Please speak a little bit about that and what guitarists out there can expect.
On the last tour, I had a couple of the PRS's, the Paul Reed Smith acoustics, on the road with me. I got to know them and we wanted to collaborate on something for a while. So, they approached me with a version of that acoustic guitar that would be more specific to my needs. So, we went back and forth. We worked on a design together and came up with a body that's a little shallower. So it's a little less resonant, which makes it a little easier to handle onstage on high volume. They did some beautiful trim work on it. The guitar sounds fantastic. Quite a lightweight guitar. So, it's very comfortable to play and to hold. And we released it at the NAMM show in January. So, I think Paul Reed Smith is in production now for it and I'm looking forward to it.
Do you have any idea when it's going to be out there in the stores?
I'm guessing within the next month or so. I don't really know for certain, but they really pulled out all the stops to get the first production model available in time for that show. So now that that's all over with, I'm sure that they've gone into larger production. It's going to be a small production. It's one of their elite series instruments. So, I don't know if they'll make a lot of them. But they're certainly beautiful guitars and well worth having.
While we are on the subject of acoustic guitars, you and I have discussed in the past the possibility of your one day going into the studio and recording an instrumental acoustic album. Is that still on your radar at all?
I don't think so, to be honest with you. I'm enjoying my time off. And every time I sit down and try to do something musical, I mess around a little bit and then I kind of lose interest. I don't seem motivated to jump into anything right now. I guess I'm a little afraid of the commitment. You know, it's a lot of work and I'm enjoying so many other things in my life right now. Travel with my wife... We haven't really been able to do in a long time. I've got two new young grandkids that I love spending time with. So, my life is pretty full right now. I don't feel the need to do a solo record or anything like that. I've had some requests to work with some people. And they're all fabulous musicians. And one side of me says, "Yeah. You should take advantage of the opportunity." And the other says, "You know what? Enjoy your life. You worked hard for so many years. Now you have an open space for a bit. Don't clutter it up." So, that's kind of the school of thought that I have right now.
And Rush works so hard when you get together, both on the production of albums and then on the tours that you do. It must be so strenuous doing those shows.
Well, I'd probably be more amenable to the idea of doing something solo if I knew that we weren't going back to work at this point, like in a year from now. It's gonna be like a slow-rising tidal wave come September, October. And it'll just keep rising until we are actually out on tour. And it's gonna be very, very demanding. We're a little older. It's gonna be tough. And so we have to be really prepared for it and be in good shape and good health to do all of the things that we want to do. It's hard being in this band and playing for three hours. It's very, very demanding. So, I don't want to clutter everything up right now.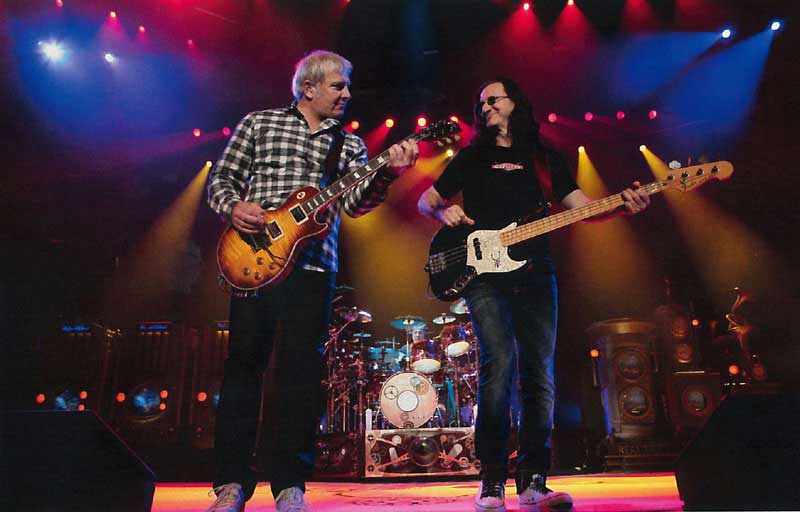 I was just going to mention that you do three-hour shows. And the type of music you play, it's not like you are doing three-minute pop songs. So, we talked about your signature acoustic guitar. When is the signature double neck coming out? Ha ha ha.
You know, I am doing something with Gibson. Just a limited series of, you know, like an Alex Lifeson double neck. They don't have a lot of people that are promoting these sort of things. Jimmy Page and myself, I think, are probably the only two that are connected with that particular guitar. But I think they want to do a short series of that guitar based on my white double neck. And we'll have some fun with it, I think.
Ha ha ha. I was just joking with you. But there really is one coming out!
Yeah. We're developing it now, in fact.
I love those guitars. I visited the Gibson factory. To watch the construction of those double neck guitars, it's the most incredible process to watch them being developed from scratch to the point where there is a finished product. So, then you have to play "Xanadu" on the next tour.
Hmmm. I think so. Ha ha.
I understand that you have been doing some painting.
Yeah, I do paintings for the Kidney Foundation. I do one annually. I keep meaning to go beyond that a little bit and continue doing it. But one thing or the other always pops up. I'm part of a program they have where they get artists... When I say artists, I mean writers and actors and musicians and sports people. It's called A Brush Of Hope and everybody does this little painting. They provide the paint for you. And you do a little painting and it goes onto an auction on ebay and they raise well-needed funds that way. So, I've been a part of that for five or six years now. And I do an annual painting. And we're fortunate enough to have enough interest from Rush fans all over the place. And I've been able to raise, oh I guess, about 200,000 dollars so far in my time with them.
You've also been doing some acting. You were in the film, Suck. You have appeared on Trailer Park Boys. And the whole band was in I Love You, Man. Any chance that we are going to see you appearing in any more films down the road?
Yeah, those things come up every once in a while. And if they look like fun or they're not too demanding, then I like to do them. But no offers currently.
The stage films you do for the Rush shows are great. The characters you develop are hilarious.
Yeah. That's a riot doing that stuff.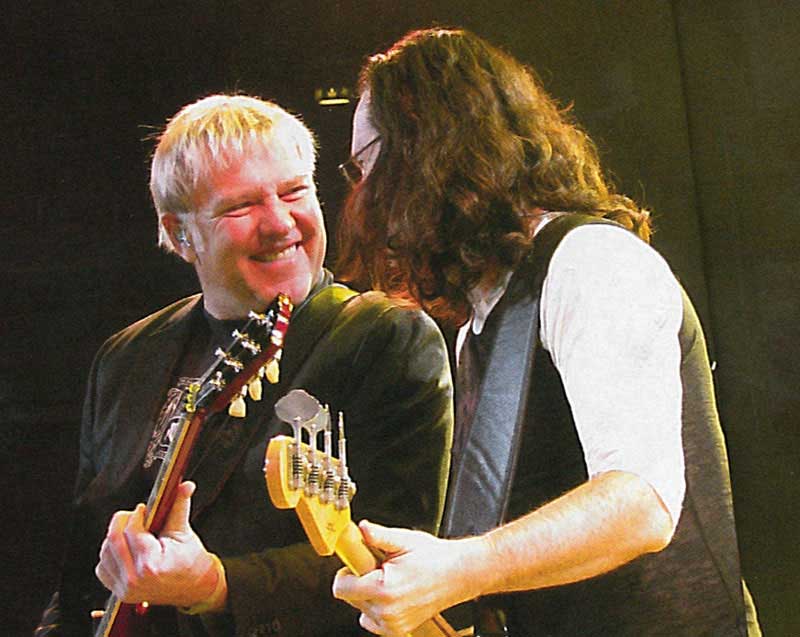 Rush finally got inducted into the Rock And Roll Hall Of Fame last year. This is something that Rush fans have been hoping for forever. There are so many bands that deserve to be inducted way before they finally are. Rush was one of them. Yes and Deep Purple are two others. But you were finally inducted. What was the experience like on that night, being up on that stage, playing and knowing that you were being inducted?
Well, it was very positive. I think we felt a little indifferent to it before the fact. But once we got there, I think the turning point for us was the jam rehearsal the night before. We were on the stage with all of these other great musicians that we admire. And I guess we've had some influence on some of them. So, there was such a community amongst all of us that was really special. And it occurred to me then that the whole idea of this museum, this Rock And Roll Hall Of Fame thing was not a bad idea. And so long as it's very inclusive, that it's open to all forms of rock music, then it's a good thing. And now that so many have been inducted and everybody gets a vote, it's becoming much broader. Yes and Deep Purple were at least up for nominations this year. And that's a positive step forward. So, I think it'll get better and better as it gets broader and broader.
I always mean to ask you this. I was too young when 2112 first came out. And I'm just wondering how certain individuals may have reacted to the cover art because they may not have looked any deeper into the meaning of the drawing than what they saw at first glance. Do you remember if there was any type of backlash stemming from a misunderstanding of that album cover?
I think that it was misconstrued by the right to mean that we were more in that mind-set. The tougher press was the English press, the left-wing press, like New Musical Express at the time in the '70s. They thought we were fascists. Ha ha. But there's barely a political bone in our bodies. We were just telling a story about a guy who finds a guitar and he's standing up to The Man. Ha ha. Like all of us that came through the '60s had felt. But I don't remember, I don't recall, the U.S. press being particularly political about it.
I always say that if you go far enough in either direction, you end up in the same place. Ha ha.
That's very true. That's very true.
Time to let you go. Please go back and enjoy your vacation. The best to your family. Love to the other guys in the band.
Thanks, Ritchie.
Thank you, Alex. Goodbye.
Bye bye.
---
Conversation conducted Winter, 2009
Good afternoon!
Hey, Ritchie!?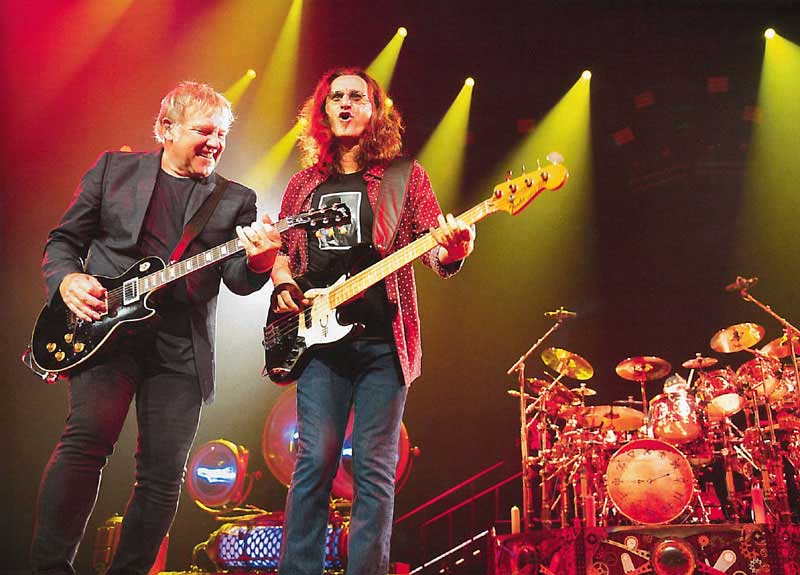 Yes, sir.
Ha ha. Hi, it's Alex. How are ya?
Hey, how's it goin'?
Good! I'm getting an echo on my voice. OK. It's gone now.
Sometimes that happens in one direction with overseas calls. But if it's gone, maybe it's not the phone connection. Maybe it's in your head. That wouldn't surprise me taking into consideration some of the contents of this DVD.
Ha ha. Maybe so. Ha ha. It's a lot of fun for us to do that sort of goofy stuff.
I absolutely love it. The band has always shown the presence of that wacky edge over the years, but it seems to really have come to the fore lately.
Yeah. I think that we're trying to develop something there. Ha ha. I don't know what it is exactly, but it's nice to give that side of the band that's less serious and goofier some more attention. And we're getting into these little filmettes that we're doing like "What's That Smell" and those sort of things.
The audio on Snakes & Arrows Live is simply magnificent. It's crystal clear and powerful. The first two discs, which are entitled "Live In Holland", have a subtitle, "(Isn't that weird?)". This question also appeared in the booklet for the Snakes & Arrows Live CD. To what does that refer?
This was a little idea of Geddy's and I don't think it is going over well because I am getting asked about it all of the time. The villain from the last Austin Powers movie, Goldmember, was Dutch. After everything he said, he'd say, "Isn't that veird"? We thought there would be a greater connection to it, that more people would get it. But that's all we get asked about now. "What does that mean exactly? What are you saying"? If we would have spelled it "veird" instead of "weird", maybe more people would get it.
There has been lots of interactivity with chickens on this last tour and in the "What's That Smell" film segments included on the DVD. Where does Rush go from here...onstage turkey and duck roasters, live animals onstage or maybe popcorn poppers?
Well, I can't speak for what goes on stage left, but it's always a surprise what they come up with.
Have you guys adopted Jerry Stiller? He keeps on popping up and he's as brilliant as ever.
Well, we're certainly looking after his old-age retirement pension.
Ha ha. Who is performing what you refer to as "Bombay Limelight", the eastern version of "Limelight"? Where did you find the musician that recorded that and who is he?
I think it's somebody in-house with the film people. You know, they have sound designers that do little quirky sounds and things like that.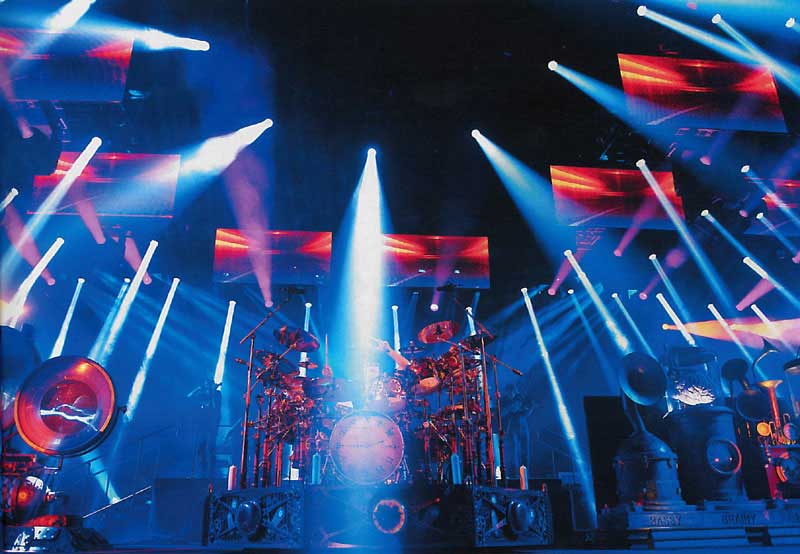 I thought it might have been you until I read the credits.
I wish it was! And I'm going to try and make a point of doing it next time.
It's a nice treat that you included the material on the third disc from Atlanta from the last leg of the Snakes & Arrows tour. These are selections that had not been performed during earlier shows in 2007, but that I was fortunate enough to catch when I saw you play in Hershey, Pennsylvania this past summer. It's nice to get an extra dimension to the tour.
Doing "Ghost Of A Chance" on the last leg of this tour was a real treat for us. We really enjoyed playing it.
The guitar tone that you captured on that version of that song is just gut-wrenching. It's such a great version.
We love playing it.
An amazing thing about Rush is that whereas most bands that have been around half as long as Rush are caught in a cycle of diminishing returns, you release Snakes & Arrows, which is probably my personal favorite album from the band in twenty-five years or more and, onstage, you are all even better players than before...if that's possible. And the three of you really appear to be enjoying yourselves immensely onstage playing together, maybe more than ever.
That is exactly the case. I think we are very confident and very relaxed. I think that comes with maturity. We feel really good about our playing. This is the best we've played ever, I think. We're very tight and just on top of our game. So, it's a great feeling. At this point, this is really uncharted territory. There are not too many rock bands around after so many years. We're in our mid-fifties and it's not easy to play a lot of this material. But we seem to be in a very good place in terms of our abilities these days. It's a good feeling for us.
What I enjoy so much about the band these days, having seen you so many times over the years, is that the band has become more "tight, but loose", to use a term that was always applied to Led Zeppelin. Rush has always been a very tight unit, but there is a looseness that you have been gaining over the last few years.
Yeah. I think again, it's just being comfortable and confident. So you can play with a little more abandon or don't feel as restricted or the need to be so consciously tight. You know what's going to happen and you just let it flow. It's a very internal, difficult thing to explain. But our playing has become fluid. It's not so much a looseness as it's a fluidity. And I can hear it in the drums. I can hear it in Geddy's playing. Certainly in my playing. It's less rigid.
On the last few tours, Rush has been traveling internationally, much more so than in past years. I understand that this has to do somewhat with a change in Neil. Has he been enjoying touring more lately than he has in the past?
Yeah. I would say that he has been enjoying it more. You know, he's a very avid cyclist...motorcyclist. So, he has had the opportunity to ride his motorcycle all over the place. Throughout Europe in the fall, which is a very nice time. So, I think so long as he is happy outside of the arena, then he doesn't mind being anywhere.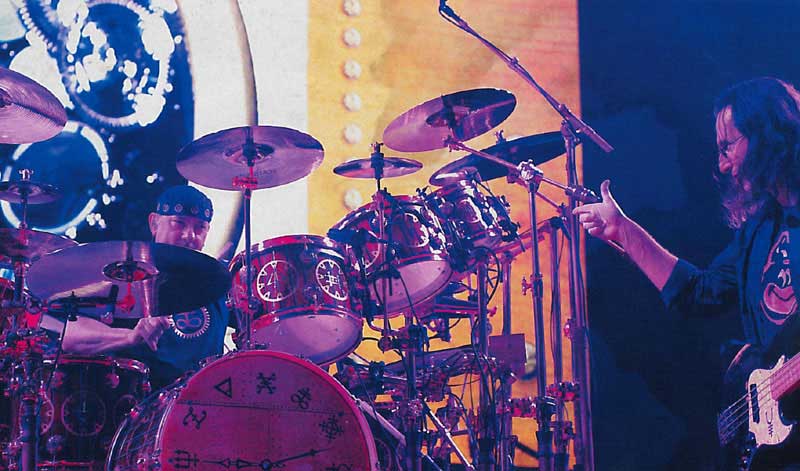 A very important question....What is done with all of the chickens that you cook on stage? Are they put to good use? Ha ha.
Ha Ha. Well, they're not real chickens.
They're not?
No. Ha ha. I wish they were. But, unfortunately they're not. They are very reasonable facsimiles, but I wouldn't want to chew on one. Although I have had chicken that probably tasted like one of those.
Ha ha. So, the question that I am sure you do not wish to hear and, no it's not about an album from thirty years ago...It's about the future. Is Rush thinking of visiting a studio again in the near future? I am sorry for asking you this because I understand that you probably need a break. Doing interviews to promote this DVD doesn't really allow a real break. Most people don't realize the amount of work that a band needs to do outside of just playing music.
You are absolutely right. We have been working steadily and very hard for, well, the last seven or eight years. Numerous tours, albums, DVDs. When we're not touring or in the studio, we're putting these DVD's together. You know, I really signed off only a few weeks ago on the audio. So, that's how tight it all is in terms of production for this kind of stuff. We need to take a break. We're all quite exhausted by the tour and the responsibilities of the band. We have a lot of stuff going on. The DVD has just come out, we were in a film that's being released, a couple of little film things that I did, all sort of Rush-related stuff. So, it's gonna buy us a little bit of time. I'd like to think that we're gonna have at least until late summer off, completely free of thinking about the band. And then we'll come back into it so much fresher, I think. And I think we need to refresh with whatever we do next, whether we go back into the studio to do a new record or go back on tour or whatever it is that we end up doing. But right now, we just need to get refreshed, really.
What was that film that you mentioned?
It's a film called I Love You, Man.. It's a major Hollywood release, a comedy by the people who did The 40-Year-Old Virgin and Knocked Up, you know, that whole genre of films. It stars Paul Rudd. We just play... The two main characters have a common interest in the band, we'll say. It's bordering on the fanatic. But it all plays into one of the characters getting married and not having a best man and looking for somebody. And he finds a guy whose main interest is Rush. As his is. And what develops from there. Apparently, it's very, very funny. We haven't seen anything yet. They've had a couple of screenings recently now that they've finished the actual production.
All three of you are in it?
Yeah. We actually play in it.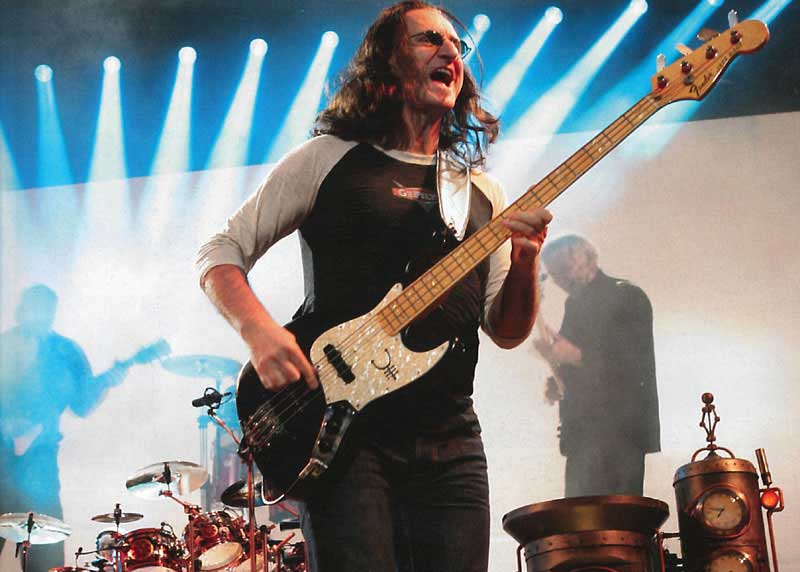 OK! Fantastic! Back to the future, (producer) Nick Raskulinecz has stated that he would love to continue working with you and that he would like to record a double album next time around. Have you heard anything about that and is that anything that you would be interested in doing?
Well, I've only heard it every time I talk to Nick.
Ha ha.
Ha ha. Yeah, Nick has very big plans for us. Whether we'd be ready for something like that or interested, we'd have to see, you know, down the road. I absolutely would love to work with Nick again. I don't think there's any question about that. What it is exactly that we would do, who can tell? The industry changes, the demands change, almost daily. So, a year from now, I'm not so sure what we'd end up doing. I know Nick has talked about us thinking about taking a few steps backwards and thinking about doing a sort of concept piece of, you know, very long songs. But a double set, I don't know. We'd have to really think seriously about something like that.
Besides the live albums, the band has never recorded a double studio album. The concept thing... Of course, all longtime Rush fans would dream of something like that, but I don't get the feeling that that is something that the band is very interested in doing.
Well, you know, we did it at a different stage in our lives. Lyrically, all of our records have been concept albums. So, I guess what he is talking about and perhaps what some of those fans that long for those old days talk about are those long, involved pieces. But, I just don't know if we are there. And I couldn't imagine even thinking about it until the first day of writing, whether that would be something that we would want to do. He talks about a double record. I say, "What is a double record set? Do you mean a double disc set? Do you mean two hours of music?" Well, I think that's over the top. I think already that CDs are too long. There's too much information there. I think that's what's kind of killed them. When albums were forty minutes, you had a very bordered length of time to develop a musical piece that really worked. But, I think sixty or seventy minutes is a long time for people to be interested in one thing. So, I'm not so sure I understand where Nick's coming from with this idea. But, it's something he's excited about and wants us to think about. But, we'll see.
I agree with you as to the length of CDs. Most bands that release very long albums...most of the extra time on there should have been just cut out.
It's filler! It's like, "Well, we have this great material, but we still have twenty minutes left on the disc. So let's just put some average songs in." And that's what turns people off. That's why people end up downloading only one or two songs that they like and discounting the rest of the record. And that's not what a record is about. A record is a whole piece. It's not just one or two songs. At least that's what I think. For Rush, it's always been a part of the whole building if you want to look at it as a wall. You put all these bricks in place and they all stand together to make this one great thing. But if you start pulling out the bricks or you put in faulty bricks or ones that are not as strong as the others just to make a bigger wall, well, eventually it's going to fall down and it's not going to have the same impact.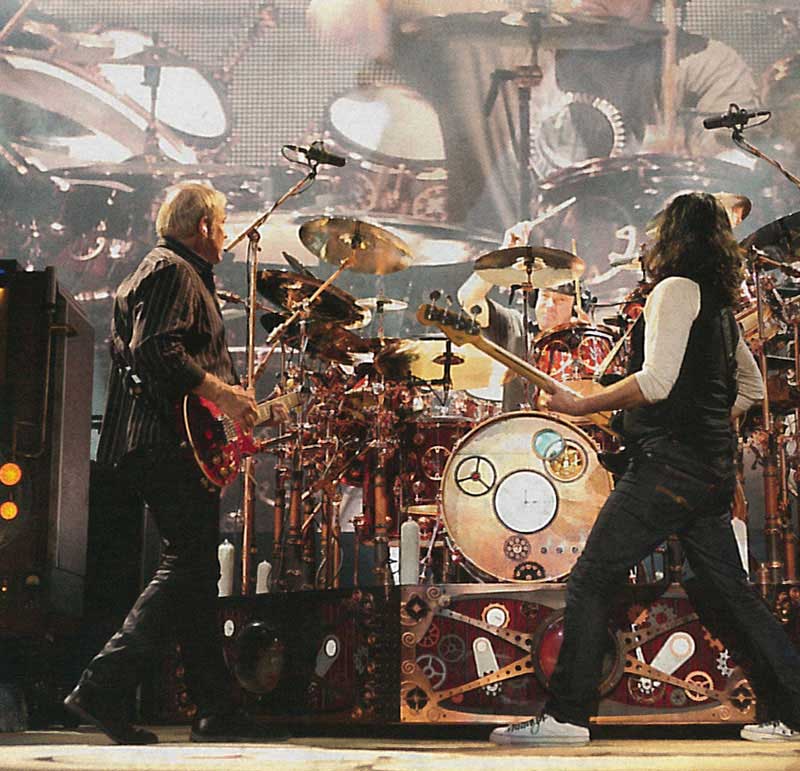 I'd rather have a forty-minute record with two or three long songs than two hours of filler.
Yeah. Yeah.
I don't believe that a comprehensive Rush box set has ever been released. Is there enough interesting unreleased material lying around that could be included in such a box?
Not really. You know, whenever we record, we never record more than what's on the record. There aren't songs that were recorded that didn't make it. It's like orphaning your own kids. That's not something that we ever did. In terms of any kind of live stuff, we have a show from '97 that we did in Toronto. Probably little bits and pieces here and there of those sort of things. But not too much. But until you sort of sit down and go through the archives... It's a long period of time. I wouldn't really know.
Following up on the vibe of the Snakes & Arrows studio album, it was nice that you included other songs on this tour from Rush's catalog that featured acoustic instruments. As can be seen on the new DVD, classic album cuts such as "Entre Nous" and "Natural Science" from Permanent Waves, fantastic songs obscure to the casual fan, were performed. Most of the songs from Snakes & Arrows, a good portion of which were played live, include that acoustic dimension. This is a beautiful element of Rush's current performances.
It's a lot of fun to mix it up. I love playing acoustically. It was great to be able to do a solo moment with "Hope" on the tour. It's a nice dynamic change in the set.
"Hope" is such a gorgeous composition. Have you ever thought of recording an all-instrumental solo guitar album?
Yeah. Actually, I have been thinking about that lately. It's been mentioned to me a couple of times. That would probably be something I would seriously consider over just doing a solo record with a bunch of other players. I do not feel I have a void that I need to fill with something like that. However, doing an acoustic record with some really nice textures and some very interesting tunings and approaches, I think that would be something that I would really enjoy.
One of my favorite moments in any Rush song, or in a show for that matter, comes in the form of the instrumental break in the middle of "Free Will". How long did it take for you and the guys to compose that section and then to nail it the first time you did it? It's such a complex passage and it seems to evolve over time with little things that Geddy throws in on the bass and the like.
Ooohhh... That's almost thirty years ago. You know, actually, when we wrote it and performed it for the recording, I would guess that it happened fairly quickly, within a few takes anyways. 'Cause it's kind of a jammy piece. When we wrote it, I am sure we would have said, "OK. This is the solo section that starts with the bass and the drums and then the guitar comes in with the solo and everybody just plays until this point". And, you know, it was probably pretty free-form, I would guess. And the more you rehearse it and the more you play it, the more it locked in. Yeah, I don't think it took very long, actually. Nothing took very long back then.
Ha ha. The little things that one notices on DVD that were unnoticeable while at the shows. Is that a miniature Stonehenge perched on Geddy's keyboard or is it a chai? I noticed it the first time during "Between The Wheels".
Yeah. That's a good question. I don't know if it's one or the other. To be honest with you, I didn't even recall ever seeing that up there.
Ha ha.
Ha ha. And then I saw it on the DVD and I thought, "Where did that come from?! I don't remember seeing that". I don't go over there that often, ha ha, and really notice what he's got on his keyboards, but I did see that on the DVD and I thought, "What is that"?!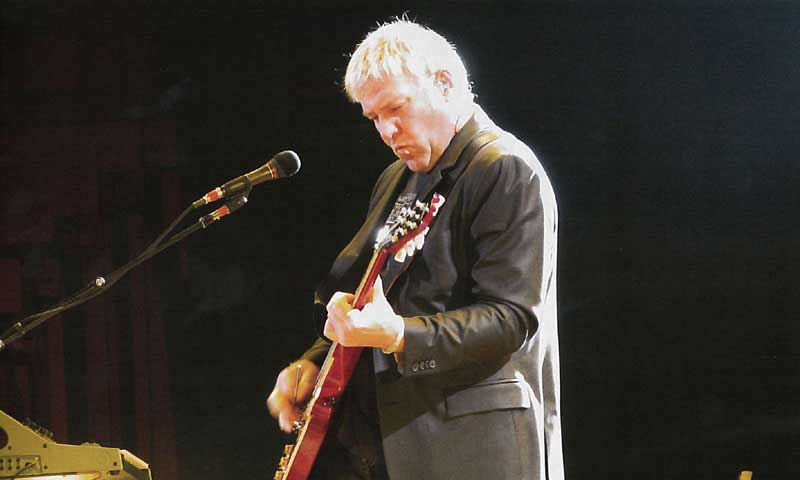 And that's an impressive set of Barbies at your feet during the show. A little Freudian, maybe. But are they holding signs?
Yeah. My guitar tech and a few guys down in the pit there at stage right would write up these little Post-its and stick them in the hands of the girls before the show so they would be sending me messages.
Ha ha. So they're facing the stage?
Yeah. Facing me. Some are very funny and some are quite gross. By the end of the tour, those girls are in very rough shape.
In addition to playing all of the great songs from Snakes & Arrows, the catalog songs that you chose were balanced so heavily in favor of the Permanent Waves and Moving Pictures era. Trust me, I am not complaining. It's fantastic stuff, some of my favorite material. But was there anything in particular that caused the band to do that?
Well, we like playing that stuff, too. We sit down at the start of a tour and we filter a lot of stuff. We go through a lot of our songs and there are the staples. There's a particular era between those two records where some of our strongest material resides. Now, I don't know if in the future if we look to do things a little more broadly, like include songs that are a little less popular or just from different eras and dilute that kind of representation from that particular era between the late '70s/early '80s. But these are things that we don't really discuss until just before we decide to tour. I know that whatever we do from Grace Under Pressure, as an example, next time around, I'd love to do some other songs from Grace. And look into some of our other albums for some other material. I think it would be more interesting for Rush fans, as well as for us, to maybe look at doing some stuff that we haven't done that often and do those more popular ones a little less.
Maybe next time around you can focus on A Farewell To Kings and Caress Of Steel, which you don't really dive into that much. Ha ha.
Well, you know, we worked up "A Farewell To Kings" in rehearsals and it just didn't seem to take off. It didn't really happen the way that we'd had hoped it would. But at least we tried and I think that's the key. We need to try a whole bunch of stuff that we normally wouldn't expect would work out that well and then just see how it develops. Because these songs take on a new life. For example, "Ghost Of A Chance" to me became so much better of a song when we were playing it live than the recording. Sonically, that's part of it, that there's something about the power and the punch and the feel that has changed in some of the material that we were resurrecting.
Thank you very much for calling and I hope that it's not going to be too many years until we see you out there playing again.
Thank you, Ritchie. I look forward to seeing you again soon.