Baseball Awaits Jeter's Signature, Right Next To Cobb's
By Derrick Gold, St. Louis Post-Dispatch, May 26, 2014
---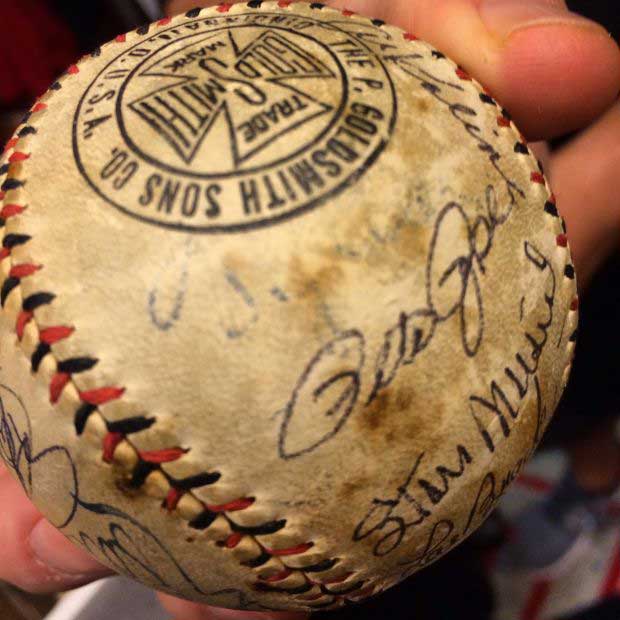 A baseball, owned by Rush's Geddy Lee, has signatures from most of the members of the 3,000-hit club, including (in faint blue script there) Ty Cobb's atop Pete Rose's, Stan Musial's, and Lou Brock's. The owner hopes to get Derek Jeter to sign the baseball this week.
ST. LOUIS - It's not the easiest of the signatures to see, but it's hard to miss once you've spotted it.
There are others that pop with better ink, more recognizable spirals.
Tony Gwynn's is easy to pick out. Hank Aaron is there. Roberto Clemente's is hard to miss. Right there along the opposite side of the sweet spot is the legible and long autograph of Tris Speaker. Al Kaline, true to his personality, tucked his signature along one of the seams -- out of the way and not stacked next to any of the other Hall of Famers. Stan Musial and Lou Brock share same side of the historic baseball, topped by Pete Rose, fittingly.
And above him, in faint blue is the one that wows: "Ty Cobb."
A baseball that might be unlike any other in the world is visiting Busch Stadium this week in hopes to add to more signatures to the elite group already on its hide. The owner of the ball has asked Cardinals equipment manager Rip Rowan to get the signatures of Derek Jeter and Ichiro Suzuki* -- two more members of the 3,000-hit club. That's the prerequisite for getting on the ball.
* Suzuki has 2,768 hits in the major leagues. His career total, however, when his professional careers in Japan are included surpass 4,000 hits.
A quick scan of the ball (pictured) shows that it has most of the members of the 3,000-hit club and only a few modern hitters -- if we use some elastic to stretch the definition of "modern" -- do not appear on the ball, Honus Wagner and Nap Lajoie.
It has more recent 3,000-hit members: Rickey Henderson and Wade Boggs.
And it has Cobb, Speaker, and Eddie Collins, whose signature is one of the hard to miss ones -- big and loopy.
The ball is owned by Rush's lead singer and bassist Geddy Lee. A renowned collected of memorabilia and a huge baseball fan, Lee is also a Cardinals fan. He has come around the ballpark and spent time with the club before, and he has had long friendships with a few around the club. Lee purchased the ball to add to his collection, and has added signatures to it so that it may be the only baseball held by both Cobb and Clemente and ... if all goes well this week ... Jeter.
Just don't sign over Cobb. There's still room near Musial.