ole in Worldwide Music Publishing Deal for Rush Catalog
---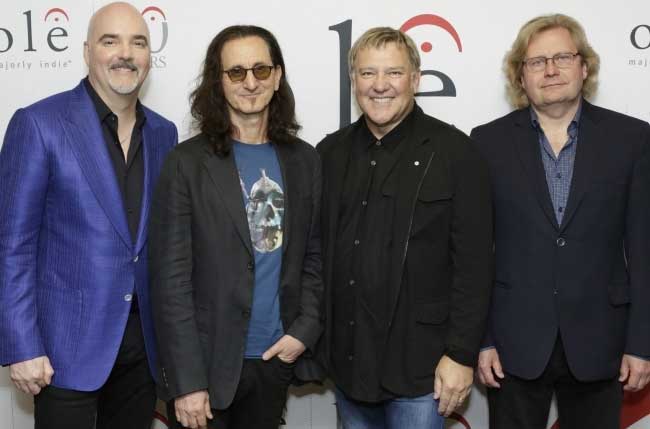 From left: Robert Ott; Chairman and CEO of ole; Geddy Lee and Alex Lifeson of Rush; and Ray Danniels, President of SRO/ANTHEM and Manager of Rush | Photo by Richard Sibbald
TORONTO, Ontario (May 28, 2014) ? ole has purchased Core Music, the 40-year home of Rush's music publishing, and will manage the music publishing affairs of the band for the foreseeable future.
Says ole Chairman and CEO Robert Ott, "ole is very honored to have been chosen by Rush to manage their incredible living legacy and to be a partner in their ongoing creative journey in music publishing. ole looks forward to working hard to ensure that Rush's music continues to find new and wider audiences."
Geddy Lee, singer/bassist of Rush, said, "We are pleased with the news of Core Music's deal with ole and happy that our publishing will be handled by a Canadian company with worldwide expertise."
"With the changing times in the music business, the responsibilities of a publisher have become much more complex. This deal will allow me to devote my time and energy to managing the live touring and recording aspects of Rush's ongoing career," said Ray Danniels, President of SRO/Anthem and Rush's longtime and only Manager.
As part of the ole-Core deal, Pegi Cecconi, who has overseen the administration of Core Music since inception, will continue to work full-time at the management and label home of Rush, SRO/ANTHEM, but will also take on a consulting role with ole in regards to the vast Rush catalogue.
The terms of the deal were not disclosed.
About Core:
Core Music Publishing, a division of Anthem Entertainment Group, was founded in 1974 at the same time as the creation of Moon Records, which eventually became Anthem Records. Core Music has been Rush's exclusive publisher and administrator for the entirety of Rush's career.
About ole:
ole is one of the world's foremost rights management companies with investments of over $300M in music intellectual property (IP). Founded in 2004, and with operations in Toronto, Nashville, New York and Los Angeles, ole is engaged in IP acquisitions, creative development, and worldwide rights management. The ole catalog includes over 45,000 songs and 60,000 hours of TV and film music across all genres including the recently acquired catalog of Sony Pictures Entertainment. Copyrights under ole's control include songs recorded by artists such as the Backstreet Boys, Beyoncé, Blake Shelton, Britney Spears, Carrie Underwood, Eric Church, Jay Z, Justin Timberlake, Kelly Clarkson, Madonna, Michael Jackson, Rihanna, Rush, Steven Tyler, Taylor Swift, and Timbaland, and many of the themes, scores, and cues in Film & Television properties from the catalogs of DHX Media, MGM, Miramax, Nelvana and Nu Image/Millennium. MusicBox, the Production Music division of ole, provides quality content and service to creators in all media with over 150,000 tracks in its library.
ole is proud to be to be associated with its bank partners SunTrust, JP Morgan Securities, CIT Finance, Fifth Third Bank, Avenue Bank, City National Bank and OneWest Bank.
ole is committed to being the world's best and most innovative Rights Management Company and the preferred destination for IP Investors and Creators in all Media.
For more information visit www.majorlyindie.com.