Rush To Celebrate 40th Anniversary With Massive 'R40' Live Box Set
10-DVD Set Includes Bonus Disc Containing Full 1974 Set Including Three Never-Before-Released Songs
By Kory Grow, RollingStone.com, September 17, 2014
---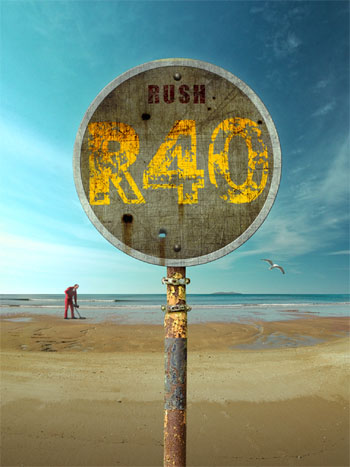 Four decades after Rush put out their self-titled debut, the trio is celebrating its legacy with a box set that collects concert films from their entire career. The 10-DVD or six-Blu-ray set R40, set for release on November 11th, compiles the previously released concert videos Rush in Rio (2003), R30 (2005), Snakes & Arrows Live (2008), Time Machine 2011: Time in Cleveland (2011) and Clockwork Angels Tour (2013), as well as a bonus disc with previously unreleased live performances. The box set also contains a 52-page hardback book, including photos of memorabilia and from concerts throughout their career.
Most interesting to Rush fans will be the bonus disc, which contains two hours of material dating back to the group's formative years. The centerpiece is the full, eight-song set from 1974 at Ontario's Laura Secord Secondary School that was featured in Rush: Beyond the Lighted Stage. John Rutsey was still the group's drummer at the time, and the trio played three never-before-released songs - the Rush originals "I've Been Runnin'" and "The Loser," as well as a cover of Larry Williams' "Bad Boy," which the Beatles used to play along with eventual hits like "Best I Can" and "Working Man."
It also includes five songs from a 1976 concert at Passaic, New Jersey's Capitol Theatre, a single performance of "Lock and Key" from the group's 1988 Hold Your Fire tour and eight tunes from Toronto's Molson Amphitheatre (including a rarely performed run-through of all seven parts of their 1976 suite "2112"). To cap things off, it ends with footage from the group's Rock and Roll Hall of Fame induction ceremony, where they performed "2112" with producer Nick Raskulinecz and Foo Fighters' Dave Grohl and Taylor Hawkins.
Both the Blu-ray and the DVD box sets contain the same content, though the DVD set has more discs due to time restrictions. The track lists for the concert films are the same as their original releases.
Earlier this year, the group reissued its self-titled debut as a lavish vinyl edition. The group's label remastered the record at Abbey Road and packaged it in a custom box with a lift-off top. Meanwhile, the group is gearing up for a 41st Anniversary tour to kick off next year.
"The three of us just had a meeting," guitarist Alex Lifeson told Rolling Stone in March. "We said, 'Let's not talk about anything band-wise for the next year. Let's separate ourselves and come back rejuvenated.' Unfortunately, the other people at that meeting didn't hear what we were talking about, so there are already plans being made for spring of 2015. It's going to be a 41st anniversary tour, or whatever they're going to call it."
R40 Bonus Disc Contents:
Laura Secord Secondary School 1974
1. "Need Some Love"
2. "Before and After"
3. "Best I Can"
4. "I've Been Runnin'"
5. "Bad Boy"
6. "The Loser"
7. "Working Man"
8. "In the Mood" (partial)
Capitol Theatre 1976
1. "Bastille Day"
2. "Anthem"
3. "Lakeside Park"
4. "2112"
5. "Fly By Night"/"In the Mood"
1988
"Lock and Key"
Molson Amphitheatre 1997
1. "Limelight"
2. "Half the World"
3. "Limbo"
4. "Virtuality"
5. "Nobody's Hero"
6. "Test for Echo"
7. "Leave That Thing Alone"/Drum Solo
8. "2112" (all seven parts)
2011
"I Still Love You Man"
Rock and Roll Hall of Fame Induction, 2013
1. "2112," featuring Dave Grohl, Taylor Hawkins and Nick Raskulinecz
2. "Tom Sawyer"
3. "The Spirit of Radio"