2014 Parnelli Visionary Award Honoree Howard Ungerleider
PLSN.com, October 14, 2014
---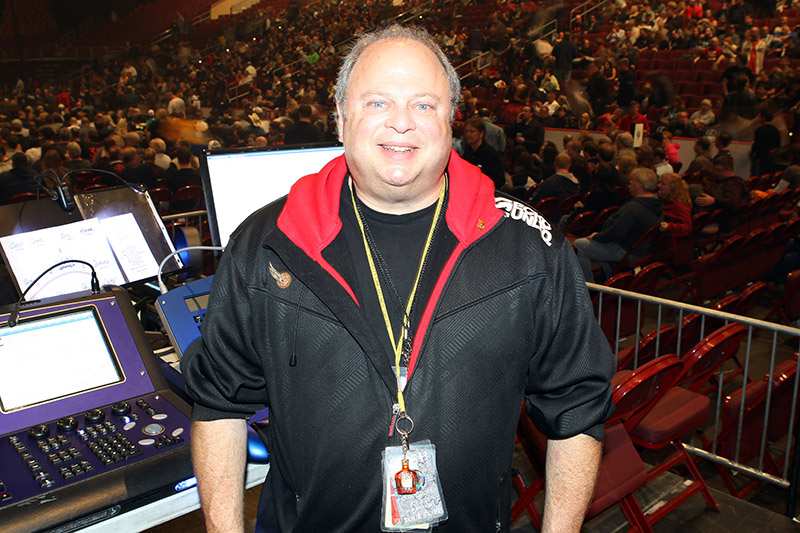 "You are the architect of your own future, and you get out of it what you put into it," Howard Ungerleider says. Ungerleider is, himself, a helluva architect, and he has put his heart, soul, sweat and passion into a remarkable career that continues to inspire and influence not only the work of other lighting designers, but the manufacturers who create lighting tools. For all that and more, he will be honored with the Parnelli Visionary Award at the 14th annual Parnelli Awards ceremony, set for Nov. 22 in Las Vegas.
While perhaps best known as the visual designer behind four decades of Rush concerts, he's also worked with the likes of Blue Öyster Cult, Van Halen, Queensrÿche, Tesla, Rod Stewart, Supertramp, Def Leppard and Alicia Keys, among others. His work on the corporate side has been just as innovative, creating custom environments for companies ranging from General Motors and Mercedes-Benz to the Buffalo Sabres hockey team.
"Howard is always an innovator and loves to push the envelope using the available technology," says Elliot Krowe, currently with BML/Blackbird, who first worked with Ungerleider in the early 1970s.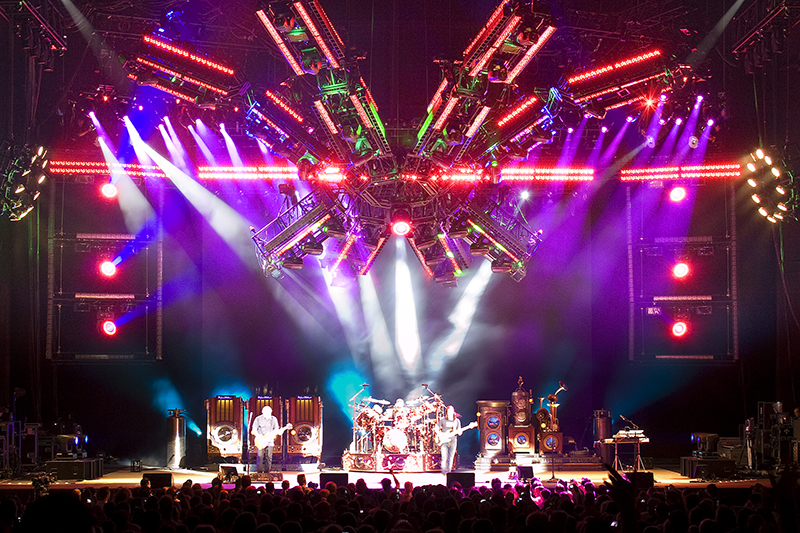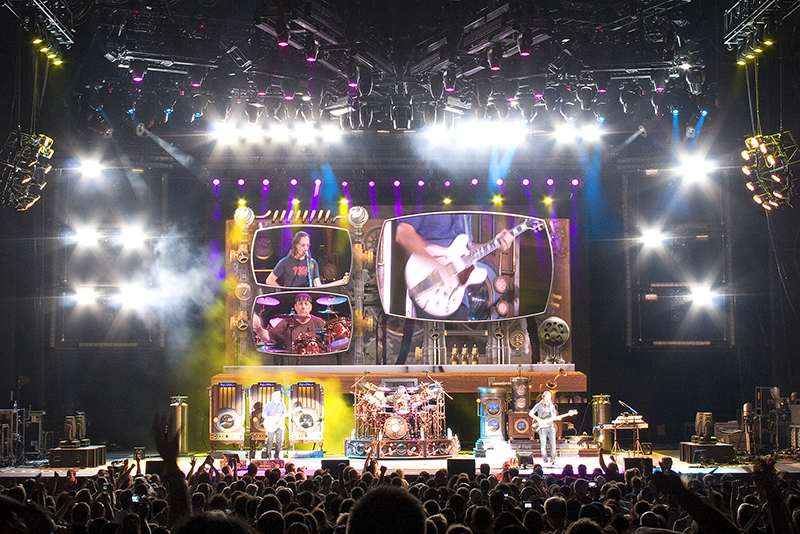 "Howard is a pioneer in the entertainment industry," adds Richard Belliveau of High End Systems. "For as long as I have known Howard, he has strived to provide his clientele with new and innovative ideas."
"Howard has a keen eye for creating a striking depth to each program, and a real understanding of the assets in his lighting toolbox, color blending and positioning of targets for required results," says Queensrÿche guitarist Chris DeGarmo.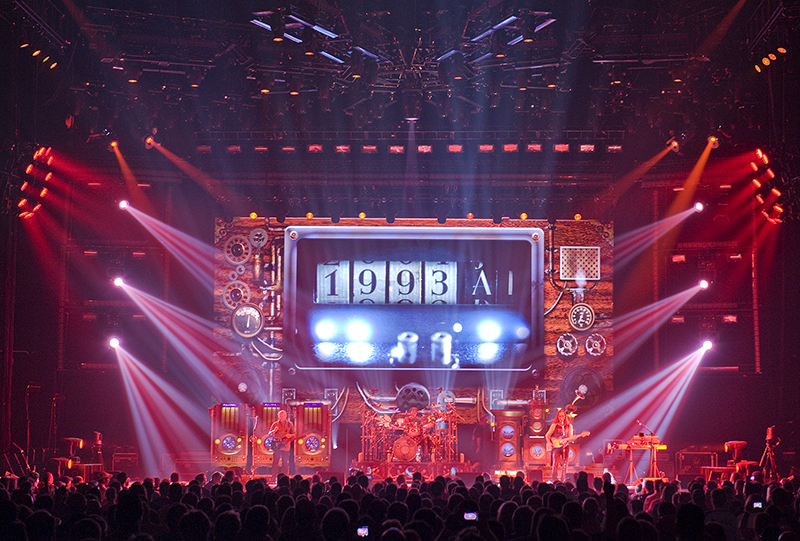 Beyond lighting, Ungerleider has been a leader in the revolution of concert multimedia. It began with his use of stills and slide projections in the early days with Rush, shifted forward to pioneering innovations with video and animation with Queensrÿche, and continues to this day with his development of laser technology with his Markham, Ontario based company, Production Design International.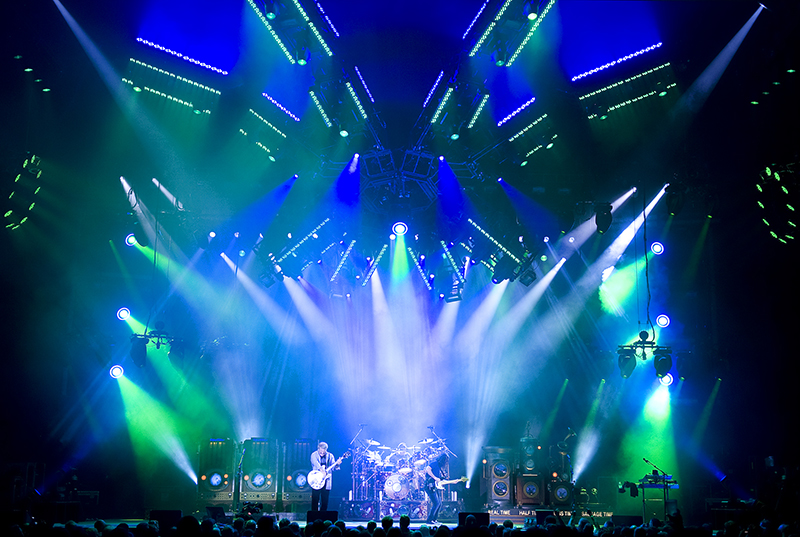 "I don't just 'light the band,' I create the lighting choreography," he says of the process. "Neil [Peart] will give me the lyrics, and first I dissect what the song is about and try to bring the concept to life. I'm a musician, so I feel the music, and I have a passion for it." Like the band, he too gets a lot of inspiration through nature. "I look at how the sun cuts through trees; the effect of the night atmosphere during a full moon. I like looking at how light and architecture interact."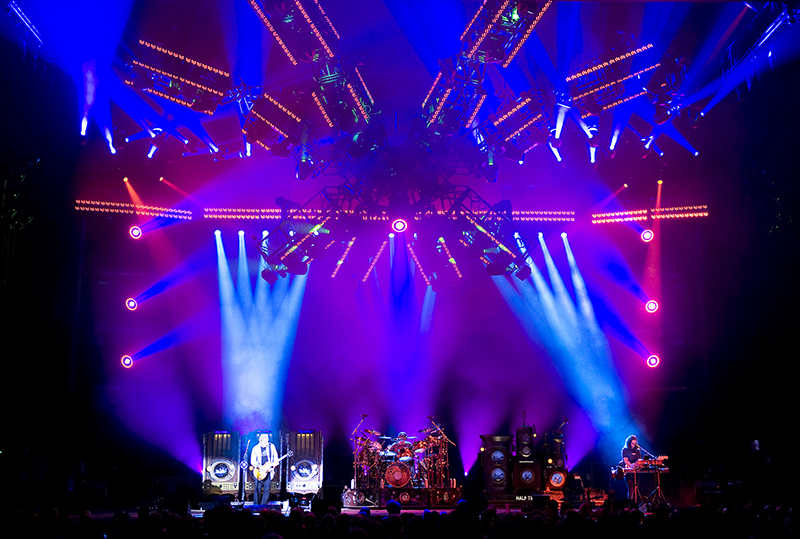 "Howard likes to get right into the lyrical thing - he's always chomping at the bit for them so he can create his own interpretation of the song through the lighting," Rush's Geddy Lee says.
"Howard has a real good sense of not competing with [other] big shows but doing something on another scale that is very emotive, very powerful and profound," Rush's Alex Lifeson says.  "Some of his movements are just astonishing when you see them up front."
Jersey Roots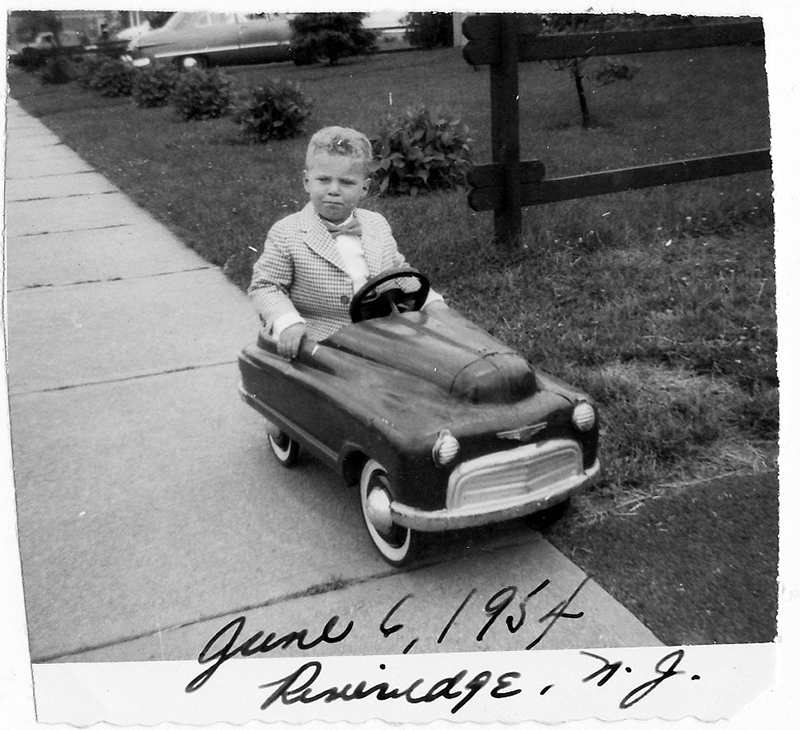 Ungerleider was born in New York in 1952 and moved to New Jersey when he was 12, spending his teens in Paramus. He credits his father, a former drill sergeant in the military, with instilling a strong work ethic in him. His grandfather played mandolin with the New York Philharmonic, and Ungerleider taught himself a little piano and guitar, which he played in a couple of local bands.
Meanwhile, he volunteered at his high school theater where he first started running lights. He went to what is now Monmouth (NJ) University studying theater and drama right up to the moment when a prank got out of hand and he was shown the door. "It was stupid," he laughs about the reason for his dismissal.
But before his dubious exit, he was on the student council, where he booked concerts and once worked with a New York Agent named Sean LaRoche. So he started showing up at his New York office, thinking if he met him he'd get a record contract for his band. LaRoche's secretary kept putting him off, saying he was out of the office, at lunch - whatever - to get this kid to leave. After three weeks, Ungerleider figured out her schedule and marched into LaRoche's office when she was out. LaRoche, who couldn't believe this kid had gotten into his office, was even more flabbergasted that he was asking for a record contract.
"Listen, there's probably 20,000 bands out there and only one will make it, and it won't be yours," LaRoche told Ungerleider. "Now do you want to learn about this industry or do you want your life to be a pipe dream?" LaRoche wrote some names down for him and sent him out the door. It was his ticket to his job as an office boy making $75 a week for another agent, Jeff Franklin, then one of American Talent International owners. Ungerleider recalls Franklin having some similarities with the character Kevin Spacey played in Swimming with Sharks - in that movie, Spacey portrayed a manic egomaniac capable of hurling insults at high volume.
Ungerleider went from getting coffee to working in the mailroom, with Franklin seemingly screaming at him all the way. He got his big break when he overhead Franklin chewing out a room of agents because they couldn't get a gig for Fleetwood Mac at a $3,500 package with an extra $750 for the opening act. On the way home, Ungerleider stopped by Fairleigh Dickinson University and sold the deal to them - for $8,750.
Now an agent himself, Ungerleider worked with Deep Purple and Ronnie James Dio and did very well. "I developed a tough reputation, and they would often send me to collect the money from a gig," he laughs.
But as he traveled with the bands, they would always ask him what he thought of the show. He would be blunt. "Sometimes I'd point out that there was no 'show', just a band playing music." He would make suggestions, particularly about the lighting, and the band would have him talk to the lighting director about his ideas. This blossomed into a moonlighting gig as a lighting consultant.
"In 1972, I was working with Blue Öyster Cult, and their booking agency was ATI," Elliot Krowe says of his early days with Ungerleider. "Howard was always in the offices there, and we were introduced. He was available for work, so I hired him to do advance work for me on the BÖC tour. Subsequently he hooked up with Rush and they're first foray into the states was on tour opening for BÖC, and his first lighting design was done on my system as an opening act."
As the crazy overflowed at the agency, with partners fighting and threatening legal action against each other, Rush needed a tour manager for their first U.S. tour, and the prospect of working for a band looked good.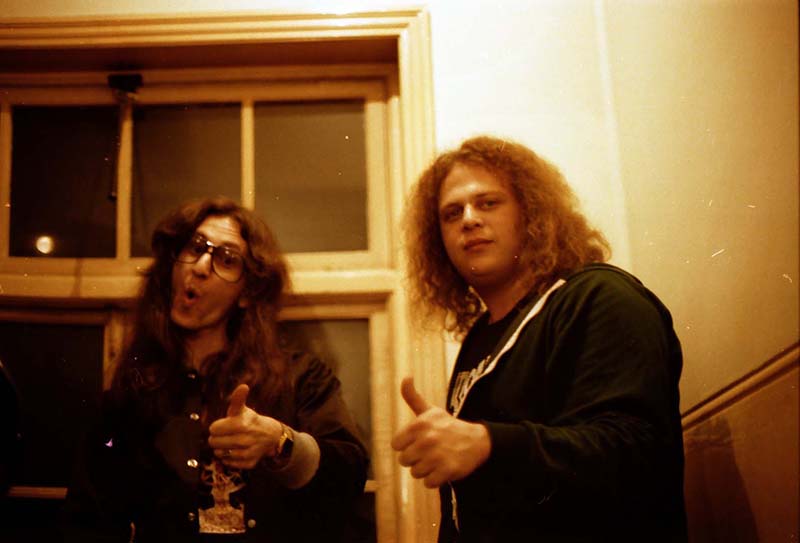 Rushing into a Career Change
"I came into this part of the business with a reputation for being able to fix things," Ungerleider says, citing "drive, loyalty and enthusiasm" as important factors for success. "I enjoyed working as tour manager and with lighting immediately," he adds. "If you stand in front of me when I stand [behind the board] working, I can't see you. I'm just in a totally different world, and it's a great world."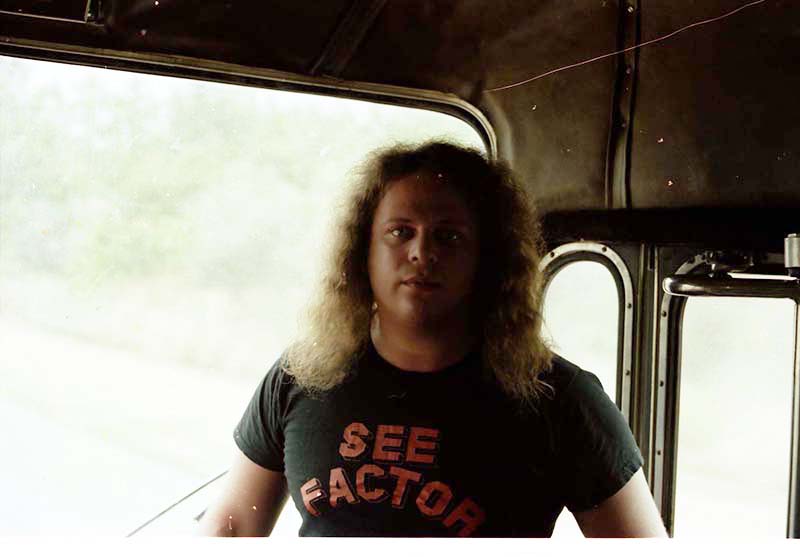 Rush's Lifeson and Lee tell of how he was brought in as a road manager. With crew members in short supply, Ungerleider volunteered to handle the lights. "We didn't know what we were doing, including him," Lifeson says. But that didn't stop Ungerleider from giving it a shot. Immediately, he impressed the band with his dual talents.  "He showed an eye for color, and knew a lot about lights right away, and his evolution in getting better at lights mirrors ours as a band," Lee says.
As he eased into his new career, he thought back to those days of seeing shows in New York City. "I realized then how fortunate I was to see Pink Floyd perform - nobody was doing the stuff they were doing. And what Chip Monck was doing with the Rolling Stones - those mirrors in front of the spotlights were brilliant."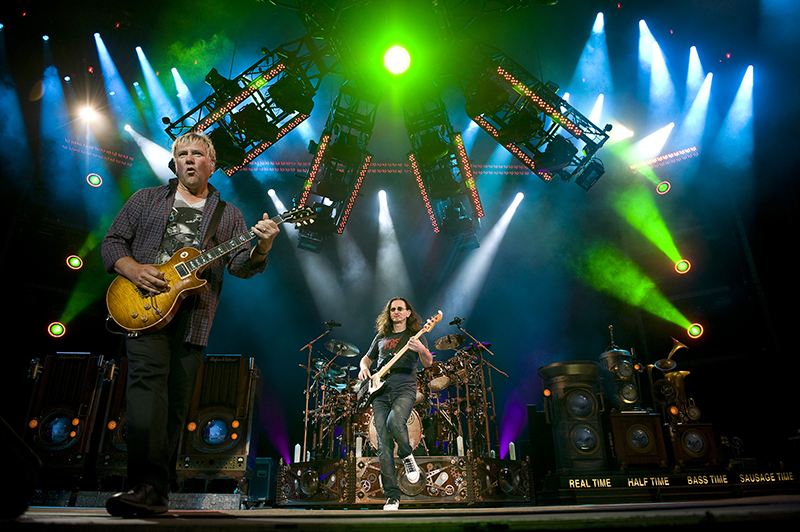 As for Ungerleider, the innovations started coming right away. "When Tim Pace built my first lighting console for a Washington DC-
area club called The Bayou, it included a joystick that could pick four of the submasters and create instantaneous looks on the fly. I had a lot of things that no one else had, as I continued to develop new tools with others."
Pace then acquired some 13V marine beacon (ACL) lights at a military auction. "These were the size of a car headlight, but the beams went for a quarter of a mile, nice and tight," Ungerleider says. "We, with the help of Atlantis Lighting, put them in PAR cans and set them up in a geometric shape." But Ungerleider quickly tired of putting up eight at a time, and he also wanted more individual control.
"I talked about a chase matrix - I wanted to control the lights to chase in a specific order, and they looked at me like I was on crack," he says. "But the guys at See Factor are electronic geniuses, and they built me what I wanted, including my crew chief, Nick Kotos, who was instrumental in organizing the gear."
There are many who worked with Ungerleider to create the innovative look he envisioned, including Jim Holladay (currently at PRG), Paul Edwards and Michael "Lurch" Hirsh, Rush's first production manager.
Holladay started working at See Factor in 1976 just as Rush had established itself as a premier arena act.  As one of See Factor's biggest clients, he was the one who had to keep Rush in general, and Ungerleider in particular, happy.
"Howard liked to use a lot of the aircraft landing lights because of the tight beam pattern, but the problem was, those lamps used 28 volts," Holladay explains. "So if you wire four of them in a series, that made for 120 volts, which the standard dimmer could handle." But there were two problems: if one lamp blew, they all went out.  And the second problem was much bigger: Howard didn't like it because he wanted more control - and to just have one going [as opposed to all four] if he wanted it.
"Howard and I spent a lot of time together, and we developed a secondary console that he wrote the specs for," Holladay continues. "I then worked with Avolites to build a custom console that could run on 28 volts," thus giving Ungerleider the control he wanted.  "That 28 volt dimming system was pretty radical at the time, and it became part of Howard's gear for many years."
Design-wise, just because he had developed a cool lighting look didn't mean he felt compelled to use it a lot during a show - or hardly at all. One of his secrets of successful, stunning light shows, is the 'less is more' approach. "You need to give space between [lighting cues]. Sometimes I would design something to only be used for 20 seconds in the show, and you wouldn't see it again the rest of the night. I still do that now - with Rush, their shows are three hours, and it's difficult to keep that interesting. So it's important not to use the same lights in the same way throughout a show."
In one instance, for the song "Countdown," he'd 'launch' a space shuttle from stage by surrounding the rig with 120 PAR 56s and only use them for the 10 seconds of lift off. "The crew would bitch about doing so much work for just 10 seconds!"
Inside the Rush family, when creating the next tour, it is a world of secrecy. "They don't want anything slipping away before the tour starts," he says, adding that the band used to be more trusting before a reporter betrayed them, leaking music prematurely.
Not surprisingly, there's a special bond between Ungerleider and the band. "The guys in Rush are amazing," Ungerleider says. "For as talented as they are, they know how to put on a show and are incredibly professional. What I've enjoyed most is they let me do what I do and don't micromanage. After 40 years - going on 41 - there's a lot of trust."
Other Highlights
That Ungerleider was chosen to light Def Leppard's legendary Hysteria world tour says a lot about his reputation. "That was the first tour I designed that was in the round," he says. "It was the first time we did lasers in the round." One of his tricks was putting lasers under the stage. They would shoot through trap doors that would open and close, thus not getting in the way of the band's stage motion.
In the late 1980s early 1990s, he worked with Queensrÿche on their Operation: Mindcrime concept, becoming tour manager and lighting designer. The album and first tour were each a critical and commercial success, so they went out again with Operation: LIVEcrime and put on a full-blown rock opera. Ungerleider oversaw the creation of the interactive video, where the band interacted with characters in real time, on two video screens. Animation, and an elaborate stage set, were both involved.
"We were very impressed with Howard's design work with Rush, and we were going to need someone well-versed in state-of-the-art stage lighting design as well as multi-media integration for our tour," says Queensrÿche guitarist Chris DeGarmo. "The aspect of Howard's design that immediately caught my attention was the dimensionality of his scenes. He was instrumental in helping conceive and design the two-screen interaction we had, and there was a tremendous amount of synergy between the band, Howard and [animator/visual effects producer] Norm Stangl."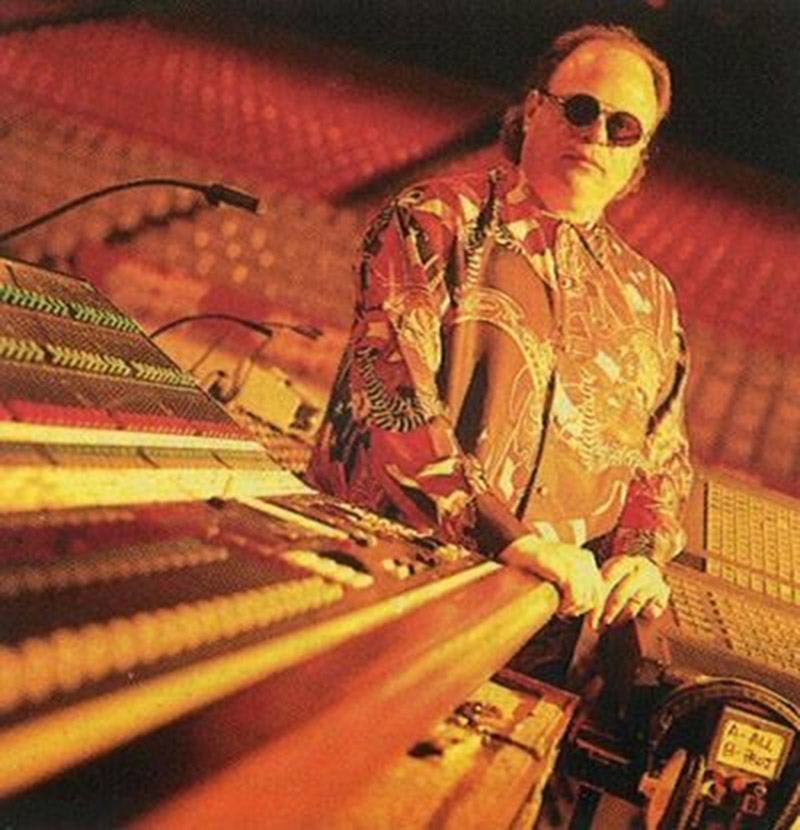 "Norm was creative producer, and we'd brainstorm and story board, and then let the animator run with it," Ungerleider says. "We had cartoon animation morphing into real actors, and the band doing a duet with the character of Sister Mary in real time."
He would also work on their Promised Land and Empire tours, and in 1989, worked with Tesla's The Great Radio Controversy tour. He was even called to light Alicia Keys' first 2001-2002 tour.
Not all artists "got him," though. He laughs and retells a 1994 encounter with Rod Stewart, who he lit on a tour where he performed in the round. After a couple of performances, Stewart noticed that, at times, the lights surrounded him in a circle. When asked about it, Ungerleider tried to explain the artistic effect that was being created with the appearance of a "gilded cage," and how it enhanced the mood of the performance. Stewart wouldn't hear of it. "I paid for those lights, and I want every single one on me," Ungerleider recalls him saying.
Visions and Partnerships
"A lot of manufacturers would send me their fixtures to break," Ungerleider continues. One example: Richard Belliveau, at High End Systems. "He is a great guy, and he'll tell you I put his stuff through the wringer," Ungerleider says. "High End has always been a major player. I was an early adopter of the Intellaspot - I like the animating wheel, the colors and the power of the light."
"New and innovative ideas can sometimes require more work and time for a designer like Howard to implement," Belliveau says. "Howard unselfishly spends his time to make sure those new and innovative ideas get implemented and in a very successful fashion for his client. The results can be breathtaking."
Prior to last year's Rush tour, Ungerleider went to the Czech Republic and visited the Robe plant. "Josef Valchar [co-owner] is a great man," he says. "He wanted to know what I thought of their Robe [Robin] 600 LEDwash fixtures, and I thought they were beautiful and amazing."
"Feedback from those at the 'sharp end' of the design process, who are out there actively using products day-to-day, is always valuable," says Robe's Josef Valchar. "To have someone of Howard's caliber visit our factory and make constructive comments is fantastic. His career is really exceptional, and so it was a big honor that made the time to visit our factory and meet our team personally and see our production facilities first-hand."
Ungerleider has a long history of working with manufacturers on product prototypes.
In 1976, he studied laser technology while working on the Blue Öyster Cult Don't Fear the Reaper tour. "By the time the 1980s rolled around, I was really able to bring the technology to Rush's shows." From then until now, he's always been the driver of new laser equipment and pursuing advancements in the technology.
"Back when I was programming, too, I ran into a lot of issues with the cutting-edge gear of the time," Ungerleider explains. One for example was the then-new Avolites Diamond console. "When they came out with their first computer board, it offered a lot of features," he says. But when programming a Queensrÿche tour in Dublin, after hours of work, the board gave him a prompt to "Save or Load." "You think it's got to be save, so I pushed 'save' basically 'saved' a blank disc. I lost everything I had done. I went back to the hotel and got drunk!" Howard pointed out how the user interface could be more intuitive, and the company addressed it.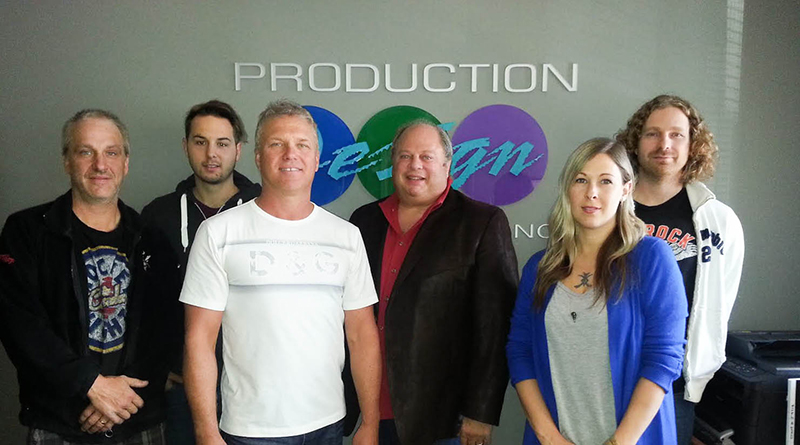 After an early foray in setting up a company in the 1980s that went south, Ungerleider founded Production Design International with two other partners in 1994. It evolved, and today he and partner Brian Beggs serve clients with lighting, lasers and special effect needs for concerts and corporate settings, while also utilizing the structural laser optics within their own components. "We just finished a Tool and Ozzy tour," he says. "And we built the first 360 degree laser system used for corporate events."
While still a proud U.S. citizen, Ungerleider lives in Ontario. "I've always been interested in special effects, and there has never been anything close to a company like ours in Canada," he says. "I wanted to bring great products here and create a little playground, doing corporate shows when Rush wasn't touring. I have this drive to always be doing something and wanted to develop this market."
Develop it he did. In 1994, at the Canadian Auto Show, he created a completely new look for GM that was immediately copied as a standard in new car reveals. Rather than using mercury vapor lights, which had been blamed for giving some onlookers headaches, he created a better atmosphere through a more controlled grid-based approach. "We used over 80,000 square feet of grid hanging 1,600 light fixtures," he says. "We lit the cars with Vari*Lites and lekos and used color in a way that made the cars shine like brilliant jewelry. The aisles were lit low, and within a few years, everyone was doing the same thing."
When it's noted he's one of the most copied designers in the business, he considers it "flattering if someone steals from you. I don't look at it as anything bad. It's funny - I find some LDs are paranoid; they think they need to keep what they are doing. I don't."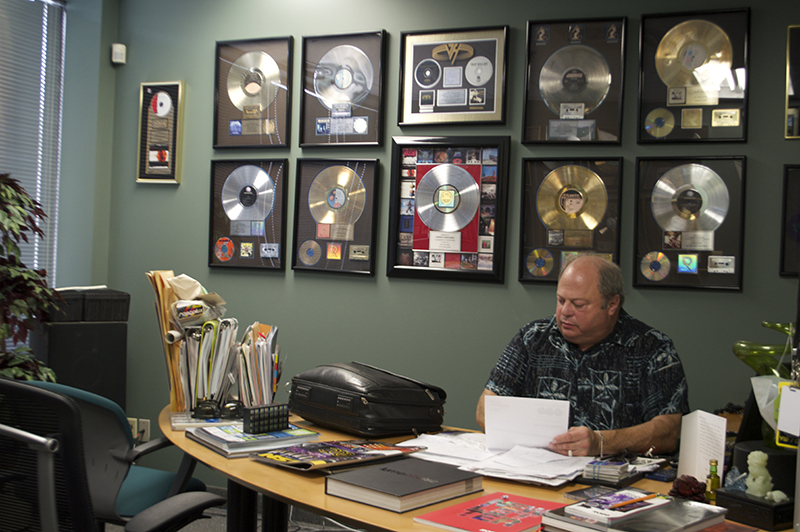 "Howard is not only an honest and gracious person whom I consider a close friend, but also a demanding client who knows what he wants and what he needs," says BML/Blackbird's Krowe. "His greatest contribution to the industry is innovation and application … also some of his personal phrases over the years are legendary!"
"He's one of the world's great story tellers, and he never lets the truth stand in the way of a good story," Geddy Lee laughs.  'He has a fantastic personality."
"He has the greatest stories  I ever heard. He can tell a story that will everyone in tears [with laughter]," Lifeson says. "He'll tell stories of situations I've been in, and it's completely different than what has happened. But who cares? Awesome stories."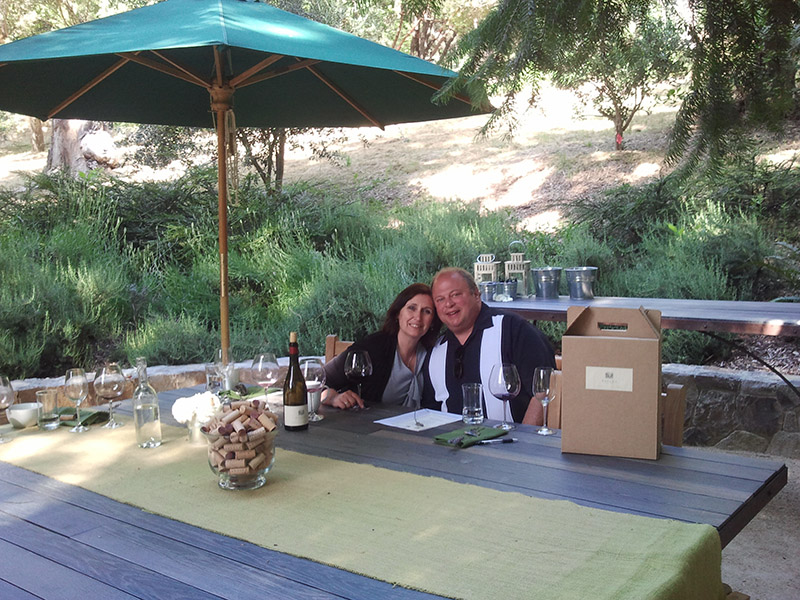 "Howard is great to work with," DeGarmo says. "He has a combination of intense passion, tremendous discipline under pressure, and has those classic stories. Also, he's just crazy enough to keep it interesting! And he has a sincere appreciation for quality food and fine wine. I vividly remember his penchant for spicy experiences, and his handling of a five-star Thai dish while we were dining to the point that he turned an impressive shade of light purple that particularly evening, complete with eyes bulging, profuse sweating, and yet loving every second of it - I marveled at it!  I congratulate him on his Parnelli honor."
"I congratulate Howard on winning the Parnelli award, as I can't think of anyone who deserves it more," Lee adds.  "I hope you're with us our entire career."
Howard Ungerleider will receive the Parnelli Visionary Award at the 2014 gala set to take place at the MGM Grand in Las Vegas on Nov. 22. For more information and tickets, please visit parnelliawards.com. To see the full exclusive Parnelli interview of Lee and Lifeson discussing their 40 years with Ungerleider, go to www.parnelliawards.com/media.