Industry Profile: Ray Danniels
By Larry LeBlanc, CelebrityAccess.com, March 11, 2015
---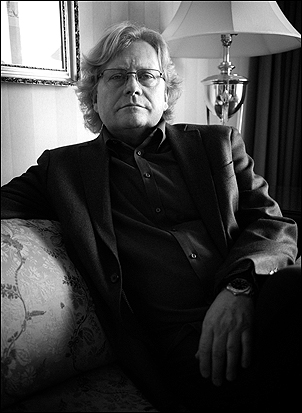 This week In the Hot Seat with Larry LeBlanc: Ray Danniels, CEO/president, Standing Room Only Management, and the Anthem Entertainment Group.
Four decades managing Canadian power trio Rush, as well as helming a label and management powerhouse, and being a central figure in the music industry, it?s Ray Danniels? time to come in from the shadows.
As the recipient of the 2015 Walt Grealis Special Achievement Award that recognizes individuals who have made an impact on the Canadian music industry, Danniels will be honored at the 2015 Juno Gala Dinner and Awards on March 14th (2015) in Hamilton, Ontario.
The son of a die-casting executive, Danniels was running a small, non-union Toronto-based booking agency at the age of 16 when he met Rush at a youth drop-in center in the basement of a local Anglican church in the late ?60s.
In 1973, Danniels teamed up with booker/musician Vic Wilson, then president of the Concept 376 agency to form Standing Room Production to manage Rush. Frustrated by the band?s failure to attract a recording deal, Danniels sold his booking agency, Music Shoppe International, and with Wilson set up Moon Records.
The band?s eponymous debut album came out in Canada in March 1974 on Moon, with Canadian distribution initially being handled by London Records of Canada in Montreal.
Despite little radio airplay, and few reviews, the album soon sold 50,000 copies, mostly in Southern Ontario. After Donna Halper, PD at album rock WMMS Cleveland started playing the album track ?Working Man,? 7,000 exported copies were sold in the Cleveland area. These sales prompted Chicago-based Mercury Records to sign the band, and back a tour of America.
With its tremendously passionate concept work ?2112? in 1976, Rush?s popularity soared internationally. The band?s catalog now consists of over 20 studio albums, most of which remain available.
Danniels and Wilson (who left SRO/Anthem in 1980) established Anthem Records and Anthem Entertainment in 1977 as vehicles to protect Rush?s independence and to give themselves the flexibility to record and publish acts on their own.
In addition to Rush, Anthem has released recordings by Max Webster, Ian Thomas, Kim Mitchell, Coney Hatch, Gowan, Moe Koffman, B.B. Gabor, Molly Johnson, Steven Page, the Tea Party, Big Wreck, and Brody Dalle as well as such soundtrack projects by the fictional brothers Bob & Doug McKenzie (Rick Moranis and Dave Thomas, and "The Trailer Park Boys."
You are this year?s recipient of the Walt Grealis Special Achievement Award which you previously had turned down. Why the change of heart?


Timing. Knowing where I am in the Rush world, and with stuff that I have gone through in my personal life. The fact that Rush is getting the philanthropy award at the Junos (The Allan Waters Humanitarian Award). The timing made sense. My kids said, ?You have to do it.? If nothing else, I get two of my kids back from British Columbia for the weekend. That alone is worth it.
And how do you say ?no? to Universal Music Canada president/CEO) Randy Lennox too often? Randy is the one who dealt with all of this. He?s an interesting guy. He texted me to tell me what Geddy Lee was doing at Massey Hall, (for the venue?s revitalization announcement on Feb. 23rd) as if I didn?t know. Between all of the stuff that he does, and all of the stuff that Gary Slaight (pres./CEO Slaight Communications, and Slaight Music) does on their charity things, I?m a lucky guy to have friends like that. And, Toronto is lucky to have those two guys.
Rush?s career, four decades, 20 studio albums. Pretty awesome.


Who would have guessed?
How did you prepare for the upcoming ?R40 Live 40th Anniversary Tour? which launches May 8th and hits 34 North American cities as well as the year-long ?12 Months of Rush? celebrations?


These were deals that had been floated either by us or to us. My focus, and Pegi?s (VP SRO/Anthem Pegi Cecconi?s) focus was that they were all in sync with what would be the 40th anniversary, and what would be the tour. So we weren?t just sputtering, and having things come out here and there. That we would have a focus, and that we would roll it all out.
With all of this activity, there?s a sense of finality in the air. Will this be the final Rush tour? Both Geddy Lee, and Alex Lifeson have talked about the tour somewhat in those terms. So final tour or not?


Somewhere between possible and probable. There are some of us who would keep going forever, and there are some of us who wouldn?t. So it?s a process of working that out. And what somebody thinks today may not be what they think in a month.
Once the band return to performing, they might think, ?We can?t give this up.?


Yeah, that is possible. I am focused on making this as good as it can be, and then seeing where we are. I did not want to do a farewell tour. There was no one in the band who wanted to do that because there is nobody who thinks it is that final or thinks that they won?t make music or do something. But I will tell you this. I am probably not going to be able to get a band full of 65 year olds out again on the road--which is what would happen next time with any potential tour--they all would be 65-ish. Neil is as much an athlete as he is a musician, but with these 2 1/2 and 3 hour length sets, I don?t know if it possible to keep up with that (physical) demand. And they each want to go out on top in every single way. From their status....well, that is more me?the status?than it is them; and still having the ability to be at their best. To play at the level that they have been able to play.
You have people coming through the door every day with projects for Rush. How do you work out what to do?


Pegi is the first filter. They have to get past Pegi, unless they know one of us, before it gets to us. She?s got a pretty good sense of what is probable or possible and what is a waste of time.
[In celebration of Rush?s 40th anniversary, Universal Music Enterprises continues its ?12 Months of Rush? campaign with reissues of 14 of the band?s albums as well as the release of a special vinyl hologram edition of the band?s landmark 1976 album ?2112? on March 17, 2015.]

Why all the recent catalog reissues? Is it because you have been with several labels in the U.S.?


We have basically been with two. We had the years with Mercury that became Universal, and then we had the years with Atlantic. When we did the deal with Roadrunner (in May, 2011), Atlantic Music Group already owned Roadrunner. They may have owned half of it then, and by the time that we finished our deal, the company had the rest.
What was your reasoning behind signing with Roadrunner?


It was the same reason that I left Universal (Mercury Records in the U.S.), and went to Atlantic. There was a sense that this band was always better at a place where it was predominantly a rock label, and where we would matter. It is very easy to get lost if culturally you don?t fit the label that you are with. If nobody has ownership of you. They can?t remember who signed you, anymore. All they know is that it wasn?t them, and it wasn?t the guys before them. You have people listening to and loving a different genre of music. I?d watch a country act or a country-leaning act, and see how they would get lost at a rock label or at a pop-leaning label. I would say to myself, ?I am not letting that happen to us. If we get to a point where rock is not the dominant or one of the dominant genres at the label, it?s time to go somewhere else, where people live what we do, and actually want to go and see you on a work night, and not feel forced to.?
This is from a manager who licenses Rush products to Rounder Records?


Well, there?s a relationship with (Rounder Records pres./CEO) John Virant.
Possibly the biggest Rush fan in the world.


Yes. Keep in mind that it?s Rounder with Universal Music distribution. So I have the best of both companies. I have John and his team that cares. They are terrific. He?s a huge fan, and a lovely guy. Most people don?t realize it but John is a Harvard-trained lawyer. This is a smart guy. Very unpretentious, but a very smart guy.
What Rush assets were recently sold to the Canadian music publisher ole?


We sold ole Core Music which owned the publishing rights to the Rush catalog.
[Ole acquired the Rush music publishing catalog administered by Core Music, a division of Anthem Entertainment Group, for an estimated $25 million, according to Billboard.]

Does that include the publishing of any other songwriters?


No. Core was a separate company. I have subsequently sold ole part of other things that I had as well.
In 1981, you were offered what Pegi later described as ?an obscene amount of money? by Warner Brothers Publishing for the Rush catalog. Your comment to her was, ?What would we have left?? Was selling Rush?s publishing assets because you reasoned that the peak earning years of their copyrights have passed so let?s cash out?


That?s not true. There?s a lot of reasons that you do a deal like this. Obviously, you make the deal because the numbers work for you. You make the deal because of the timing. By making a deal like this, you have the benefit of a lowered tax rate. The benefit of (having) the money today, and not waiting 10 or 15 years or whatever to get it.
As well, the age of Rush members may be a factor.


Either directly or indirectly, you are estate planning. It?s a deal that works for everybody. On the other hand, ole and the teacher?s pension fund (the Ontario Teachers? Pension Plan), which is their principal owner, they need to be diversified. It?s a 3% bond market, and it?s a pension fund. They have money, and the need to invest every year. Year after year. Owning copyrights, and being involved in music publishing is getting them a better return than they can get (with other assets), and they have all of the time in the world (to profit). If you had made this deal for the Doors and the Doors got paid out and had the use of all that money, would you regret that deal down the road? I don?t think that ole will regret this deal for a minute. We won?t either.
Is there a reversion clause in the ole agreement?


No.
While many music industry executives talk of the importance of a 360 deal today, you have done 360 deals for decades. Did the combination of having the label with Anthem, the management arm with SRO, and the publishing company with Core play an integral role in building your business?


It was very needed. By having Anthem, every time the U.S. label wanted to do things differently than what the band or I wanted, and they told us ?no,? we had the ability to have the tail wag the dog instead of the dog wag the tail. It was the ability to say, ?Fine, if you don?t want to release it until September, we are releasing it in May (in Canada).?
And it may bleed over into America.


Damn right it would. They would either come to a compromise where the date would become June or they would throw up their hands, and it would be our date. ?We don?t have a choice. We are fucked.? That mattered less as we became a more substantial act, but along the way it played so well for us. Hypothetically, I would put a record out in January because a chart position was important, and the tour wasn?t starting until April. They (the U.S. label) would insist that they wanted it in the 4th quarter (of the past year) because that?s the biggest quarter (of music sales). I would say. ?That?s great. The record will be over in four weeks.? And they thought, ?It makes our year, our quarter, and it is probably going to sell as much in that quarter as it is going to sell anyway? blah blah blah. I?m like ?no.? To this day, I still try to build this band. If I wanted to go out January or February, and do a release to coincide with the tour so that the record would be in the stores for 6 months rather than 6 weeks, I didn?t care ultimately if it sold the same amount. I ultimately cared that it built the band. Keep in mind, at every American label we were at, we ended up with people who hadn?t signed us. Who didn?t care about us. Who didn't love us. Yet, in Canada we have had the consistency of doing things on our own, and with a label (Anthem Records, distributed by Universal Music Canada) which was right for the band, and not what was right for the label.
Have newer Rush albums bolstered sales of their catalog?


Every record has had the ability to give the catalog a boost as long as we have had a willing label that would make sure there was stock in the stores. That was part of why I have always been such a big fan of putting out our live records. Not only do they sell, but they give everything (in the catalog) a boost. You need a reason for stores to restock. A new release is always about that. I would work the sales at whichever label we were at, and push them to push more records or more CDs out there.
How does that work today in the digital marketplace?


It doesn?t today.
How does Rush then work....


You answered that earlier. By putting out vinyl which is selling. What was a $15 CD has dropped down to more a $12 CD, while vinyl is closer to $30. It?s a profitable thing. It draws focus. We try to make sure that the key titles are in stores, and our sales are still pretty good.
Universal Music Group CEO Lucian Grainge is now arguing that free funded and ad-funded services, such as YouTube, Pandora and Spotify, need to move to a subscription model for the music industry to be healthy. Where are we now with digital distribution?


I don?t know, but for me I am bummed that it stopped raining money like it did. The golden age--from the artist perspective--is not something that we are in right now. On the other hand, I get the sense that as this thing (digital subscription distribution) develops, and plays itself out that there is a pot of gold for the industry as a whole. Whether it gets to the artists in a fair manner or not we could debate that.
Or even if a fair share of revenues will get to independent labels like Anthem.


Well, I agree. But who says that whoever it is, Spotify or Netflix, that they don?t sign acts one day? That?s the silver lining (with digital distribution services). If that happens, and we go from three players that are developing and signing acts and, all a sudden, you can make a deal with a Netflix-type company, and they pay you then that might create competition. If Lucian is saying that they (the major labels) don?t like the advertising-based subscription, it?s wonderful news for the artist. In all honesty, think about it. One of my big fears has been is it (distribution) being advertising-driven, and you wouldn?t be able to trace the money to what titles it?s related to, and it (revenue) wouldn?t get passed down. That it (the ad-funded or free model) could be good for the labels, and not good for the artists. So that?s off the table. To me that?s very good news.
With the ad-funded model when people think something is free it is free.


You can?t compete with free. You can?t in any regard compete with free. It?s a horrible concept.
If people have to pay something, they will again be part of the seller/customer food chain. The music industry not only lost control of its customers with some of these distribution services, but many of the services operate like record clubs of yesteryear in that they pay the major labels big advances while stiffing artists as much as they can.


We know from record clubs that given the chance, the major labels will make deals that work for them, and that have little regard for the creators. Publishers not so much. Publishers can stand on their own. I think long term that the publishers are going to do very, very well. The fight is going to be on the artist side.
Publishers had to fight to gain their fair share of revenues at iTunes.


Yes, but they have something that they can withdraw. They have a hammer that the individual artist may not have.
The 2010 documentary ?Beyond The Light? sparked re-interest in Rush. Even people who don?t like Rush--females--love that film.


It boosted our business fairly dramatically. Mostly because we went from a fairly small percentage of females in the audience to all of a sudden everybody?s wife and girlfriend wanted to go (to a Rush show). Totally true. The number of times that people recognize me from the documentary is amazing. It?s my least favorite part of the documentary. The number of guys that have come up to me and said, ?I have my wife here. I have seen the band 12 times. It?s the first time that she?s come.? I know that these guys were telling the truth because the band would end the first set, it?s intermission, and wives and girlfriends would leave like it (the show) was over.
Where did the magical film footage of a teenaged Alex telling his parents at a supper meal that his ambition was to be a musician come from?


I believe that we were looking for stuff in the basement, and we came across it. I?m not sure if it was for this project or if we were re-doing some masters to preserve and this came up. I think it was (A&R head) Andy Curran who found it, and had the good sense to say, ?We should see what this is.? What are the chances? For me seeing it, it was like, ?I know that guy.?
From ?Roll The Bones? (1991) onward have come some of Rush?s best work in my mind. ?Vapor Trails: (2002), and ?Snakes & Arrows? (2007) stand out, and ?Clockwork Angels? (2012) is a superb album.


It?s brilliant.
How do you market those records given the market today? In Rush?s glory days, you went to radio. Has that disappeared for the band?


No. No. Rush is the last of the bands of its era that can still get on Active Rock radio in most markets.
And these stations are playing the most current recordings?


You got it. We are on playlists which are playing current bands, and we are one of the few older bands that is able to do that. Now after a 40th anniversary and admitting how old they are, whether that puts a damper on it I?m not sure. It may well do that, but I have fought all of these years to keep them on the radio. That was the (career) trade-off. We never had the pop songs. We never had the crossover songs. So if there was any form of rock radio, and we could get on it, we would do it. We were always touring, and we were willing to engage the radio stations with ticket giveaways, and this and that. Coming to town--it?s no different 40 years later. It?s a still a huge thing when you come to town. That?s the one part of the business that is never going to change. Like-minded people feel the need to congregate. It?s as simple as that.
Has Rush been ambivalent about touring in the past decade or so? I remember complaints of, ?If we could only get Rush over to Europe more.?


Well, we have gone to Europe in the previous two tours. However, we did cease being a band that wanted to do everything that was on the table.
When did that take place?


A long time ago.
A lifestyle choice? Band members wanting to raise their families.


Yes. And also you fall into the major market trap where your overhead is so high, your show is so big, and you have a 10 truck tour. You have veteran crew guys that you are paying really well. The biggest change for us was when we went to day on, day off. Where we were averaging slightly more than three shows a week. When you are doing three shows a week, you simply cannot play some of the secondary markets that you once were able to. It would be financial ruin. You can?t get a 10 truck tour into most 7,000 seaters in secondary markets. You would have to gear up, and do a second series of dates.
Years ago bands started trucking around their sound. Then their staging. Today bands are carrying a full production into venues.


Absolutely.
I don?t think many people understand that.


No, they don?t, and to try to get this thing into a building at 6 or 7 in the morning, have a soundcheck at 4 PM, and have it up and running is a miracle.
While dealing with union crews.


In most cases. Some better than others.
And you are moving quickly on the road.


Yes. It takes precision to get 10 trucks that are packed to the gills moving. I think trucks used to be 40 feet, and now they are 52 feet. You get that much stuff numbered, put together like Lego, packed, and on its way to the next show. It?s a pretty major undertaking.
What number of road personnel travels with Rush?


We have about 40 people on the road, total. We have 10 trucks, and multiple buses.
Contrast that with touring in the ?70s when Rush was starting to headline.


It would be the late ?70s. In the ?70s, we were doing the Massey Hall world. That was a very different world. One of the saving graces over the years is that while the show has gotten bigger in terms of video walls, and things like that--that not only take up space because they are fragile, and they have to go into massive cases that created a larger show, but luckily sound systems got smaller. They became smaller, and more powerful. No different than your home system. Nobody goes out and buys the four foot by three foot wall unit anymore for home. It?s the same thing for us live. Luckily, that has offset it (storage space) to some degree.
As sets grew, staging of shows became more intricate. Now there are so many onstage technical cues for musicians. That?s not Rush.


No, that?s not Rush. But what we are dealing with a different level of expectation than what we were dealing with in the ?70s. We are also dealing with the fact that all of the original 6 arenas, hockey arenas, were torn down; and I?m sure it?s the same with basketball. They tore out buildings that had 9,000 seats in front of the stage to now that these buildings have over 13,000 (seats) in front of the stage. And they have rows of private boxes. I?m not a sound guy, but in terms of cubic feet, what you are trying to hit in these buildings is very, very different than the old Joe Louis Arena (since refurbished in Detroit) or Maple Leaf Gardens in Toronto.
The video era changed fans? expectations of live performances. They began to want something big from bands. At the same time, Rush has to please many of their earliest fans who don?t want to see an old show.


It?s true. Expectations are high, as are ticket prices. We are a victim of that too. As tickets have gone up over the years, the show has grown along with that. It?s a much different experience today than just seeing your favorite band, and having general admission on the floor. That?s not the world that we are in anymore.
The live music sector changed forever when Michael Cohl wrangled the Rolling Stones' 1989 Steel Wheels world tour away from Bill Graham. After reportedly offering an advance fee of $70-million for a 55-city tour in lieu of all merchandising rights, Michael pioneered building enriched revenue streams from merchandising, fan clubs, and VIP ticketing.

From my vantage point, we all owe Michael Cohl and, in fact, the Rolling Stones, a debt of gratitude for being the pioneers that brought in modern ticket prices.

Up to that point regional promoters throughout North America offered major bands a ticket split.

To some degree, but we also couldn?t get past certain ticket prices. The years that we had a $9.50 ticket because of the fear of breaking $10. And the fear of breaking $20. And then the fear of breaking $30. All of those things were milestones in the early days. Of course, the other thing that changed was that when we started out I think that there was probably 10 or 12 NHL teams up from 6. When it went up to 30 teams, and basketball went to 32 or whatever, suddenly all of these markets became accustomed to a different level of ticket pricing. To this day, if you go into a secondary market that doesn?t have NBA or NHL, you have a very different perspective to what a ticket to a live event is worth.

Is that right?

Absolutely. The point of reference in those markets is other shows and movies. You see that they have baseball. Well, baseball has always had--other than New York, and now, maybe, Toronto--pretty cheap seats in most markets because there are so many of them (baseball teams). Football, other than the Super Bowl, has never set standards for what tickets prices could be. They have 60,000 seats to fill. So they have a lot of inexpensive seats. If we had 60,000 seats to fill instead of 12,000, it would be a different story.

Regional promoters used to offer major acts an 85-15 split, and then Aerosmith and other pushed it to a 90-10 split. Michael Cohl essentially bought the tour, and gave bands a big pay day. That remains the gold standard for top acts still.

Michael is a pioneer. Without Michael Cohl, there isn?t the extension that goes on to become the modern version of Live Nation or AEG.

Americans don?t laugh when they hear that Canadians changed the live music business.

I have gone through numerous times where there were groups of people that had a lot of power. In the concert business right now it?s Canadians; between Arthur Fogel (chairman of global music, and CEO of global touring at Live Nation), and (Live Nation senior VP) Gerry Barad. All of these guys. It?s predominantly Canadian.

You have worked with Gerry for a long time.

I think that this is 12 or 13 years with Gerry.

You go back quite far with Arthur as well

Yes.

Back to the days of the Maple Leaf Gardens? shows promoted by Michael Cohl?s CPI.

Absolutely. I recently looked at the number of times that we played at Maple Leaf Gardens. It was shocking how many times we played there. Two and three times in a row. I didn?t add it all up, but I was shocked by how quickly we would come back in those days, and do two more shows. Then three more shows. It was staggering. And all of them successful. No stiffs.

Like most bands of the era, Rush were road hogs. That?s what you had to do to break or to stay on top.

I?m sure that there are still acts that do that to some degree.

Not to that degree.

Probably not to that degree. No.

Back in those days, a band toured four to five months at a time.

And your big pay days weren?t comparable to what your big pay days are today. Nor were the shows as big. A six truck tour at Maple Leaf Gardens was a big, big tour back then. You had a lot less building to fill.

While managing other acts, you have worked with other labels in the United States. Did you learn anything from them that was helpful to you?

Well, you have to keep in mind that the big one was Van Halen. Van Halen was one of the few L.A.-based bands that was actually from there. A lot of people who were at Warner Brothers had grown up with them being the big band. It had been the Doors, who were perceived as an L.A. band through to Van Halen. Everybody felt connected with them. It was one of two of the biggest acts on the label and in comes this guy parachuted from Canada.

Weren?t you asked a decade earlier to manage Van Halen? Also If Alex Van Halen wasn't sure about some deal, he would call you for advice.

I had been asked, yes. I had helped Alex with certain things. Given him bits of advice when asked. I was very respectful of Ed Leffler, who was a very, very good manager.

[Ed Leffler guided the careers of Van Halen, and the Carpenters. He also worked with the Osmonds, the Sweet, Petula Clark, Juice Newton, and Sammy Hagar. He passed away with thyroid cancer in 1993 at the age of 57.]
Why did you finally agree to manage Van Halen?

My kids weren?t young anymore. Al was straight. It just seemed like a much better time.

And it became a difficult time?

It was a difficult situation between everything. They (Van Halen members) are very different guys than the Rush guys. The geography wasn?t easy; the going back-and-forth. It took me a long time to adjust. At Warner Brothers, it took them waiting me out to just believe that I wasn?t just going to go away.

Warner Brothers had a vibey, creative environment, but also an insider?s ?We don?t cotton to strangers? attitude.

There was definitely that. The Van Halen relationship with them was somewhat strained. It was not a perfect situation to go into. I wasn?t in their inner circle. I wasn?t from L.A., I was from Canada. If I was from Connecticut, it might have been the same thing. Everything magnified it (the rift). And I followed a pretty combative manager with Ed, who had arguably been the first really professional manager that the band had had. Ed was what he was. Ed was not usually intimated from what I could tell.

And Warners was a label that didn?t care for intimidation by management or artists.

Correct. My connection there was really (chairman/CEO) Russ Thryet and David Altschul (VP business and legal affairs). I liked both of them a lot.

What label was Extreme with?

Extreme was with A&M, and with (CEO) Al Cafaro. Al was great. Loved Al. It?s unfortunate that Al kinda got pushed out of the business for trying to do some of the right things at the time. So Extreme was with A&M, but I got Extreme after ?More Than Words.? After they managed to sell more than 5 million records based on one song to 4 million people who didn?t like any of the other songs. I am being generous. It was probably 4 ½ million.

You were at the helm when Van Halen recruited ex-Extreme singer Gary Cherone for its 11th album, ?Van Halen III,? and the subsequent tour.

I was credited with that. The great audition to be in Van Halen consisted of two people because Eddie didn?t really want to go to that many people. He anointed Gary, and the rest is history.

Who was the other contender?

It was Mitch Malloy, who was a pretty good looking country kid who had just gone from rock to country, and was trying to find his place. He might have been a good choice as well.

In interviews, Sammy Hagar seemed to sing your praises early on, but in his autobiography with Joel Selvin ?Red: My Uncensored Life in Rock,? you take a pounding. You two didn?t get along?

No, and I really can?t go there, Larry. The best thing I can say is that anything that Sammy Hagar said about me when I was no longer involved, it sure didn?t become functional with them. So I wasn?t the problem. I think that there were certain things that were fabrications in his mind.

What acts does SRO handle for management today?

Tea Party, Big Wreck, Ian Thornley, Steven Page, and Brody Dalle.

How hands on are you with their management?

Historically, I have been hands on, depending on the band, and which era with the band. In the last few years it?s been much more Andy Curran who?s been hands on day-to-day with the help of whoever. Meghan Symsyk runs the Brody Dalle situation. I am there if they need help. Am I living it (management), and in the trenches? No. Rush has worked 4 of the past 5 years. In-between that, and the personal stuff I?ve been dealing with, I have had enough on my plate. But, I am there if they need help or if they need advice.

In the early days you were more involved with acts other than Rush like with Larry Gowan, who is now the front man with Styx.

Yes. I lived it back then.

You also managed Matthew Good for several years.

I had Matthew Good at the height of him being good. I love Matthew Good.

With Rush off the road for months or years, and with you having a full staff to take care of, you have needed to work with other acts.

All that is true.

With recent releases by Brody Dalle. Tea Party, and Big Wreck, Anthem Records seems to be fully operational again. Did you let that label slide a bit over the years other than using it for Rush?s releases?

I suppose you could stay that. But the label was always there. The vision of the label was always there to put acts that we managed on the label. If needed, and when needed. It was never to build the label as a competitive label with whoever else was available. It was predominantly management clients on the label. Things that related to our clients. It was a safety thing so that the records that we believed in would get released here (in Canada), and I would never have to hear ?no? again.

You had gone through being told ?no? by a lot of labels in trying to launch Rush?

Exactly. Back in that era, there were about 12 or 14 places to go (in Canada), and there 27 something places (in North America) to submit. Everybody in Canada said no. There were no exceptions. I looked at the bottom of my shoes whenever I left people?s offices to see what was on them. Nobody got it. Nobody was interested Nobody gave it the time of day.

Rush was considered far-out because it was primarily doing original rock material.

Which is why you should sign them. Rush just barely pre-dates Canadian content and certainly pre-dates Canadian content really starting to work. It was right around the time we were starting.

[The Canadian Radio-Television Commission?s domestic content regulations took effect Jan. 1, 1971. Canadian AM radio stations now had to play at least 30% Canadian music during the broadcast day. Similar regulations for commercial Canadian FM stations followed in 1975.

When the AM content regulations were introduced, Canada?s music industry was largely regional. It was hoped that the regulations would lead to a more dynamic infrastructure in Canada?s developing music industry.

The immediate impact was greater radio exposure, and increased popularity in the ?70s of such Canadian acts as Crowbar, A Foot In Coldwater, April Wine, Max Webster, Triumph, Saga, Prism, Chilliwack, Lighthouse, Triumph, Fludd, Mashmakan, and Trooper, all of whom racked up impressive Canadian sales in the decade; while Rush, Bachman Turner Overdrive, and Gino Vannelli roared into America?s heartland.]

Everybody turned down Rush in Canada?

Yeah. Other than London Records of Canada in Montreal. That they would do...

A P&D deal...

Yes. And I had to figure out very quickly what that (a pressing and distribution deal) meant. They did P&D deals with one and everyone. They had enough successful things that went through there that it made sense for them to do it. I think I even got turned down by Quality Records (of Canada). It seemed like we were with the ugliest girl in the bar at one o?clock in the morning who wouldn?t take our number or go home with us.

[The precursor for Anthem Records, Moon Records formed as a means to release Rush?s first single ?Not Fade Away,? and later Rush's debut self-titled album. Danniels also formed Taurus Records which released, among other things, Max Webster?s debut album. In 1977, Anthem Records was launched.]

Before signing with Mercury Records for the U.S., didn?t Rush receive some other interest there?

We had interest from Epic U.S. It was (A&R Man/producer) Tom Werman at Epic who had expressed some interest, but the interest wasn?t quite the same as it was from Mercury.

Rush?s first album in 1974 came out in Canada on Moon Records as did the band?s first single ?Not Fade Away? the year before.

Yeah, and I?m not even sure why we put that single out. We were kids. People look at us as if there was some great game plan that we were supposed to have had. We were teenage kids in a new business with not a lot of business sense, and having an awful lot of fun.

Will the ?Not Fade Away? b/w ?You Can?t Fight It? single ever be officially re-released?

I doubt it very much.

When you started working with Rush weren?t you a non-union agent?

Yes. I had my agency that I had started. It was Music Shoppe International.

You had an earlier agency.

It was called Universal Sound. I should have registered that name.

You took me to see Rush at one of their first gigs at the Coffin, the youth drop-in center in the basement of an Anglican church. Betcha don?t remember that.

No. I don?t remember an awful lot.

As you began to manage Rush, Geddy Lee was fired....

I don?t remember this. Where the fuck did this come from? We were kids. This wasn?t like changing something because something wasn?t working. They were practicing in somebody?s basement. We were kids. Give me a break.

[Rush bassist/singer Geddy Lee has talked about how he was once fired from the band. The dismissal happened before their recording career started, when they were a four-piece with original drummer John Rutsey, and Lindy Young on piano. Shortly after Ray Danniels was hired to be their manager. ?Ray came along. He had no real reputation yet as a manager or anything,? Lee told Classic Rock. ?He was just kind of an agent working in Toronto. ?So he started directing the band and he just thought I wasn?t suitable, for whatever reasons he had.?]

A bit later you also managed a Beatle tribute act, Liverpool, that paid a lot of bills. While Rush worked one night every three weeks for $250, Liverpool was apparently working three times a week for $1,000 a night. True?

Yes. Liverpool made a lot of money. Liverpool could and should have been (the Beatle musical revue) ?Beatlemania.? That was my idea before Leber and Krebs (artist managers Steve Leber and David Krebs) started it (?Beatlemania? in 1977) that became the big (Broadway-styled) version. To me, it was a natural. When I saw the business that Sha Na Na was doing, I was like, ?Okay, what comes next?? So we started that but, unfortunately, we should have had guys in the band who we had more control over, but we didn?t. So when they didn?t want to do it, our idea got stolen. It was pitched to us that they would be it. They could have been incredibly successful with it, but they felt that they wrote their own music, and that it would be successful blah blah blah. In hindsight, they were totally within their rights to have wanted their own material. But what they should have done is to have two identities, and not insisted that one suffer over the other.

[Liverpool changed its name in 1977 to Aerial and broke up in 1981.]

Were you a good manager in those early days.

Of course.

Why bring in Vic Wilson as a partner in 1973?

(Chuckling) Are we on or off the record?

On the record.

He was running an agency that was competitive with me.

He was working for Tommy Wilson at the Concept 376 agency in Toronto.

That?s right. Bringing Vic in brought in somebody else that knew the live aspect of the business; knew about the booking. It was a combination of what could he do for me, and what would the side effects be to my competition, frankly.

You two promoted shows in Toronto at the Victory Burlesque theatre and at Massey Hall. Did you enjoy that side of the business?

I loved it when we made money, and I didn?t love it as much when we lost money. It was a challenge. When I look at it the acts that I brought into Toronto for the first time, it includes Aerosmith, ZZ Top, Peter Frampton, Kiss, the New York Dolls, and Rory Gallagher. There were all of those very current acts, and then there were the acts that I had wanted to see as a fan that had never come to Toronto, that I thought would do business, like Spirit, which was huge. Then there were the acts that I liked, but I learned that doesn?t mean that anyone is going come and see them. We had our share of stiffs. I did Renaissance, and it was a nightmare. I can?t even remember some of the others. We did the first date of Cheech & Chong. I brought Cheech & Chong into Massey Hall. I still have the poster. I broke the $5 (ticket) barrier with them. I was told by whoever it was at Eaton?s (department store), which was the ticket agency at the time, that if I went to $5.50 that there was going to be resistance. I did a lot of shows, and I barely kept my head above water. But the Plan B was that promoting shows would get me into the American agency business, and that would ultimately help Rush. And, it did.

Vic Wilson left in 1980. Is it true that Rush members said to you, ?He goes or we go??

Not really. It was not that severe. It was time. He wasn?t getting along with them. They weren?t happy with him. There was not a good relationship there. Vic?s ambitions were not the same as my ambitions. Vic was 7 years older than me. There were a lot of things that mattered to Vic that didn?t matter to me. I was still living for the band. I wanted the band to be successful, and I was on the same page with the band on certain things that he just wasn?t.

Rush being inducted into the Rock and Roll Hall of Fame in 2013. A sweet moment after such a long publicized wait?

Yes, and it meant more than we thought it was going to be. It did. You condition yourself. Everybody is telling you that you should be there, and telling you what a crime it is that you are not. You condition yourself to think, ?We don?t need that.? Then it happens. Of course, there were a lot of reasons why Rush got in. One of the reasons was that certain kinds of acts, including us, will get these awards in the future is that these awards are now open to the public, and they need to sell 6,000 seats. Well, we are really good at that. We proved it that night when probably a large percentage?maybe 80% of the audience were Rush fans.

Also there?s Foo Fighters David Grohl and Taylor Hawkins inducting the band on front of tables of rock royalty giving Rush a standing ovation. That?s pretty powerful.

Oh, it was great. I had met Graham Nash two or three times previously, and I went the night before to a function and saw him. He said all of the right things. How great it was for him, and that they didn?t take it for granted. I think he?s in there two times. It is a great thing. Perhaps, I should watch what I say. But, maybe, they should call it the American Rock and Roll Hall of Fame because there is a bias. It?s not that being from somewhere else prevents you from being in the Rock and Roll Hall of Fame, but they are only going to judge you on how big you are in America. I do understand that.

Neither Iron Maiden or Judas Priest have been inducted.

I find it hard to believe that Deep Purple is not in. Let?s start with that. Deep Purple and Joe Cocker. Wait a minute. How is that possible? Joe Cocker is not in the Rock and Roll Hall of Fame? How the fuck is that possible? Chubby Checker is not in.

Larry LeBlanc is widely recognized as one of the leading music industry journalists in the world. Before joining CelebrityAccess in 2008 as senior editor, he was the Canadian bureau chief of Billboard from 1991-2007 and Canadian editor of Record World from 1970-89. He was also a co-founder of the late Canadian music trade, The Record.

He has been quoted on music industry issues in hundreds of publications including Time, Forbes, and the London Times. He is co-author of the book ?Music From Far And Wide.? Larry is the recipient of the 2013 Walt Grealis Special Achievement Award, recognizing individuals who have made an impact on the Canadian music industry. He is a board member of the Mariposa Folk Festival in Orillia, Ontario.