Ten Things Geddy Lee Can't Live Without
Rosedale?s resident rock god played two sold-out Toronto shows earlier this month as part of Rush?s 40th anniversary tour. Here, the 10 things he can?t live without
By Caroline Youdan, image: Richard Sibbald; Crossword by Daniel Neuhaus, Toronto Life, June 2015
---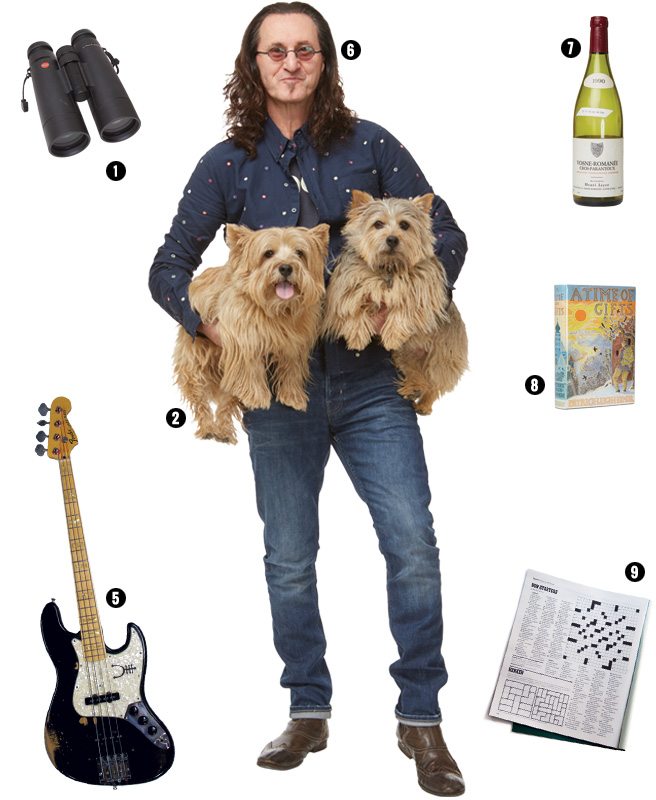 1: My Leica binoculars
I?m a birder, believe it or not. My wife, Nancy, and I love taking exotic hiking trips, and I always bring my Leicas. We recently spent five weeks trekking through New Zealand.
2: My Norwich terriers
They?re entertaining little friends. We christened them Stanley and Lucy Wasserman because they nag and bicker like an old married couple??the Wassermans? just seemed to fit.
3: My pickled herring
It?s something my dad used to eat when I was growing up, with his friends and cousins from the old country (my parents were Jewish Polish immigrants). After he passed away, it became a soul food for me. I get it at Pisces, the fish market on Yonge.
4: My perfect rib-eyes
There aren?t many things I cook well, but I do grill a fine steak. I buy my meat at Cumbrae?s, and if my buddies are over, I?ll serve it with a few potatoes. I usually try to avoid carbs, but I won?t ignore food that?s homemade and fabulous.
5: My 1972 Fender Jazz Bass
I bought it for $200 in the late ?70s at a pawnshop in Kalamazoo. There?s something about its tone that?s just perfect for me. It?s irreplaceable.
6: My granny glasses
I discovered them at Josephson Opticians 10 or 15 years ago. They?re just the right size for my face?not too big and not too small.
7: My favourite wine
I love red burgundy, but it?s an elusive grape?you have to drink it at exactly the right moment. There are a lot of disappointments when you?re a burgundy nut.
8: My travel books
Being on tour is dull?endless airplanes and hotels. Travel books are the perfect escape. I?m reading a fascinating trilogy by Patrick Leigh Fermor. He walked from Holland to the Middle East in the 1930s, right as the dark cloud of the Nazi regime was descending.
9: My New York Times crosswords
I?m addicted. Sometimes, if it?s a tough Friday or Saturday puzzle, I?ll let myself cheat by googling clues.
10: My fantasy baseball team
I?ve been playing with the same league for 20 years. It?s a wonderful distraction. You build a special kind of friendship with people, doing baseball deals and chit-chatting on email every day.