Kevin J. Anderson Talks "Clockwork Lives", "2113", Rush And More
By Eric Hansen, 2112.net/PowerWindows, June 15, 2015
---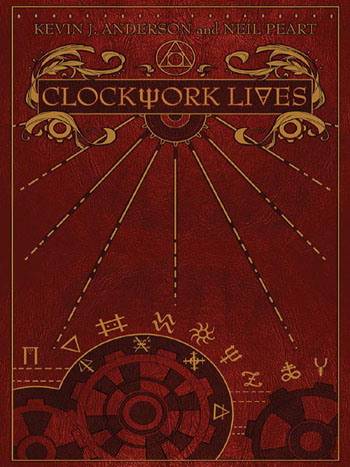 Kevin J. Anderson and Neil Peart's eagerly awaited followup to the
Clockwork Angels novelization
, titled
Clockwork Lives
, is set for release on September 15th. The novel is
available for preorder in hardback
, and the Rush Backstage Club has just listed a
limited edition hardcover
which comes within a black linen slipcase that has a gold foil stamp of the alchemical symbols, and includes a ribbon bookmark inside the book. Limited to 500 copies, this edition of the book will be hand numbered and have a bookplate signed by Neil Peart and Kevin J Anderson.
In addition, Kevin J Anderson's
Clockwork Angels: The Graphic Novel
, from a story and lyrics by Neil Peart with artwork by Nick Robles, is set for release on July 21st, and earlier this year Kevin announced the upcoming publication of the anthology
2113: Stories Inspired by the Music of Rush
.
Last week I spoke to Kevin about
Clockwork Lives, 2113
and more.
Q: Is
Clockwork Lives
a sequel to
Clockwork Angels
, or is it more of a companion book in the same universe? Do characters from
Clockwork Angels
appear in
Clockwork Lives
?
It's not really a sequel at all, but it does take some explaining. Clockwork Lives is a novel in its own right, a story wrapped around a steampunk Canterbury Tales, and some of those tales are of familiar characters from Clockwork Angels (Golson the Strongman, The Fortune Teller, Guerrero the pickpocket, for example) and there are also many cross connections and cameos. You can read it on its own, but if you have read Clockwork Angels, you will get a bigger smile on your face.
Q: Many fans felt that the novel
Clockwork Angels
was too short, especially when compared to your typical epics. Was this a conscious decision to keep it short? Did you feel a need to cater to those that perhaps were not avid readers, or was it just a case of sticking closely to the lyrical material without overly expanding on it?
Well, that's better than readers thinking it was too long! Clockwork Angels was consciously an homage to Voltaire's novel Candide, which is a very short novel, and I also wanted to follow the specific cycle of the story as told in the lyrics. I wrote it without really paying attention to the length; the book turned out exactly as long as it did. (For comparison, though, Clockwork Lives is significantly longer, and people will still complain because we didn't include this story, or that story.)
Q: Is there a chance that we might see yet another return to the steampunk world of The Watchmaker in the years to come?
Come on, now, we haven't even published this one yet! If you read the Afterword in "The Bookseller's Tale" (the teaser excerpt that we released a month ago), you'll see how the whole story came about and why and how it was written. I adore this universe and I find it absolutely exhilarating, and Neil was an excellent collaborator. But as for other stories in the future, we'll have to see how the readers enjoy this one.
Q: Earlier this year
you announced
that you have written a new novella titled "2113" for the upcoming anthology
2113: Stories Inspired by the Music of Rush
. Is there a tentative release date for this anthology at this time?
It has been completed and delivered, and ECW has a tentative release date of next April (2016).
Q: Although it might be stating the obvious, I assume that "2113" is a direct sequel to the song "2112", after the elder race has returned and assumed control?
You might be safe in assuming that-but it's more than just a direct sequel, and I guarantee there will be some very cool surprises.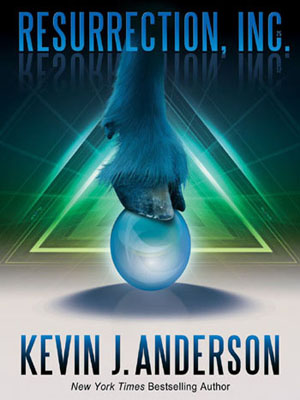 Q: Your first book,
Resurrection Inc.
(published in 1988), was almost a novelization of the Rush song The Body Electric. When I read it, besides the obvious Body Electric influence, I noticed many references to other songs from
Grace Under Pressure
. Would you agree, and if so what was it about that album that spawned such creativity in your writing?
Resurrection, Inc was inspired by much more than The Body Electric, but the whole Grace Under Pressure album. "Someone to talk to and someone to sweep the floor"-that's the Servants. The Enemy Within is all about the main character, "are we the last ones left alive" is all about the Wakers. In the recent ECW reissue of Resurrection, Inc, I wrote an extensive foreword about how the book was influenced by Rush. I noted that in the acknowledgments of the original publication, and that's how Neil and I got in touch more than 25 years ago.
Q: Although it was itself inspired by a short story, it seems to me that the world described in "Red Barchetta" would be ripe for the pen. Besides those works mentioned above, have you considered writing a novelization of any other Rush songs?
As an aside, we are reprinting that original story, "A Nice Morning Drive", in the 2113 anthology. Rush songs have inspired many of my stories and novels (some directly and some tangentially), but I haven't looked at doing any others in particular. (I have plenty of my own books under development, and I don't want to spend all my time with Rush!)
Q: Besides the short story
"Drumbeats"
(co-written with Neil Peart in 1994, republished as an "Expanded Edition" ebook in 2010), did you and Neil ever make a serious attempt to collaborate before finally working together on
Clockwork Angels
?
We were thinking about it for a long time, and when I was writing my novel Hopscotch (2002), we did talk about doing a novel/CD crossover, but that never happened (in part because of the many things happening in his life at the time), but the published novel is dedicated in part to Neil.
Q: As an avid reader, I'm interested in learning who are some of your favorite authors, both past and present? What is your all time favorite novel?
Frank Herbert and Ray Bradbury in the Sci-Fi field, and more recently Dan Simmons, but in mainstream fiction I love Larry McMurtry (Lonesome Dove is my favorite book ever), and The Godfather, Shōgun…good, ambitious stories.
Q: Getting back to Rush, what are your top five favorite Rush albums, in no particular order?
Top five? Clockwork Angels, Grace Under Pressure (both for obvious reasons), Hold Your Fire and Roll the Bones really inspired me, and then probably 2112 because it was what turned me on to them in the first place when I was in high school. You might be surprised that I didn't put Moving Pictures there, but it's primarily because I have listened to it SOOOOOO much that I've had to retire it for now and let it rest.
Q: Besides Rush, what are some of your favorite bands/albums?
The golden age of Kansas (Leftoverture, Point of Know Return), Styx (The Grand Illusion and Pieces of Eight), and Alan Parsons (I, Robot; Pyramid) shaped me entirely. More currently, Dream Theater, Tool, Kamelot…and I am unabashedly, completely in love with the spectacle and lovely voice of Within Temptation.

Thanks Eric!
Thank you Kevin!