"Entwistle Was On Fire!"
Rush's Geddy Lee Salutes Pete, The Ox And More
MOJO, August 2015, transcribed by Darren Michaloski
---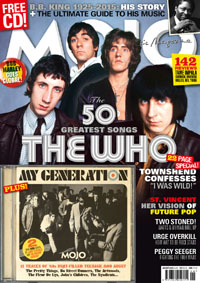 "The Who sound and the songwriting of Peter Townshend had an enormous impact on me as a young musician, both conceptually and melodically. It was the kind of music that I dreamed of being able to write myself: great melodies, had something to say and it rocked out.
They were also one of the first hard rock bands who dared to allow the bass player to do solos. John Entwistle invented a bass sound that was loud, bright and aggressive and played bass parts that acted like a second lead guitarist.
Obviously, My Generation is one of the greatest rock bass songs ever recorded but I also love The Real Me on Quadrophenia. I love the opening licks and the way John rocks that song along. He was on fire! He knew when to be ostentatious and when to hold down the rhythm and move the song. That's what made him such a great player to me.
In my view, The Who were the main pioneers of conceptual rock. In that respect, too, they had enormous influence on Rush. Our own 2112 was our way of trying to bring our own thing and sound to that."