Travelling Back Through Time With Rush
"We start with Clockwork Angels, where the show looks very similar to what we had out in 2012," LD Howard Ungerleider explains. "But then we basically work our way back in time, kind of deconstructing Rush through the years."
By Andrew King, Professional Lighting And Production, Fall 2015, transcribed by John Patuto
---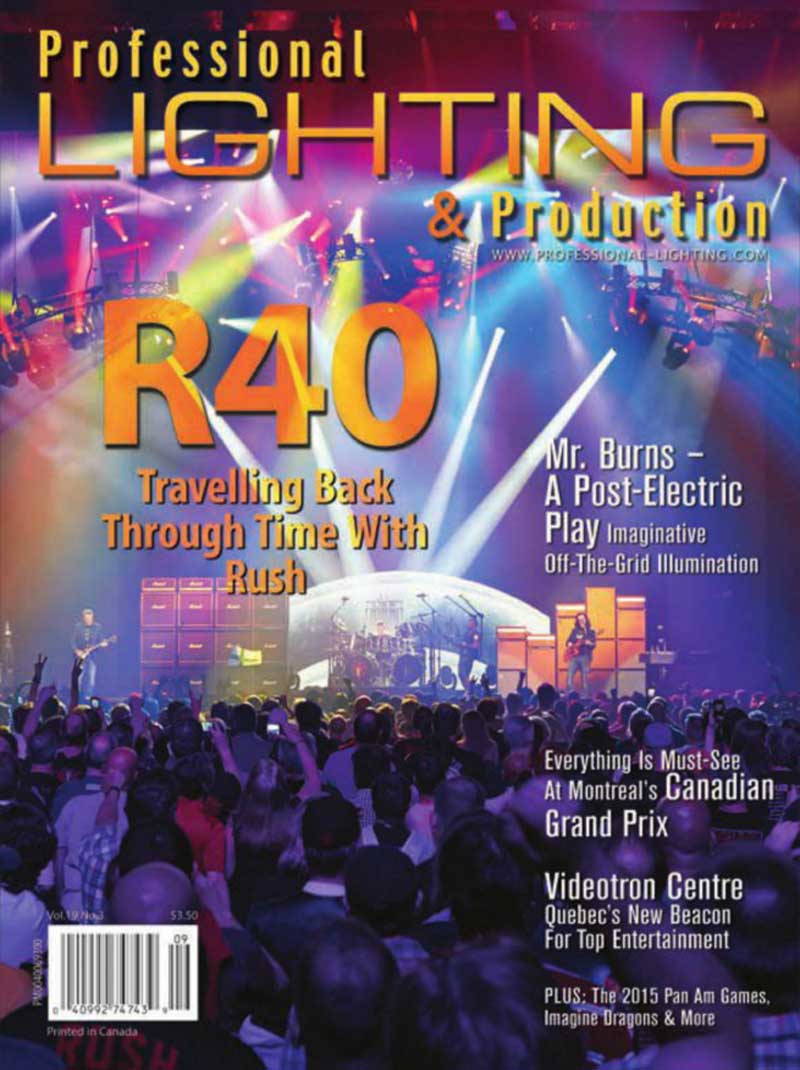 Let's be clear. While Rush's R40 Tour, which culminated with its final show at the Los Angeles Forum on Aug. 1st, may have marked the end of their large-scale arena tours, it didn't mark the end of the long-running Canadian rock icons, or their musical legacy.

Still, fans can understandably be blue about it. For many, a Rush tour represents the apex of the arena rock experience, and that reputation is seemingly reinforced and refreshed with each subsequent outing.

One need only look at the band's penultimate Clockwork Angels Tour as an example. Supporting the album of the same name, the run was a truly awesome amalgamation of lavish, tasteful lighting, custom-created video content spread across various surfaces, a spectacular steampunk-inspired set design, and clear, crisp audio. Of course, the music that the sound system was relaying was pretty special, too.

But touring on that scale - over 72 shows spread across three legs and eight countries - would take its toll on any professional musician performing close to three hours of technically demanding material; even more so when they've been playing that material for several decades.

Despite their god-like status in the eyes of music fans the world over, bassist and vocalist Geddy Lee, guitarist Alex Lifeson, and drummer Neil Peart are nonetheless mortal, and touring has taken its toll on the trio - both physical and emotional. Peart, for example, has been rather candid in his comments about wanting to stay closer to home and spend more time with his family.

But Rush wouldn't be Rush without its legions of die-hard devotees - those fans from a surprisingly wide array of age groups that appreciate the band's technical prowess, their continual quest to push the envelope, and the imagination that goes into each and every one of their creative endeavours.

And in what can only be considered a tip of the cap to those faithful followers, the band embarked on one final run of hockey barn burners to commemorate the four decades since Peart first joined the band and cemented their lineup. It was a run that began in Tulsa, OK on May Ģiu' and lasted just under three months before the last stop in L.A. Thirty-five shows - five in their native Canada - and a set list that spanned 40 years and every sonic era of this rock juggernaut.
Shape Of Things
The basic visual concept for R40 was born during a "spit-balling lunch" between Lee and Dale Heslip, the tour's creative director, well over a year before the run. Heslip and his creative partner, video producer Allan Weinrib, are longtime collaborators with the band.

In addition to Heslip and Weinrib, the subsequent creative meetings also included Lee and the band's longtime lighting designer and director, Howard Ungerleider of Production Design International.

The Clockwork Angels Tour, undoubtedly the pinnacle of Rush's live productions to date, also happened to be the starting point for the R40 Tour. But then, things get interesting...

"We start with Clockwork Angels, where the show looks very similar to what we had out in 2012," Ungerleider explains. "But then we basically work our way back in time, kind of deconstructing Rush through the years."

Heslip elaborates: "We wanted to create a bit of a hybrid with a rock show and [theatrical] production that would celebrate the band's career and revisit their past tours."

The idea was to divide the band's catalog and, to a larger extent, career into five distinct "elements," those being: Clockwork Angels, big arenas, smaller arenas, soft-seat theatres, and finally, going all the way back to the band, first live shows in the early '70s, gymnasiums. "And as we go back through those elements, the lighting is pared down to how it would have looked in those days, in those venues."

On the last few tours - especially Clockwork Angels and the Time Machine Tour before it - video has been increasingly important to the experience, essentially tying together the visuals with the band, musical and lyrical themes. This time, the early creative meetings began with ideas being shared and discussed, then honed down to those that everyone liked. "That's when Allan and Dale take the ball and run with it, bringing the ideas to content creators to come up with storyboards. Then, we make decisions on what looks best and what we can work best with."

Heslip says that once the band had loosely locked in their ideas for a set list, the creative team put together what came to be known as The Playbook. "It was literally a book where every page was a new step or new song or new event in this show," he explains, once again referencing the theatrical experience they were looking to deliver.
Grand Designs
The setlist for R40 - of which there are several iterations, though all are based on the same basic template - runs in reverse chronological order in relation to the albums on which they appear. The show starts with an introductory video clip that features animated incarnations of the band walking throughout their collective career. That plays on the massive Tait Towers Austrian curtain, measuring 40 ft. high by 60 ft. wide. "We thought animation would be the best way to achieve what we wanted - kind of whimsical, with layers and layers," Heslip says about the first film. For that, the team commissioned a frequent collaborator in Crankbunny, a well-known animation artist. The clip culminates with the band on the Clockwork Angels stage - "which is cool, because we wanted to basically start the show where the last tour left off."

"The Anarchist,"a hard-hitting cut and one of the standouts on Clockwork Angels, kicks off each show as one of a handful of songs from the most recent release.

What follows is a series of cuts from Snakes & Arrows, with favourites from Counterparts, Roll The Bones, and Grace Under Pressure peppered in before the first set closes with the classic "Subdivisions" - all part of the "large arena" component of the show.

Between the two main sets is the hilariously irreverent "No Country for Old Hens" video segment, compiled from 15 years worth of video content, much of it previously unseen. It features outtakes of the band members playing various characters from previous tour videos alongside equally outlandish celebrity cameos from the likes of Paul Rudd, Jason Segel, and fellow Canuck Jay Baruchel. "It's kind of a 'greatest hits' of all the characters we've done over the years," Heslip shares.

The second set is split between the small arena looks, covering Rush's catalog from the '80s, and the theatrical looks for the mid- to late-'70s. Loaded throughout this half of the show are classics like "Tom Sawyer,""The Spirit of Radio,""Closer to the Heart," and "Xanadu." It finishes with a true treat for the die-hards: four of the seven parts of the "2112" title suite.

The switch from the small arena element to the proscenium theatre during this set was one of the tougher transitions to realize, Ungerleider explains. While the three video walls - the large centre screen and two slimmer side screens - are used fairly frequently throughout the first half of the show and the small arena component, they wouldn't fit into the theatrical portion - at least not if they were used simply for video content.

The ultimate solution came via the Austrian curtain, the sides of which partly cover the side video screens, which themselves host the static image of the proscenium and transform the stage into one on which you'd expect to see a Broadway musical.

To most, the end of the theatre component would feel like the end of the show; however, it's followed by a short break and another humourous video clip, this one with Eugene Levy reprising his classic SCTV character Rockin' Mel Slirrup in a "new" edition of Mel's Rock Pile.

Recalling the shoot, Heslip shares how excited he was to watch Levy revisit the character. "He knows his character so well; it's not the kind of thing where you could say, 'Hey, why don't we try it this way?' We just let him go, and in six or seven takes, we had it."

What follows is an "encore" of early favourites from the mid-'70s that Rush fans will hold dear, including "What You're Doing" and "Working Man" from their seminal 1974 self-titled debut that even precede Peart's 40 years with the band.

But that's not the case for Ungerleider.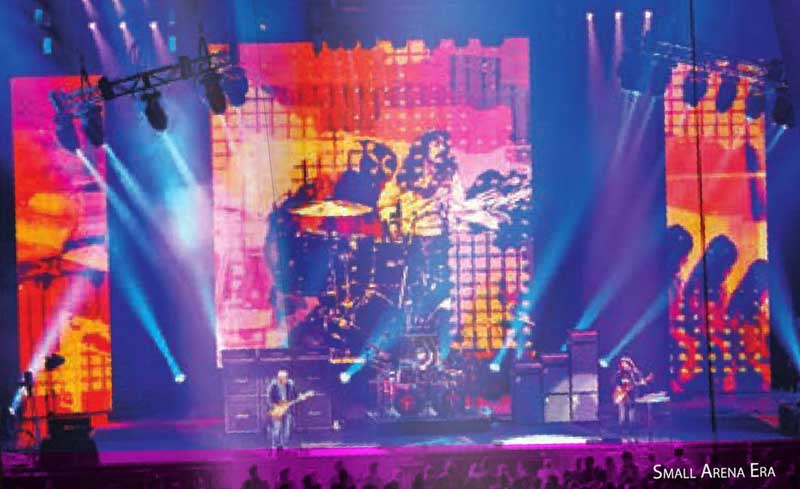 Working Man
Rush's LD has been there since the band's first tour in 1974. While more recent runs like Clockwork Angels and Snakes & Arrows are still fairly fresh in his mind and that of his creative counterparts, he explains that diving back into his lighting designs from up to four decades ago was simultaneously the toughest challenge and biggest highlight of his work for R40.

"It was remembering what I'd done, and then digging up the old paperwork," he says with a chuckle. "The early stuff was a ton of pencil drafts, and over time, it had faded away. So I had all these papers of lighting plots and you could barely see them anymore. I actually had to pull out a magnifying glass!" The job got easier with the more recent tours, especially those in the CAD era.

But then there was also the challenge of the reverse chronological order - that of starting with the era of huge moving head and video rigs and working backwards to minimal sets and single-colour pars while simultaneously trying to build visual excitement over the course of the three-hour show. As Ungerleider understates, "That's not an easy thing to do."

"It's very easy to blow your cookies in the first part of the show, for someone that doesn't know how to pace a show properly," he continues. "It's an art form, and I've always recognized the importance of restraint over the years. You can create spectacular effects with space, and there aren't a lot of people that know how to use space properly - especially now, with all of this technology that's available."

In many ways, what Ungerleider is doing with his lighting looks mimics what the band is doing onstage. As the show progresses and the setlist reaches further back in time, the band's instruments and backline are similarly stripped down. And yet, as with any master artist, it's not the tools or technologies that create excellence; it's the hands that wield them. Ungerleider and the three musicians onstage showcase this beautifully night in and night out.

A trick the LD has used to maintain that desirable dynamic over the years has been to only use a standout visual effect once during a show. He tells the story of how, in the '80s, his company, Production Design International, built 20- and 30-watt laser systems attached to moving heads to create intense, sweeping beams. "So for 'Xanadu' on this tour, I went big with the lasers. That's one effect I'll use only for that song, and that's it."

Similarly, the pyro effects were pared back this time out, and are only featured prominently as basic concussions and flames in a flash pot during the "2112" suite. "Really, this show is more about the time changes than the special effects, though of course we love our special effects," Ungerleider muses. "It's about enhancing the performance, not overwhelming it, so this time more than ever, really, less is more."

In some cases, as with "Animate," the lead track of 1993's Counterparts, Ungerleider takes great pride in flawlessly mimicking the look he delivered for its first live performances. In other cases, like "Jacob's Ladder" from 1980's Permanent Waves, it's exactly the opposite. "We never really did that song before this, so I was able to create a design based on what I'd always wanted to do with that song and still keep that era in play, even though I get to use modern technology to bring it to life. Examples of where concepts from the past are executed with tools of the present are many throughout R40, but the tour's success comes from the inability of the audience to decipher when that's actually the case.

The small arena portion, for example, features several numbers where Ungerleider relies on truss movement for his looks; however, doing so helps him achieve things like using only front spots to light the band, or ignore the fixtures on the rear truss and use only side washes to recreate that vintage rock show stage. He also uses intelligent fixtures to recreate the colour and intensity of what would have been a massive par can rig in the later portions of the show.

As his lighting designs pare down to correspond with the eras, so too do the set elements onstage. Coordinating which components go where and when was a mighty task -one led by Heslip - though as Ungerleider says, "It makes for a smooth load-out," as the various components are removed from the stage and put onto the trucks as the show is happening.

By the time Rockin' Mel has introduced the band on their gymnasium stage, all that's really left as far as backline and set elements are a pair of amplifiers and a small, single-bass drum kit.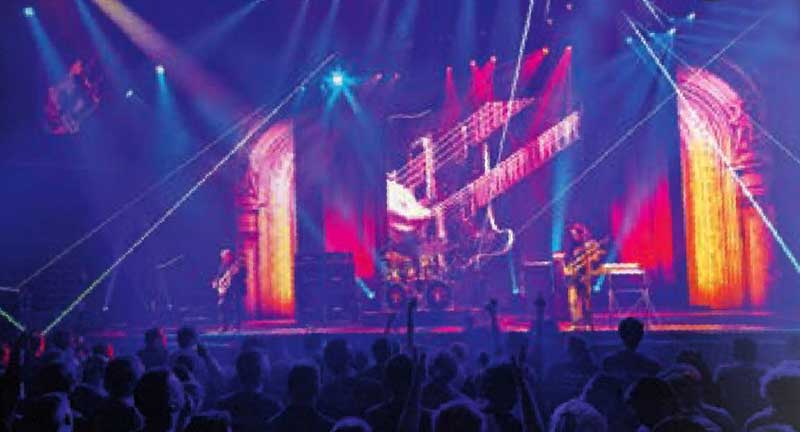 Limelight
"This year, because of all of these elements, we went with a new lighting company - one that's very familiar with this type of show," Ungerleider shares about Solotech, simultaneously referring to major rock tours but also quirky and creative theatrical productions, like those done in tandem with Cirque du Soleil. He notes that the content creation division of Solotech, 4U2C, was also instrumental in bringing some of the video components together.

The majority of the fixtures he put to work in mass numbers were also new to his work with Rush, save for his trusted High End Systems Showguns.

"I'm using the new Vari-Lite BeamWash fixtures, 4000s..." he begins, listing off the various Vari-Lite models that comprise close to half of his arsenal. He adds that the 50-plus Solaris LED flares are "great as strobes or lighting tools."Then there are the 16 par 64s that may not be "new" to Ungerleider or Rush, but are to the shows of this scale that the band has called standard for at least 20 years.

While the band and its staff were rehearsing for weeks ahead of the debut R40 date, Ungerleider says this show, like all the others he's lit, was a work in progress until the final stop." I'm always changing and enhancing things to make every show better than the last," he says.

The fan feedback and professional reviews surrounding R40 have, very unsurprisingly, been stellar. "I've heard from a lot of people on this one," Ungerleider says, listing a few of his fellow big-time LDs and even musicians like Smashing Pumpkins frontman Billy Corgan.

"There are dozens of fans that come up every night, and it makes me feel great. I'm very proud of this show. It's been a huge undertaking, but a great way to celebrate the band and their career and the work we've done together."
Wish Them Well
Once "Working Man" - the first Rush song to hit radio in the U.S. - officially closes the final segment and, subsequently, the show, fans are treated to a final video clip. In this one, the camera catches Lee, Lifeson, and Peart after they've (seemingly) just walked off stage, headed towards their dressing room. "That shot of them walking down the corridor just looked so poetic," Heslips says of what drew everyone to the idea.

As they walk, they enter into a vortex of old footage of themselves waving to crowds from over the years. Then, when they finally get to their dressing room, they're greeted by the puppet from the front cover of A Farewell to Kings. Being told they're "not on the guest list," the band members peer passed the ajar door to see various characters and icons from their past album covers before the door doses and they're sent away.

"It was a poetic ending, and kind of a send-off," Heslip says before looking back on his own time with the band. "They're true performers. Not only are they brilliant musicians and songwriters, but put a camera in front of them, and they're great characters. It's been an amazing experience these last 20-some years."

Ungerleider shares similar thoughts, pondering where his next professional endeavours may take him now that his longest-standing and most successful clients are scaling back their live efforts. "I guess if anyone needs a great show, I'm available," he says with a big chuckle.

R40 may mark the end of an to as far as Rush's massive productions are concerned, but these three dose friends are still writers and performers at their core, and this surely isn't the last we'll hear from them.
Crew
Lighting Designer/Director - Howard Ungerleider
Creative Director - Dale Heslip
Video Producer - Allan Weinrib
Lighting Programmer - Tim Grivas
Assistant Lighting Programmer - Andrew O'Toole
Interface Programmer - Jim Burgess
Props - Michael "Spike" Parks
Production Manager - Craig Blazier
Laser Programmer/Operator (Production Design International) - Scott Wilson
Pyrotechnician (Pyrotek) - John Arrowsmith
Lighting Crew Chief (Solotech) - Yanick Blais
Lighting Technicians (Solotech) - Vincent Cadieux, Denis Ayotte, Benoit Paille
Head Rigger (5 Points Rigging) - Jerry Ritter
Rigger (5 Points Rigging) - James Harrelson
Motion Control - Sebastien Richard
Video Director - David Davidian
Video Crew Chief (Solotech) - Dominic Moreau
Engineer (Solotech) - Frederic Fournier
LED (Solotech) - Philippe Casutt
Projections (Solotech) - Philippe Valade
Video Technician (Solotech) - Jonathan Gagnon-Roy
Videographer - Matthew Miller