Neil Peart's News, Weather and Sports
BubbaGram™#2
NeilPeart.net, October 24, 2015
---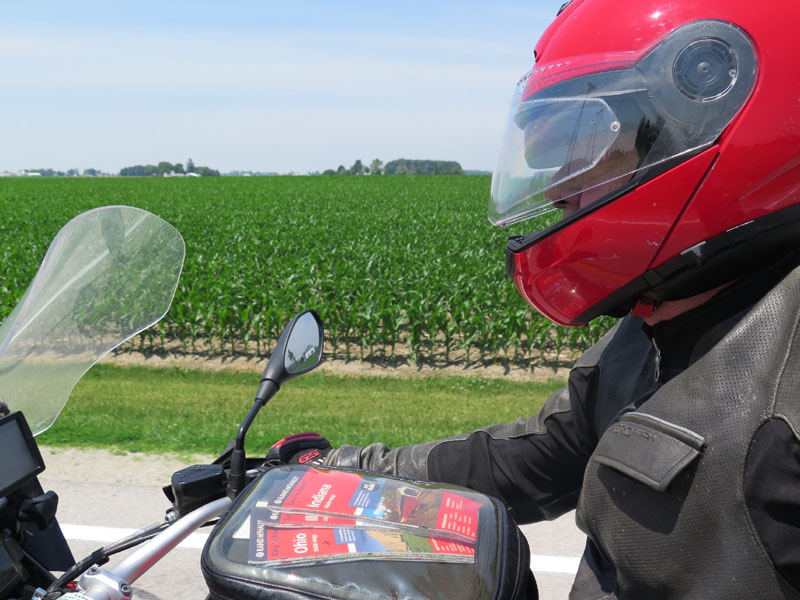 Serenity in Motion
Many photographs from our travels on the second leg of the R40 tour in June 2015 were contenders for my "opening statement" here. I settled on this humble example-because it is an action self-portrait that conveys the personal, remembered moment in the universal setting of the American Midwest. I like its geometry and palette of red, black, green, and blue, and its very motion suits the title theme. (The serenity part is corroborated by me feeling safe enough while riding along that quiet country lane to pull my camera out of the tankbag and snap the shot.)
It was a Thursday off between shows in Buffalo and Chicago, and after rising at the palatial Château Walmart in Sandusky, Ohio, Michael and I wended our way (never more suitable use of the phrase) south. Our onboard GPS screens showed the route I had designed the previous afternoon as a purple line, and typically, the turn-by-turn directions we followed were a complicated network of tiny country roads leading one to another-scenic and peaceful, almost always free of other traffic. The kind of roads no one travels unless they live on them.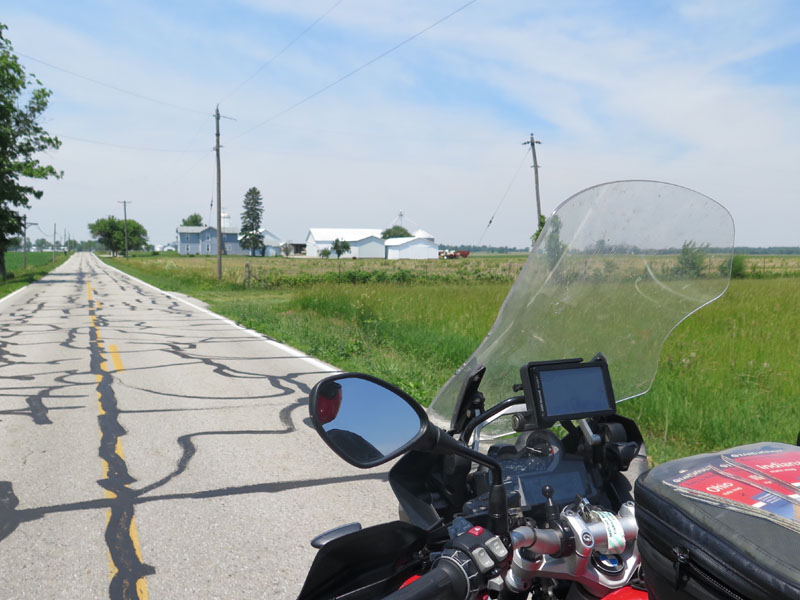 Saying Howdy and Farewell
The maps arrayed in my tankbag represent "backup navigation" for the states of Ohio, Indiana, and Illinois. In the background, the unfenced cornfield, distant farm buildings, and even the farmhouse in my mirror exemplify that sense of place. The weather was hot, around 95 degrees, hinted at by summer gloves and faceshield cracked open.
A feeling had been growing in me during these rides-a kind of "valedictory" sense of saying farewell. I didn't imagine that my future life would allow that "the most excellent thing I can do today" would be plotting a leisurely route from Sandusky, Ohio, to Bloomington, Indiana. That constant revelation was a little bittersweet-but mostly sweet. I had made journeys like this many, many times before, and if this was to be the last time, I would appreciate it all the more. (Tidy little verse of poetry there-or a valedictory song.)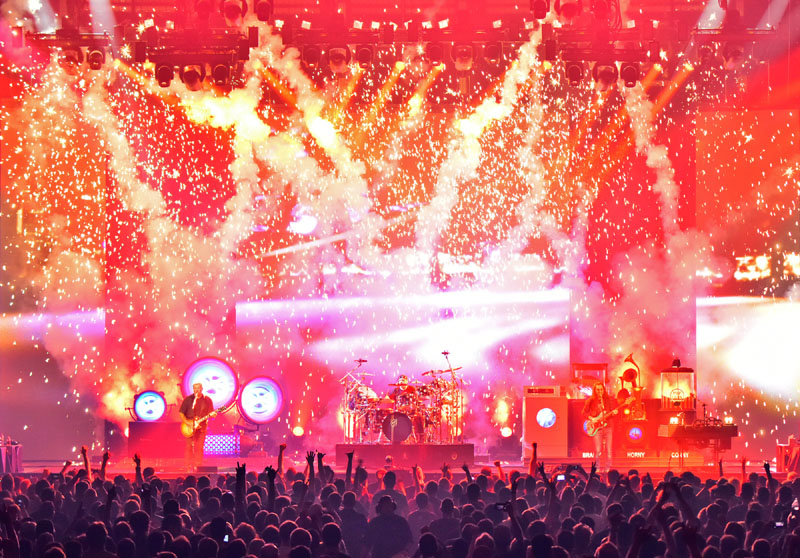 A Peaceful Moment at Work
That hot June day we would ride for eight hours and cover 358 miles of rural Ohio and Indiana. Yet in all that time and distance we were hardly ever troubled by traffic, stoplights, or stress of any kind. We just made our stately progress through pretty countryside and crossroads towns. Serenity in motion...
Great numbers of mystics and spiritual guides have insisted that mortals can only achieve states of serenity, tranquility, nirvana and so on if they are at rest, without motion. Meditating in the lotus position, say, or reclining with eyes closed in the yoga savasana pose. Others, like Thoreau, John Muir, or Nietzsche, would insist that such elevated states can only be attained by walking-hiking in the mountains, or cross-country skiing or snowshoeing in the winter woods. Yogis and yoginis would champion the tranquility of "gentle" motion, safely confined to a yoga mat, while some individuals find spiritual peace in running, swimming, bicycling, or rowing. And really, they are all right, in their ways. Because ipso facto ergo bueno.