Just My Type
Interview by Dan Patrick, Sports Illustrated, October 26, 2015
---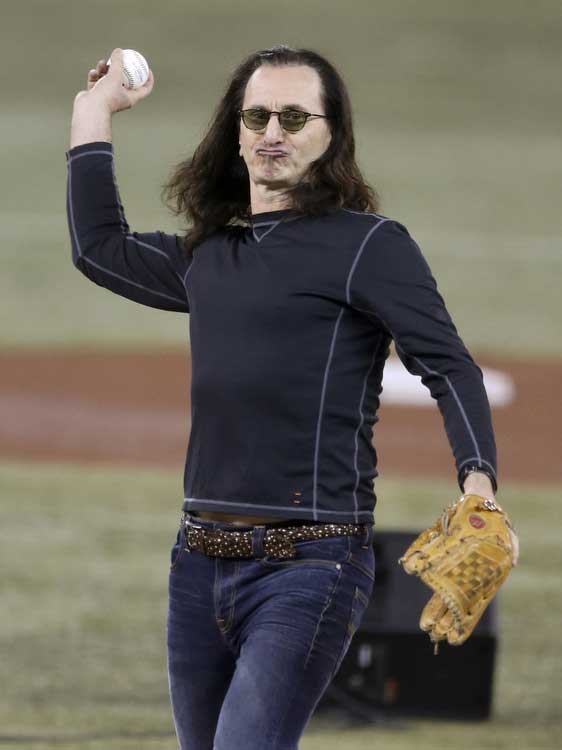 Perfect Pitch?
The 62-year-old bassist and lead singer of the Canadian rock band Rush is a die-hard baseball fan and a Blue Jays season-ticket holder, but even he gets a little jittery when asked to take the mound.
DAN PATRICK: What was it like to be front row during Game 5 of the ALDS [between the Blue Jays and the Rangers]?
GEDDY LEE: The seventh inning [was] probably the weirdest and most intense inning I've ever experienced in my many years of loving baseball. It kind of bordered on a riot at one point. It was a little scary.
DP: Toronto has to be hungry for a winner since the '93 World Series title.
GL: That's really true. I like to think that the idiots who were throwing things on the field [in Game 5] were frustrated Maple Leafs fans and not actual baseball fans.
DP: How many times have you sung the national anthem before a baseball game?
GL: Only once. I did it in 1993 at Camden Yards for the All-Star Game. I swore, one and done. It's kind of a nerve-racking experience.
DP: You've also thrown out the first pitch a couple of times.
GL: Yeah, I did it at the home opener here a couple of years ago (right), and I did it once in Arlington with my guitar player, Alex Lifeson, as my batterymate.
DP: Anthem or first pitch? Compare the two.
GL: They're both more nerve-racking than doing a show. A show is what I've been doing my whole life. In '93 as I walked out onto the field [to sing], a nice lady from the network said, "You'll be happy to know there's 80 million people watching tonight."
DP: Which position in sports does a lead singer compare to?
GL: Hard to compare in a three-piece band. The singer is the most vulnerable, because his instrument is his body. He's like a pitcher in that sense.
DP: Do you feel like a starting pitcher when you go out?
GL: That's the closest analogy. Singers live in a state of fear of catching a cold [and losing their voices]. You have to baby that part of you. I've known many pitchers through the years. They feel the same way about their arms. They don't allow air-conditioning to blow on them etc.
DP: What sports memorabilia do you have in your man cave?
GL: I've been collecting for over 25 years. I have quite an interesting array of signed balls from Hall of Famers. I have a collection of presidential baseballs. I try to focus on first-pitch balls. I always wanted to be a pitcher. I try to find a lot of balls from no-hitters. I recently acquired both baseballs from Johnny Vander Meer's consecutive no-hitters [in 1938]. That was a prize for me.