Event Focus: Rush 'R40 Live Tour'
By Ste Durham, Total Production International, November 2015, transcribed by pwrwindows
---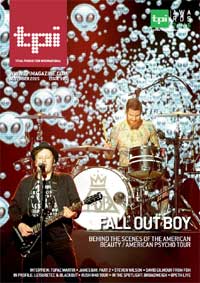 Such is the enthusiasm of Rush?s veteran ld Howard Ungerleider, it is easy to forget that he is speaking from 41 years of experience with the same band. TPI?s Ste Durham talks to the man himself to find out how the production team intended to bend space and time for what is expected to be rush?s last large-scale tour.
As well as being a journey through Rush?s musical history, the R40 Live Tour was something of a trip down memory lane for the band?s long-serving Lighting Designer, Howard Ungerleider, who made his first tentative steps into the touring industry as an aspiring musician in New York, though he admits he knew nothing about it at the time.
Following an impromptu meeting in The Who?s agent Sean LaRoche?s office (to which he wasn?t necessarily invited), it was kindly suggested that he learn more about the industry from a different perspective.
Working his way up from delivering coffee and documents at booking agency Action Talent, Ungerleider grew into a busy role as an agent with American Talent International. Eventually finding himself under the tutelage of Deep Purple?s Manager Bruce Payne, he learned the truths of the business and, in 1974, was asked to take then-rookies Rush under his wing and teach them how to tour.
?The rest is history,? Ungerleider laughed. ?I liked the guys so much that I decided to take on the positions of Road Manager, Tour Accountant, Travel Agent and Lighting Director, as they didn?t have those available at the time. Lighting in particular came easy to me as I had studied theatrical lighting books and put shows together at school.
?Touring with the other bands before Rush, I was often asked my opinion about the shows and was actually able to observe what they were doing, lighting-wise, and create my own ideas. I would make suggestions and I really enjoyed it as we were basically inventing the industry at that time.?
As a great deal of bands were restricted to using house lighting at the venues they played, it engendered a great deal of creativity in this still fledgling corner of the touring industry. Even the biggest bands only had access to large trusses of PAR cans, but Ungerleider maintains that he loved using them, all the while attempting to artistically mix them with in-house theatrical fixtures. This passion has followed him throughout his career, also becoming a huge part of the playful concept at work in Rush?s latest spectacle.
A Farewell To Kings
R40, as with many of the Rush tours that preceded it, was a team effort from its inception. Bassist, keyboardist, and lead vocalist of the band, Geddy Lee, spearheaded this council, along with guitarist Alex Lifeson; drummer, percussionist, and lyricist Neil Peart; Geddy?s brother and Video Producer Allan Weinrib; Creative Director Dale Heslip; and Ungerleider himself. As the group knocked around ideas at a conceptual level, Heslip came up with the notion of making the band appear as if they were going back in time through the course of their prolific musical career. This meant starting the show with the most recent Clockwork Angels album and deconstructing the band over the course of the evening, eventually culminating in what appeared to be a 1974 high school gymnasium performance.
Ungerleider explained: ?Once we have a coherent concept, Dale will produce a storyboard, which will then be shipped off to the creative artists. Using our guidelines they will create their ideas for each piece. We like to use different artists for every section so nothing looks the same.
?Once all this is approved, then it is my responsibility to make sure the colouration of all the videos and what I am doing lighting-wise on stage will work with the concept.?
This required a lot of homework on Ungerleider?s behalf, mainly sifting through his old lighting plots, some of which were so timeworn that most of the ink had disappeared. He added: ?The more recent ones I had on CAD and they were quite fresh in my head anyway. Basically they gave me carte blanche with the lighting so I just had to make sure it was indicative of the time periods and that they would transition smoothly from one to the other.?
Although they are known for providing equipment and content for clients like Cirque du Soleil, Montreal-based lighting and video rental company Solotech provided all the fixtures and screens for this Rush tour. Ungerleider justified this by explaining how the crew wanted to keep the presentation on a more ?theatrical? level. This, in effect, dictated his choice of fixtures for him.
?I tend not to have long relationships with lighting brands as I just try to use the lights that I think are the best for the job. On every tour I will change my lighting fixtures around. I haven?t used Vari-Lite in a long time bar a small amount on the last two tours, but on this tour I was up to between 60 and 120. I really enjoyed its new fixture, as it was powerful and did what I needed it to do,? he stated.
Ungerleider used 66 Vari-Lite VL4000 spots, 15 VL4000 BeamWashes, 14 VL3500 FX spots, and 12 VL3500 washes. He commented: ?The colours are very different than the old Vari-Lites fixtures, even the 3500?s and the 3000?s. They leaned towards TV lighting for a while, which employed a lot of pastels, but the saturates come out a lot louder with the 4000 and that?s what I love.?
In addition to the Vari-Lite fixtures, Ungerleider employed 40 Clay Paky Mythos, seven High End Systems Showguns, 54 TMB Solaris Solar Flares, 50 GLP Impression X4S Zooms as side washes, 12 Color Kinetics ColorBlaze 72?s, 50 ColorBlaze 48?s, and 16 Altman Lighting PAR 64?s. Lighting was controlled by three High End Systems Hog 4?s, with two expansion wings, along with three Pro Systems Group Catalyst Media Servers. Ungerleider counteracted any unwanted motion on some of the moving fixtures by employing 12 RSC Lightlocks.
He explained: ?It is difficult creating ?oldlooking? lighting with new fixtures, and even stranger to go backwards and loose your power lighting. When we went to the gym section I had two sticks of vintage PAR cans on the floor, and no spotlights. We even dropped in a four ft mirror ball to keep it authentic! We employed the kind of heavy, vintage fixtures that you would cut your hands on, at one point we even considered letting the crew hold them up! Even so, it was really fun lighting the stage not in colour but in 3200, which is your natural PAR can light temperature.?
For the more modern lighting designs, Ungerleider employed a number of laser fixtures that were designed, built and provided by his company, Production Design International. These included 28 Automated PDI custom blue laser diodes and three High Power PDI custom Optical Laser Projection Systems with scanners. The displays were created with Pangolin?s BEYOND laser control software.
One of the locations represented by the team was reminiscent of the proscenium-style theatres that Rush used to play in years gone by. Ungerleider wanted the red velvet curtains and proscenium arch to appear as if from nowhere.
?The stage was set up with three video screens, upstage centre, and downstage right and left. The downstage ones were small enough that they could become the pillars of the proscenium, also serving to conceal the curtains hidden behind them. We had the crew pull them on stage when the time came and the video screens created the environment. It looked beautiful,? he said.
Despite becoming a huge undertaking for the crew, Ungerleider admitted that it was a very interesting and enjoyable experience.
He added: ?It was a very nostalgic experience for me personally. I was lighting each section and getting really vivid memories of all the crazy things we were doing way back when. It was making us laugh but at the same time we became aware of how effective these techniques were. In the end people loved the production and the lighting changes in particular got an incredible response.?