Get Ready For Rush To Rock 'Chicago Fire'
By Lori Rackl, TVTrippin.com, November 12, 2015
---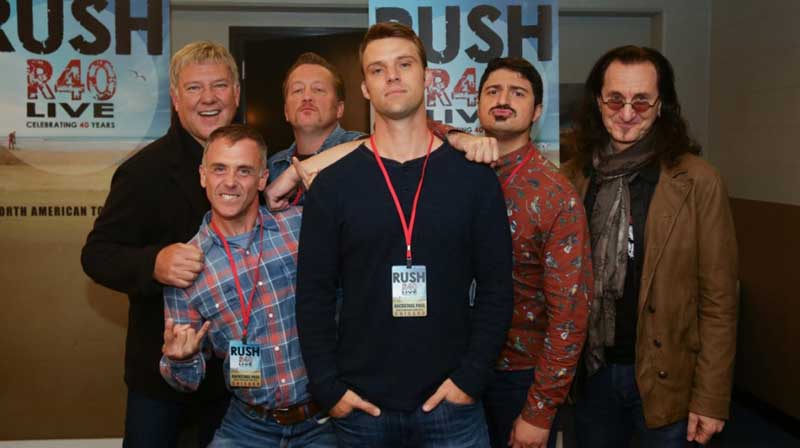 The co-creators of "Chicago Fire" light up like a five-alarm fire when talking about Tuesday's episode featuring the legendary rock band Rush.
"We've been friends with the Rush guys for years," Michael Brandt said. "They're hilarious. Total hams. They did us a favor."
Two-thirds of the Canadian trio - lead singer Geddy Lee and guitarist Alex Lifeson- guest star in Tuesday's installment, titled "2112," the name of the band's fourth album. The storyline involves Rush performing a concert in Chicago. A few lucky Firehouse 51 fans snag free tickets to the show.
"We've been thinking about [having them on] for four years, so the fact that they finished their last tour and said that they would do it is awesome," co-creator Derek Haas told me during an interview at NBC press day in Chicago.
When the cast and crew of "Fire" heard the Canadian rockers would be swinging by the set, the level of excitement could be gauged by age.
"I'm a 53-year-old man," said actor Chris Stolte (Mouch). "Obviously Rush was a huge part of my teenage years, so this was just alarmingly good news."
Yuri Sardarov (Otis), 27, admitted he never listened to Rush's music growing up, so he wasn't as star-struck as some of the people who work on the NBC first-responder drama, airing Tuesdays at 9 p.m. (Central).
"I've never seen more middle-aged men lose their minds," Sardarov said. "These are guys that are completely stoic ... that were like giddy little children."
The initial plan for the episode focused more on race cars than rock stars.
"We originally were approached by NASCAR to do a crossover episode," showrunner Matt Olmstead said. "We explored it. As oftentimes happens ... logistics got the best of everybody. So we had to pull that storyline." (NASCAR star Carl Edwards will still make a cameo Tuesday - as a pizza delivery driver.)
Instead of getting tickets to a NASCAR event, why not have the firefighters get freebies to a concert, Olmstead suggested.
"Derek's like, 'Rush! It's gotta be Rush!'" Olmstead said. "Thus began the whole process of clearing rights to music. Those guys [Haas and Brandt] wrote the Rush substitute storyline in about five minutes. That came from deep, deep, deep. Lifelong dream realized for those two guys."
Stolte is just relieved that their lifelong dream didn't turn into his nightmare.
"Derek could've been a big Kajagoogoo fan," he said. "Then I'd be looking at that for a whole episode."
Speaking of celeb cameos, Mayor Rahm Emanuel pops up in Tuesday's premiere of "Chicago Med," airing at 8 p.m. (Central) before "Fire." He does some blue-ribbon cutting and speechifying at the grand opening of the hospital's new E.R., which was blown to bits in the embedded pilot that aired last season on "Fire."