Fly By Night, A Farewell To Kings & Signals - High Fidelity Pure Audio Blu-Ray
By Mike Mettler, Sound&Vision, December 2015, transcribed by pwrwindows
---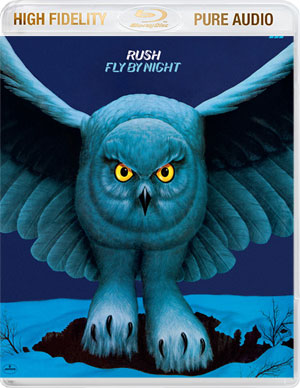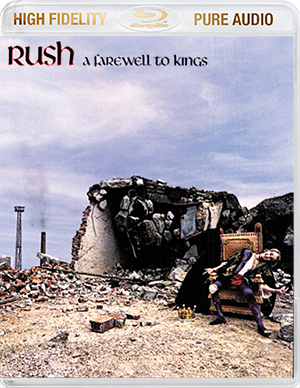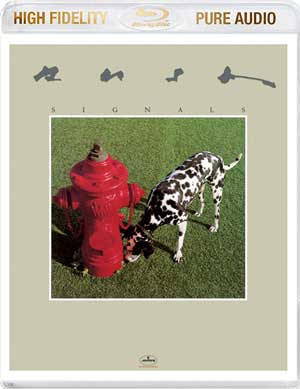 "Be cool or be cast out." So goes one of the pivotal lines in "Subdivisions," the indelible lead track from Rush's transitional 1982 album Signals, and it's also a statement that aptly describes the band's own fortunes as it navigated a hard-won ascendance from perennial cult favorite to mass acceptance over the course of its five-decades-and-counting career. The band recently completed a triumphant 40th anniversary tour dubbed R40, celebrating its genuine Rock & Roll Hall of Fame legacy by performing a 23-song set in reverse chronology. (Actually, "Reverse Chronology" sounds like a lost track from the band's mid-'80s synth-centric period.) I saw Rush's late-June stop at the Prudential Center in Newark, New Jersey, and marveled at the ever-present breadth of the band's sound and how bassist/keyboardist/vocalist Geddy Lee, guitarist Alex Lifeson, and drummer Neil Peart were able to modernize decades-old material like "Jacob's Ladder" and "Lakeside Park" without compromising each track's initial, individual compositional integrity and charm.
To coincide with both R40 and the band's Ruby anniversary, UMe instituted a 2015 reissue campaign of one remastered 180-gram LP and companion high-resolution 96-kHz/24-bit download card per month, or you could opt for downloading the hi-res digital releases separately. Not only that, UMe issued three surround-sound mixes via the High Fidelity Pure Audio Blu-ray format - 1975's Fly by Night, 1977's A Farewell to Kings, and 1982's Signals. These mixes were originally done for DVD-Audio by Richard Chycki and were included one each in 2011's trio of Sector box sets. In direct track-by-track A/B comparison, it's quite apparent the Blu-ray versions have much more impact and presence overall. The aforementioned "Subdivisions" is a prime example - on DVD-A, the vocals on the chorus are not as rich, nor is the overall mix as fully enveloping or as imposing as it is on Blu-ray.
Fly by Night is the band's second album and the first to feature Peart on drums and lyrics. While chugfests like "Anthem" and "Beneath, Between & Behind" rock hard in the FM-ready style of the day, the dreamily acoustic musings of "Rivendell" reveal a softer side. You can hear Lifeson's fingers move across the frets of his classical acoustic guitar in the center and front right channels, while Lee's more understated vocals nestle in the front left. "By-Tor & The Snow Dog" is the album's epic showcase, especially when the fight between the titular characters takes off in the rears, with the growling guitar effect in the rear right countered by the snarls in the rear left before they bound across the other channels mid-chase, culminating with the entire band marching backwards together in all channels, one note fewer with each pass.
A Farewell to Kings is the apex of the band's progressive expanse. The insistent Minimoog stabs on "Xanadu" sometimes totally devour the front field, and other times they slash from front left to rear right like a synthesized lightning bolt, all while the band's intuitive interplay is supported by an insistent echoing chime in the rear left and rear right. Album closer "Cygnus X-1" finds Lee's edge-of-distorted bass and Peart's sly cymbal work taking center stage while Lifeson's blindingly present guitar propels the track into, well, outer space. Somebody should commission Chycki to do a full-on Dolby Atmos mix of this one, right quick.
Signals served as a siren call for change after the career-defining impact of 1981's Moving Pictures, and it wound up being the last album the band would enlist Terry Brown as its producer. Growing pains are evident in the cacophonous reggae staccato of "Chemistry," with its keyboard washes duking it out with lead guitar to see who gets a foothold in the mix. (Neither really did.) But when the technology blend fires on all cylinders, as it does with Lee's dramatic Oberheim OB-X flourishes on "Subdivisions" and the poignant, squeal-riflic guest electric-violin solo by Ben Mink on "Losing It," the bridge to the band's ever-present hunger for sonic exploration was firmly locked in place. With six of Rush's 20 studio albums already well ensconced in 5.1, it would be beyond thrilling to hear Chycki tackle the rest of the band's catalog, such as the virtuosic cosmic reach of 1978's Hemispheres, the Cold War sheen of 1985's muscular Power Windows, and the art-rock/alt-rock mesh of 1991's Roll the Bones - for starters. The three men who comprise Rush continue to forge ahead as wonders in the world they've wrought, and this trifecta of surround-sound excellence on Blu-ray only reinforces how they get closer to our audiophile hearts with every ensuing spin. It's the one true Revenge of the Nerds.
---
BLU-RAY
LABEL: Anthem/Mercury
AUDIO FORMATS: 96-kHz/24-bit PCM Stereo, 96-kHz/24-bit DTS-HD Master Audio 5.1, 96.kHz/24-bit DolbyTrueHD 5.1
NUMBER OF TRACKS: 8 (Fly by Night), 6 (A Farewell to Kings), 8 (Signals)
LENGTH: 37:51 (Fly by Night), 37:21 (A Farewell to Kings), 43:03 (Signals)
PRODUCERS: Ferry Brown, Rush (original mixes), Richard Chycki (5.1 mixes)
ENGINEERS: Terry Brown (Fly, Farewell), John Woloschuk (Fly by Night), Pat Moran, Declan O'Doherty, Ken Thomas (A Farewell to Kings), Paul Northfield, Robbie Whelan (Signals)
PERFORMANCE: 4.5 stars (out of 5)
SOUND: 4.5 stars (out of 5)