Rush Debuts at No. 1 on Top Rock Albums With 'R40 Live'
The live album is the chart's first such No. 1 this year
Billboard.com, December 2, 2015
---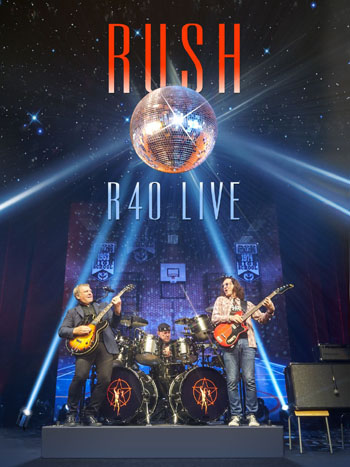 Rush racks its third No. 1 on Billboard's Top Rock Albums chart, and first leader with a live effort, as R40 Live, the classic rock trio's three-disc set chronicling its 40th anniversary tour in spring/summer 2015, debuts atop the list (dated Dec. 12) with 24,000 copies sold, according to Nielsen Music.
R40 Live follows previous chart-toppers Clockwork Angels in 2012 and Snakes & Arrows in 2007.
While Top Rock Albums launched in 2006, Rush's history on the Billboard 200 dates back four decades. The new album debuts at No. 24 on the Billboard 200, marking the band's 24th top 40 title. Rush first reached the region with another live release: All the World's a Stage: Recorded Live (No. 40, 1976).
R40 Live is also the first live album to crown Top Rock Albums since the Beatles' On Air: Live at the BBC Volume 2 on the Nov. 30, 2013, chart. Additionally, Rush's new release opens atop Hard Rock Albums, where it's the band's second leader, following Clockwork Angels. (Could R40 Live be the final live album of Rush's storied career? When the band announced the R40 Live Tour earlier this year, its accompanying press release stated that the trek "will most likely be their last major tour of this magnitude.")
R40 Live isn't the only live release new on Top Rock Albums this week. Fare Thee Well: Chicago, IL, Soldier Field, July 3rd, 4th, 5th, 2015, which covers the Grateful Dead's final concerts held July 3-5 in Chicago, debuts at No. 3 with 14,000 sold. Two other versions of the release (a best-of and the box set) also chart at Nos. 14 (5,000) and 39 (3,000), respectively.