Rush's Power Windows A Window Into Record-Store Owner's Past
30 years ago, Neill Cunningham was the cover model for Rush's Power Windows. Now, he finally stocks the record at his store.
By Peter Goddard, Toronto Star, January 20, 2016
---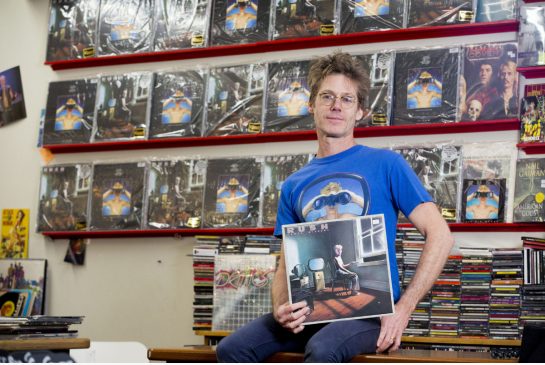 Whenever Neill Cunningham wants to peer at himself through a 30-year-old portal, he need only pluck Rush's Power Windows off the shelf.
There on the cover of the 1985 concept album is a young Cunningham, posing bare-chested in flimsy white pajama pants, his eyes fixed on the camera. On the back, there's shirtless Cunningham again, gazing through a set of binoculars.
Cunningham was a waiter then, and over the ensuing years held a variety of jobs: government temp, factory worker, bicycle courier. But in 2000 he opened the Junction book and record store Pandemonium, and just last week received a shipment that whisked him back: a big bundle of the new Power Windows vinyl reissue.
He promptly assembled enough copies to cover the wall behind his counter, a monument to his moment in the limelight.
"How many record store owners get to sell records of themselves?" mused Cunningham, 52. "(The display) is hard to miss. I'm just having fun with it."
Originally, Cunningham became involved with the project by happenstance. His friend Marcus Pearson was working for photographer Dimo Safari, who was crafting the cover for Rush's upcoming record - a transitional, pop-leaning album awash in chilled synths - and was seeking a "skinny blond" punk for the cover.
Cunningham happened to be skinny and blond ("still am") and leapt at the opportunity.
"Dimo had been working with Madonna, so I was all excited at the idea I could be on a Madonna cover," he recalled. "When he said Rush, I was like, 'yeah, oh, all right. Not bad either.'"
The shoot was conducted over two arduous nights in Cabbagetown, with the March wind snapping through the open window. Once captured, the photo was used as a reference for Rush art director Hugh Syme, who then painted the cover image.
Cunningham's work wasn't finished. When it came time to shoot the vaguely Monopoly-themed music video for lead single "The Big Money" - a gloriously '80s artifact worth watching for its primitive graphics, Alex Lifeson's powder-blue suit and Neil Peart's majestic braided mullet - Cunningham was again featured.
"There's this terrible mid-'80s special effect of me spiralling in with my binoculars and spiralling out."
One perk was a backstage pass to Rush's 1986 show at Maple Leaf Gardens, where Cunningham gawked at his image plastered 50 feet high. He met the band then for the first and only time. "I didn't have a lot to say," he concedes.
In fact, Cunningham wasn't much into the band then, preferring the ruggedly succinct punk of the Ramones and the Cramps. He's become a Rush fan since, and he's certainly passionate about Power Windows. Among the cherished souvenirs in his Power Windows collection: a tour program, a book of guitar tablature, a signed lithograph and a hulking promotional cardboard cutout.
The album's cover was high-concept, with three TV screens mysteriously arrayed behind Cunningham's wooden chair. Power Windows won best album graphics at the 1986 Juno Awards, though Cunningham concedes he never really understood the concept.
"It's sad to say," he said. "I've thought about it. I think in the Rush world, it does make sense."
He reckons he's been recognized only once, by a Rush fan on the streetcar. "I denied it was me."
The connection is bound to be made more frequently now that he spends his days standing in front of a Power Windows wall. Cunningham says there's never been much demand for that particular Rush record, and an even more "rarefied market" likely exists for this new, pricier version ($29.99) of the LP.
Still, he couldn't resist stocking up.
"I had to do the wall," he laughed. "You would have done the wall too."