Farewell To Kings
By Joe Bosso, Guitar World, March 2016, transcribed by John Patuto
---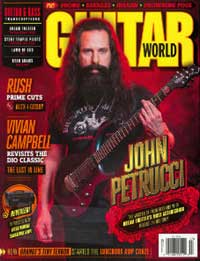 It's possible that Rush have parked their tour bus for the last time, leaving 40 years of epic gigging and an unparalleled body of work in their wake. To help celebrate the release of R40 Live, Guitar World catches up with Alex Lifeson and Geddy Lee to talk about some of the choice cuts that found their way into the band's career-spanning 2015 set list.

On August 1, 2015, Rush played the last date of their career-spanning 40th Anniversary R40 tour at the Forum in Los Angeles. The run was brief by Rush standards - only 35 dates - and bassist-singer Geddy Lee recalls the final concert as being a particularly tough one to get through. "It was the most emotional show I've ever been a part of," he says. "I don't think I ever choked up at the end of a show like I did in Los Angeles that night; I felt a lot of pride, but I was also wondering if I'd ever be doing that again with these folks that I've shared over 40 years with."

Lee is seated on a couch inside a suite at New York's Peninsula Hotel. Beside him, his lifelong friend and Rush mate, guitarist Alex Lifeson, nods thoughtfully. Owing to a few nagging health concerns, not the least of which has been drummer Neil Peart's chronic tendonitis, speculation has hung in the air recently that the R40 tour signaled Rush's unofficial retirement from the road, or at least major hauls. Asked to predict whether fans can expect to see an R50 tour a decade from now, Lee shakes his head and says, "Not at this point. But you never know. As of right now, it's a little unpredictable."

Rush have issued their fair share of live albums (the 1981 set, Exit...Stage Left, is generally regarded as a classic concert recording), but they've never released anything as expansive and elaborate as R40 Live. Recorded and filmed in the band's hometown of Toronto at the Air Canada Centre on June 17 and 19 of 2015, the package is available in various CD, DVD and Blu-ray configurations, and it's a richly detailed, wildly entertaining top-to-bottom chronicle of their musical de-evolution, from the raucous, steampunk-inspired fantasy of "The Anarchist" (from Clockwork Angels) to the bare-bones, British blues-influenced "Working Man" that kicked things off in 1974.

"Our live albums have always marked a period in our history and development," says Lifeson. "This set is probably one of the most important markers in that regard." To which Lee adds, "Plus, it shows us at the top of our game as players. Sonically, we really know who we are - there's no struggle with that. Sometimes a live show or tour can be marred because you're not happy with your sound. This tour was very straightforward in the sense that we know our sound; we've got our individual shit together, and all we have to do is go out and play our asses off. More often than not, we did that."

As a guided tour through the highlights of their musical history, R40 Live covers most of the epic essentials. There are, however, a few surprises: Neither "Losing It" nor "How It Is" (both sounding killer here) had been performed live before, and "Limelight," a concert staple since 1981, is nowhere to be found. "It's always a struggle - what to put in and what to leave out," Lifeson explains. "In the case of 'Limelight,' we've played it on every tour since we wrote it. If something was going to get the shove, that was a candidate.' [Webmaster note: in addition, "Limelight" was also not performed on either the Grace Under Pressure or Presto tours...]

"Some of the decisions were based on albums that didn't fit the design of the show," notes Lee. "We were covering our career in these broad strokes, so that left out records like Presto and Hold Your Fire. The present transforming into the near-present into the early Eighties in set one didn't leave time for records that we deemed less essential. And we also considered what we'd presented on the last tour. We did a lot from Permanent Waves in that show, so we didn't do so much from it on this tour."

While both Lee and Lifeson admit that retrospection occasionally elicits a cringe-worthy moment or two ("You listen to songs you did so long ago, and it's a little like hearing another person," says Lee), there are also revelations and epiphanies. "It's a very funny thing when you listen to your early work," Lifeson says. "A lot of times I'm struck by how good the older songs are. Even if it's a little innocent and naïve, the effort feels totally honest, and I love that. So when we play live, it's our way of saying, 'Okay, that was good; now how can we make it better, or at least different.'"

And on that note, Lee and Lifeson settle back with Guitar World to weigh in on a selection of the cuts on R40 Live.


"Xanadu"
(from A Farewell to Kings, 1977)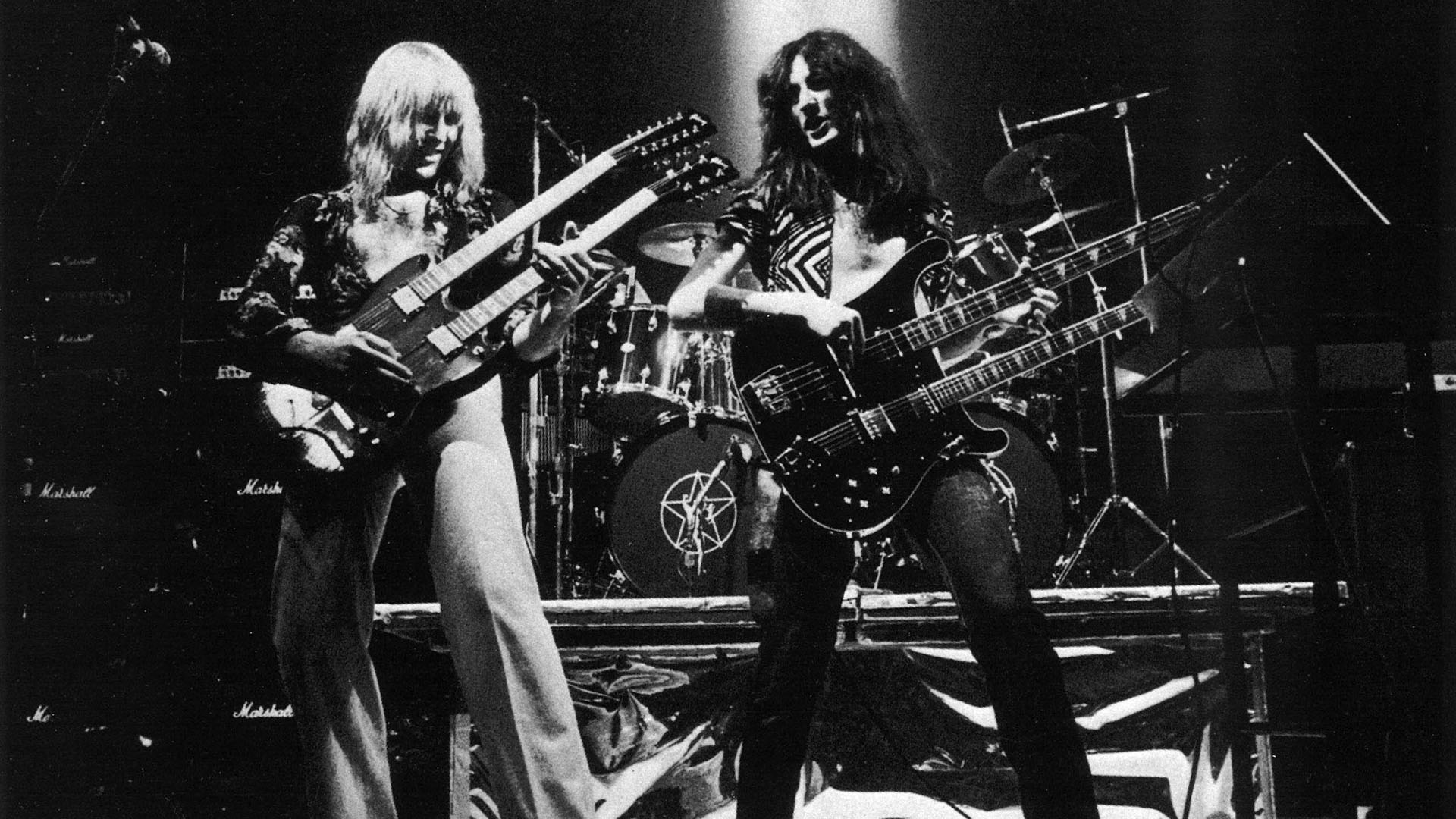 GEDDY LEE: It's much harder on our backs these days because of the doublenecks. It's a lot of fun to play, though there are moments that feel a bit dated - lyrically, more than anything. It can be strange at first going back to being "that guy" you were so many years ago, but you just give yourself up to it.

ALEX LIFESON: There was a time when the only pictures I always saw of us were with the doubleneck guitars. Before we started doing it, I think the only other guitarist I ever saw with a doubleneck was Jimmy Page.

LEE: That shot of us with the doublenecks is, for a lot of people, the classic Rush moment. I saw so many of our fans tweeting their own pictures, trying to reproduce a shot that they've seen. They're like, "Yes! I got it!" I think they love when our backs are breaking.


"Roll the Bones"
(from Roll the Bones, 1991 )
LIFESON: It's got a little more life now, as do a lot of the songs that we've brought back. It feels like a fresh new version. Same thing with "Jacob's Ladder" - you feel a nice little lift with some things. "Roll the Bones" was a lot of fun, especially doing the video section with all of our friends doing the rap. The audience really responded to that. [The video features celebrity cameos such as Paul Rudd, Peter Dinklage, Tom Morello and Chad Smith.]

LEE: That song has always been great to play, especially on this tour. I could feel in the house that it was very affecting. The video of the rap was done over a few months. We sent out letters to our buddies and even people we didn't know - we just thought they'd be cool additions. Most of the people who were all-in from the start were our friends. The video was difficult to put together because there were so many hilarious takes.


"Losing It"
(from Signals 1982, featuring violinist Ben Mink)
LIFESON: There's a little bit of danger in playing a song we've never done live before, but it's also very satisfying to get through, especially in the way that we did with "Losing It." It was never meant to be performed live. Ged didn't play bass on the original, and there was such a serious violin part on it.

LEE: How are you going to play it without a violin? That was the main reason why we never did it. Ben Mink is a great player, so it was wonderful to have him join us onstage. We're so happy at how this one turned out. The whole thing really came together nicely.


"Jacob's Ladder"
(from Permanent Waves, 1980)
LIFESON: We played it when the album came out and brought it back. You make room for certain songs, and it felt right to feature it. We talked about doing it before, but we never felt excited about it. Once we started rehearsing it for this tour and refreshed it a bit, it became a favorite to play.

LEE: Alex's playing is spectacular. For me personally, I didn't want to play it at first because I thought some of the keyboard sounds were a little dated. I just wasn't sure I could get behind it live in an authentic sense. Once I freshened up the sounds, it kind of came together for me. I think it helped the melody and made everything sound more interesting. Our programmer, Jim Burgess, really did a great job with the new textures and sounds. I credit him with saving the song.


"Animate"
(from Counterparts, 1993)
LIFESON: Another challeng-ing song to play live. The choruses are a real stretch from a positional standpoint, and the punky nature of the verses were always kind of tricky for me in the past. This is the first time that I felt more settled with the song - I was feeling what Ged and Neil felt.

Before, I was thinking of the beat as being more syncopated, and I played across it. So I had to become more aware of the way Neil and Ged were feeling it, and I kind of sat on the beat more. That was a big thing for me, to get in the pocket with them. Playing across it created a certain kind of tension, which was good, but being locked in with them made it feel really great.


"The Story So Far..."
(Neil Peart drum solo)
LEE: We're spoiled when it comes to Neil. Having worked with him for so many years, we're sort of used to his amazing abilities. He's pretty much Superman. He's always great, but there are those nights when he's really incredible. You notice it, too - how he turns it up a notch.

LIFESON: I was going to say the exact same thing. When I listened to one of the test pressings of his drum solo, I was struck by how nuanced his playing is. You don't always catch that in the moment - you're kind of distracted by everything going on around you. But hearing it here, I was amazed at how interesting all the moments are.

LEE: Neil's drum solos evolve. On this tour, and on this particular solo, he found a balance between being a highly compositional player and an improvisationalist. More and more, he likes to go out there without a plan. You've got to tip your hat to that. That's true jazz.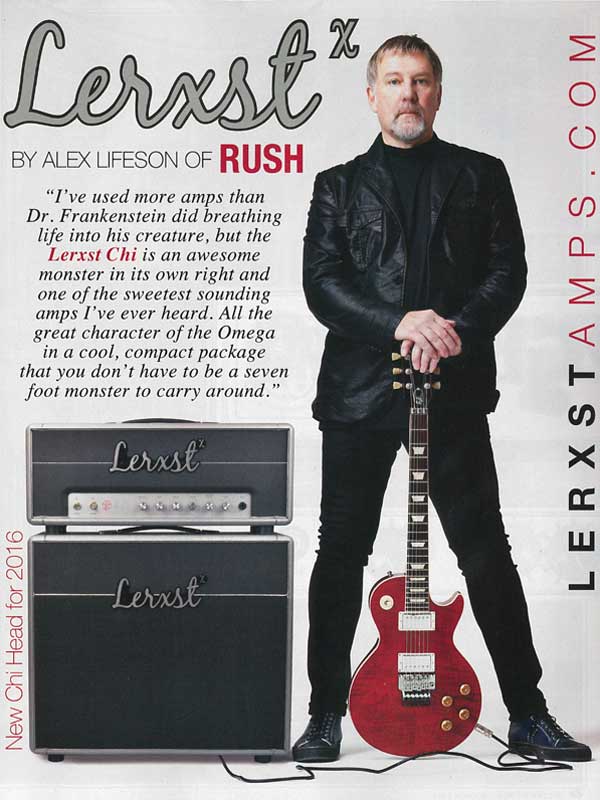 "How It Is"
(from Vapor Trails, 2002)
LEE: We were listening to some albums and the song came on. It was one of the songs that were remixed for the re-release of Vapor Trails. I think Neil suggested it, and we were like, "Fuck yeah. Let's do it." It's one of those overlooked songs - we've got a few of those. Sometimes you want to do a song to give it some justice.

LIFESON: There was a lot of material on that record, and we've covered most of it. I think we might have felt at one time or another that putting that song in would have been too much. So it never got played till now. It felt great - it's got a lovely feeling throughout.


"Lakeside Park"
(from Caress of Steel, 1975)
LEE: I'll be honest: I still don't think it's a great song. [laughs] Musically, we were in our derivative stage. Some of those early guitar moments feel very Genesis-y to me - they would get low and quiet with the guitar parts. But I think the song is very representative of a period, and there's a particular sentiment in it that I thought really worked in the context of the show. Al wanted to play it, and I was kind of against it. But I gave in, and he was right.

LIFESON: It's got an unusual guitar part in the chorus. I thought that the song was very representative of a time, and our fans really connect to it in some way. It reminds them of a summer, or being somewhere like Lakeside Park. Somewhere in their lives, there is that place. I thought it would touch people.


"Anthem"
(from Fly by Night, 1975)
LEE: I've always loved "Anthem," but it's always been hard to sing. It's very high.

LIFESON: And there's a lot of words.

LEE: It's hard to catch your breath in it.

LIFESON: I have a great time playing it. A paisley Tele and a wah-wah? You can't beat it. On the recording I used an Echoplex. Now I use a Fractal system, which is loaded with all kinds of effects. I use that for the whole show for chorus, delay, reverb, flanging, phasing, all of that stuff.


"What You're Doing"
(from Rush, 1974)
LEE: It's got a great riff. Back then, it was just a heavy song, and the lyrics are kind of naïve. It's a little cringe-worthy. In the fresh light of day and bringing it back now, I loved playing it. I found this fantastic old Hofner solid bass, a really rare one. You don't see many of them - I think they date back to '61. It's got a phenomenal amount of bottom end, and when I played it along with Al, because we're playing the exact same riff, it's like the bass and guitar became one giant instrument. I never had a sound like that.


"Working Man"
(from Rush, 1974)
LEE: It's got a great bluesy vibe. That's always been one of my faves to play. It's such a jam song, and we just let it all out. We turned back into that band that was just starting out, when we were trying to play as fast as we could. Nothing is held back. It's just fiery playing.

LIFESON: And that's coming from all of us at the same time. It's a funny thing doing certain older songs. You've learned more, but you don't have the same physicality as when you were younger. Compositionally, things do improve over time. The structure of the solo is better now than it was in the past. A lot of that is because of Geddy, because I'm playing off of what he's doing, and vice versa. Every night it was a bit improvisational, and we don't always have that kind of freedom.

LEE: It was a real release. It's the end of a set, so we just become a jam band.