From the Riser: A Drummer's Perspective II
Foreword by Neil Peart
September 2016, transcribed by pwrwindows
---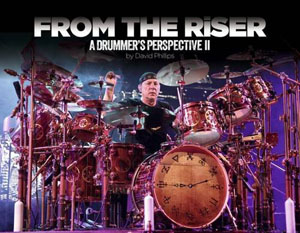 From the Riser: A Drummer's Perspective II
By David Lawrence Phillips
Foreword written by Neil Peart
Published in September 2016 by A & R Marketing Limited, 270 pages, ISBN 0956733417
I'll just come right out and say that drums are the most beautiful musical instrument, and the most unique to each player. Any guitar, piano, violin, or horn has a generic similarity, but a drummer makes his instrument his or her own. The combination of cylinders with their personal designs and colours, framed and trimmed in glittering chrome, with circles of shiny brass, are arrayed in ergonomic geometries that are limitless, and infinitely expressive.
More, I'll venture that drummers are more exciting to watch than any other musicians. (Oh yes - I'm not afraid to go there.) They - we - truly are "performance artists," where the physical act of playing has its own appeal, its own beauty.
So, with the attractive setting of a drum kit, often dramatically lighted, and the player's physical power and grace, you have rich ingredients for photographic art.
Not many photographers have captured that performance art as well as David Phillips has, in his first book, and even more in this one. One accomplishment is simply collecting photographs of so many of today's prominent drummers, but the greater gift is delivering such iconic images of each one.
You can see and feel not only the power and grace, but also the poise, the energy, the tension, the joy, and the glamour. Even the fun.
So, drums are the most beautiful, most exciting, most individual, and most fun of all musical instruments.
There... I've said it...