Rush's 'Time Stand Still' Tour Doc Heading to Theaters One Night Only
Gene Simmons, Chad Smith, Taylor Hawkins and more praise prog band in accompanying 'A Salute to Kings' short
By Daniel Kreps, RollingStone.com, October 3, 2016
---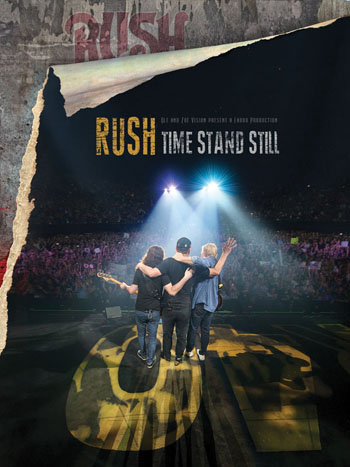 Rush: Time Stand Still, a documentary that takes a behind-the-scenes look at the prog legends' 40th anniversary – and possibly final – tour, will head to movie theaters for one night only on November 3rd. Over 460 theaters will take part in the Fathom event, which is accompanied by an exclusive 20-minute short film Rush: A Salute to Kings.
In that short, artists like Red Hot Chili Peppers drummer Chad Smith, Kiss' Gene Simmons, Heart's Wilson sisters, Foo Fighters' Taylor Hawkins and more gush about Rush and what made that band so special. "I am a huge Rush fan. One of the biggest," Smith says in an exclusive clip from the short above.

Rush: Time Stand Still itself promises an intimate, never-before-seen look at Rush both onstage and backstage and examines the band's close relationship with their diehard fan base. One of those fans, actor Paul Rudd, who featured the group in his film I Love You, Man, serves as narrator for the two-hour film.
Check out the Fathom site for participating theaters and ticket information.
UPDATE: Rush will bring their Time Stand Still documentary back to movie theatres for one more night on Thursday, November 17th at 7:30 local time. Fans can visit the film's official site for ticket info.