Rush's 'Time Stand Still' Review: R40 Tour Gets An Emotional Send Off In Revealing Documentary
By Jim Slotek, Postmedia Network, November 2, 2016
---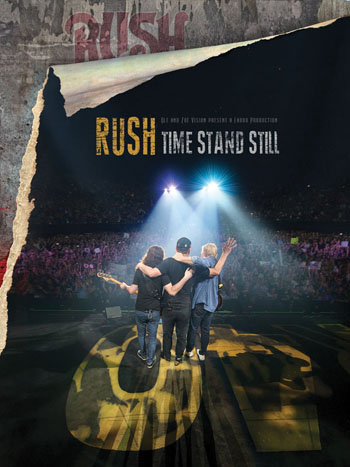 Normally, you'd give a side-eye to an "authorized" documentary about anything.
But really, the members of Rush are allowed to toot their own horn (if they had horns) on the occasion of their apparent retirement after 40 years of doing everything their own way.
Rush: Time Stand Still - whose executive producer is Geddy Lee's brother Allan Weinrib - is a gift to the fans.
It is also, to a large extent, about them, the camera taking time to follow members of RushCon, an oddball assemblage who "get out of their parents' basements" (in the words of one) to follow the band as if they were a prog-rock Grateful Dead. (FYI, belying the "slacker" talk, one of them turns out to be a White House staffer).
A fine companion piece to the excellent, comprehensive 2010 Rush doc Beyond the Lighted Stage, Time Stand Still is the story of the bittersweet, emotional and triumphal 40-city tour Lee, Alex Lifeson and Neil Peart undertook under the cloud of drummer Peart's health issues.
(Apparently a horse of a man, Peart insisted on motorcycling cross-continent throughout, adding a painful foot condition along the way to the nightly physical task of banging odd time-signatures for hours).
Narrated by Paul Rudd - whose Rush fan cred was established in the movie I Love You, Man - Time Stand Still is as intimate a backstage pass as fans could want. It also includes as much verbiage from the band's laconic muse Peart as you might find in all the interviews he's done put together.
This is not a concert film. You get brief in-concert intros to songs like Tom Sawyer, Spirit of Radio and Closer to the Heart before the camera moves on. But the reminiscences and performances drive the narrative forward to a truly moving goodbye on the stage at L.A.'s Forum.