The Limelight Keeps Finding Rush Authority From Tonawanda
By Jeff Miers, Buffalo News, December 26, 2016
---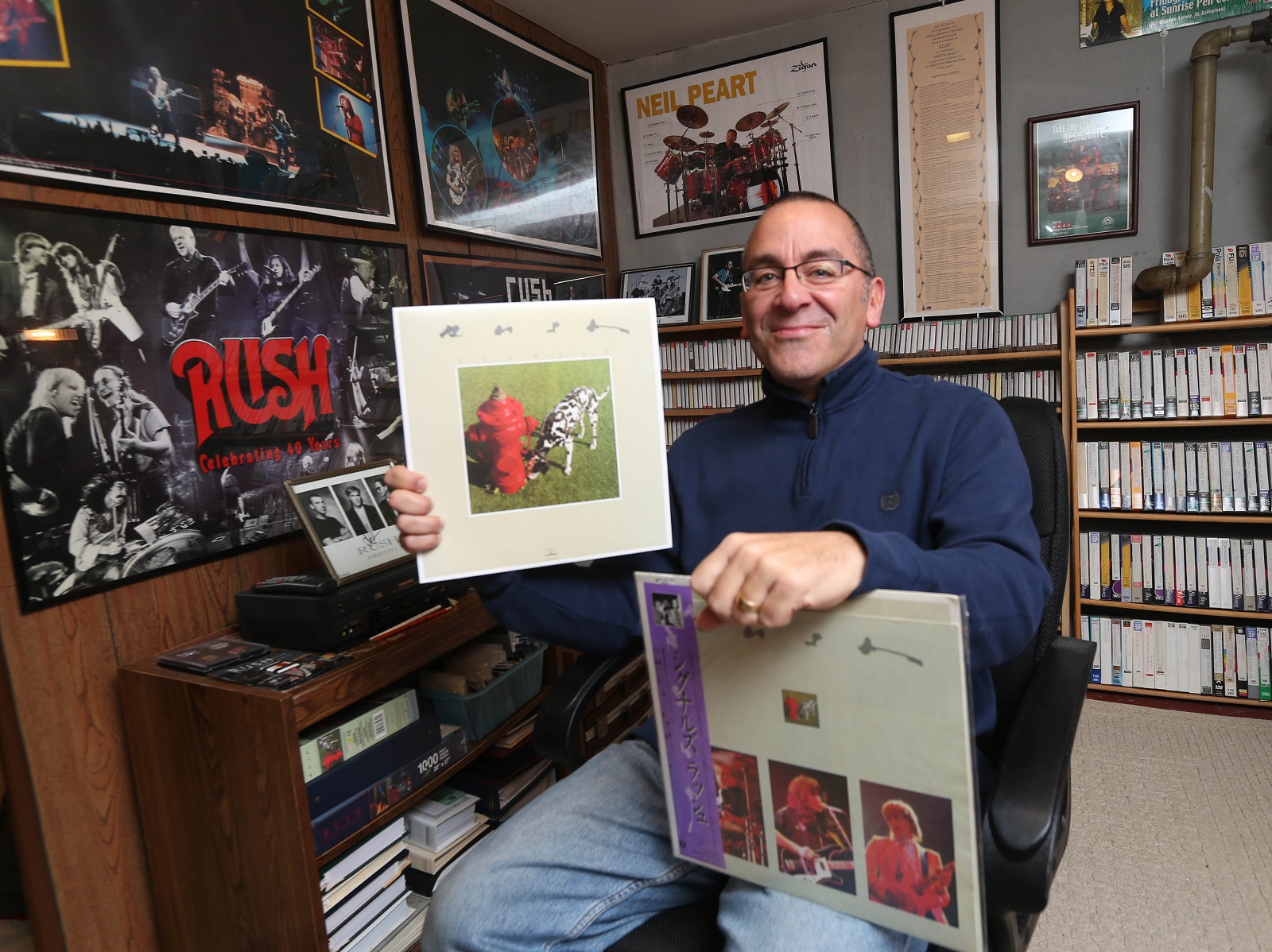 Scene: A fit middle-aged man stands before a file cabinet, and carefully opens its drawers to reveal the contents of the files therein to the camera.
He speaks.
"Each of these folders is numbered appropriately, beginning with No. 1, 1974, and continuing up to 2015, in order, from January to December," he says, looking directly into the camera's eye for emphasis.
Carefully sorted financial documents or copies of tax returns?
No. Rush swag.
Ray Wawrzyniak, a teacher at Willow Ridge Elementary School in the Sweet Home School District and family man from the Town of Tonawanda, also happens to be one of the world's foremost experts on the history of Rush - the trio formed in the Toronto suburb of Willowdale more than 40 years ago, and a band now considered not just Canada's finest-ever progressive rock outfit, but one of the world's, too.
How foremost?
- He features prominently in the new Rush documentary "Time Stand Still."
- He was a consultant on the Juno and Tribeca Film Festival Award-winning 2010 documentary on the band, "Rush: Beyond the Lighted Stage?"
- He is a credited contributor in the Martin Popoff-penned "Rush: The Illustrated History" coffee table-sized tome. Images of his collection fill the book's pages.
- He contributed to the liner notes on the just-released "Rush 2112 - 40th Anniversary" box set collection.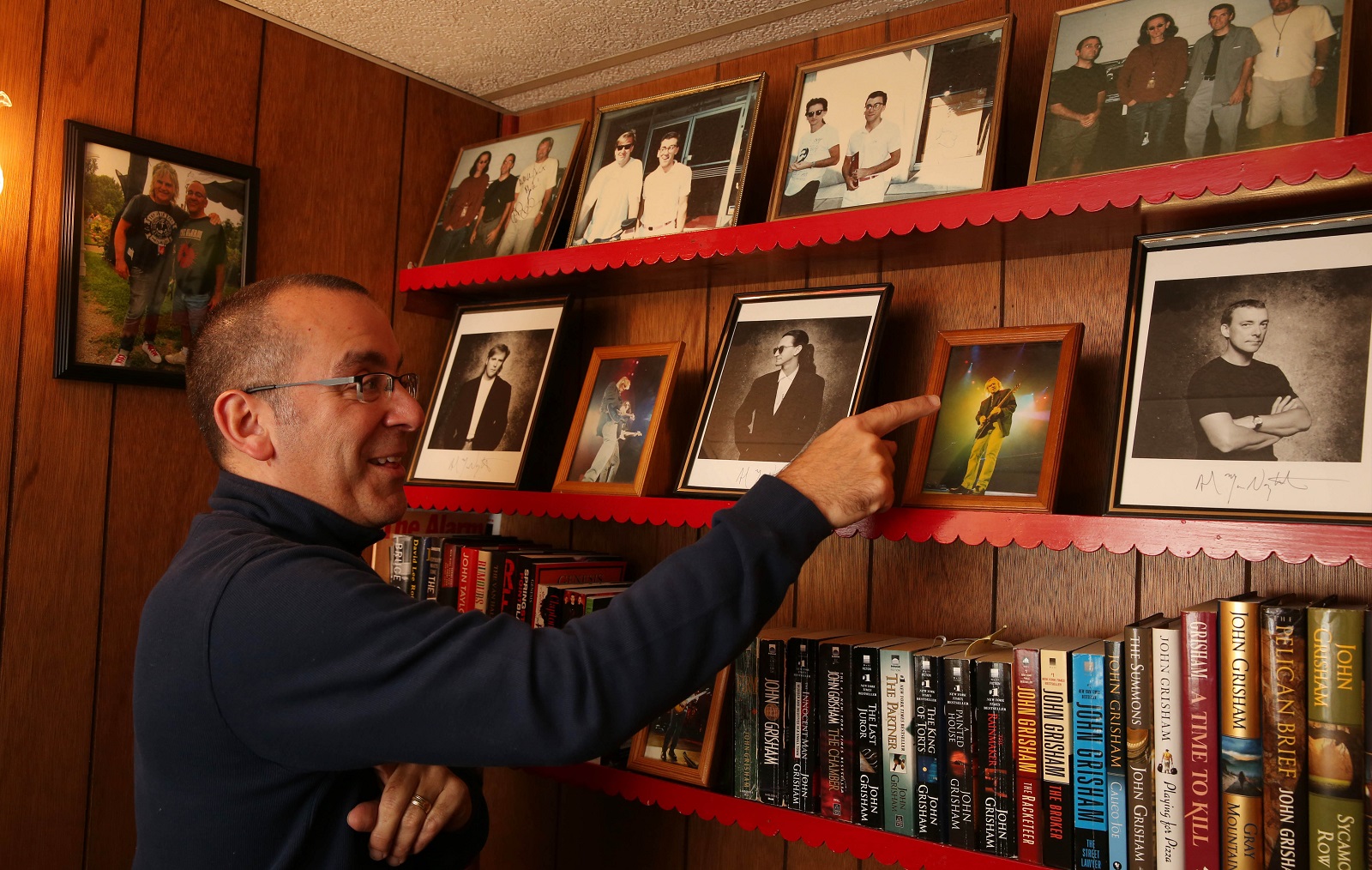 In some ways, Wawrzyniak is less anomaly than example. Rush fans are among the most loyal in music, and they tend to gravitate toward becoming collectors and documentarians. (Full disclosure: My first-ever concert was a Rush show at the Palace Theatre in Albany in January of 1980. I've seen the band more than 40 times, and collected a tour book and T-shirt from each of their tours. This is not considered unusual behavior in the land of the Rush fan - no matter what my wife might tell you.)
Wawrzyniak takes the standard Rush fan affection but adds his obvious fascination with details, his thoroughness, his orderliness, and his readily apparent love for "the list" - the 93-page printout documenting every piece in his collection of concert bootlegs, concert videos, taped interviews, television appearances, books about the band, tour books, press kits, backstage passes, 8-track tapes, cassette tapes, vinyl records, CDs, DVDs, magazine & newspaper articles, and posters. Wawrzyniak's basement is likely the world's most painstakingly ordered Rush Museum.
His story is one that will be familiar to Rush fans of all ages.
"Before Rush came along and completely altered the orbit of my life, music had already been a part of my environment," Wawrzyniak said. "Thankfully, I was brought up in a household where music mattered. The radio was always on, or my Dad was playing his cool box set of '50s vinyl albums. My older cousin was a Rush fan, and his enthusiasm for them made an impression on me. When MTV aired the concert film "Exit Stage Left" in 1982, that was it for me. Rush had my attention."
So as a 16-year-old in 1982, he began borrowing friends' albums, making own cassette-taped versions, and then immersing himself in the music. By the fall of that year, he said he felt prepared to appreciate the band's next album.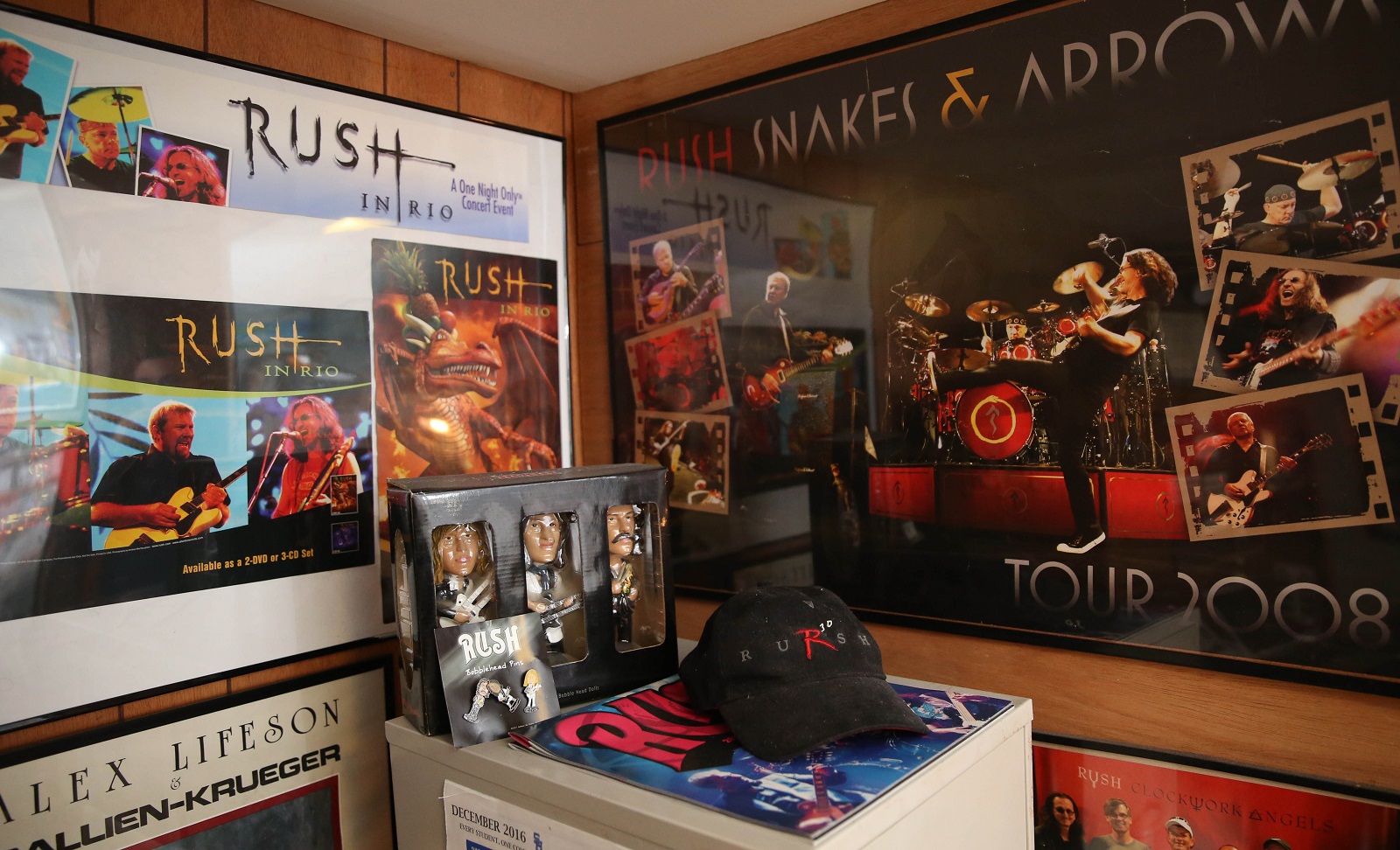 "That was, Signals," he said. "My sister drove me to Cavages at the Boulevard Mall, I bought the cassette version, and things have never been the same since."
Some 113 Rush concerts later - his first show was April 5, 1983, at the old Buffalo Memorial Auditorium - Wawrzyniak has lost none of his love for the band. In fact, he's seen his Rush fanaticism bloom into other areas of his personal and professional life.
"I have long considered two people - (Rush drummer/ lyricist) Neil Peart and Marv Levy, the beloved former Bills coach - to be the two most literate people I have ever encountered," Wawrzyniak says.
"Their way with language, their way of using wordplay both effectively and, at times, for purely indulgent reasons, is something I have long been impressed with. Due to that, I have become quite a fluent and frequent writer myself. My principal at school said to me recently "Ray, I have never known anybody in my time in education who communicates more frequently, or with such depth, as you." What he doesn't know, though, is that the inspiration behind that is Neil Peart, the writer."
Music journalist and author Popoff said Wawrzyniak has helped him om several Rush-themed projects. "He sort of embodies the spirit of optimism and giving inherent in the band's lyrics," he said, but he noted that Wawrzyniak is not a typical fan.
"He sees no need to gather with other Rush fans, at, say (annual Rush fan convention held in Toronto) RushCon. I think this says something good and solid about his priorities - that despite the massive knowledge and collection he's gathered, he's all about his family, his commendable job as a teacher and his responsibilities."
Andy Curran, the general manager for label services with the Rush-led independent label Anthem, and former bassist/vocalist with Toronto's Coney Hatch, also attested to Wawrzyniak's knowledge concerning all things Rush.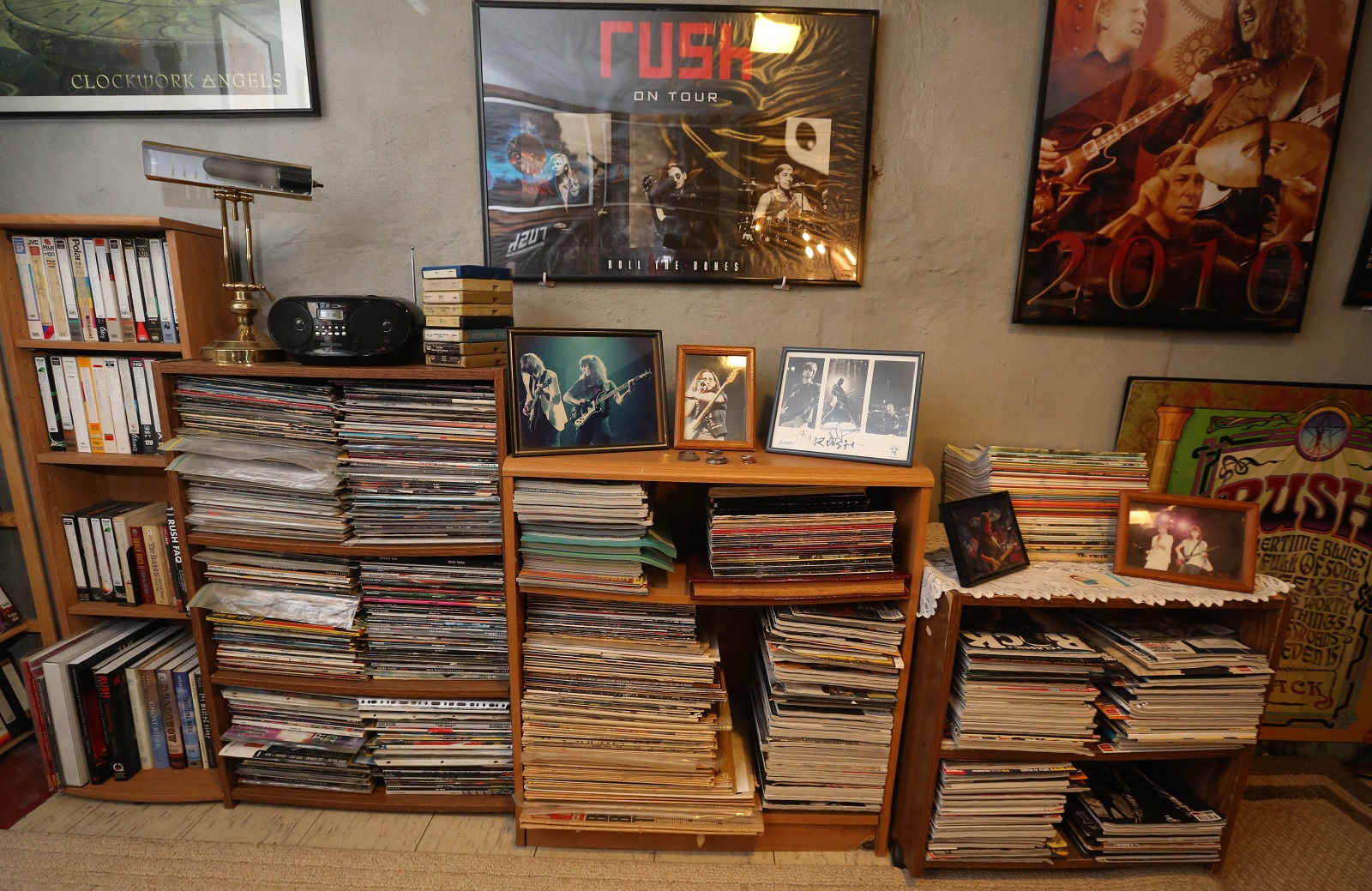 "After seeing an early edit of the "Time Stand Still" documentary, I realized I had a resident expert and authority on Rush just south of the border," Curran said. "I cold-called Ray and found he was a wealth of knowledge and a true gentlemen. I'll continue to tap into him on upcoming projects, for sure. He's already unearthed nuggets even the label didn't know about."
When Rush announced its 40th anniversary "R40" tour - which played the First Niagara Center in 2015 it was made clear in accompanying press materials that this might be the band's final go-round in such a large-scale, dramatic fashion. Fans got the hint, and the tour quickly sold out, but some held firm to the belief that Rush would continue.
The "Time Stand Still" documentary might disabuse them of such a notion, however. The pure physical demands of performing three-hour shows filled with complex, demanding music that requires the stamina of an athlete when all three band members are nearing their mid-'60s has taken its toll, particularly, it seems, on Peart. The film, then, was a bittersweet affair - it celebrated the devout fandom of Rush followers, while simultaneously offering what amounted to a fond goodbye.
But for Wawrzyniak, the end of Rush is not possible.
"If that's what happens, then I just see it all simply taking on a new form," he said. "I carry this music, my memories of the shows, my memories of time spent with the band, inside me. It goes where I go."