Why Rush Might Be the Most Generous Band In the World
Billboard, April 15, 2017
---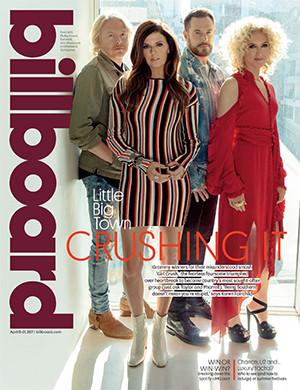 After four decades of performances around the globe, the Canadian rock band Rush in 2015 staged a final major tour. Although the power trio of Alex Lifeson, 63; Geddy Lee, 63; and Neil Peart, 64, was leaving life on the road behind, the philanthropy that marked the group's touring years continues.
On April 20, Rush will receive the Allan Slaight Humanitarian Spirit Award for its social activism and support of humanitarian causes, as well as for recognition of its remarkable music career. The award will be presented during the annual Canadian Music & Broadcast Industry Awards gala dinner in Toronto, an event during Canadian Music Week.
"They're giving us an award for doing what everyone should do," Geddy Lee tells Billboard. "It should be a part of everyone's upbringing and routine of life: You share when you've been blessed with good fortune. The world needs a lot of work, and there are not enough workers. We try to help where we can."
"My father, Allan Slaight, believes that giving back to one's community is something we should all strive to do, and the members of Rush have made a point of this throughout their career," says Slaight Communications president/CEO Gary Slaight.
The honor comes with a $40,000 endowment that Rush will donate in a sign that its commitment to causes endures, even as the band has ceased touring. The beneficiary of the gift will be the Gord Downie Fund for Brain Cancer Research at Sunnybrook, which studies treatments for incurable brain cancers. The fund is named after fellow Canadian and Tragically Hip frontman Gord Downie, who announced in 2016 that he had been diagnosed with terminal brain cancer.
"Lots of people are generous and do things like this, and it's the right thing, I think, when you're in a position to help those who are needy or less fortunate," said Rush guitarist Lifeson in a Billboard interview in 2015, when the band received the Allan Water Humanitarian Award at Canada's Juno Awards. "Then it's kind of our duty as human beings to do that, and it's not a big deal."
For Rush, which most recently released the documentary Time Stand Still, touring and philanthropy have gone hand in hand since the beginning of its impressive career. From its self-titled debut album released in 1974, the trio has gained legions of fans with its inventive progressive rock. The band estimates it has sold 40 million albums worldwide. (Rush has sold 15.6 million albums in the United States since Nielsen Music began tracking sales in 1991). The band reached a commercial peak in the early '80s with six consecutive albums reaching the top 10 of the Billboard 200.
Since Billboard Boxscore began tracking concert sales data in 1990, Rush has grossed $252.7 million from sales of more than 5.5 million tickets and has performed 539 shows.
Leveraging the loyalty of its fans to help others, the band's concerts at Toronto's Maple Leaf Gardens were food drives for the Toronto Food Bank. The group also did benefit shows at the arena for The United Way and amFAR.
In 2008, the trio donated $100,000 to the Make It Right Foundation to help New Orleans rebuild after Hurricane Katrina and sponsor construction of a Lower Ninth Ward residence that was dubbed "the house that Rush built." That year, Rush also gave $100,000 from a Winnipeg concert to the Canadian Museum for Human Rights.
When floods hit southern Alberta in 2013, the band again stepped up to help with a benefit show that raised $575,000. (The concert, originally scheduled for the Scotiabank Saddledome in Calgary, was moved to the Enmax Centrium two hours north after the Saddledome itself was flooded.)
Beginning with its 2010 Time Machine Tour, Rush has donated $1 from every concert ticket to various organizations, including Doctors Without Borders.
The band doesn't publicize how much it has contributed to charity overall, but according to Canadian Music Week, funds collected from its concerts for all causes have approached $2 million during the past five years.
"It's like paying it forward," said Lifeson of earmarking a portion of sales for charity. "We're so fortunate in so many ways, and if you can just help out, in any way you can, that's a great way to do it."