Fire Destroys Legendary Le Studio Where Bowie, The Police Recorded
Music aficionados remember 'destination studio' of the 1970s and '80s
CBC News, August 11, 2017
---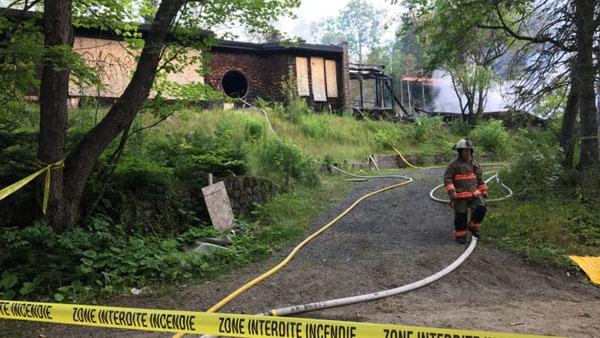 A fire this morning has destroyed Le Studio, a historic recording studio nestled in Quebec's Laurentian Mountains, about 90 kilometres northwest of Montreal, whose legendary former clients include Rush, David Bowie and The Police.
Provincial police received a call about the blaze around 5:30 a.m.
Firefighters found evidence at the scene that suggests the fire may have been purposely set, Radio-Canada reports.
Investigators with the Sûreté du Québec are working to determine the cause of the fire.
'It was like the United Nations'
Le Studio hadn't been operational since 2008 and had fallen into disrepair.
It was built by legendary recording engineer and producer André Perry, and was considered one of the best recording studios of the 1970s and '80s.
"It was like the United Nations. I had people from London, New York, Quebecois, all over the world," Perry told Radio-Canada.
When Perry ran the studio, he said one of the things that set it apart was not having a distinct "sound."
Perry said they recorded 150 albums and "none of them sound the same."​
'Like being at home'
CBC Music's Frank Opolko worked at Le Studio from 1980 to 1986, which he considers its golden years.
"They included all the names, David Bowie and Sting. Bee Gees, April Wine, Rush, Chicago."
He said Le Studio had a laid-back energy, and musicians would just walk in on days off — like Sting, who stopped in one day after skiing nearby.
"When André Perry began the studio he had this brilliant idea that artists just want to sit down, create, record, at any time of the day, kind of like being at home," Opolko told CBC Montreal's Daybreak.
Montreal-based music producer Aaron Saloman said many producers know Le Studio through its connection to Canadian rock band Rush, which recorded several albums there.
"It was a destination studio, when those still existed," Saloman said.
"You had these places that were a retreat to go to. I think people miss that today."
Failed attempts to save studio
Several groups and individuals tried to resurrect Le Studio over the years as the property changed hands and fell on hard times.
In the early 1990s, Perry sold the studio for millions to the Spectra group, which runs the Montreal International Jazz Festival.
After realizing recording wasn't really its business, the company sold the studio for considerably less a few years later.
It was eventually owned by a numbered company.
The deteriorating building became a target of vandals in recent years, Perry said.
Montreal musician Richard Baxter launched a Kickstarter campaign in 2015 to rebuild Le Studio.
Its goal was to raise $2.4 million but it managed to take in less than $4,000.