Ian Thornley Talks Covering Rush Classic, Anniversaries and The Future of Albums Features Audiophile Surround Sound Mix, Music Videos, Rare Photos and More
By Jim Barber, MusicLifeMagazine.net, January 8, 2018
---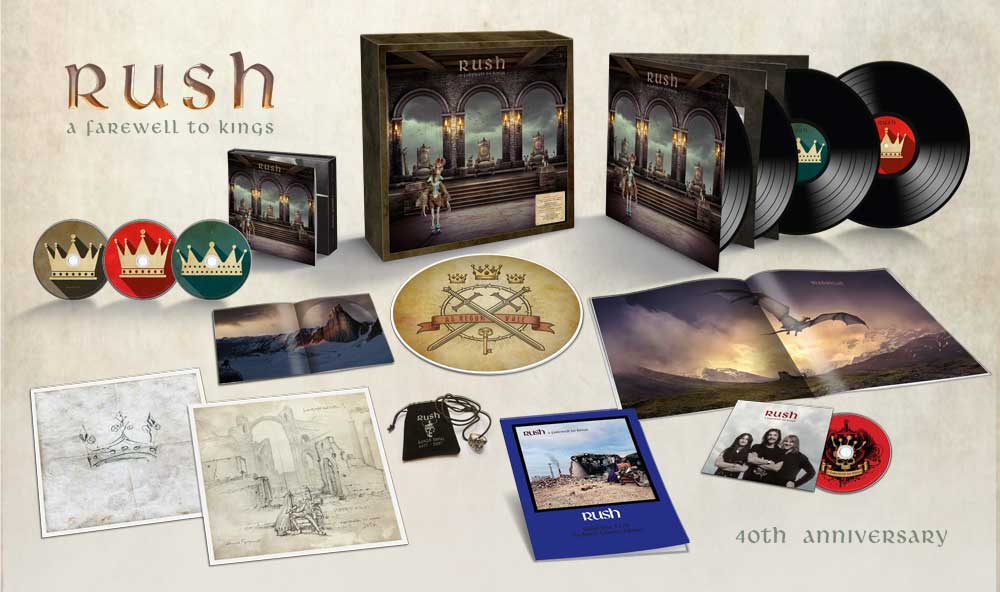 A few weeks before Christmas, fans of the legendary Canadian rock band Rush received a very special gift. Well, to be more accurate, they had the opportunity to purchase a very special gift either for themselves or for a special prog-rock loving someone on their holiday shopping list.
To mark the 40th anniversary of the release of their fifth studio album, A Farewell to Kings, the band released a special commemorative edition of the album in four different platforms, highlighted by a remastering of the original album (at the famed Abbey Road Studios), which contains Rush concert classics such as Xanadu, the title track and the radio staple Closer to the Heart.
There is a super deluxe edition of the release (three CDs, one Blu-ray Audio disc and four 180-gram vinyl LPS and some special trinkets for superfans.) There are two Deluxe Editions (three CDs or LPs) and a Deluxe Digital Edition. Part of the package includes a full live concert recorded at the Hammersmith Odeon in London in the late 1970s, remastered by producer/engineer extraordinaire Terry Brown, the individual who produced the band?s first nine studio albums, including A Farewell to Kings.
One cool part of the collection, and something of a rarity, is the inclusion of a number of Rush songs being covered by other artists. American progressive metal icons Dream Theater did a haunting and intense version of Xanadu, The Trews covered Cinderella Man, Alan Johannes took on Madrigal while Big Wreck covered the iconic Closer to the Heart.
?I got a call initially about doing a different song, although I can?t remember which one. I thought it might be interesting but I was sort of lukewarm to the idea because it was one of the more intricate songs on the album and I really wouldn?t know what to do with it. Maybe a few weeks had passed and they said that nobody had grabbed Closer to the Heart yet. And I was shocked. I know that one pretty well and as far as song format goes for a band like Rush, it?s a lot simpler. I thought I could really visualize a Big Wreck take on the tune, certainly much more than the proggier stuff,? said Big Wreck co-founder/guitarist/vocalist/songwriter Ian Thornley.
?It?s always flattering to be asked to do something like this, but having said that, if I am going to do something of this nature I want it to be cool. I want it to be something that?s worthy of the project. Basically, I wouldn?t want it to suck, and I wouldn?t want to just redo what Rush had already done. Even though we kept our version pretty close to the script I think we took it in a bit of a different direction sonically. It may be a little more aggressive sounding, although that?s not really for me to say. It was important to me that it be of high quality and something that I would be proud to put on one of my own records.?
Thornley also knew that there was the possibility of a backlash from die-hard Rush fans to his band?s interpretation, and even the concept of covering such a beloved song.
?Because we?ve shared management and a label for so long I knew going in that I am probably going to piss off Rush fans because it?s not hard to do. Rush fans are some of the most rabid on the planet, as you know. And I get that because I am kind of the same way with certain bands too. The list pretty long of bands that I could pick that have iconic songs that I would probably get two bars into a cover and turn it off,? he said.
?At the same time, I wanted to keep it close enough to the original so that it?s recognizable. To me it sounds exactly like how I wanted it to and am happy because it sounds like Big Wreck covering a Rush song. And that intro guitar line is so iconic. I assume Alex [Lifeson] came up with that because it?s a very guitar-centric kind of thing. It?s such a beautiful little motif that there is something special that happened, it really is lightning in a bottle. I know that we leaned on that aspect a little more than what?s in the original. We came back in our version and revisited it and built it up and built it up because I just love that line. Since I was a little kid that song was on the radio all the time and that opening guitar line was the thing that would instantly pull you in. So I wanted to try and pay homage to that.?
Thornley is quite honest in admitting that Rush was not one of his major influences as a young musician, but he has come to appreciate their music in later years. More significantly, he has a great respect for Rush band members Geddy Lee, Alex Lifeson and Neil Peart as individuals and as musicians.
?Meeting them and becoming friends with them I started digging deeper into their catalogue. But to be honest with you, just working with the same people in the office and seeing how the band and team operates and how ballsy they have been throughout the years is an education. And knowing some of the inside stories and some of the hardships they faced early on where it was like, well you can conform or you can stick to your guns. And they stuck to their guns and did it their way, which is awesome. I find that very inspiring. It?s something that is always in the back of my mind that those guys did it their way, and for someone in my position that?s always a good thing to remember. Don?t sell out and don?t sell yourself short,? he said.
?I don?t know whether the request for us to do this song came from the guys or not but I know from experience that Ged and Al [he has never met Peart] are just fantastic guys and such champions of this country all and the artists certainly. I have never had anything but great experiences with both of those guys. Alex is generous to a fault and just a lovely guy to be around. I recorded an album in his studio and I don?t even know if he charged us at the end of the day. So he and Geddy have just been great supports. And, like I said, I don?t know if it came directly from them but I was thrilled to get the call.?
While A Farewell to Kings marked its 40th anniversary in 2017, so did Big Wreck?s ground-breaking debut album, In Loving Memory Of? which was released 20 years ago, in 1997, to great popular and critical acclaim. Songs from that album, such as That Song, The Oaf and Blown Wide Open are still staples on Canadian radio to this day.
?I have never really been one to look back. I am always moving forward and always searching for that next spark creatively. Every once in a while, usually on a flight or something like that, I will go back and listen to some of the stuff we have done in the past and I would think it?s great but then I would start picking apart all the things I wished I would have done differently. But looking back 20 years, I can sort of hear where we were and where I was and most of it is still exactly the same. It?s about searching and learning and soaking up as much as I can and trying to dissect why I love a certain thing so much. I still hear all that in our current music that we are writing as well as in the old stuff. It?s all links in a big chain,? Thornley said, adding that there is an obvious difference in his outlook 20 years ago from where he is today.
?I guess when you look back now, man 20 years is something. I was a 25-year-old, chip on his shoulder, pissed off guy. I was in a different place personally, but musically I have never really stopped that same outlook.?
Since In Loving Memory Of? was released, and subsequently went double platinum in Canada, Big Wreck put out a second record in 2001 (The Pleasure and the Greed) and then essentially broke up, with Thornley embarking on a successful solo career until reforming a version of Big Wreck alongside co-founder Brian Doherty in 2010. They released the albums Albatross in 2012, Ghosts in 2014 and Grace Street in early 2017.
All of those albums contain more music than is currently issued on most albums, since most albums these days are consumed in digital formats (if at all). Thornley said he is still one for releasing as much music as possible at any given time, even though the paradigm for how music is sold and consumed is so much different than it was 20 or even 10 years ago.
?Even from a sort of creative perspective I am on the fence about the concept of albums. I think it?s just because of the attention spans. I am guilty of it too. I am guilty of cherry picking tunes off a record and just simply not wanting to sit through a couple of songs to get to the one I want to hear. I have been toying with the idea, because of our different lifestyles and technology today, of doing it a different way. I think about a song like All My Fears from Grace Street, which is the last track on the album. I wonder how many people were actually exposed to that song as opposed to the singles or the ones that are further up on the playlist. It?s a beautiful song and I would love for fans to have heard it. There?s a lot of music that I am really proud of that I think probably gets lost in the shuffle when you put out records with 13 songs as I still do,? he said.
?I have always overwritten as far as the number of songs goes. We have all this music to choose from, but I want to put it all out, so it is hard for me to whittle it down. But if you think about it, back in the LP days, the albums I loved the most had, like, eight songs. For our first record in 1997 we could get away with a lot more because of the CD format. But if you have less than 20 minutes a side, like back in the vinyl era, it meant it had to be your best stuff.
?I don?t think I am an anomaly because most musicians want to get all their ideas out there, but how do you distill it down to 40 minutes? That can be a challenge, but a rewarding one because then it?s definitely the cream of the crop. Not all the music you write is going to be a hit. I think it might be cool to put out shorter formats like an EP but we?ve never tried it before other than a live thing [Bag of Tricks in 2013]. Nobody is selling records, most people are putting out records so you can go out and tour. But for us, when we?re rehearsing new music or playing it on stage, it?s still exciting for us and I am sure it?s exciting for the fans. It still feels like it always did for me. But when you step back and take a hard look at the numbers it?s just so different. Honestly, I kind of prefer to try to stay as ignorant as I can of the whole business and how weird and upside down it?s become.?
As for the forthcoming 20th anniversary tour, Thornley and his Big Wreck bandmates Doherty, bassist Dave McMillan and drummer Chuck Keeping will be starting Jan. 18 in Peterborough, Ontario, followed by a show at Rebel in Toronto the following evening and at the Corona Theatre in Montreal on Jan. 20. The tour then heads to the east coast for a few dates before dipping down into the states. Early February sees the band back in Ontario for shows in Oshawa, London, Waterloo, Hamilton and Sault Ste. Marie for a western swing that wraps up at the legendary Roxy in Hollywood on March 10.
Exactly how much of In Loving Memory Of ? will be performed in each show is yet to be determined as well as in what order. Thornley said that will work itself out in rehearsals and how the band and audience responds over the first couple of shows.
In the interim, you can follow what?s happening in Big Wreck land at www.bigwreckmusic.com.
The 40th anniversary of Rush?s A Farewell To Kings is available at all bricks and mortar retailers as well as all major online stores and streaming services. Learn more at https://www.rush.com/a-farewell-to-kings-40th-anniversary-release.
Jim Barber is a veteran award-winning journalist and author based in Napanee, ON, who has been writing about music and musicians for a quarter of a century. Besides his journalistic endeavours, he now works as a communications and marketing specialist. Contact him at jimbarberwritingservices@gmail.com.