Classic Sleeves Dissected, Rush - 'Hemispheres'
Conceptual and graphic artist Hugh Syme talks us through his work on the cover of Rush's much-loved sixth studio album
Interview by Philip Wilding, Rock Candy, February - March 2018, transcribed by pwrwindows
---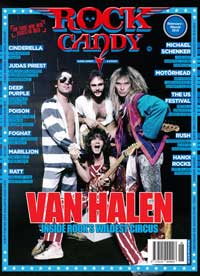 "Oh, there was never any brief, as such." Hugh Syme's laugh echoes down the phone line from his home in Toronto. The Juno-award winner, whose work includes album artwork for Megadeth, Def Leppard and Aerosmith, is nonetheless still most synonymous with Rush. He's recalling the process of producing the iconic sleeve for the band's 'Hemispheres' release.
"For those early albums that was always the case, no brief. First I'd receive lyrics from [drummer] Neil [Peart] - lovely handwritten pages that I've kept to this day. The band often hadn't written any music until they'd seen Neil's lyrics. To be honest, my favourite starting point with any Rush project was the evocative album titles.
"For most of their albums from the '70s and early '80s I was left pretty much to my own devices. As the lyricist/art director alliance slowly emerged between Neil and me, the lyrics would then be accompanied by a couple of phone calls or meetings, but only if Neil and I happened to be available. We'd review the lyrics and discuss any overriding arc to the album's theme."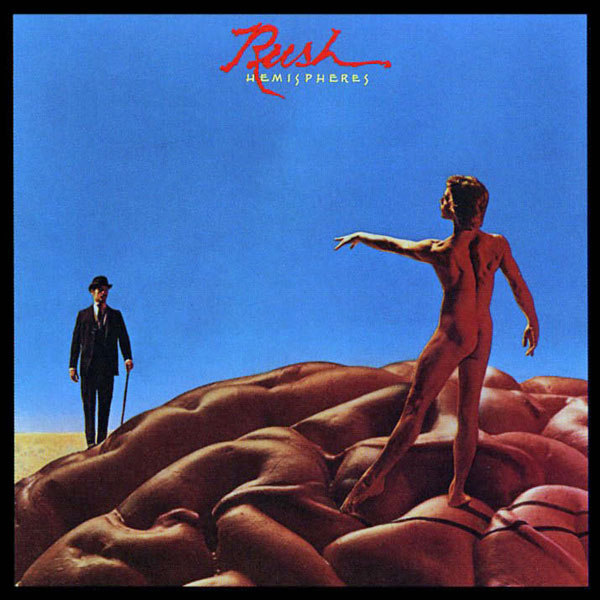 In the pre-internet age (with the band constantly on tour), Syme was allowed to get on with the job of capturing the essential elements of Rush's work in the album sleeve. So when I ask Hugh how the band pitched the idea of a naked man floating on a giant brain through a barren landscape, there's another bark of laughter. "Throughout my time with Rush they've never 'pitched' anything to me, apart from the left turn they took when Neil Googled a watercolour by an author, painter and sculptor called Harish Johari for the cover of the 'Snakes and Arrows' album [that came out in 2007]. When I started work on the 'Hemispheres' cover I hadn't even heard any music as the band were in Wales [at Rockfield Studios] recording the album. Things got easier once they settled into a pattern of recording [from 1980's 'Permanent Waves' through to 1993's 'Counterparts'] at Le Studio in Morin Heights,Canada. Then I could fly or drive up to see the boys working. I'd usually stay for about a week and sometimes get invited to play keyboards on their records, something that had started on [1976's] '2112' when I added some colour to 'Overture' and [bassist] Geddy Lee's more sensitive track, 'Tears'."
In terms of Rush covers, 'Hemispheres' is probably one of their most iconic...
"Probably so. I had no idea what people would make of a [surrealist painter] Magritte figure and a naked man squaring off on two hemispheres. l was never much one for seeking approval or criticism - or disdain come to that. Back then I wouldn't have known where to look to find out what people thought of it! It was all very pre-blog. I still don't pay much attention to this day. I create.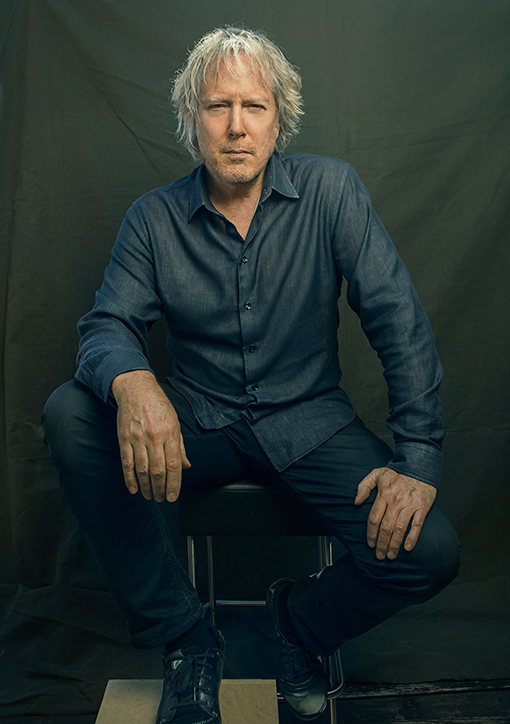 "It was all a learning experience. Most art is, and should be. I'd say the painting I created for [1985's] 'Power Windows' was considerably more demanding, but I was pretty pleased with how 'Hemispheres' turned out. As for looking back and reviewing my early techniques, I guess that must be very much like Rush listening to early performances - or living with those photos of their billowing blouses and handlebar moustaches!"
"In the canon of Rush sleeves there will always be a warm place in my heart for 'Hemispheres', but when I look back over my work with the band there are pieces that rank well above that artwork, both as concepts and the way. they were delivered, technically speaking."
"The overall 'Hemispheres' image was my own. It was developed after Neil and I discussed the nature and behaviour of the left and right, the Dionysian/Apollonian hemispheres of the brain. It was very ambitious for a pre-digital endeavour. While I still like the cover's concept and its overall feel, it ranks among my more technically naive efforts. I didn't sketch anything out before we did it. That wasn't the way I worked."
"The Magritte man in the bowler hat was my old and dear friend, Bobby King, also from the Niagara region where Neil and I both hail from! I'm not sure a lot of people know this, but Bobby was also my model for the original Rush nude Starman logo."
"Some people have said the cover is quite Pink Floydian in tone and I can see that now. It's probably the most Floyd-like Rush cover."
"The naked man here was a dancer we found who was studying at the Toronto Ballet School."
"How did we create half a brain for the figures to stand on? The Department of Anatomy at the Toronto University School of Medicine were kind enough to loan me someone's brain to photograph. I couldn't tell you whose it was! The forced scale of the two subjects and brain was, of course, created through the photo-composite that I pulled together."
"People seem to think that the barren landscape and expansive sky must have been a real task to build and create without the aid of an Apple Mac. But since I already had a very extensive background in illustration, the landscape and sky was created rather quickly. It was a time in my life when I was on the threshold of merging my airbrush and traditional painting techniques with photography. Pretty good timing as it turned out."
Rush - 'Hemispheres' Released: 29 October 1978 - Album length: 36.08