Rush Hour (A Farewell To Kings 40th Anniversary Review)
"Aural Robert" By Robert Baird, Stereophile, March 2018, transcribed by pwrwindows
---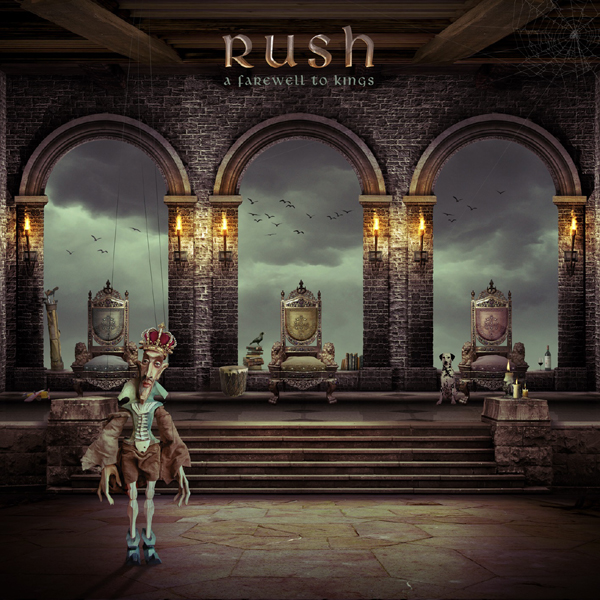 Defying all predictions, the record biz continues to put out large, often expensive new collections of older music in a mix of CDs, DVDs, Blu-Rays, downloads, and now, of course, LPs. After the merciful passing of the recent holiday season, I decided to poke around and find out which boxed sets released in 2017 had sold and which had not.
In my perusals of the Internet found: remaining copies of a boxed set of eight Rhianna LPs, for $300; a limited-edition, 30-CD UK box, Wishbone Ash's The Vintage Years 1970-1991, which retailed here for $334, and, for those who can never give Gene and Paul enough of their money, there were still copies of Kiss's Kissteria box of 28 18ogm vinyl pressings and a veritable mountain of tchotchkes for $1650.
One reissue that caught my eye-and turned out to be one of the season's best sellers-was the Deluxe Edition of Rush's A Farewell to Kings: 40th Anniversary, for $149.99. It was sold out everywhere I looked, including the band's own website. Scoff if you will, unbelievers, but after watching direc-tor Dale Heslip's recent documentary Rush: Time Stand Still (2016), which covers what was probably the band's final tour, and listening to WAV files of the music contained in this new box (it includes a previously unreleased live set recorded in 1978 at the Hammersmith Odeon), I have to admit it: I'm gonna miss those guys.
The story of Rush is simple and shocking. The simple: A bunch of high-school-age, working-class Canadi-ans form a trio, and concoct a singular prog-metal music that blends Geddy Lee's weird high voice, Alex Lifeson's jammy guitar work, and drummer Neil Peart's iiberperfectionism. They tour relentlessly, 50 weeks a year, on and off for 40 years, cultivating one of the most fanatically loyal fan bases of any act this side of the Grateful Dead.
The shock: Rock stars, it turns out, are not immortal. Nice-guy guitarist Lifeson has arthritis in his hands and feet. Peart, a motorcycle enthusiast who once ruled over a menagerie of gongs, tubular bells, and a kit of seemingly a thousand drums, at 63 can no longer endure the physicality demanded by his style of drumming. Like a championship athlete-which, in essence, he is-Peart has succumbed to the ravages of time.
For audiophiles, the subject of Rush is fire and ice. Of the band's 19 studio albums, 11 live albums, 6 boxed sets, and 10 video albums, 24 have gone gold, 14 platinum. According to the RIAA, that puts them in third place, behind the Rolling Stones and the Beatles, for most consecutive gold or platinum records by a rock band. Some sound better than others-if you're looking for sonic faults, the}? re there. Not too surprisingly, Rush's earlier albums, recorded on analog tape, sound better than their early digital recordings, and better than some of the overcompressed records they made in the late 1990s and early aughts.
The new 40th Anniversary Deluxe Edition uses a new digital version of A Farewell to Kings, made from the original analog tapes and remastered by Sean Magee at Abbey Road Studios in 2015. This version, which has much punch and immediacy, is also available, from HDtracks and other sellers, as 24-bit/96kHz and 24/192 downloads.
For an inside View of the making of A Farewell to Kings, I called original producer Terry Brown, who made 11 albums with Rush between 1975 and 1982. Brown was part of Permanent Waves (1980), their final all-analog album, as well as of Moving Pictures (1981), their first record to be recorded in 48 tracks on analog tape but digitally mixed. He mixed the Hammersmith Odeon show from 24/96 digital files. Brown and Rush made A Farewell to Kings at Rockfield Studios, in rural Wales, where the band lived and ate their meals together. After a month of recording, everyone adjourned to Advision Studios, in London, for two weeks of mixing.
"I have to say, it was a long time ago, so I can't be super specific," Brown told me, "but I do know that Neil came in with the lyrics and the guys had basic riffs, melodies, and grooves organized to work with those lyrics. Then it was kind of an organic situa-tion where it just grew and got refined, and, with edits, changes, and updates, became what you hear.
"We would cut the band off the floor as a band and get a tune sounding really close to what we wanted, but we would be really cognizant of the drum part. If Neil was happy with his drums, we would go in and replace the bass. And we would be really particular about that. And then we'd fine-tune the sound, fine-tune little areas of parts where we felt we hadn't quite nailed it. Then we'd think about layering the guitars. And, of course, it wasn't just one guitar part start to finish-there were various textures, different guitars we used for texturing. We would spend as much time as it took to make sure that we represented the sound of each of the personalities and their instruments. And then, of course, recording Geddy's vocal..."
Rush fans should not fret about the band's seeming finale. While it's not the same as seeing them live, more boxed sets are undoubtedly on the way. Will it be like Hendrix and the Dead: Rush forever?
Music Editor Robert Baird (RBaird@enthusiastnetworkcom) finds all this talk of having too many records patently absurd.