Progression: Alex Lifeson's Acoustic Chronicles
Alex Lifeson reveals the acoustic's vital role in Rush's history
By Jimmy Leslie, Guitar Player's "Frets" section, September 2018, transcribed by John Patuto
---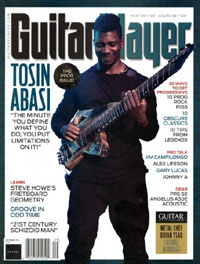 The acoustic guitar plays an essential and often very different role in prog music than it typically does in twangy folk rock. Prog acoustic is the stuff of minstrels in the courts of kings, descended from European lute music, and often played on nylon strings with classical and flamenco flair. Alex Lifeson's intros on seminal tracks such as "A Farewell to Kings," "The Trees," and "La Villa Strangiato" exemplify how an acoustic guitar can take a song from the realm of merely amazing to the stuff of legend. His steel-string playing has always paralleled the power of his electric prowess.
"Whenever I've used acoustics," says Lifeson, "I've tried to keep the same sort of intent that Pete Townshend had in his acoustic parts regarding the kind of weight they carried in a song."
Rush have retired due to drummer Neil Peart's advanced tendonitis. While Lifeson has psoriatic arthritis, he assures us that it hasn't affected his playing much, despite rumors to the contrary. He's living happily in Toronto, Ontario, and contributing tracks remotely to artists like Don Felder, John Mayall, Marco Minnemann, and Fu Manchu. He's more into the acoustic guitar now than ever before, and he reveals that the instrument actually played a much more integral role in Rush's history than even die-hard fans might know.
Can you take us back to your earliest days with Geddy Lee and your acoustic inspirations?
Geddy and I met in junior high school, and we were in music class together, but we wanted to explore rock music and become a part of it. Townshend's playing made a mark on me: His style, his strumming, and his use of the acoustic as kind of a heavy instrument. I never thought you could make that work, but he always made it work. He made his acoustic part sound so powerful.
How did you and Geddy become songwriters?
Geddy and I used acoustic guitars to write songs together back then. We focused most on where the melody was going to sit and determining the song's melodic direction. We seemed to translate that to our electric instruments quite freely, but all of the early records were written on acoustic. "Fly by Night" was basically written in a car, somewhere in Middle America. Our road manager was driving us in a sedan. Neil was in the front seat, and Geddy and I were in the back strumming away working on that song. Most of the Fly by Night album was written that way.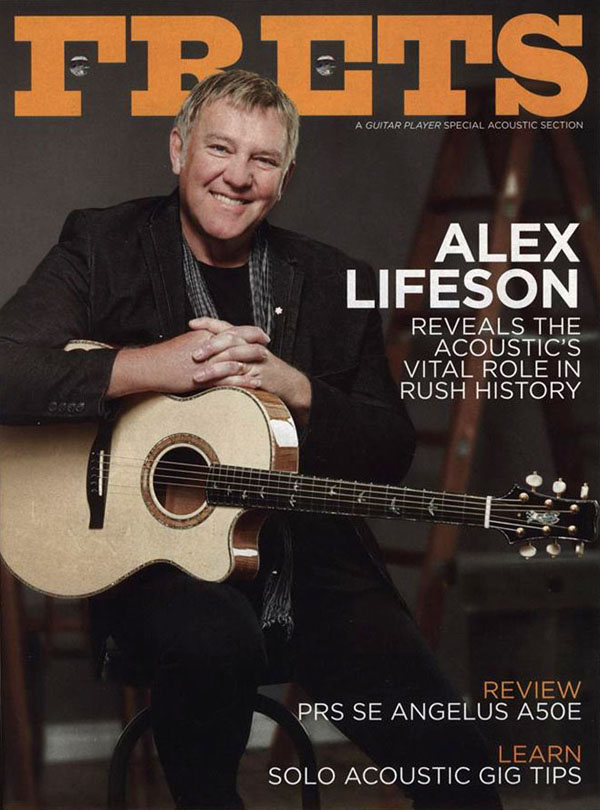 What did you use to cut the acoustic tracks "Making Memories," "Rivendell," and "In the End"?
We were really broke back then. I had two electric guitars, and I'd borrow acoustic guitars from friends when we went into the studio. Oscar Peterson Jr. [son of the legendary Canadian jazz pianist] lent me a Gibson J-45 for the Fly by Night sessions.
When did you got your first good steel-string?
That wasn't until 1976 when I went to Gibson and did some shopping. I got my white ES-335 and a double-neck electric, but I also got a beautiful Gibson Dove, which I used for years. I still have that guitar, and it sounds fantastic. Its probably on all of our records.
The Dove famously appears on "Closer to the Heart" from 1977's A Farewell to Kings, correct?
Right, it was the Dove plus a Gibson B-45 12-string.
Was that song written in the back of a sedan as well?
No. We were in a farmhouse in the middle of Ontario. Geddy was more of a single-string player. He didn't know too many chords, but he always came up with really cool melodies, like "Closer to the Heart." He wrote that intro melody, and that's indicative of the kind of stuff he would do. It's got the perfect bass player kind of line-descending notes on a single string.
Didn't you own a Ramirez classical guitar that you picked up on the road?
Yeah. It's a 1971 Ramirez Studio model I bought at a pawnshop when I was on the road in, I think it was, Peoria. I paid $700. I'd studied classical guitar in my late teens, and I was shocked to see a Ramirez hanging on the wall. I figured it was worth way more than they were asking. I borrowed the money and wound up using it for all the nylon-string classical stuff, which began in earnest with the intro to "A Farewell to Kings."
How did you track that song?
We recorded that outside in the courtyard at Rockfield Studios on a rare sunny day [in Wales. U.K.]. We put up a couple mics so we could make a simple stereo recording. Neil had a little percussion area of bells and not congas, but what we used to call "knuckleheads." Geddy set up a keyboard, and I had the Ramirez. You can hear the guitar move across the stereo field as I walk around the courtyard on the gravel while we play. So that one was recorded live not off the floor but off the stones.
You cut the intro outside and then headed inside to cut the main track on electric?
Exactly, and that's the way we envisioned it. We wanted that contrast of something very pure and acoustic.
Hemispheres features a couple of tracks with similar song structures. Did you take the same approach when cutting "The Trees"?
"The Trees" was recorded in a studio setting, but it was along the same lines as "A Farewell to Kings."
Was there a specific classical influence that informed the intro on "La Villa Stranglato"?
Part of my classical studies included flamenco guitar, and it made sense to bring some Latin style to a piece with that title. I remember going to see Carlos Montoya years ago and being blown away by watching him play. Seeing a flamenco ensemble with three or four guitarists along with dancers grabs your soul and shakes it.
What guitar did you use to play the classical stuff live in those days?
I played an Epiphone C-60 nylon-string with a transducer pickup that we installed ourselves. Back then, playing small venues with a loud P.A., it was difficult to get a classical acoustic guitar loud enough without feeding back like crazy, so we put a bolt through the body to cut down vibrations onstage, which helped a lot. I still have that guitar with its bolt in place.
The live album Exit...Stage Left includes "Broon's Bane," which serves as an intro to "The Trees." Where did that come from?
I wrote that when I was practicing classical guitar during the year I was studying, so there are a lot of influences from the lute pieces that I learned. I even copped some of the phrasing from traditional classical pieces. It was a good exercise for me, because it was a real stretch and demanding to play. You've got to push yourself. I think I recorded it in a studio at some point so "Broon's Bane" might exist on a quarter-inch tape somewhere. We incorporated it into the set to give Neil a bit of a break.
Were you still writing on acoustic guitars for Permanent Waves?
Yeah, although the acoustic intro for "Natural Science" that I tracked using a J-45 with effects might have been added later in the studio.
But you're saying that even the most rocking track on Permanent Waves - say, "The Spirit of Radio" with that crazy intro riff - was written on an acoustic?
Yeah. We rented a farmhouse outside of Toronto. Geddy and I would write on acoustics while Neil would be off in his room working on lyrics. It never seemed odd to us to be writing on acoustic. We could communicate better without amps blaring. We'd meet later in the day to work on everything electrically in a room with all our gear set up. That "Spirit of Radio" riff is not such a big deal. It's mostly pull-offs, and you can play it on an acoustic.
Once we got into the studio with (producer) Terry Brown and cut it on electric, we added effects, including the Electro-Harmonix Electric Mistress - which is the best flanger - and we manipulated the signal to give the impression of radio waves with that static-like kind of energy. That riff works well in the context of the song because it has that character. It plays that role.
Did you write any of the Moving Pictures on acoustic?
No. Moving Pictures was the first time we actually went to a location that had a proper rehearsal room.
Acoustic guitars gave way to synthesizers during the '80s, but 1993's Counterparts marked a return to form, albeit without the classical acoustic element.
Right, but I always approached it in the same sort of way. The acoustic was a solo instrument for an intro, or I'd use a 12-string for the verse, like on "Nobody's Hero." It stayed the same for a long time. I started using the acoustic as more of a featured instrument on, I want to say, Vapor Trails, and then I really started to use the acoustic more as a featured instrument later on with Snakes and Arrows. The change was that I'd started playing in different tunings.
That's documented in your 2007 GP cover story when you mention tracking "The Main Monkey Business" and "Hope" on Garrison 6-and-12-strings respectively, both tuned [low to high] D, A, D, A, A, D.
Exactly. I was a latecomer to alternate tunings. Now, that's all I do. I don't think I can play in standard tuning anymore. I have three or four guitars that are tuned to all different tunings. I don't even know what some of them are; I just tune to something that sounds weird, and then I try to figure out what scale it is and how to make it all work. Anything in those alt tunings sounds amazing with the open strings ringing out sympathetic to the melody. You can play for hours and hours, and it sounds like you're way better than you are. It's also easy to make a terrible mistake if you don't concentrate. It goes both ways.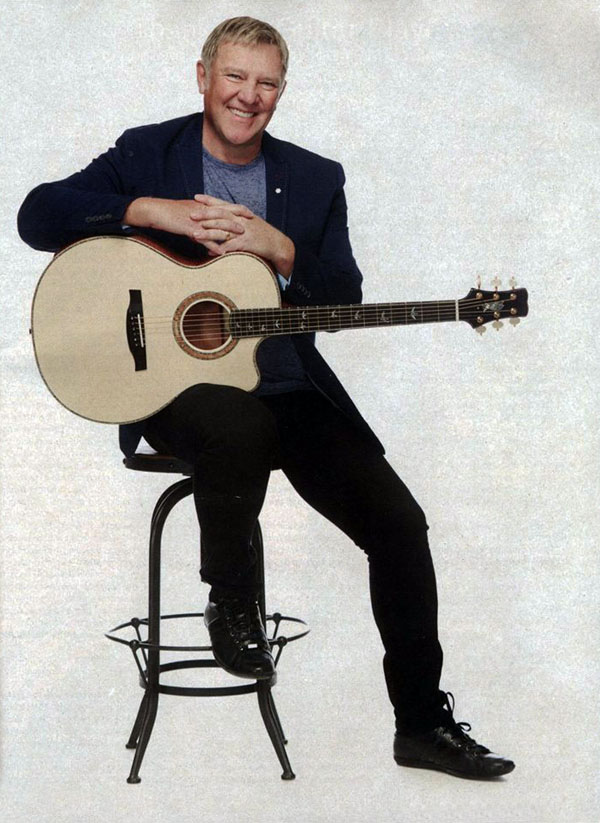 I'd imagine that at least one of the acoustics you keep out around home is your lovely PRS Private Stock signature model.
I have one that stays here all the time and another one that I keep at my country house, where I have another studio. One has koa back and sides, and the other has mahogany. The body is based on the Angelus Cutaway style, but I had it slightly tweaked because I wanted it just a little thinner. We worked closely together on all the finishing, trim, and detailing. PRS did an astounding job on the craftsmanship, and it sounds great. You can hear it on the last album we did, Clockwork Angels. We started with the Private Stock instrument and then worked very hard on creating an economical version, the SE Thinline. I wound up taking a few of those on the road. The SE versions worked great onstage because they sounded tight and didn't get unruly in a live setting.
Was the Fishman Aura in play on the R40 tour, and was there any other signal processing or amplification?
Yes, I'd run the guitar into the Aura and then straight to the house. I like to use the Aura to process the piezo pickup signals from my electric guitars as well. It helps the electric get very close to the sound of an acoustic-electric guitar, and that blended in with a heavier tone can make one player sound like two.
Do you tend to play parts the same way now as you did back in the day on a tune such as, say, "Closer to the Heart"?
Boy. I hope I play things the same, but that's not always the case. I'll think I am, and then I'll hear the original recording and realize. Oops! As for "Closer to the Heart" specifically, well, because Geddy uses his index finger with a funky little nail on it, he's up-stroking as he goes across that melodic sequence. So it's upstrokes with a pick when I play it.
What's your pick preference?
It all depends on the application. I generally use a medium pick, but I'll use a light pick if I want to hear more of the percussive attack than the actual note, and a heavier pick to hear more of the note. I'll often combine them when using acoustics in the studio. I'll cut a track of standard 6-string and then double it with another guitar in Nashville tuning. The combination sounds similar to the character of a 12-string, but there's also something unique about it.
What inspired you to start using Nashville tuning?
I must have read about it, because I remember thinking what a great idea it was to take the wound strings off of a 12-string. I think I started doing it right about when I tracked "Natural Science," and I've used a Nashville-tuned guitar in the studio as the go-to instrument for tracking up acoustics ever since. These days I use a Martin 12-string with the wound strings removed. I actually recorded a track for John Mayall using only the Nashville-tuned Martin because I didn't want to do the standard blues thing.
That's wild. It sounds like you're having fun being a studio cat.
I have fun taking most everything that comes my way, and it gives me something to do now that were not touring anymore. It keeps my fingers limber, and it's so great to play on other people's music. The reaction I get a lot is that I come up with parts they didn't expect to hear on their song. It's very satisfying to do that, and these days it's all done by sending files remotely, so I can work wherever I want.
Would you and Geddy ever consider performing stripped-down acoustic versions of your material?
Ged and I are best buds and we talk every few days, but we've never talked about that. He's been so focused on writing a big coffee-table book about basses, but it's almost done. I have a feeling that once he's past this and had a bit of a break, we'll do something for sure. I haven't stopped writing music. I know he's missing that. Whether we'll do something acoustically together, I don't know. I can't imagine we would go back on the road with anything, although it would be kind of nice to do some small theaters.
An acoustic duo without a huge production would be relatively easy, and an acoustic affair is missing from the catalog.
Yeah, from the legacy.