Andy Curran talks Coney Hatch Reunion, Steve Harris and Hemispheres Features Audiophile Surround Sound Mix, Music Videos, Rare Photos and More
By Jim Barber, MusicLifeMagazine.net, October 26, 2018
---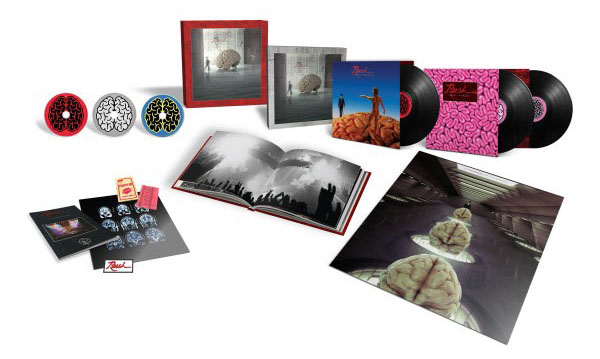 Fans of 1980s Canadian rockers Coney Hatch have one person to thank for the band's current reunion - Steve Harris. According to band co-founder/bassist/vocalist Andy Curran, the legendary bass player for Iron Maiden personally requested that Curran bring his former band out of mothballs for the first time in five years to open for Harris' side project, British Lion, during a short run of Canadian dates in early November.
It was an offer the members of Coney Hatch could not - and did not - refuse, as they are set to be the special guest for the British Lion tour which starts Nov. 1 at the Queen Elizabeth Theatre in Toronto, before consecutive shows in Waterloo, Ottawa, Quebec City, wrapping up in Montreal on Nov. 5.
"We remained in touch since back in 1983 when Coney Hatch toured with them. Steve and I became very good friends because we brought our tennis rackets out on the road and played a lot of tennis together, and that's what bonded us, not so much the bass playing stuff. Steve calls me lots of different times when he is in town, just casually, and a little while ago he called me up to tell me that he was coming to Canada with British Lion. And I thought that was amazing and asked when the shows were, and he said he hadn't booked them yet. So, I offered to help and asked if he wanted me to put him in touch with Live Nation. And he said, 'no silly, I want you to put the band back together,'" Curran said.
"It was a bit Spinal Tap-ish to be honest with you. He asked if we would be interested in doing some shows with him. I called the rest of the lads and got some very quick yeses in response. So, this latest reunion is solely because of Steve Harris because, really, we had no plans of playing any shows as it's quite an endeavour to get all the boys in Coney Hatch together - it's a little bit like herding cats."
Coney Hatch released three well-received and commercially successful albums in the early 1980s, starting with their critically-acclaimed self-titled debut in 1982, followed by Outa Hand in 1983 and Friction in 1985, before splintering prior to the end of the decade. Some of the band's best-known hits include Devil's Deck, Hey Operator, Monkey Bars and Girl from Last Night's Dream, which are still played often on terrestrial and satellite radio.
Besides Curran, the band's classic lineup also consists of guitarist/vocalist Carl Dixon, drummer Dave Ketchum and guitarist Steve Shelski. After Dixon recovered from a horrific car accident that happened in 2008 in Australia, the band got back together to tour and record their fourth studio album, Four, which was released in 2013. The tour for that album was the last time Coney Hatch toured. For the run with British Lion, Shelski was unavailable due to other commitments, and will be replaced by versatile axe master Sean Kelly (Nelly Furtado, Lee Aaron, Helix, Metal on Ice).
"We're more like weekend warriors now. If there is something fun and somebody calls us out of semi-retirement, then we will come out and do it. There was no real plan to play any more Coney dates, unless someone chases us down, and then we will do it. And in this case, it was an offer from Steve Harris that we definitely did want to take advantage of because we love him, and he is one of my closest friends still," Curran said.
"And it was interesting because after we accepted the offer, Steve said he wanted to come over for six days in total and play five days in a row. And we thought, my God we hadn't done that since were 19 and playing the Yonge Station for five days in a row or something like that. It will be interesting to see how we can manage that."
When word got out that Coney Hatch was getting back together, it led to more offers coming in. On Oct. 24, the band played in Calgary alongside Brighton Rock. After the British Lion shows, Curran and his bandmates will be heading to Germany to play the H.E.A.T. Festival on Dec. 2.
Getting back to the subject of the Iron Maiden co-founder, Curran said Harris and the other members of Maiden were aware of Coney Hatch because of the attention the band had received from the British rock and metal press, and because MTV in the U.S. was playing their videos in regular rotation.
"We were pretty excited back in 1983 when we found out that it was their request for us to be out on the Piece of Mind Tour, because they were actually fans of our band. They knew about us. We had a lot of press coverage in the U.K. in Kerrang and Sounds magazines, but we were still surprised to learn that one of the biggest metal bands at the time were fans, since their music is considerably heavier than ours. So, Steve was a fan of the band, but then in a personal level, it was the tennis thing that led to a lot of hanging out over the years. Any time they were in the general vicinity of us he would call and say 'Curran, you are one hour away from me, let's get rackets and you come out and play some tennis.' And it's been like that since 1983," Curran said.
"I have stayed at his place over in England and drank a lot of beer with him. There was just a mutual love of tennis and bass guitars and heavy music that's lasted all these years. As for the tour in '83, I think we were out with them for close to two months in Canada and the U.S. The bill was us opening, then Fastway [formed by former Motorhead guitarist 'Fast' Eddie Clarke] and Iron Maiden. It was arguably one of the two biggest tours we have ever done, along with the Screaming for Vengeance Tour with Judas Priest the year before. Both of those bands were really at the height of their careers at the time, playing to sold out arenas, which meant it was perfect timing for us to be part of both those tours."
Curran said the other members of Hatch are thrilled that there are not only lots of long-time fans still out there, but new fans of the band's music, who are often discovering the band through vinyl.
"It does make me feel good that there is such a demand out there to hear us, and that people still love the songs. But I can relate to that, because I got all excited when I heard that Michael Schenker, the guitar player from UFO and MSG was coming back to Toronto in early 2019. So, there's that emotional connection we all have with bands that we grew up with and who meant something to us. If we are to our fans like UFO and Saxon are to me, then that's amazing that there is still that connection. It's pretty special, because you sometimes can take it for granted and think 'well nobody really gives a crap about us any more.' And then you find out that they actually do," he said.
"And  have lost track of how many times I have met people who are much younger than we are who say, 'oh my uncle turned me on to your guys, or my dad.' The albums are getting handed down and are getting played again, and that's so cool for us. For the most part, the core of the people who are coming out to see us are people our age, but it's nice to see some of the younger folks discovering us as well."
In 1990 Curran released a self-titled solo album, earning a Juno Award for Most Promising Male Vocalist at the time thanks to the hit single Licence to Love, before embarking on a career mostly behind the scenes in the music industry as well as playing in the band Soho 69. He worked for many years for Anthem, the record label/publishing company that was the home of Coney Hatch, as well as label founders Rush and a number of other top Canadian acts, including Max Webster. He has since transferred to Ole Music Management after the purchase of the Anthem catalogue by the international publishing firm a few years back and has been on the forefront of a number of significant reissues, including a massive Max Webster package earlier this year.
At the core of the Ole reissue have been a series of 40th anniversary editions of Rush albums, starting in 2016 with 2112, and followed up last year with A Farewell to Kings. Later this year will see the issuance of a package commemorating the 40th anniversary of the Hemispheres album, which features Rush concert favourites such as La Villa Strangiato, The Trees and Circumstances.
There will be a variety of packages available, including a 2CD version, a 3-LP version and a super deluxe version that includes both the CD and LP versions, as well as a Blu Ray disc, hardcover book and exclusive essay, among other things. They are already available for pre-order at https://rushbackstage.com/dept/hemispheres-40th-anniversary.
"For Farewell, we had some younger artists contribute versions of songs for that album, including Big Wreck, Billy Talent and Foo Fighters. But this time we wanted to do something different, so we dug deep into the archives over here at Anthem and were able to come up with a really cool live concert almost in its entirety from the Pink Pop Festival in 1979. In terms of a choice of rarities, this was a recording where if you searched diligently you might have been able to find bits and pieces of it online from people who had recorded it. We worked closely with the Pink Pop Festival and a radio station and television station in the Netherlands that broadcasted it and got the full show. Which was really cool, because Elvis Costello was on the bill, and so were The Police - a very eclectic lineup in 1979," he explained.
"But part of 2112 had been clipped off, so we found a full recording of 2112 where I think it was recorded from the board, from the same Hemispheres Tour in Phoenix, Arizona. Then there was also a bunch of really great photos that the band gave from their collection taken during the recording at Rockfield in Wales. Rich Chycki also did a great job remastering the album itself in 5.1. I think that the fans will be happy with it. The new art and all the images in the package by Hugh Syme are beautiful. I grew up with this band and loved them and used to go see them at Massey Hall and Maple Leaf Gardens, and some of the photos we got from the band's collection to put in the booklet excited me, so I know they are going to make a lot of fans happy."
As a true fan of Rush, Curran takes the job of compiling and re-releasing material very seriously, because he knows first hand the loyalty of the band's fans and the high standards to which Geddy Lee, Alex Lifeson and Neil Peart wish their legacy to be persevered. But it's also boatloads of fun being able to metaphorically and even literally root through the attic of your favourite band, finding hidden and long lost gems.
"There are times when I am literally pinching myself because, first off, I can't believe I am actually working with these guys, and secondly that they trust me with it. It's like being part of their inner circle. And then it's so amazing to find something that no one has ever seen or heard before. When you find something the is unique and special, it's very cool. There is some visual stuff that I am going through right now, that they documented during the time when I was literally a kid buying tickets and going to see them. One of the reasons I bought a Rickenbacker was because of Geddy Lee. My God, its like being a kid in a candy store at times," he said.
"My job is to make sure that we keep the integrity of what that band did and deliver first class stuff. Anything I find always has to go back to those guys for approval. Recently I found a recording from a hotel of something they did and Geddy looked at me after hearing it and said, 'the world can never hear that.'"
There will not be a 40th anniversary Rush re-issue in 2019, with the next one come in 2020 with a Permanent Waves package, but Curran said his boss at Ole, Robert Ott, has lot of projects for him, including a remastering and re-issuing of the first Coney Hatch album, and a possible second Max Webster package.
"There is also some talk about potentially doing an Anthem Records box set to celebrate four decades of the label. People may have forgotten some of the other artists they were involved with, whether it was B.B. Gabor, or Wireless or Ian Thomas or Larry Gowan, Bob and Doug McKenzie - there are so many cool things from that catalogue. So, we're deep into discussions about celebrating Anthem Records too."
For more information on Coney Hatch and the tour dates with British Lion, visit http://coneyhatch.com.
Jim Barber is a veteran award-winning journalist and author based in Napanee, ON, who has been writing about music and musicians for a quarter of a century. Besides his journalistic endeavours, he now works as a communications and marketing specialist. Contact him at jimbarberwritingservices@gmail.com.