Rush's Hemispheres at 40 Years Old: A Peak of Prog Ambition
A Look Back At The Canadian Trio's Sixth Album, Which Has Received A Deluxe Reissue
By Saby Reyes-Kulkarni, Consequence Of Sound, November 16, 2018
---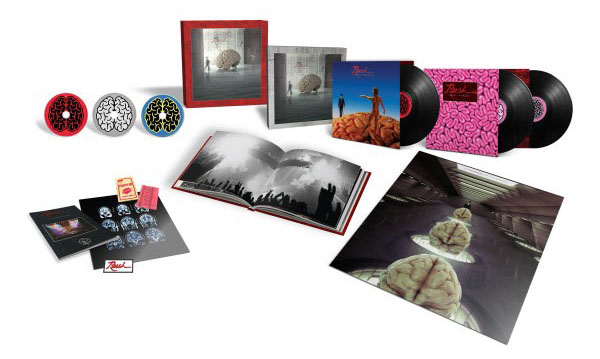 Arguably the peak of Rush's technical ambitions, 1978's Hemispheres captures the iconic Canadian trio of Geddy Lee, Alex Lifeson, and Neil Peart drawing as much as they ever would on sheer musical ability and compositional chops. By May of 1978, a month before recording was set to begin on Rush's sixth studio album, all three members of the band had achieved such a high level of mastery on their respective instruments, not to mention their collective playing that they saw fit, for the first time in their career, to begin working on an album without the benefit of having any material prepared. Unsurprisingly, making the album proved to be an arduous task, even for a band as diligent as Rush.>
"We expected we would have material written by the time we got there," Lee explained to Bowman this year. "But, as it turned out, we did not have any material written - nothing. We had some ideas in our head that we had talked about but we didn't think it was going to be that difficult. It was the most unprepared we'd ever been for an album."
Nevertheless, Hemispheres - originally released on October 29, 1978 - showcases the band pushing itself further into the multi-part suites that had by then become its trademark. Though Lee, Lifeson, and Peart did sequester themselves for three weeks to write before they recorded a single note, it's still astounding to contemplate what they were able to achieve, especially considering that, in June of 1978, Peart had been with the band just shy of four years. Moreover, Rush were at that point still recording complete takes of bass, guitar, and drums together as a trio - essentially "live in the studio" - before adding other touches. And for all that the album might be viewed as the epitome of progressive rock excess, sonically speaking the band and producer Terry Brown took a fairly direct approach.
Along with the expansion of their musical scope, all three members were also amassing a lot more gear. It's easy to lampoon the image of Peart awash in cymbals and percussion elements like tubular bells, chimes, and a great big gong; likewise for Lee and Lifeson's increasing arsenal of synth pedals. In the liner notes, Lee is quoted as referring to his then-new Oberheim 8-voice synthesizer as "a giant white elephant sitting in the middle of the studio." But the fact is the band actually showed a great deal of restraint in employing extra touches as textural, rather than featured elements. Listeners can now take-in the full ambience of the music thanks to a remastering job that beautifully serves the original mix, the grain and depth of which had been all but lost in a flat, lifeless transfer to cd.
With the sound of a chorus-soaked F# chord that has become instantly recognizable to fans, Hemispheres begins audaciously with the epic, 18-minute title track. As Bowman points out,  the song "Hemispheres" (or, full title: "Cygnus X-1 Book II: Hemispheres") unfolds more like a classical piece than anything in the British-rock inspired tradition that the Canadian trio cut their teeth on. Two years and two albums earlier, Rush famously opened their fourth LP, 2112, in likeminded fashion, but the band outdoes itself here by exercising a heightened awareness of pacing and dynamics. And though the "Hemispheres" suite is far more repetitive than the "2112" suite, the band sustains the listener's attention over a series of peaks and valleys, the expanse of the music seeming to stretch all the way to the horizon in a way we hadn't quite heard from Rush before.
Bowman has written voluminously about soul music, country, and rock, even garnering multiple Grammy nominations for his liner notes. He makes a debatable choice in referring to Rush's late-'70s sound as "progressive metal," but semantics aside, the attention he pays to the mechanics of the music on Hemispheres is bound to delight listeners who want to dive in and try to attempt playing some of this stuff on their own instruments.
One can spend hour after hour, even month upon month, poring over the intricacies of this music. As Bowman writes: "Rush deployed what had now become the standard conventions of their composition strategy; multiple key signatures, ambiguous tonal centers, tritone relationships, shifting meters (at various points in the piece they play in 12/8, 9/8. 7/8, 5/4 and 4/4), multiple themes that reoccur at significant distances often in different guises, substantial changes in dynamics, atypical melodic patterns, and the juxtaposition of Lee's rich baritone and strained counter tenor voices, all executed with virtuosic, extraordinarily precise musicianship."
Indeed, the band was already taking that precision to places it had never explored before, delving into flamenco and jazz on the nine-minute album-closing instrumental "La Villa Strangiato." And at the conclusion of touring in support of Hemispheres, Rush would dramatically change direction in pursuit of more concise musical statements. With 1980's Permanent Waves, the band would reinvent itself as something of an FM radio-friendly mainstream rock act with a newfound love for keyboards. In obvious ways, Hemispheres marked the end of the line for Rush as avatars of progressive rock in the textbook sense. Peart would re-invent his outlook as well. His use on the "Hemispheres" suite of Greek mythology as a vehicle for illustrating the universal struggle between heart and mind is the last stand he would take in that literary style, and the personal tone of his lyrics on Permanent Waves can come across as a shock after immersing oneself in Hemispheres.
For the band as a whole, though, the change may have been final, but it wasn't necessarily as drastic as it might seem. Hemispheres and Permanent Waves can be viewed as inverse mirror-images of one another, each containing a balance of longer, segmented pieces and shorter, catchier tracks that emphasized musicianship. In any case, Hemispheres remains a pivotal work in already illustrious history filled with milestones.
In the new deluxe anniversary edition, the archival live material  - a full show from the band's appearance at the 1979 edition of Holland's Pinkpop festival and the "2112" suite performed in Tucson, Arizona in 1978 - offers fleeting glimpses of spontaneity, such as when Lee and Lifeson can be heard messing around with their synths, producing strobe-like Moog sounds that offer fresh flavors on songs fans have known for decades off the band's more definitive/official live albums.
The Pinkpop performance gives us a chance to hear Rush deliver a compacted setlist in a festival setting, but the omission of the entire "Hemispheres" suite is a curious one considering the band never played it in full again after 1979. (Perhaps no suitable recording was available? The same show that this version of the "2112" suite is lifted from has been floating around for years as a decent quality board-taped bootleg, but the "Armageddon" section of the "Hemispheres" suite is faded out. Other complete shows from that same run are posted on YouTube.) All in all, though, fans who don't already own an early vinyl pressing would do well to consider the remaster quality of the deluxe edition worth the price of admission alone.