Review: Rush's 'Hemispheres' Reissue Celebrates Band's Prog-Era Peak
Expanded Edition Of The Band's Brainy 1978 Classic Features Intense Live Material And Illuminating New Liner Notes
By Hank Shteamer, RollingStone.com, November 16, 2018
---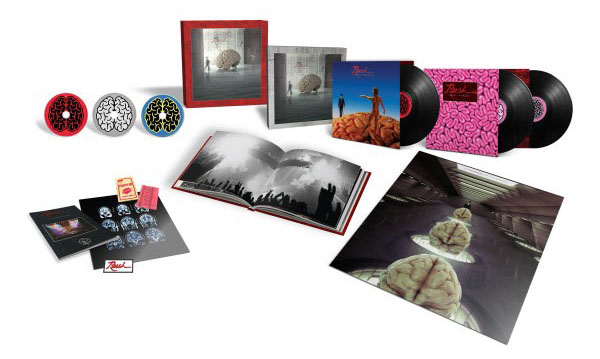 As Geddy Lee put it in a recent Rolling Stone interview, Rush's Hemispheres signified "the end of a thing." That thing was the band's high-prog period, marked by grandiose, album-side-filling tracks. This phase lasted just three short years but produced some of the greatest-ever examples of the style. If 1976's 2112 was the band's fiery eureka moment, Hemispheres - Rush's sixth LP, released in October 1978 - was a mature masterpiece.
This expanded 40th anniversary reissue keeps the focus on the album itself, included on both CD and LP, while adding illuminating context in the form of a contemporary live set, a new 5.1 surround-sound mix on Blu-ray, extensive liner notes featuring new band interviews and candid session photos, and replicas of a tour-program and other memorabilia from the period. The whole thing comes packaged in a fresh design by longtime Rush collaborator and original Hemispheres co-art director Hugh Syme that riffs on the album's quintessentially over-the-top cover art showing a nude man standing atop a giant brain.
Much as with 2112, the album's centerpiece is its multipart Side One suite, "Cygnus X-1 Book II: Hemispheres," a sequel to the final track from 1977's A Farewell to Kings. "Book I" left off with a poor space traveler getting sucked into a black hole; here, improbably, he emerges as a "God of Balance," mediating between Apollo and Dionysus in a struggle for the soul of mankind. As overblown as drummer Neil Peart's narrative might seem on paper, the musical accompaniment is some of the most tasteful and well-paced of Rush's early career: Moody melodic passages break up the song's mathy breakdowns, triumphant verses and ecstatic shredding from guitarist Alex Lifeson, and acoustic coda "The Sphere (A Kind of Dream)" brings the whole thing to a beautifully serene close. Given how well the piece flows, it's downright shocking to consider, that it came together last minute, with the band still writing music and lyrics during the actual session - a scenario recounted in depth in Rob Bowman's liner notes. "It was the most unprepared we'd ever been for an album," Lee confesses.
Part of Hemispheres' greatness lies in its consistency; there's no drop-off whatsoever once the title opus ends. "Circumstances" compresses the band's trademark anthemic prog into a dazzlingly dense four minutes; "The Trees" tells a fable-like story of intolerance, with an environmentalist twist; and "La Villa Strangiato," an episodic instrumental inspired by Lifeson's dreams, puts the band's legendary chops and rhythmic daredevilry on glorious display. ("It was definitely, 'Fuck the heavy concept, let's have some fun,'" Lee says of the inspiration behind the latter piece, which, as Bowman points out, quotes a 1937 Raymond Scott theme used in Looney Tunes cartoons.)
The audio on the set - a 2015 Abbey Road remaster that appears on CD for the first time here - is top-notch, though not necessarily a significant improvement on past editions, since Hemispheres was always one of the band's most crisp, full-sounding Seventies sets.
The live material, drawn mostly from the band's appearance at Holland's Pinkpop Festival in June 1979, has an appealing scrappiness that complements the album's airtight virtuosity. And it's fascinating to hear proggier material like Farewell's "Xanadu" and a stunningly intense "La Villa" - also seen in the package's bonus video footage, much of which fans will recognize from the excellent 2010 doc Beyond the Lighted Stage - alongside straight-ahead rockers like "In the Mood," from Rush's self-titled 1974 debut. As for as the Hemispheres title suite itself, the Pinkpop set features only a brief version of "The Sphere." A live rendition of the title suite, which the band played on tour in 1978, would have been fascinating to hear; still, the set does tack on an barnstorming complete version of earlier epic "2112" from a November 1978 Phoenix, Arizona, show. (As Lee told Rolling Stone, all of Hemispheres was written in "an awkward key," making these songs a serious challenge to pull off live.)
After Hemispheres, Rush would make a major directional shift, streamlining their songs and toning down their albums' geeky conceptual sprawl - and finding an enthusiastic mainstream audience in the process. But as this reissue drives home, Hemispheres wasn't just "the end of a thing" for Lee, Lifeson and Peart; it was also an early-period peak for a group that still had many to come.