The Classic Rock Interview: Geddy Lee
For almost 50 years, all the world really was a stage for the bassist/vocalist with prog giants Rush. Away from the spotlight he's a family man, a serious collector - wine, basses, baseballs - and, most recently, an author. He is, without doubt, one of rock's greatest.
By Philip Wilding, Classic Rock, December 2018, transcribed by John Patuto
---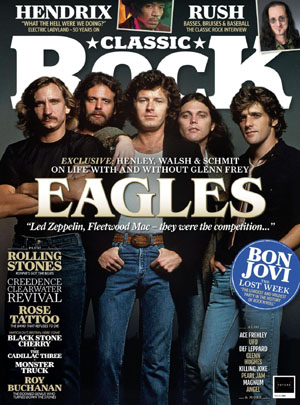 Le Studio, in the Laurentian mountains in Quebec, Canada, where Rush recorded some of their biggest-selling albums - everything from 1980's Permanent Waves through to Counterparts some 13 years later - has long gone. In some small part though, it lives on. Take the curve of metal stairs down to Geddy Lee's basement studio (where he and Alex Lifeson wrote and demoed the bulk of the band's final few albums), and there hanging on the wall among an array of guitars and basses, some box-fresh, others looking somewhat trashed, hangs a Fender Jazz bass that has small gouges in the pale body and looks like it was pieced together from different bits of wood. Lee takes it down off the wall and points to the 'Le Studio' imprinted into the headstock. A lot of the guitars in this room have stories, and this one is no different.
"About six months ago, Scully [Lee's bass tech] called me up and told me to get Alex [Lifeson] to the house, and turned up with these two guitar cases. We open them, and there's this bass, and a Telecaster for Al," Lee says, plucking absent-mindedly at the strings.
"A guy called Mike Bump and the Fender Custom Shop put them together for us. He'd heard from an old studio employee about these pieces of wood that came from the door to the sound room in Le Studio, and he took it upon himself to fashion these guitars out of the old doors for us, and he did a pair of drumsticks for Neil [Peart] too. It was a very emotional thing. We were really surprised, and all these memories of recording in that studio came flooding back. Alex used the Telecaster for a session he did recently for John Mayall [a song called Evil And Here To Stay], my bass was the last guitar to make my book [more on that later], I snuck it in them at the last minute."
---
It's been three years since Rush walked off stage at the LA Forum in Inglewood. That afternoon, rumours had circulated around the London Hotel in Hollywood that for the first time Rush drummer Neil Peart had asked that his live drums be shipped back home after the show, as opposed to the band's storage space in Nashville. That night as Peart stepped off his drum riser at the end of the show and snuck up on his unsuspecting bandmates and hugged them, as opposed to fleeing into the wings, there was more than a little suggestion that the band's time was up.
These days Peart is enjoying some kind of splendid isolation at home in California, where he's said to be working on a book of his own. Guitarist Alex Lifeson, who isn't sitting comfortably unless he has a guitar in his hands, has guested on numerous projects ("Alex is a cheap drunk, he'll play with anyone. I'm not so cheap," Lee says with a grin).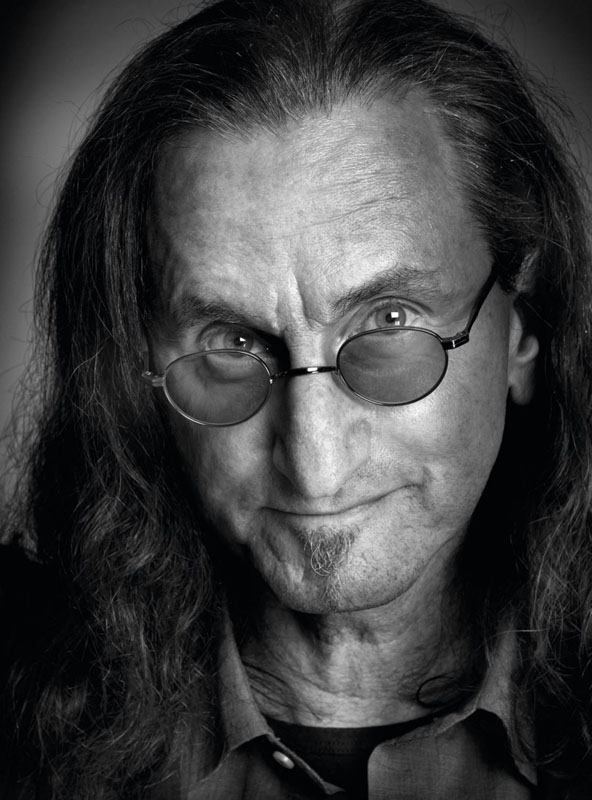 In the past few years Lee has been working on the expansive Geddy Lee's Beautiful Book Of Bass. A hefty (drop it on your foot and you'll known about it), lavishly illustrated and beautifully photographed book about the idea of collecting, the history of the bass guitar, and interviews with some of Lee's musical heroes. But it's so much more than that. The instruments he writes about echo Lee's musical journey; mention a certain model and he's transported away to a studio or tour that inspired him, or a store front where a guitar once hung and the young Lee stood staring through the window, determined that one day it would be his. Look around his basement studio now and you realise that he must have stared into quite a few music-shop windows in his time.
Remarkably, you've only been collecting bass guitars since 2012, but you've always collected, haven't you?
All my life: wine, baseballs, art, stamps! For me, these things, these obsessions are windows into time and culture that goes beyond the thing you're holding in your hands, a guitar can tell you a little something about the history of California in the 1950s, or what were The Beatles doing in Hamburg when they walked into a guitar store and saw a certain model on the wall and changed the world. I look at wine and baseball and art and music and craftsmanship as things that have an aura about them that resonates more than the thing itself, and I think that's what I've always found fascinating.
Talking of guitar shopping, you picked up one of your most enduring and familiar basses in a pawn shop.
My Fender Jazz bass, my main one, yeah. I got it in a pawn shop in Kalamazoo, Michigan in the middle seventies. I never owned a Jazz bass before that, and I wasn't a pawn-shop guy. My tech at the time, Skip, had a day off. We walked into this one pawn shop, and there was the bass hanging on the wall, a cigarette mark on it, two hundred dollars, no case. The guy threw in a cardboard case and I walked away with this Jazz bass, which, all these years later, has been my main man for quite a long time after my Rickenbacker period.
When people think of Geddy Lee, a lot of them think of the Rickenbacker bass - and usually a twin-neck.
Ha! That said, the first real bass I bought was a 1968 Fender Precision. That was the bass I made the first Rush record with, and that was the bass I played in all the bars. Whenever you see those old, prehistoric pictures of me, you know, waistcoat, no shirt, that's the bass I'm holding. That did me until Alex and I got our first ever advance money. That was on Fly By Night ['75] We went straight down to the big music store here in Toronto and I bought a Rickenbacker, literally the first day I could buy one.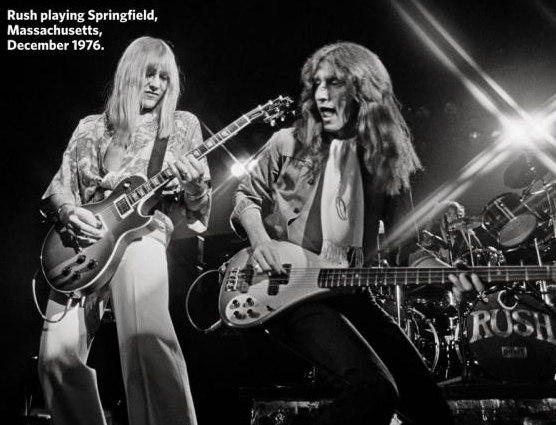 You broke quite a few hearts when you stopped playing those.
I still love their sound. But they were tools back then, and I was having problems on Moving Pictures getting the sound I wanted out of one of my Rickenbackers - it was for Tom Sawyer, actually - so I pulled out a Jazz bass that I'd bought and never used. And a light bulb went off, so I ended up using it for a couple of songs: Tom Sawyer and Vital Signs. Rush were always looking to stretch our sound. I was the same. Until I went back to Fender on Counterparts I was dabbling with Wal basses, Steinberger basses, the headless ones, though that went when my mullet went!
The Rickenbacker was a nod to one of your musical heroes: Chris Squire of Yes.
Certainly was. The only band I ever camped out overnight to get tickets to see - and in Canadian weather!
And years later, in 2017, you and Alex get to induct Yes into the Rock And Roll Hall Of Fame, where you played bass with them on Roundabout. What a thrill.
Absolutely. And it was the first time I'd been on stage since R40 [Rush's final tour, in 2015] That's very primal stuff there. Chris Squire and Yes were so important to me, just like The Who, and to be asked to play this pinnacle song, one of the songs that changed my life, I had to do it. And I had to practise to do it too, to make sure I didn't fuck it up. It's not an easy song to play. But it was a great memory for me and a personal tribute to Chris Squire and Yes.
You mentioned The Who and Yes, but there was another British band who were very important in your musical evolution: Cream.
For me they were really the first band of extraordinary musicians that came together, they were the first group of pure virtuosity. I mean, they were the first supergroup to me, and it was a three-piece too - the perfect model. And in our early days playing in the coffee houses and drop-in centres we would feast on Cream songs for days because of the playing, it was all about that. The songs were great, but they always had moments of jamming. A song like Spoonful, you could jam on that for days. There wouldn't be a Working Man without Spoonful. You take songs like that and albums like Who's Next, with John Entwistle's playing. That is one of the most important records to me in my life.
We kind of fashioned ourselves after Cream, really. We were fans of John Mayall's Bluesbreakers and that whole English scene, so we did the same thing, talking old blues standards like Born Under a Bad Sign. We were just imitating our peers and, of course, the cover songs were always more popular than our badly written originals.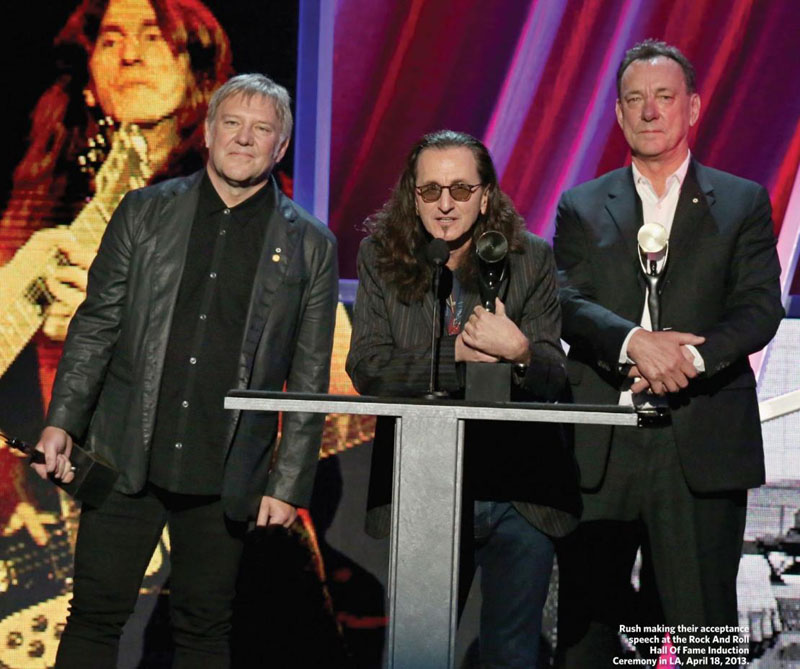 How did Rush go down live in those days?
We were not well received! Canadians are largely apathetic, so we would be playing and they wouldn't boo or anything, but they wouldn't applaud either, which is sort of odd. We just figured it was another gig, another pay day.
Did it pay much?
It paid for our gas and enough money to get a meal.
Did you eventually have to ditch the covers to get accepted as a 'real' band?
Quite the opposite, we had to increase the covers to get hired into bars, and that was kind of a life or death thing otherwise we couldn't go forward. And at that point none of us was paying attention to school any longer, so you put all your chips in. We used to do like a twenty-minute version of Roadrunner, the old Motown standard. Alex would show off as usual, all the histrionics, and it was one of early Echoplex solos a la Jimmy Page. I think we played Suffragette City by Bowie and that became a big closer for us. So we dotted the set with enough covers to keep the bar owners hiring us, and in between we would slot our inferior, original blues-rock tunes, and that's how we lived for a couple of years.
As a teenager you saw Cream at Massey Hall, the venue where, over three nights on the 2112 tour, Rush would eventually record All the World's A Stage.
I went alone, too. None of my friends wanted to see them, can you believe that? I remember saying to them: "I'm going; you guys are idiots!"
Sadly, the book came too late to interview Cream bassist Jack Bruce or John Entwistle.
Any of those heroes, Jack Bruce, John Entwistle, Chris Squire. That said, I don't why I never reached out to Jack Cassady [Jefferson Airplane/Starship], because he would have been a fascinating interview and he was one of my earliest heroes and I feel like I didn't do him justice in the book.
When you were talking to people for the book, how did it feel being on the other side of the interview?
I really wish that I had allowed for more of those interviews, because they were the most fun part for me, but I ran out of time and pages. I was fortunate enough to get away with 408 pages on bass guitars! But I do wish I'd done more of them.
You asked people to bring basses to the interview. Why was that?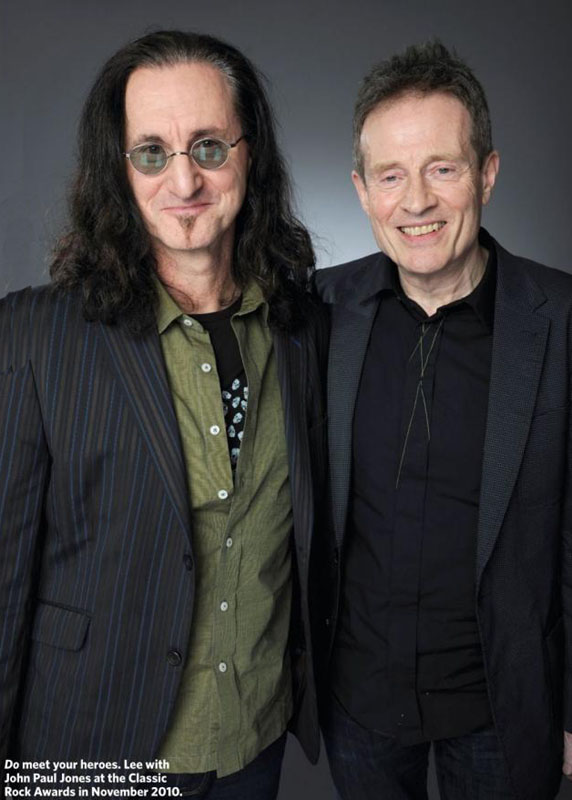 I would reach out to people with a specific thing in mind. Like I knew that John Paul Jones is a profoundly important bass player in my life, but he's also a pre-eminent example of the '62 Jazz bass playing. Listen to all those early Zep records. He said to me when he arrived for the interview that he didn't still have his first bass, but he found one that was identical and he brought it. And that's what I was after with these guys. I wanted to know about where they started, but I also wanted to know what they were passionate about now.
I loved their stories. I loved listening to Bill Wyman tell me about when he was a kid and his sister would take him to these dances, and she would be dancing and he would sit there and listen to the band. Or John Paul Jones talking about the first time he heard the bass in some seaside town, and it was booming out of some speakers. Or someone just gawking in the window of a store looking at a Fender bass and wishing one day they would be able to buy one - just like I did.
That said, your first guitar wasn't even a bass.
It was an acoustic guitar with palm trees on. I was very young, and I talked my mother into letting me buy it from my neighbour. The first song I learnt how to play on it was For Your Love by The Yardbirds. And then I figured out Pretty Woman - great guitar part. But I wanted to be in a band. The band of morons that I was hanging out with at the time, the bass player's mum wouldn't let him hang out with us, so we lost him and they all voted me in. I begged my mum to loan me thirty dollars so I could get this thirty-five dollar bass at the local store. It was a Canora model, Japanese made, sort of a cheap copy of a Fender bass; I guess the die was cast.
Let's talk about one of your other loves, baseball. Your collection takes up about as much room at home as the basses and bottles of wine you collect. When did you first pick up a baseball and think: "I need another four hundred of these."
Ha! I was a manic baseball fan, but it never entered my mind to collect. I had a friend who worked in the clubhouse for the Toronto Blue Jays, and every year he would give me a set of the American league teams. They all come through and they sign for the club staff, and he would stash these balls and every year I would get a set. This started in the late seventies. Then I thought it'd be cool to get a [1920s/30s baseball legend] Babe Ruth-signed baseball, because he was this icon in my mind. So I called up this collector that I'd met and asked if I could buy a Babe Ruth ball, and I was like: "Wow, it's that much money?! I don't know about that." Eventually I did buy the baseball, and then you start thinking what are the other great players it would be cool to have, and that's how it starts. And forty years later you have a room full of baseballs.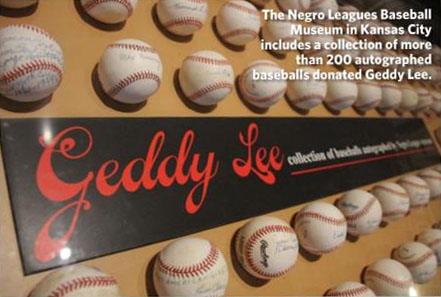 Not least your cabinet filled with baseballs signed by presidents and world leaders.
I have four baseballs that were signed by JFK. There was a baseball up at auction from the opening game of 1961. The US president shows up, they sit in the stand, and they would toss a ball out on to the field. The player would catch it, go to the president, the president would sign it, and in this case Lyndon Johnson signed it too and the player signed it. And it was up for auction. And I thought, what a cool, American memento, so I bought it.
Then, fast-forward thirty years, and I see one going for auction, and I'm like, wait a second, I have that, how can it be?! So I read up on the game. And him being the true Democrat that he was, he didn't feel it was right to throw out a ball to just one team, he threw one out to a member of both teams, so there were actually two opening day pitches. Of course, I had to have it! So I bought it.
In moments like that, do you ever hate your 'collector's gene'?
Yeah! Collecting isn't always easy. I say this to people: once you get past the point of dabbling and admit that you're a collector; then the collection must be fed! Otherwise, what is it? It's just a bunch of stuff! Pick a particular thing and make that a valid use of your time and resources. Listen to me... [trails off, laughing helplessly].
Talking about first pitches, you once threw out the first ball for your beloved Blue Jays.
I practised for that more than you will ever know. In 1993 I got asked to sing the anthem at the all-star game in Baltimore at Camden Yards, so I did that. It was a nerve-racking experience, eighty million viewers. According to Alex I sang the slowest rendition of the Canadian national anthem ever to be publicly performed. As I said to him, I was trying to get the most out of my screen time, dude.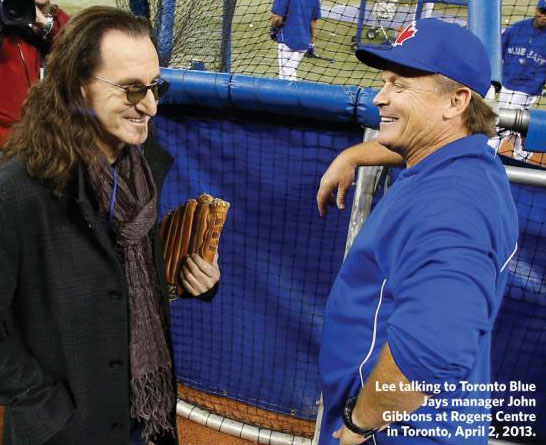 Then around 2000, Rush were on tour and the Texas Rangers asked me to throw the first pitch. Alex came with me, and I threw out the pitch and Alex was the catcher. So here we are, a crowd of Texans just starting to get into the stadium, and there are these two long-haired guys on the field, you know, what the hell are they doing there? So when Alex catches the ball, he jumps up like it's the final out of the World Series, and he runs at me and he tackles me on the mound. All these good old boys from Texas are sitting there going: "What the hell's going down on the field there?!" I'm surprised they didn't run us out of town.
So I'd done that and lived, but I'd never done it for a home game before. I used to throw three innings' worth of pitches backstage every night before a show. That was until I got a sore arm and I couldn't play bass. So when the Blue Jays asked me, I was thrilled, but I was more nervous than I ever get before a show.
I went out, did my thing, threw a curveball, got a strike and I was really, really pleased about that. I've been asked to do it since, but no way. What do you want from me?! My major-league career says I threw a strike!
And what about wine? We've got £50 to spend. Which one bottle of wine should we buy - not to collect, but to drink - and why?
Well, that's a good question, and of course it depends on your taste. But for a red wine, and for my tastes, I would try and purchase a good Beaujolais Cru from Lapierre or Foillard. Great, food-friendly wines and reasonable. For a white wine I would look for a nice Sancerre from Francois Cotat.
Going back to the day job, what's next for you and your music?
I'm going to start going down to the studio and start using all those basses that are staring me in the face and see what happens. I'm not going to promise that I'm going to do a record, this is the way I look at life right now. I kept my family waiting for me for forty-two years, and I'm not doing anything ever again that keeps them waiting. I owe it to my beautiful, fantastic wife to be with her when she can stand me being with her, and I owe it to my grandson to be around and my mother now that she's older, and my kids. So that's my first priority right now. But I still love music and I think I still have something to say, but I won't know that until I start banging away downstairs. If I start banging away and it feels like I have something valid to put out there, then I'll go ahead and follow that dream. Well, with my family's permission.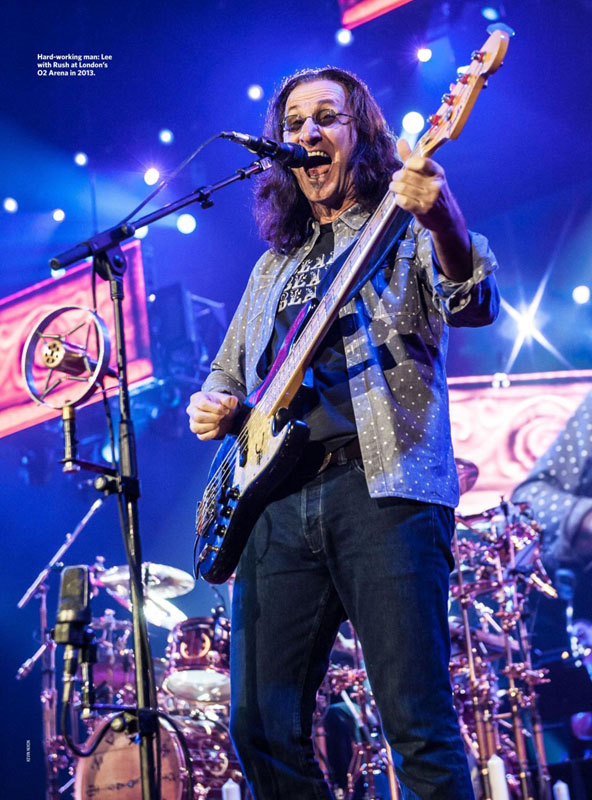 How has the time since the R40 tour ended been for you? When did you admit to yourself that Rush was over?
The first few months afterwards, you're just sort of basking in the post-tour glory; it was a great tour, it was a fantastic memory and the last gig was quite emotional. I would say I was a little emotionally bruised for a few months. But of course I had the comfort of my fabulous wife, and we just set off doing what we do: travelling, walking, me enjoying the family. I don't know when it came to me that we wouldn't return. I sort of suspected when we finished that we were really finished. I guess I held out some hope that maybe that wasn't so, but I think over time I just got used to the idea, and over time I started to understand that for Neil to leave was the right decision for him. Since then we've remained friends and we talk all the time. But the first few months I think were difficult, and now it's not difficult. I still have moments.
I think the book was a fantastically stupid idea for me, it was a ridiculous project. But my life has been ridiculous, and there are so many things about the way I live that are extreme, and yet at the same time I'm a pretty down-to-earth person. But I have these manias and these obsessions, and in. many, many ways doing a book was a kind of obsession therapy for me. I mean that in a good way, I think.
On the upside, Clockwork Angels was a great album to end on.
But I didn't think it was the end!
And finally, when were you happiest in Rush?
I've never thought it like that before, but I can tell you that ever since we came back after Neil's terrible tragedy with his family, and having had those five dark years we were away, every tour I did with Rush I savoured. I would say that period from coming back after Neil's tragedy to the very end were really the golden years for me. I felt like I appreciated every gig, every note that we played. The camaraderie that the three of us had, I never took it for granted, not one day. So I would say that was my happiest time in Rush.