Geddy Lee On His 'Big Beautiful Book Of Bass' And The Future Of Rush
By Gary Graff, Billboard.com, December 14, 2018
---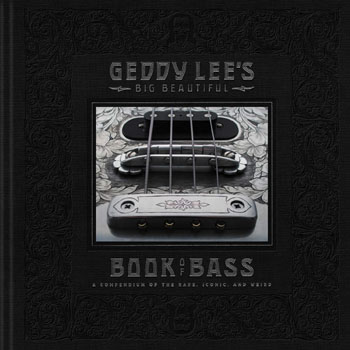 Rush's Geddy Lee has been a collector of many things in life - from stamps and baseball cards to vinyl records and wine. He did not, however, build up a stockpile of his own instrument, the bass guitar, until the past few years. Now, Lee's whole-hog immersion, with a collection of more than 200 pieces, provided the impetus for the new Geddy Lee's Big Beautiful Book of Bass, wwhich publishes on Dec. 18.
"I got caught by the bug and I started falling down the rabbit hole," Lee tells Billboard. His first step was the purchase of a Fender Precision bass from 1953, the year he was born, which "sort of put me in a reflective mode on the heroes that I had growing up and the kinds of basses they used and what else was going on at the time." A "modest goal" of accumulating maybe a dozen basses turned into a mania, but it further piqued Lee's historical curiosity.
"I realized there wasn't a sort of definitive book about the bass guitar," he says. "I felt the bass guitar was not only under-represented in terms of books, but the beauty of some of these instruments has never been properly captured. So that's when the idea of the book sort of came to me...as not only a rationalizing for why I collect all these basses but also perhaps a useful reference book for people looking to find a particular bass."
The 408-page, coffee table-style tome is certainly a treasure trove for any fan of the four-stringed (and occasionally more) instrument. Lee documents the history and characteristics of his basses, from mainstream Fenders, Gibsons and Rickenbackers to more obscure and lesser-known grails that pop up in his collection. The best part for Lee, meanwhile, was interviewing other players and collectors, including the Rolling Stones' Bill Wyman, Metallica's Robert Trujillo, U2's Adam Clayton, Primus' Les Claypool and Wilco's Jeff Tweedy, among others.
"Using this idea of the book as a calling card and some of those conversations became my favorite moments in the making of this book," Lee recalls. "I just liked the vibe of talking to these guys, other bass players and other people that have the disease of collecting and I loved hearing the stories. I just liked the vibe of talking to these guys because if you look at my history as a musician, being in the same trio for 40 years, it's a very small world. I'd come into contact with other players on tour, but in the last 10 to 15 years of my touring life we had no opening act, so the opportunities were limited. So it was nice to have the community of musicians open up to me in a different way. That connection was great."
Lee says meeting Wyman was particularly thrilling, though he discovered that the retired Stone "has so many outside interests the last thing he wants to talk about is the bass guitar, so I had to keep bringing him back to the reason I was sitting there with him." And while Tweedy's inclusion may raise eyebrows, Lee affirms that he, too, is "a fantastic collector of everything...And people forget he started off as a bass player, too."
Lee acknowledges that he put his own music-making aside to dive into the book, but with its publication at hand he's now ready to strap his bass back on for creative purposes. "I haven't really had brain space to look at doing any music," Lee notes. "I was playing (the basses) all the time and trying to keep my fingers sharp, and every once in awhile I would throw some riffs down on tape and walk away from it. So after I finish the promotion of this book I will figure out what my next step is going to be. I do miss playing, and I miss playing with my bandmates."
But other than checking off on archival projects, don't expect Lee to wind up doing anything musical with Rush mates Alex Lifeson and Neil Peart. "I would say it's highly unlikely," he notes. "Neil has retired and has no interest to play anymore. Alex and I...it's possible. We'll see. I'm sure something else will come along for me to do."