For Geddy Lee, It's All About The Bass
In an interview with uDiscover Music, Geddy Lee talks about his ?Big Beautiful Book Of Bass' and the musical heroes he'd loved to have played with.
By Mike Devlin, Times Colonist, May 18, 2019
---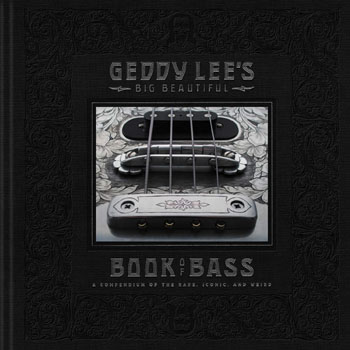 What: Geddy Lee
Where: Bolen Books, 1644 Hillside Ave. (in Hillside Centre)
When: Wednesday, 7 p.m.
Tickets: $93 plus GST from bolenbooks.com (ticket includes a copy of Geddy Lee's Big Beautiful Book of Bass, which the author will sign)
Geddy Lee paid the same amount of attention to his first book as he did to every album during his more-than-40-year career with rock band Rush. Which is to say that little about the history of the electric bass guitar was left unexplored.
The Rock and Roll Hall of Fame singer and bassist is the definition of detail-oriented, and the progressive rock opuses he made with longtime bandmates Alex Lifeson and Neil Peart were a product of their shared passion for compositional complexity. As an author, Lee is no less scrupulous.
"I'm probably more pleased with this than I was with any Rush album after I finished it," Lee said in an interview with the Times Colonist this week. "I was so fraught with worry about being boring or being long-winded or not doing the instrument justice. But when I saw the first copies come off the press, I was really thrilled. Usually when I finish an album, all I see are the things I felt I failed at musically. I didn't feel that way with this."
Lee, 65, discovered after submitting the first draft of Geddy Lee's Big Beautiful Book of Bass to his editor that the publishing industry does not always share the same go-big-or-go-home philosophy. He was politely asked to reduce the coffee-table book's initial 845 pages to a more reasonable number, which meant a couple of weeks in New York working with HarperCollins.
"It was the longest manuscript my editor had ever received," Lee said with a laugh. "We eventually got it to 408 pages, which seemed like a miracle, but it was actually the right decision, I think."
Lee's collaboration with co-author Daniel Richler and photographer Richard Sibbald - whose shots for the book were culled from nearly 30,000 original photographs - covers the history of the bass guitar, and provides an inside look at Lee's personal collection of 250 basses.
The pages are also peppered with interviews with everyone from iconic bassists - including Led Zeppelin's John Paul Jones, U2's Adam Clayton and the Rolling Stones' Bill Wyman - to influential luthiers Antonio Wandr Pioli, Dan Armstrong and Tony Zemaitis.
Lee recruited a supporting cast to help tell the story of what he believes is one of the most overlooked instruments in rock 'n' roll.
"It was important to give some context to these instruments for people that may not already know," he said.
"I didn't want it to be Bass For Dummies, but at the same time, you can't take for granted that people know who [guitar maker] Leo Fender was and what the development and importance of that company was, for example. It made it more edifying."
Lee will travel to Victoria next week for a book signing at Bolen Books, his first official appearance since Rush's 1980 concert at the former Memorial Arena. The event - which organizers expect to be overwhelmingly attended, given Rush's fanatical following and his extended absence from the market - kicks off a run of Canadian appearances by Lee that winds down June 4 in Montreal.
The North York, Ont., native has already swung through the U.S. on a similar publicity tour for Geddy Lee's Big Beautiful Book of Bass, and enjoyed the opportunity to meet his many longtime followers.
Rush did not make fan engagement a top priority, in part to ensure its members' private lives stayed private. But the book was a passion project for Lee, and he felt its release warranted a more personal approach.
"The whole idea of a book tour for me was kind of unusual. At first, we had a lot of ideas about trying to do a non-traditional tour, and it started getting so big and so involved and so expensive, it was turning into a Cecil B. DeMille production. We were getting away from the idea of having a little contact with fans and signing a book."
Book signings so far have produced a surprisingly varied turnout, including men and women both young and old, and even small children. "One wouldn't expect a book on bass guitars to bring a ton of people out of the woodwork ... but there seems to be a connection point for a lot of Rush fans.
"It has been an interesting experience and a pleasant one, from my perspective, getting a couple of moments with longtime fans. And I think it has been nice for them, too. A lot of them seem very excited to get a couple of minutes to share their thoughts about my career with Rush and what it has meant to them."
HarperCollins wanted Lee's voice to shine through in the book, the creation of which spanned a two-year period. Once he found the right tone, Lee injected his personality - and trademark dry wit - into the pages.
It was difficult at first for Lee, usually a private person, but he said it was the right decision.
"So many people see me in concert and know what I do, but don't ever get to sit down with me and have a talk about something. I loved that idea - sitting down with strangers and having this conversation about the bass guitar."
At first, he said, he leaned "quite heavily" on Richler, stepson of the late author Mordecai Richler, to help him express himself on paper, outside of song lyrics. "The more confidence I got, the more I felt like it was me talking to people."
His longtime bass tech, John (Skully) McIntosh, who oversaw Lee's basses during his time with Rush, was another sounding board.
McIntosh is more of a nuts-and-bolts guy, Lee said, which was necessary for the book, especially when it came to the instrument's history. Lee learned a great deal during the process, much more than he expected heading into the project.
"It was a wonderful journey into learning about an instrument that I had held in my hands for over 40 years, and had taken for granted. My excitement in that journey is what makes the book work, in a sense."
Rush is no longer an official entity, but Lee still plays music, and has been quoted as saying another solo record is being discussed.
He has other interests at the moment, as well. A longtime collector of everything from stamps to wine, Lee traces his passion for vintage ephemera back to the variety store his mother worked in during his youth.
He has always been less interested in the physical product - Lee said he didn't start collecting bass guitars until Rush was near its end in 2018 - than the history of what he was collecting.
"I collect a lot of different things, and one of the things I wanted the book to speak to was that mentality. What makes a collector? Why do we do this? Why are we so mental?
"We're always looking for justifications for it, and rationalizations of it. But at the end of the day, it is a window into the past, and a window into the capabilities of the human mind."