Don Felder Talks About Woodstock, Songwriting, Rush and New Solo Album - American Rock 'N' Roll Features Audiophile Surround Sound Mix, Music Videos, Rare Photos and More
By Jim Barber, MusicLifeMagazine.net, June 27, 2019
---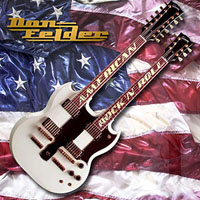 The man responsible for helping to create one of the most iconic songs in the history of recorded rock music returns with an album that celebrates life, love and especially good old American rock and roll.
That last part actually comprises the title of the new album by Don Felder, as American Rock 'N' Roll was released earlier this spring on BMG. It is the former member of The Eagles' first album of all-new original material since 2012's Road to Forever, and his third solo album overall, after issuing Airborne in 1983.
Although not as prolific as former bandmates Don Henley and the late Glenn Frey as composers for his former band, he is credited with co-creating songs such as Too  Many Hands from the One of these Nights album, The Disco Strangler from The Long Run, Victim of Love from Hotel California, and most significantly on the epic Hotel California title track, especially the song's closing duelling guitar solo alongside Joe Walsh.
For Felder, who tours relentlessly each year, often on packages with other classic rock acts such as REO Speedwagon, The Steve Miller Band and Styx, and recently wrapped up a run with Sammy Hagar (with whom he co-wrote the bombastic, badass classic song Heavy Metal for the movie of the same name in 1981), it was the development of the title track that spurred this latest round of creativity, sparked by his own personal experiences at one of pop culture's most significant events.
"It came from my recollections of being at Woodstock in 1969, seeing Jimi Hendrix, seeing Carlos Santana, seeing Janis Joplin, seeing the Grateful Dead and all those artists who have gone forward as influences for all of rock history, including up to today. It all kind of exploded back in 1969 at Woodstock and the fallout from that event really just landed worldwide. I thought I would write a song and start saluting those people who were at Woodstock. I was there, one of 400,000 soaking wet, covered in mud participants in the audience. One of the most inspirational moments was seeing my friend Stephen Stills walk out on stage. We had been in a band together at 14 or 15, and seeing him on stage as part of Crosby, Stills, Nash & Young was like, 'wow, if he can do it, I can do it,'" said Felder from a tour stop outside Chicago recently.
"And there were other moments along the way that really inspired me to write the song, and eventually record this album, as in the song I am alluding not only to the originators from Woodstock but also a lot of the people they effected through the decades. So, you have references to Guns 'n Roses, and I even got Slash to come in and play guitar with me thinking he may put a lick or a solo part on the title track. Well, we had so much fun that I had the engineer roll back the tape to the beginning of the track and told Slash to just play. We hit record and he played the entire song three or four times. We went in and did a little digital editing, so the best of his stuff and it came out amazing. It really added something special to the track, which we see as a bit of a rockumentary: it's a little musical documentary of the history of rock and roll in this country."
Felder said he hopes some sort of concert event to commemorate the 50th anniversary of Woodstock will still take place in 2019 but said it would still pale in comparison to the impact of the original not only on rock music history but in all of culture. It is certainly a memory he warmed to as the interview continued.
"Think about it, 400,000 people without cell phones or social media or the internet, all in one place for one event. It was all grass roots word of mouth and it spread like wildfire. I was just astounded when I  got there. I was living in a little town called Dover Plains, which was in upstate New York not that far from Woodstock. I had a jazz fusion rock band called Flow and we all went to the show as a band. We got there almost a day early and we had the foresight to travel in a TravelAll, which was like a predecessor of the Suburban, made by a tractor company called International Harvester," he said.
"In the back we put the mattress down and stopped and bought food and water and drinks and brought changes of clothes and we parked pretty close to the stage because we got there really early, so we were able to run into shelter when it was pouring rain an have something to eat. I guess the most uncomfortable part was not having proper restroom facilities. But, again, at some point it is what it is, three days of incredible music that will permanently be seen in history as the biggest rock explosion in the world."
American Rock 'N' Roll takes the listener on a journey, as you hear different guitar voices composed by Felder, as well as by a number of other guest players, such as Richie Sambora, Orianthi, Peter Frampton, Joe Satriani, drummers Mick Fleetwood and Chad Smith (Red Hot Chili Peppers), Toto keyboardists Jeff Porcaro and David Paich and the Grateful Dead's Bob Weir doing a turn on backing vocals, and many more.
"On my previous album, Road to Forever, I played every guitar part, every stringed instrument on it: electric guitar, slide guitar, acoustic guitar, nylon string guitar, mandolin and even banjo on one track, as well as zither and dulcimer. I thought it came out great, but what it lacked for me as a personal reward was that excitement of walking into a studio and not know what you're going to do with someone else, like a Joe Satriani or a Richie Sambora or Peter Frampton, and not know what's going to happen," he said.
"It's about breathing life into an idea and pushing each other to go to a higher level and dig deeper, to sit there and put together something that's really fantastically exciting and energetic. I got such a thrill out of doing that with the first track on the record, Rock You, with Sammy Hagar singing on it and Joe Satriani and I playing guitar. That was fun, that was some pretty high energy stuff, not only on the recording but in the room, in my life. I was like, 'how exciting is this? I want to do more.' And I did. I started bringing in different drummers, different bass players, different guitarists here and there. I brought in different combinations of players, which was both the hardest part and the most fun part – choosing who to play on what track.
"As a matter of fact [legendary veteran session drummer] Steve Gadd was in town and we got him to come play on the song Sun, which was the absolute perfect choice for that song. Jim Keltner play on The Way Things Have to Be and You Are My World, which are too emotional ballads and he has such great touch that he was the perfect choice again. Mick Fleetwood and Chad Smith were perfect on American Rock 'N' Roll because when you hear Mick start playing the drums on the track, before anyone comes in, it sounds like its from the late 1960s, early 1970s Peter Green-era Fleetwood Mac, which is really where that sonic and lyrical timeline demarcation happens in the song. It sets the mood and feel for it. Then about halfway through Chad Smith comes in with this aggressive, intense pocket, and playing really hard like he does in the Chili Peppers and like Taylor Hawkins does in the Foo Fighters, it took a whole different migration of rock and roll that happens that you don't even really notice. It's just that the feeling shifts gear as the narrative of the song goes through the decades. The whole thing was just great in being able to bring in the right people on the right songs which was a fun thing for me to be able to do as a producer and have such a wide variety of talent at my disposal. It was great, I really enjoyed the process and I would love to do stuff like that again."
He said with a busy touring schedule, and a desire to have a healthy work/life balance, it takes a bit of time to accumulate enough new material to record and release an album. But judging by the rave reviews and positive response he is getting from audiences for the new songs he is playing live, it was well worth the wait.
"Listen, I am constantly writing, singing little ideas into my cell phone, whether I am driving down the freeway or sitting in a hotel room like I am right now talking to you, playing with a laptop writing lyrics to a song that doesn't exist yet – just compiling ideas. I will often pick up a guitar backstage in the dressing room and come up with a guitar lick, recording that into my phone, adding another piece to the puzzle. This means when I finally get back to my home studio, I have little starting points. Once I am in the studio, I can take some of those ideas and try to blow them up and put flesh on the bones of those skeletal ideas. When I finally get 16 or 18 song ideas that I think are demoed pretty well, with lyrics semi-completed and guitar tracks that are okay, I then assemble a band and bring in different players and session guys to start finishing the tracks. Some of them turn out to be really great, and I take the best 10 or 12 songs, with the rest of them usually ending up in digital heaven. In other words, I hit the erase button and they go away. Until I have accumulated enough really good songs and good tracks that are finished, that I am excited about, I don't put anything out," Felder explained.
"I learned the importance of that a long time ago. It would take us in The Eagles somewhere between a year to two years in the studio to come up with eight or 10 songs, so that every song on the record was a great song, with good vocal performances, really hooky guitar ideas. You just don't put out one or two tracks that are great and the rest of the songs are mediocre. I try to wait until I have a handful of really good songs and then put them on an album, and then release that album.
"It just takes time over the years to accumulate that many song ideas and finished songs to the point where I feel confident about putting them together on one album and putting it out. I have already started writing for the next record, even though this one has barely hit the street. I realized that in order to get something out within the next two to three years, I have to start working on it now."
One of the guests to perform on the album brought a bit of Canadiana to what is an album celebrating the best of American rock music, as Felder enlisted Rush axe-master Alex Lifeson to play on the song Charmed.
"I actually met [Rush drummer] Neil Peart before I met Alex. Neil's little girl and my little boy actually went to the same preschool together, so we became friends and went to dinner and he would come to birthday parties at my house and school events and just hang out. About two and a half years ago he came to a birthday party and I asked him to get up and play. I had my road band with me and Stephen Stills also came and did a set with me; it was just a fun jam at my house. But Neil said, 'I've quit playing.' I said, 'what?' He said, 'I quit playing. It's just too hard physically for me to do what I have to do to maintain the level of my performance at my age. I can't do that, and I can't go onstage and play at less than what I think is the best I can do.' I had the ultimate amount of respect for that, but it just broke my heart to hear him telling me that he was done playing music," said Felder.
"About a year or so later I was playing in this golf event for St. Jude's Children's Hospital and Alex was there and we ended up playing together. Afterwards, he jammed with me on some stuff and we played a soundcheck together and I think we played Pride and Joy as a matter of fact, where we traded off guitars. Backstage I took this goofy picture of the two of us playing my white double-neck with each of us playing one of the necks. He's such a nice guy and I realized as I was making this record that since Alex is not working regularly – he is probably just playing a lot of golf – he probably would be very interested in jumping on this record if I reached out to him.
"And indeed, he was very excited. He was up in Canada and I sent him some stuff for him to play to and he got back to me asking what I wanted him to do. He went in and in a very tasteful way played acoustic guitar on the bridge of Charmed and did some great guitar solos on the end and sent it back and we did a little digital editing where I overdubbed on top of it so it sounds like we're actually trading off lines at the very end of it. The very last line that he played was very cool, so I figured out the harmony for it and played harmony on top. It was a fun couple of days for him and a fun couple of days for me. I wish we could have been in the same room. And I loved the way he plays, I love his work, he is just a super sweet guy. I haven't met a Canadian that I don't like, basically."
Felder turns 72 in September but shows not signs of slowing down, either as a touring artist or a recording artist.
"Knock on wood and thank God I have been very moderate with my diet, I maintain an exercise regimen, I haven't been taken down with any horrible diseases, I don't drink – I have really tried to do my best to maintain my clarity mentally and be in the best physical health that I can. I watch my diet, so I don't get overweight. I do have to give credit to my family because a lot of it comes down to good genes. My mom is 92 and still going strong," he said, adding that it's been heartbreaking to see many of his peers passing away, such as Tom Petty and his former Eagles bandmate Glenn Frey in recent years, not to mention the many younger artists who have succumbed to their demons in recent years too.
"Being on the road for years and years can be a very emotionally and physically taxing lifestyle. There's a lot of ups and downs in this business. You get this huge elation from going out on stage in front of a huge audience, but then you walk off and get back to some generic hotel and it's like a big downer. It's over and then you wait for the next bit hit of energy from your next show. But you have to learn to understand that dynamic and what it is and emotionally deal with it and not let the ups and downs of the day and the week and year affect your health.
"I think the thing that has continued to propel me is the joy and satisfaction and happiness I get from playing music. Other than my children, there is nothing that has brought me so much love and so much joy and so much satisfaction in my life as playing music. So, if I want to continue doing this, I have to move my health to the top of the list, right below my children. I have to maintain my ability to play and sing, I have to maintain my body, I have to maintain an eye on my career and business and all the aspects that go along with it."
With a concert repertoire that includes a number of Eagles songs, as well as other hits that he has co-written from other artists, and now three solo albums worth of songs, Felder said he will try to shoehorn as many songs from American Rock 'N' Roll as possible. He currently has dates lined up throughout the summer and into the fall in North America.
Jim Barber is a veteran award-winning journalist and author based in Napanee, ON, who has been writing about music and musicians for a quarter of a century. Besides his journalistic endeavours, he now works as a communications and marketing specialist. Contact him at jimbarberwritingservices@gmail.com.