Geddy Lee: Clockwork Angel
By David Von Bader, Worn And Wound, August 15, 2019
---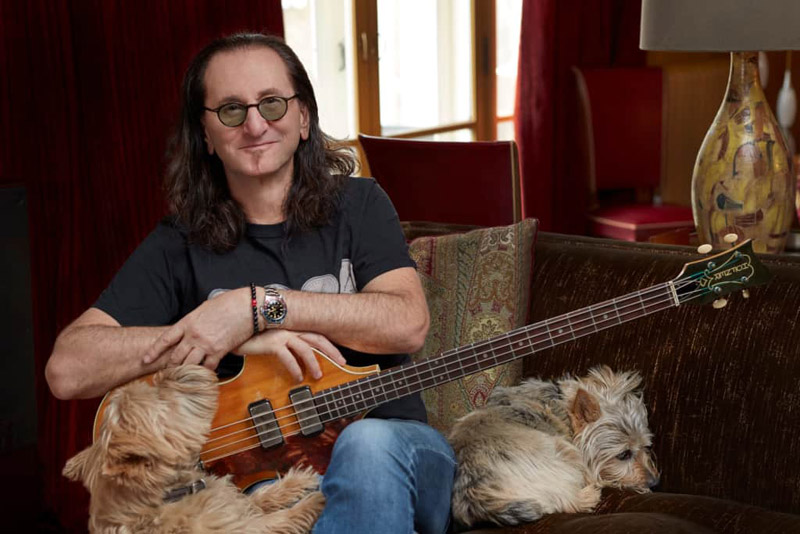 For more than 40 years, Geddy Lee's inimitable voice, athletic bass guitar, and even occasional synthesizer work were the sonic cornerstones of prog-rock trio, Rush. The Canadian group was both the highest profile and most influential prog band of its generation, and truly integral to the writing of prog-rock's second chapter. Despite crafting music that was uncompromisingly intellectual, musically complex, and in many ways, downright nerdy, Rush became a massive success and cultivated a deeply obsessive and passionate fanbase. For the uninitiated, we highly recommend checking out the documentary Beyond the Lighted Stage for an entertaining and enlightening primer on the band, complete with testimonials from notable Rush superfans like Nine Inch Nails' Trent Reznor and the Smashing Pumpkins' Billy Corgan.
Rush recently had what is presumed to be its final curtain call as resident drum deity and lyricist, Neil Peart, has retired from drumming altogether. Citing increasing difficulty in performing Rush's dexterous music as he ages and trouble recovering from the rigors of touring, Peart has decided he'd rather hang 'em up than perform those songs at a level that fails to meet his immensely high personal standard.
While this has sadly effectively ended Rush, it has afforded Lee the opportunity to both spend some quality time with his beloved Norwich Terriers and indulge in the passions that fall outside of the limelight - namely collecting.
Over the years, Lee's developed into a noted connoisseur of wines, a fanatical trawler of baseball ephemera, and even recently released a brilliantly well-crafted coffee table book cataloging his incredible collection of over 250 vintage bass guitars - aptly titled Geddy Lee's Big Beautiful Book of Bass. As it turns out, Lee's collector's muse is also very much taken with fine vintage wristwatches.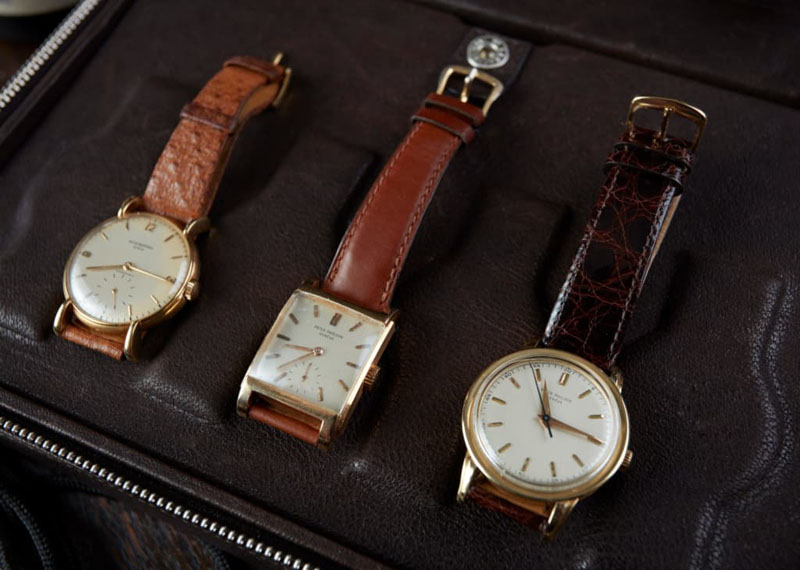 The musical icon has amassed an eclectic collection of some 40 pieces that includes Canadian-market exclusive Rolexes and Tudors, classic Heuers, intriguing early examples from Longines, and even the odd dress watch. Lee has wholly thrown himself into a self-education on the minutia, idiosyncrasies, and overall history of wristwatches, crediting the Instagram watch community as a major source of fuel for his ever-growing fascination with watches.
In the following conversation, Worn & Wound chats with Lee about some favorites from his collection, his entrance into the watch collecting hobby, his ongoing education as a self-described watch geek, and even glean a bit of collector's advice from a restless man that's applied such wisdom to the pursuit of a great many things.
"I like watches that draw you in rather than shout at you - things that possess a beauty and an elegance and intricacy, but don't scream from your wrist."
Worn & Wound: What was your gateway into watch collecting?
Geddy Lee: I didn't have a whole lot of interest in collecting watches, but I always admired certain old watches. I think the very first old watch that I ever owned was a Rolex a guy in England sold me years and years ago. It wasn't anything remarkable or particularly collectible, but it was from the '30s and I just thought it was a cool watch. It was a couple hundred bucks and I still have it.
Rolex made some stuff exclusively for the Canadian market through the years, and one of them was this Tudor Oyster Regent, and I picked that up. I thought it had a cool shape to it and I love the sort of Art Deco vibe of those watches. So, I had a few cool watches over the years and enjoyed them, but I didn't take collecting seriously or anything.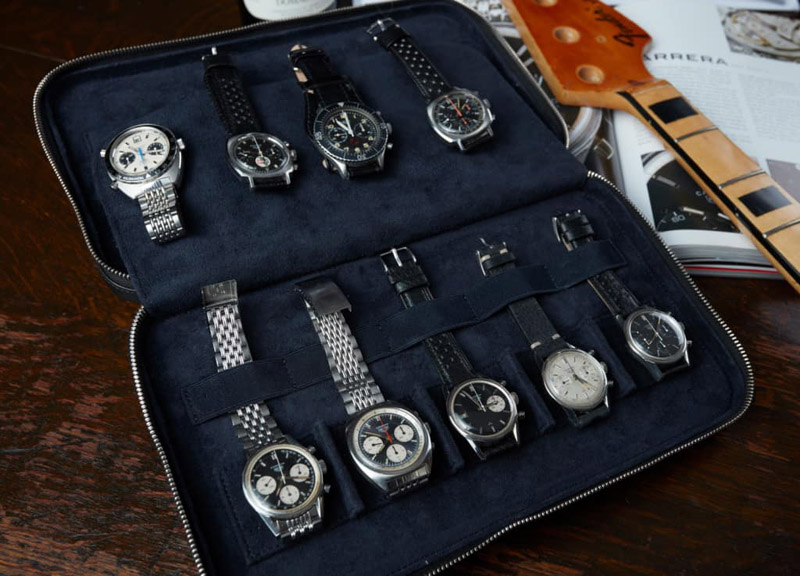 However, I was in Switzerland many years ago and I happened upon this cool watch shop, and a great conversation with a very nice chap there led to my leaving with a black bezel Rolex GMT from 1968, and that was really my gateway watch. I kept that watch for many years. Over the years, I'd received a few great watches as gifts, including a solid gold Universal Genève Compax. Later I picked up a '68 Jaeger LeCoultre Speedbeat, and it was then that I started threatening an interest in really collecting watches.
I'd always wanted a nice Patek Calatrava and about three years ago my wife bought me a beautiful older one. Then I found another one that I fell in love with while researching them, and it started a bit of a chain reaction. I really love the ones from the '40s - '60s, and I've never been much of a modern watch guy. I'd say after those Pateks came into my life, I really got the bug in a bad way. I had about 5 or 6 watches at that point and never really thought about them as something I wanted to keep buying, but after getting that second Patek, I went kind of mental. I think it also coincided with the sort of watch lover's revolution that's happened on Instagram.
Instagram has completely revolutionized the hobby and how we all interact. How has it impacted your own collecting?
Lee: I think Instagram has been the single biggest boon to watch collecting in forever because it's the perfect medium for it! Someone can show off a watch that was shot beautifully and you immediately get a big case of the "wantsies," and then you research through it. Most watch lovers know that 98% of the public will pay no attention to what watch they're wearing. Only other watch people really notice or know what they're looking at. The world's watch lovers have been brought together through Instagram and what would once go unnoticed now has this great community and dialogue to go with it. You post a watch and other collectors go, "wow, that's cool!" or "do you like this ref?" or "look at the dial" or "love the patina on that!" The conversation that's happening is really great. Obviously dealers and sellers have recognized the new audience and it's all contributed to the price rise, but also to the fanaticism so many of us feel about collecting watches now.
It's also brought out a real interest in the details that drive a watch or make a watch really special; things like dial details and nuances that take a watch from maybe being a great watch from a great year, to something watch collectors can really get excited about, like double- or triple-signed dials, red Subs, or meters first. All of these little variations that mean absolutely nothing to your average person, but are the whole game to a real watch geek!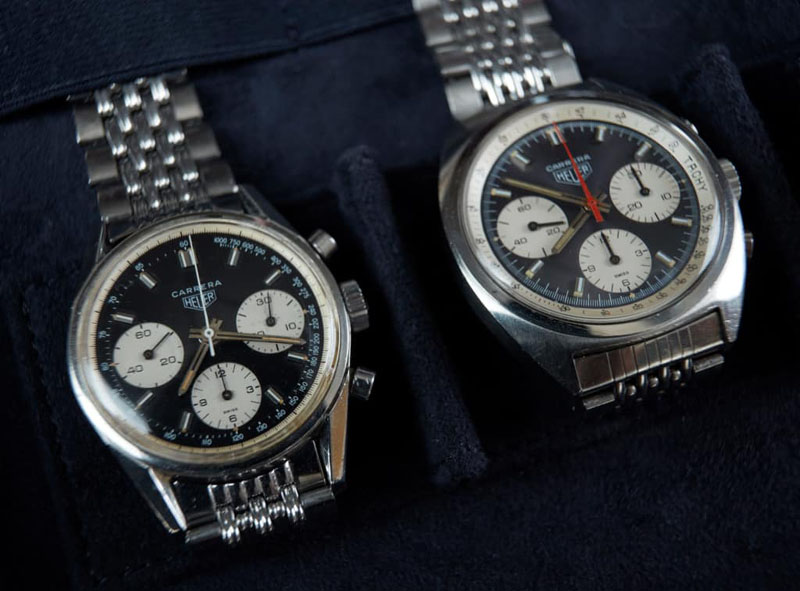 John Mayer recently said in an interview that there's a point as a watch collector where you really start focusing on finding as many asterisks as possible next to a watch to make it different. Has that been your experience?
Lee: You can compare collecting watches to anything, really. For me, I have to equate it to collecting bass guitars, and I'm always looking for stuff from the golden era - for Fenders, the pre-CBS period. You do come to a point where you're looking for that color no one can find or something really special. God knows it's glorious enough to have a '62 Fender Jazz Bass, but to find one in seafoam green or another unusual factory color makes it the holy grail, and I think it's the same thing with dial variations or movements. One would like to think the more desirable the movement, the better watch - and that's mostly true - but add an unusual nuance to it, like an inverted 6, and you want it all the more.
How large has your collection grown since that second Patek cracked the ice?
Lee: I try not to count them because then I have to admit to myself the amount of money I've spent, but I'd say I have around 35-40 pieces now.
It sounds like you're passionate about a pretty vast range of brands and styles. I know you're a Heuer guy from our previous conversations; are Heuers something you're still hunting and what have you got from that world that you're particularly proud of?
Lee: I still love Heuers and I think the Carrera is just about the perfect sized watch for my wrist. I have huge, huge respect for Carreras - I just love them. I like a lot of the different stuff Heuer put out over the years and I love Autavias; I have a Jo Siffert Autavia which is one of my favorite watches.
I also love Rolexes from the early '60s, and I'm really into steel tool watches. I like chronographs a lot, too, but I also admire and like a really elegant dress watch. It's hard to beat the feeling of wearing a really great Patek Philippe or a Vacheron Constantin. I have great respect for some of the early Longines stuff, too, but you can't start going down that road without starting to learn about them in a deep way.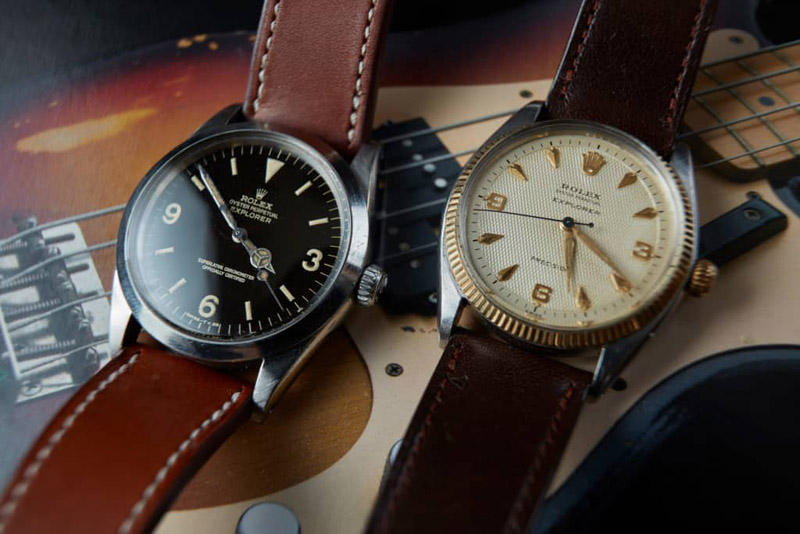 And on that road, you learn about what watches suit your wrist, what looks good on you, and what stuff you can wear and what stuff you can't wear. I love the look of Panerais, but I can't wear them because they just look gigantic on my wrist. It's definitely a live-and-learn thing. I have some Tissots from the late '40s/early '50s that are maybe 33mm or something like that, and while they're smaller, they're really beautifully-made watches and I find those are great to wear daily. I have also been getting into the Universal Genève stuff, so it's all kind of endless, right?
The hobby is certainly capable of providing infinite depth and an infinite hunt, if you want that.
Lee: Anything is open to insanity! I think you learn pretty quickly how far you want to go when you first start collecting anything, obviously depending on what kind of collector you're naturally inclined to be. I'm a completist by nature, so I find that I want a wide array of watches from the producers that I like, but you really have to learn your taste and what you can wear. I have a Rolex Daytona that I love, but sometimes when I'm wearing it, I feel like it attracts too much attention and there's something I don't like about that.
"You have to go through this as a collector; you have to buy some of the wrong watches to know what's the right watch for you."
I think what you're talking about is one of the things I love about a Heuer Siffert. You have to know what you're looking at to really appreciate it, but to the average person, it's just an old (handsome) chronograph.
Lee: Or what makes a Rolex 1016 Explorer the almost perfect watch in a way. It's got a super elegant dial and it's super functional, but it's classic and classy looking. It's the right size and that dial is just so beautiful to my eye. Most people won't necessarily notice it, but by god, watch people sure do!
Last time we chatted about collecting, it was about your bass guitars and you had said that part of your motivation as a collector is an attraction to the human ingenuity that goes into these things. I find most people that collect watches often romanticize either the technological side of wristwatches or the historical significance of them - whether it be motorsports, aviation, military service. Is that true of you and do you find yourself pulled to one side of the collecting coin?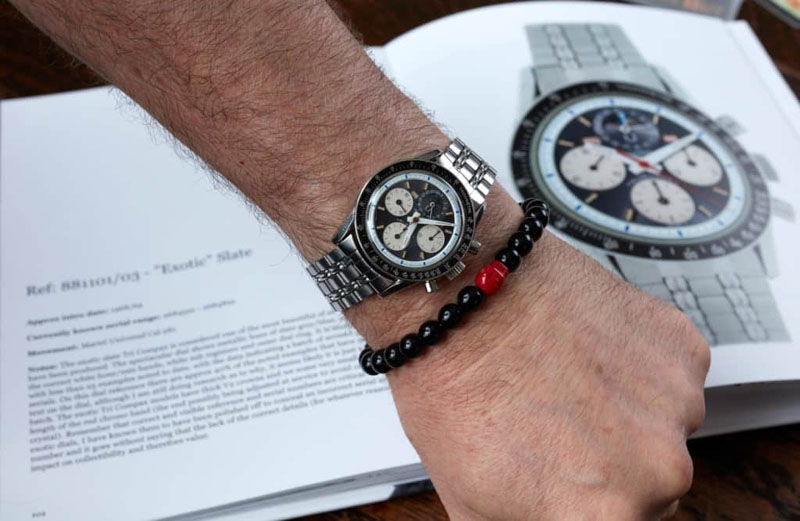 Lee: To me, watches are windows into history and an opportunity to learn. When I started getting interested in Heuer, I started reading about them and that's when I learned about the connection to race driving and the people involved. I'm not a motorsports fan or anything like that. I didn't know who Jo Siffert was before I bought the watch. There's so many of these sport watches that are connected to race drivers and then you learn about them and learn stuff like what an "Evil Nina" is and who it refers to [Universal Genève 885103/01, the black-dialed variant of the watch often seen on the wrist of Nina Rindt, widow of the late Formula 1 driver Jochen Rindt]. I've always been a history lover and these things are artifacts of a time and a place, and I think that's why I stay away from modern watches and prefer to have things from specific periods, because a big part of it is how evocative those periods are for me.
Have you been gravitating towards something specific for your daily wear now that you're off tour?
Lee: I try to wear a different watch everyday or every couple of days. Right now it's an early '70s Heuer Carrera ref. 73653 with a blue dial - really, really beautiful watch. But it's been acting funny lately, and I think that's because it hasn't been worn enough, so I'm wearing it to make it happy again. I tend to wear Heuers pretty regularly these days since I'm really crushing on them right now.
I don't wear my Pateks at all unless I'm going out for the evening or something that requires me getting dressed up. I've got a really lovely Rolex Datejust with a blue dial that's a standby for daily wear. I'm a sucker for a blue dial.
I recently found a Canadian-market-exclusive Rolex Explorer that was never exported, and while they were called an Explorer, they kind of where the predecessor of the 5500 - really more like an Air King than an Explorer. But it says Explorer on the dial and that's a really lovely watch that I could wear every day.
The only new watch I've bought recently is a Longines Avigation BigEye because it's such a great travel watch. If I'm traveling far afield, like going hiking in the Andes or something like that and carting all my gear around, I don't want to worry about scratching a watch. Also, if I'm waking up at different times of day, I like having a watch with a really big dial that's luminous so that if I'm jet lagged out-of-my-mind, I can look at my wrist and immediately know where the hell I am and what time it is.
I've never seen you wear a watch on-stage.
Lee: Nope, I think it feels weird and looks weird up there. It's about as useful as a date window on a Submariner, and it always struck me as a silly thing.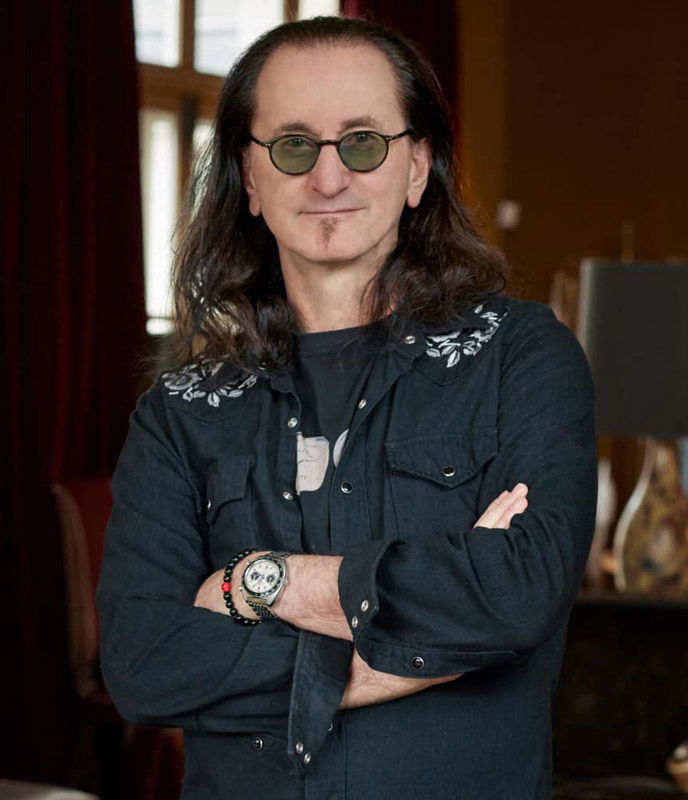 "Buy what you love. I think that's the way to collect and feel good about your collecting."
Is there anything you're not into at all as a watch collector?
Lee: It's funny, but most of my watches are fairly simple. I don't have a lot of watches with huge complications, but I have a friend who is obsessed with complications and we text each other what we're wearing on a daily basis. He's got a lot of A. Lange & Söhne and Memovoxes, and a lot of moonphase watches, and that's been a running education for me.
For instance, I recently wanted to understand the whole story of Glashütte because I'd seen this elegant Glashütte watch from the '60s. I realized I didn't know anything about that company or that region, so I started reading about it. It was all just so fascinating to me. Through that, I started reading about tourbillons and the history of those and why they're important, and why they're so respected. I also learned that most chronographs were driven by practicality - made for doctors or pilots! These are instruments that people's lives depended on, so they were form-follows-function in the purest sense, and I have great respect for that. I love reading stories about the beginnings of these things and the craftsman that spent countless hours tinkering away at them and perfecting them.
I have a couple of military watches and though I realized they're not my thing, I was so fascinated by them and their purposes. You have to go through this as a collector; you have to buy some of the wrong watches to know what's the right watch for you. I still have a few military watches and I like the ones that relate to my home and native land. I have an older Breitling single pusher that was made for the RCAF, so the first time I saw that advertised, I had to have it as a Canadian. But I found myself not wearing it very often and sometimes with that you need to pass it on to another collector that it'll mean more to. I think that's an important part of being a collector. Buy what you love. I think that's the way to collect and feel good about your collecting. There's a million things you could collect out there, but ask yourself if you really love it and if it's you.
Have you connected with other musicians that collect since catching the bug in earnest?
Lee: The only other musician that I know who collects is Matt Scannell from Vertical Horizon. The last time I saw him we talked watches for a good amount of time because he had just gotten a rare Seiko and I was really excited about a Rolex 1016 with a pretty flawless dial I had just purchased. So he's the only musician I personally know who's a watch geek, but I'm sure there are a ton of other ones out there. I started getting emails and messages on Instagram after a photo was posted of myself and Alex [Lifeson, Rush guitarist], and in it I was wearing my Tudor Sub. All of the sudden, I had all of these watch guys messaging me about the watch.
Is there anything you're hunting specifically right now?
Lee: Right now, I'm looking for that early Longines Compressor I mentioned earlier. And I'm looking for a really nice 5513 Rolex Submariner with a glossy gilt dial - I love the glossy dials. I have a pepsi bezel GMT from the '60s with a glossy dial and I just adore that watch and I'd love to have the Sub version of it. I'd also love a Nina Rindt Universal Genève. So, that's what's on my hitlist right now. I also have a Heuer 2447 reverse panda, which is one of my top three all-time favorite watches and I'd love to find the panda version, which seems more elusive.