The Flyer Vault: 150 Years of Toronto Concert History
Foreword by Geddy Lee
---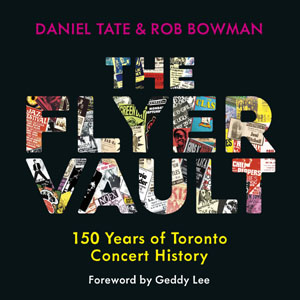 The Flyer Vault
by Daniel Tate and Rob Bowman
Foreword written by Geddy Lee
Published in 2019 by Dundurn, 256 pages, ISBN 1459745426
Over a year ago I was drifting through my Instagram "explore" page when I came across a photo of a program from a Rush show at Massey Hall back in 1976. Being curious, and a little vain, I clicked on it and found myself on a visual journey across my fair city's popular musical history. I became a follower. A few of the clippings and poster images were from concerts I attended back in the day, but more importantly, when viewed as a whole, the posts came together as an evocative mosaic, a powerful reminder of how lucky I was to have grown up in such a culturally diverse and open-minded place as was, and still is, the city of Toronto.
Now, what was simply a digital idea has grown into a fine and proper print publication –The Flyer Vault: 150 Years of Toronto Concert History – a historical document which expands upon that mosaic and brings to life the music and the performances that charged our community for over 150 years, from vaudeville to jazz to rock to electronica; blasts from the past such as Buffalo Bill's Wild West Show, Ella Fitzgerald, Josephine Baker, and Bill Haley & His Comets, at venues like the Club Top Hat, Shea's, the Colonial Tavern, the Riverboat, (my beloved) Rock Pile and, still going strong, Massey Hall. The festivals, arenas, and stadiums that featured all the gods of rock, from Elvis to Zeppelin, the raves and the punk shows in small clubs like the Rivoli, the BamBoo, and Lee's Palace, plus the small theatres like the New Yorker and the Victory Burlesque – all these and beyond are well represented here.
The time span is impressive, the breadth of talent expansive, and more than anything else, it's a truly fun ride for any time-traveller to take. It's a record of the musical life of a city that, thanks to The Flyer Vault, is gone but no longer forgotten.
Geddy Lee
Musician, songwriter, and author; lead vocalist, bassist, and keyboardist for Rush July 2019